Naparima College was in title winning form this evening as the southern school put in a professional shift with a workmanlike 2-0 win away to Carapichaima East Secondary in the penultimate round of the maiden SSFL Premier Division competition.
Two second half items from Trinidad and Tobago national under-20 players Nicholas Dillon and Jabari Mitchell settled the affair. But this was a team triumph as, from back to front, Naparima was a compact, mobile unit that was not about to take "no" for an answer from its host.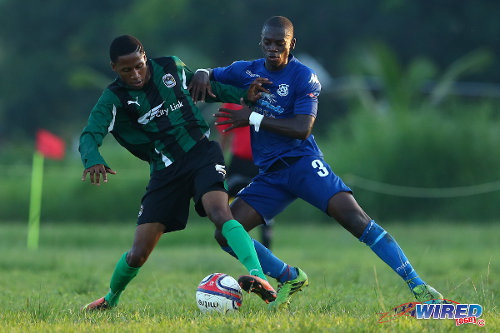 The result pushed "Naps" three points clear of second placed San Juan North Secondary and four points ahead of third placed St Anthony's College, whose fixture against Chaguanas North was postponed today due to a waterlogged surface.
St Anthony's and Chaguanas North will now meet on Monday afternoon before both teams scrap for their lives, just 48 hours later. The "Westmoorings Tigers" are straining for the Premier title; third from bottom Chaguanas will be trying to stay in the top flight schoolboy competition.
On Wednesday afternoon, either of Naparima, San Juan North and St Anthony's can win the title; while, at the wrong end of the standings, one from Presentation College (San Fernando), Fatima College, Carapichaima East and Chaguanas North will follow Arima North Secondary and East Mucurapo Secondary through the trapdoor and into the lower division.
The standard of the football still needs work; but the first year of the Premier Division was not short of intrigue.
This afternoon, Presentation College gave itself a fighting chance at the expense of East Mucurapo as "Pres" romped to a 5-0 win at Fatima ground that relegated the north zone team. Arima also found little comfort at home as the "Dial Dynamos" lost 3-1 to San Juan on the Arima Old Road.
Elsewhere at Guaracara Park, Shiva Boys Hindu College's Big Four dreams lay in disarray as three goals in the final five minutes saw St Augustine Secondary complete a remarkable recovery to win 3-1.
Save for an astronomical collapse from San Juan North and St Anthony's, both teams will join Naparima and the Tobago champions in the 2014 SSFL Big Four. Whether either side can catch Naps in the title race is another question.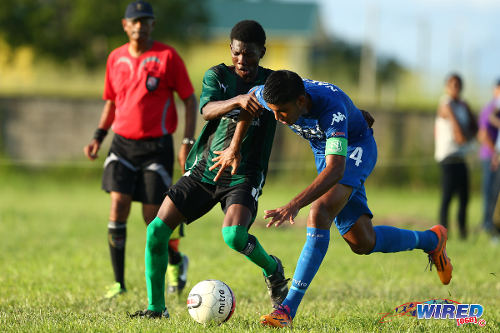 St Augustine's triumph might have a ripple effect as it sends Shiva into its final game of the season with little but pride at stake. And the Tigers need Shiva to take a point or three from Naps if they are to snatch the crown themselves.
Judging from this afternoon, Shiva Boys will have their work cut out for them.
Carapichaima did not lie down. They were not allowed to. Ask "Caps" midfielder Darreon Thomas, who got an unorthodox motivational message while being stretchered off the field following a heavy challenge from Naps defender Kris Stroud.
"You better get off that stretcher quick!" shouted one Caps supporter. "We have to win this game you know!"
Carapichaima coach Kevin Jeffrey, a youth team coach at Central FC, protested Naparima's use of Dillon in the schoolboys' league on the grounds that the 17-year-old striker has a professional contract with Central.
However, the SSFL rules does not prohibit a student for any reason other than if he has played in another competition after the date of 1 August 2014 or he is above the age of 21.
Naturally, Dillon, who has reportedly gone AWOL from the "Couva Sharks", took the opportunity to further annoy his employer by scoring the opener in the 50th minute with a deft glancing header from a right side cross by industrious national under-17 midfielder Shobal Celestine.
And, in the 72nd minute, Mitchell dusted himself off after a foul by Caps attacker Dominic Rivas to bewitch opposing goalkeeper Dejourn Charles with a bending free kick that caught him leaning the wrong way.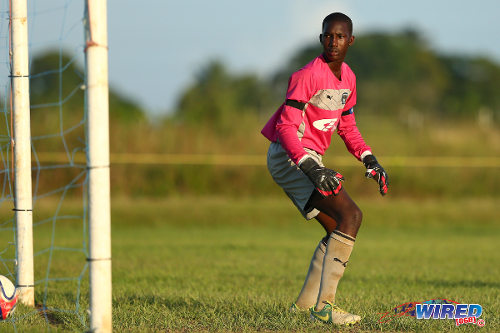 Caps never gave up although their best chances were restricted to set pieces. Winger Aaron Kennedy troubled Naps custodian Akeem Awong several times without success with the dead ball; while substitute Kevaughn Smith came closest with a firm, curling left footed strike from 25 yards in stoppage time.
Somehow, Awong got an arm out to deflect the effort on to the bar. He needed medical treatment after his save but was deemed okay to continue.
"C'mon fellahs, don't leave anything out there," Naparima assistant coach Travis Mulraine told his players.
And they did not let him down.
One more game to go.
(Teams)
Naparima College (4-2-3-1): 25.Akeem Awong (GK); 2.Nicholas Thomas, 6.Martieon Watson, 4.Amritt Gildharry (captain), 3.Khris Stroud; 12.Jarred Dass, 11.Shane Sandy; 28.Shobal Celestine (29.Jeremiah Kezar 69), 34.Jabari Mitchell, 33.Isaiah Hudson (8.Michael Basdeo 69); 20.Nicholas Dillon.
Unused substitutes: 1.Darriel Kurjah (GK), 5.Kareem Lewis, 14.Aalon Minors, 15.Jordan Samuel, 18.Ocean Gayah.
Coach: Angus Eve
Carapichaima East (4-1-3-2): 18.Dejourn Charles (GK); 4.Akinee Harry, 2.Keon Brown, 7.Larry Brown (captain), 3.Kadiz Chandler; 8.Amaru Cox (14.Josiah Richards 69); 17.Kerwin Mitchell, 6.Darreon Thomas (2.Collin Wheeler 75), 23.Aaron Kennedy; 12.Dominic Rivers, 11.Jeremy Trim (16.Kevaughn Smith 75).
Unused substitutes: 1.Ashford Benn (GK), 5.Randolph Boyce, 10.Akinde Fnich, 25.Mekiell Edwards.
Coach: Kevin Jeffrey
SSFL Premier Division results
(Sat Oct 11)
East Mucurapo 0, Presentation College (San F'do) 5 (Kyle Moodie 7, Nate Brooks 13, 87, Kareem Riley 31, 54 pen) at Fatima;
Trinity College East 4 (Darnell Sookoo 9, Thomas O'Neil 29, Sean Bonval 44, Quincy Ballah 71), Fatima College 3 (Kyell Lancsater 3, 25 pen, 52) at Trincity;
St Benedict's College 3 (Taryll Coutou 7, Shakille Williams 19, Anthony Herbert 43), St Mary's College 1 (Ethan Shim 61) at La Romaine;
Carapichima East 0, Naparima College 2 (Nicholas Dillon 50, Jabari Mitchell 72) at Carapichima;
Arima North 1 (Joshua Alexander 37), San Juan North 2 (Jermell Britto 4, Brent Sam 32) at Arima;
Shiva Boys HC 1 (Kyle Sylvester 27), St Augustine Secondary 3 (Moses Jaikeran 85, Jelani John 88, 90+4) at Guaracara Park;
St Anthony's  College v Chaguanas North at St Anthony's; (Postponed for waterlogged field)
Upcoming fixtures
(Mon Oct 13)
St Anthony's College v Chaguanas North, 3.45, St Anthony's;
(Wed Oct 15)
Naparima College v Shiva Boys HC, 3.45 pm, Lewis St., San F'do;
St. Anthony's College v East Mucurapo, 3.45 pm, St. Anthony's;
San Juan North v St. Augustine Secondary, 3.45 pm, San Juan,
Chaguanas North v Trinity College East, 3.45 pm, Chaguanas;
Presentation (San F'do) v St. Benedict's, 3.45 pm, Guaracara Park;
Fatima College v Carapichima East Secondary, 3.45 pm, Fatima;
St. Mary's College v Arima North, 3.45 pm, St. Mary's.