The Trinidad and Tobago national women's football team captain Maylee Attin-Johnson was scrambling to join her teammates in the United States today after a visa delay meant she did not travel with the "Soca Princesses" when they left yesterday for a pre-World Cup qualifying camp in Dallas.
At least, Attin-Johnson did not have to worry about today's lunch menu, though.
In arguably a new low for the face of Trinidad and Tobago's sport, national women's head coach Randy Waldrum, a Texas native, took to Twitter this morning to raise donations to feed the Trinidad and Tobago's women's team and source equipment after the players landed in the United States yesterday with just US$500 ($TT$3,176) and no accompanying Trinidad and Tobago Football Association (TTFA) staff members.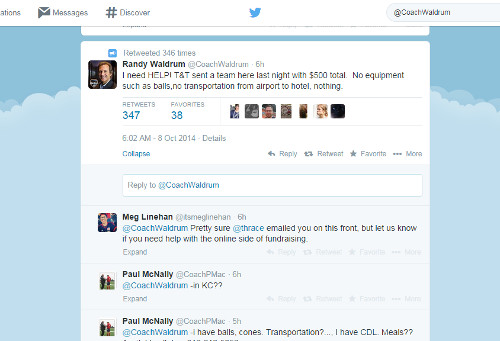 "I need HELP!" Waldrum tweeted, just after 9 am. "T&T sent a team here last night with $500 total. No equipment such as balls, no transportation from airport to hotel, nothing…
"I don't know how I'm going to feed these players starting at lunch today! If you know of anyone in Dallas area that will help with food, etc."

Waldrum's two messages were re-tweeted a combined 383 times and brought a flurry of sympathetic responses from American observers. Some people forwarded the messages to everyone from CONCACAF president Jeffrey Webb to ESPN analyst and ex-2006 World Cup player Shaka Hislop and Chaguanas West MP and former FIFA vice-president Jack Warner.
Various US-based sport networks also followed the story.
Next week, the Trinidad and Tobago senior women's team will play the United States in its opening 2014 CONCACAF Championship fixture at the Sporting Park in Kansas City. But, today, the Princesses are asking for charity from the host nation.
A weary Attin-Johnson spoke to Wired868 as she prepared for her afternoon departure from the Piarco International Airport. The national captain said she had just spoken to teammate Kennya "Ya Ya" Cordner and confirmed the authenticity of the Twitter posts.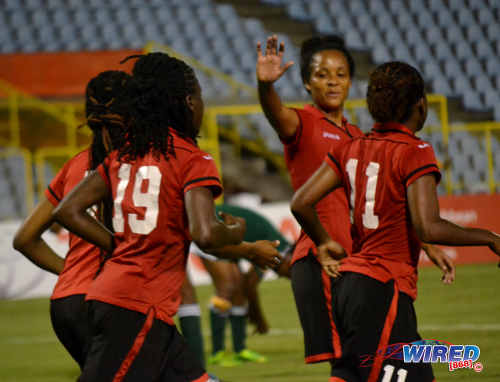 "How will we make it?" she asked rhetorically. "The same way we made out for the last ten years. We're still going; we still have that belief…
"I don't know what else to say. We are going out there regardless of the situation. The girls are hungry for success."
The Princesses were hungry for more than success today.
The US$500—which was given to the women by a parent, Kenrick Hoyte, and a TTFA staff member from their personal accounts, just minutes before their departure—was spent last night to pay for transport and dinner while the players got a courtesy breakfast at their hotel this morning. But they started training today without even water.
A source told Wired868 that American well-wishers showed up during the session with two cases of water and financial donations for lunch.
"The players feel humiliated," said the source. "They are sitting around with no food wondering if they are a charity case."
However, TTFA general secretary Sheldon Phillips said the tweets were a result of miscommunication, which, he claimed, was subsequently resolved.
"They are embarrassing and the miscommunication from not knowing what the money was for paints an unfortunate picture of our preparations," Phillips told Wired868.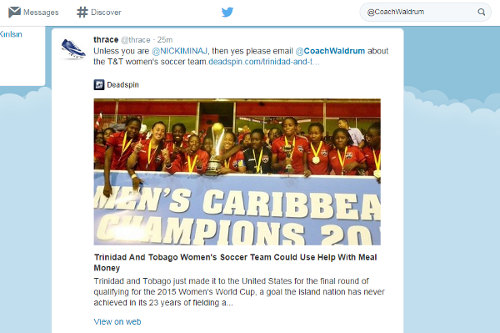 Phillips said, although the women travelled with just US$500, US$1,000 (TT$6,350) was wired to the team this morning while the TTFA supposedly collected a cheque for $250,000 (US$39,000) from the Ministry of Sport this afternoon. A further donation of $75,000 (US$12,00) is expected from Petrotrin.
"Yes, we sent them up with only US$500," said Phillips, "but the feeling (from Waldrum's messages) was that this was all they were going to be given for the remainder of the tour, which obviously wasn't true."
Phillips revealed the team met a US$250 cost for transport from the airport in Dallas to the hotel. So the 11 women players who travelled, excluding the coach, would have been left with US$250 for dinner last night while another eight players joined the group today. Still, the General Secretary insisted that Waldrum overreacted in his plea for financial assistance this morning as lunchtime drew close.
Wired868 asked Phillips to clarify if the US$500 the team departed with came from the TTFA, as he suggested, or the parent of a player.
"It came from a parent," said Phillips, "because, by the time we got to the airport, the team had gone through. So that person was reimbursed."
Wired868 understands that, according to another parent, Hoyte was only partially reimbursed for the money he spent on the women's team while funding still had not reached Dallas up to this afternoon.
Team manager Vernetta Flanders, an equipment manager and physiotherapist and the team captain, Attin-Johnson, are expected to join the women in Dallas shortly.
One person who will not make the trip is assistant coach Marlon Charles, who was sacked by Phillips for the second time in five months after his spotty attendance record during a recent two week national women's live-in camp at Petrotrin, which was sponsored by the oil company.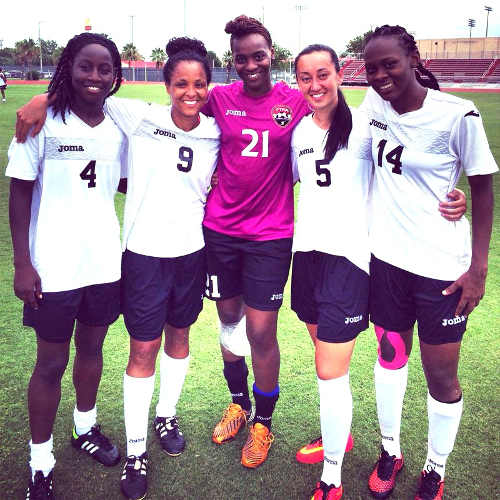 Charles, who is a school teacher at the Chaguanas South Secondary, claimed the TTFA never gave him a letter for time off to attend the camp.
"I cannot just walk off my job to coach the team," said Charles, who was an unpaid TTFA employee and had not even received a stipend from the football body in three years.
However, Phillips and Flanders contradicted Charles' story and wondered, if, as hinted, there was a problem with the date on the letter given to Charles, why he never raised it with the football body.
Charles' no-show along with the frequent absences of a physiotherapist, affected the quality of the sessions at Petrotrin, which were conducted on a field that was far from international standards and without the team's overseas-based players.
The women hoped that their 2014 Caribbean Cup triumph in September would have been a turning point as they sought support for their Canada 2015 World Cup dream. But that proved to be an illusion.
Waldrum, who agreed to coach the team for free at the Caribbean stage, appeared stunned by the lack of support for Trinidad and Tobago's sporting ambassadors.
"Please let me know asap!" Waldrum tweeted to potential Good Samaritans. "And I'm suppose (sic) to qualify this team for a World Cup! I have to help these players somehow… They deserve better."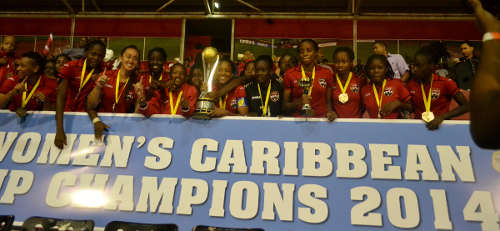 One person promised to send pizzas; others asked Waldrum to start a PayPal account to collect donations. Another suggested that, if the Princesses got to the 2015 World Cup, maybe Disney would do a movie on the squad.
Trinidad and Tobago Olympic Committee (TTOC) president Brian Lewis urged the TTFA to respond to the exchanges.
"Someone needs to clarify and communicate the facts," Lewis tweeted to the TTFA account. "Don't embarrass TTO."
TTFA president Raymond Tim Kee, Phillips and no one else from the football association took up that challenge. Phillips said the TTFA would issue a release but did not say why he had not taken to Twitter or Waldrum had not publicly supported the football body.
Instead, plans are underway in Dallas to use crowdsourcing to raise money for the Princesses.
One Twitter account dedicated to glory for the United States women's national team wondered if the farcical tale of disarray was a hoax. Had Waldrum's account been hacked?
"Sorry, it's the truth!" Waldrum replied.
For the national women, this month's CONCACAF tournament represents a once in a lifetime opportunity to get to a FIFA tournament, since Canada's hosting of the 2015 competition has opened up an additional qualifying spot for a country from this Confederation. No Caribbean women's team has ever qualified for a FIFA tournament.
United States is expected to top Group A in the CONCACAF Championship but, if the Princesses can beat Haiti and Guatemala to the runner-up spot, they are guaranteed at least a World Cup Play Off berth.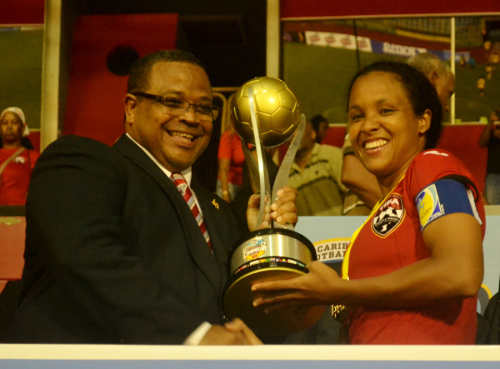 Attin-Johnson insisted that, despite the struggles and neglect faced by Trinidad and Tobago's women footballers throughout their careers, they will not give up.
"Our preparation was abysmal," said the Trinidad and Tobago women's football captain. "It was what we didn't expect after being champions of the Caribbean. But that is water under the bridge now.
"We just have to see what we can do, now that we have all the girls together, to get to the World Cup."