Brent Sam's scoring streak was bound to end sometime. And today, after nine goals in his last five matches, the lanky striker finally fired blanks as San Juan North Secondary was held goalless by St Benedict's College in Bourg Mulattrasse.
With just two games remaining in the SSFL Premier Division regular season, San Juan's title hopes probably fizzled away as well as the boys in green gear stayed third in the standings with 22 points but fell to three points behind leading team, Naparima College.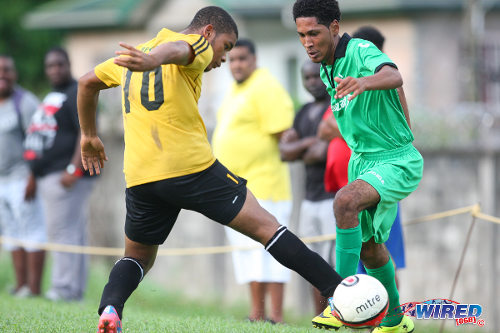 "Naps" did not falter today with a 3-1 win over Trinity College East at Lewis Street, San Fernando while second placed St Anthony's College stayed hot on their heels with a 1-0 win over Presentation College (San Fernando) in the second match of a Guaracara Park double header.
Earlier at the same venue, Shiva Boys Hindu College shot down Arima North Secondary 3-1 to deepen the despair of the relegation-threatened "Dial Dynamos."
Arima is 13th in the 14-team at present with seven points from 11 games and the bottom three outfits will be relegated.
East Mucurapo gave itself a fighting chance of Premiership survival today with a shock 2-0 win over St Mary's College at Serpentine Road, St Clair which pulled Mucurapo level to Arima on points, albeit with an inferior goal difference.
And, in a key relegation battle on Mucurapo Road, Fatima College downed visitors Chaguanas North Secondary 3-1 to pull further away from the bottom three schools while, in a mid-table meeting, St Augustine Secondary defeated Carapichaima 2-1 to stay in eighth place.
Sam and his boys had much loftier ambitions than that at around quarter to four this afternoon.
"We beating all colleges!" shouted one supporter, early in the first half. "We beat St Mary's already; and we beating St Benedict's today! Done talk!"
Easier said than done, though. In a scrappy affair, San Juan found St Benedict's to be an obstinate bunch.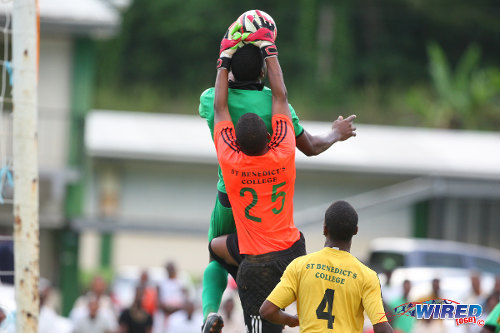 In the 11th minute, a Sam back header from a long ball into the penalty area brought a sharp save from St Benedict's custodian Jamari Warrick to his right; while, at the half hour mark, the former national under-17 striker drove into the near post side netting from the top of the opposing box.
"You will soon get it, Sam!" a teacher yelled by way of encouragement.
But Sam never really got closer than that. Perhaps he should have, though.
Two minutes into the second half, Sam volleyed into the skies after a left side cross from lively substitute Romario Rochard picked him out with space in the St Benedict's box.
And, in the 66th minute, another Rochard attack conjured up an even better opportunity for Sam from ten yards out on his favoured left foot. Desperate to make sure, Sam faked and tried to get closer only to be crowded out by a St Benedict's backline.
Anthony Herbert, a present Trinidad and Tobago national under-17 striker, filled in for suspended Benedict's captain and central defender Taryll Coutou at the back. And Herbert's height and reading of the game coupled with a flawless display from Warrick meant a barren evening for Sam.
It might have been worse for the host team too as, in the 85th minute. Benedict's attacker Shakille Williams flicked invitingly into the path of Shemar "Moochie" Ravello. And Ravello had already picked his spot when San Juan defender Levi O'Brien made a frantic last gasp clearance for a corner.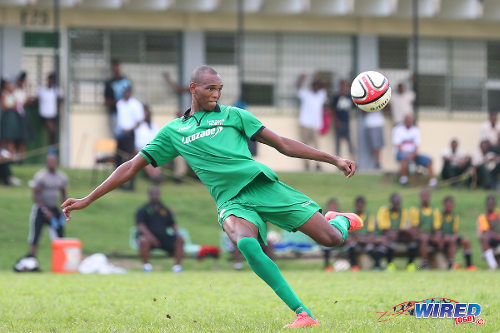 O'Brien probably saved a point for San Juan. But, for once, Sam could not get them all three.
(Teams)
San Juan North (4-4-2): 1.D'eandro Villaroel (GK); 12.Warren Chase, 24.Levi O'Brien, 20.Josiah Trimmingham, 6.Jamal Roach; 18.Marcus Rosales (17.Oneel Jarvis 46), 5.Shayon Eustache, 25.Kyle Williams, 21.Kyle Mack (27.Romario Rochard 41); 22.Jermell Britto (11.Jeankeon Alexander 79), 9.Brent Sam (captain).
Unused substitutes: 26.Sterling Sween (GK), 4.Kenyan Huggins, 19.Joshua Leach, 23.Benjamin Magloure.
Coach: Jerry Moe
St Benedict's College (4-2-3-1): 25.Jamari Warrick (GK); 10.Shemar Ravello, 2.Levi Crawford, 9.Anthony Herbert, 6.Matthew Joseph; 23.Tarik Eastman, 8.Kadeem Gittens; 7.Shakille Williams, 19.J'deem Parris (4.Rondell Payne 52), 13.Jeron Pantor; 20.Meriba Des Cartes.
Unused substitutes: 1.Jabari Gray (GK), 5.Judah St Louis, 14.Camron Peters, 15.Jevon Charles, 18.Stephen Ashby, 21.Rodande Charles.
Coach: Dexter Cyrus
Referee: Keilon Bacchus
SSFL Premier Division results
(Tue Oct 7)
San Juan North 0, St. Benedict's College 0 at San Juan;
Shiva Boys HC 3 (Tyrell Emmanuel, Quinn Rodney, Marvin Seuradge), Arima North 1 at Guaracara Park;
Presentation (San F'do) 0, St. Anthony's 1 (Andrew Rullow 18) at Guaracara Park;
Fatima College 3 (Adam Pantin-Taylor 47, Kyell Lancaster 48, Marquise Hoyte 90), Chaguanas North 0 at Fatima;
St. Mary's College 0, East Mucurapo 2 (Glenroy Pierre, Micah Lancelot) at St. Mary's;
Naparima College 3, Trinity College East 1 at Lewis St, San F'do;
St. Augustine 2 (Keishawn Marcellin [2]), Carapichima East 1 (Kerwin Mitchell) at St. Augustine;
Upcoming fixtures
(Sat Oct 11)
St. Anthony's v Chaguanas North, 3.45 pm, St. Anthony's;
East Mucurapo v Presentation (San F'do), 3.45 pm, Fatima;
Trinity College East v Fatima College, 3.45 pm, Trincity;
St. Benedict's v St. Mary's College, 3.45 pm, La Romaine;
Carapichaima East v Naparima College, 3.45 pm, Carapichima;
Arima North v San Juan North, 3.45 pm, Arima
Shiva Boys HC v St. Augustine, 3.45 pm, Guaracara Park