The extracurricular activities of 16-year-old Shiva Boys Hindu College Form Five student Levi Garcia has become a national talking point in recent days.
Trinidad and Tobago national head team coach Stephen Hart, national under-20 coach Derek King, Central FC managing director and World Cup 2006 defender Brent Sancho and Shiva Boys head coach, former "Strike Squad" stand-out Dexter Francis and a few local and foreign agents each have an opinion with regards to the talented winger's next move.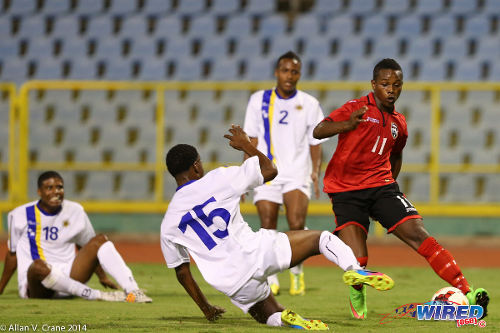 Once more, it was Shiva Boys and not Central that secured his services this weekend; and the result was another three points for the Penal-based school as Francis' troops edged Presentation College (San Fernando) 1-0 to climb one spot to sixth place in the SSFL Premier Division competition.
Of course, the big news yesterday was at the St Anthony's College ground where Naparima College tamed the "Westmoorings Tigers" with a stunning 5-1 rout. It was St Anthony's first loss of the season although captain Mawasi Charles' team remains two points clear of second placed Naparima.
St Anthony's has a game in hand against San Juan North too although the Tigers shouldn't start counting their chickens yet. The San Juan schoolboys again displayed their ability to surprise yesterday with a 2-0 win over St Mary's College at Serpentine Road in St Clair.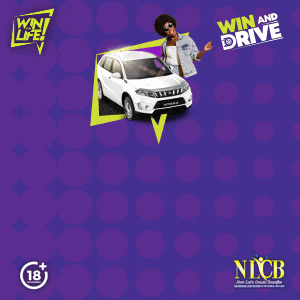 Elsewhere, East Mucurapo Secondary finally registered its first win of the season with a 1-0 triumph over Carapichaima East Secondary while Chaguanas North similarly edged Arima North 1-0. And there were a pair of draws too as Fatima College and St Augustine played to a 1-1 tie while Trinity College East and St Benedict's finished goalless in Trincity.
Whereas southern travellers Naparima and St Benedict's might have felt varying degrees of satisfaction from their journeys up the Uriah Butler Highway, it was obvious that either Presentation or Shiva Boys would end the day in a sour mood.
And Shiva Boys had Garcia.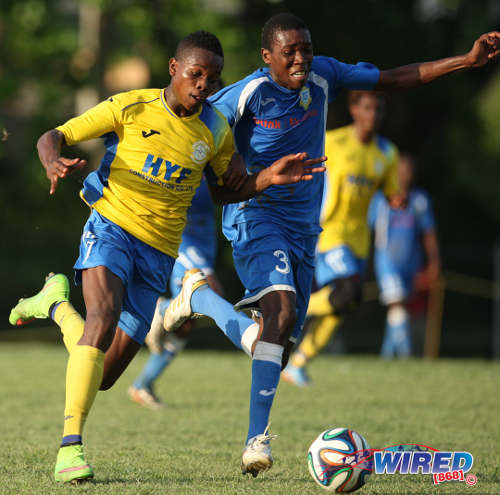 Not for the first time, the speedy attacker seemed to settle the match despite barely showing up. Like an employee who spends most of the day on Facebook and then solves all the office's problems at 3.45 pm, Garcia seemed to operate on the periphery of the game for much of the afternoon but still set up Shiva captain Marvin Seuradge for the winner in the 30th minute.
Seuradge finished clinically with a low strike that went in off Presentation goalkeeper Ishmael Salaam's right hand post.
Just as decisively, perhaps, was the dismissal of Presentation defender Ayandike Francis who received a red card from referee Dave Daniel in the 24th minute after he hauled back a goalward-bound Garcia.
Presentation, despite decent build-up play on a treacherous, uneven surface, never looked likely to score thereafter and striker Levon Bass was an isolated figure upfront.
This was the sort of game where supporters are forced to applaud perseverance and pace. What else is possible on a surface as dodgy as Life Sport's un-tendered contracts?
But then why did 15-year-old Shiva midfielder Tyrel "Pappy" Emmanuel look so comfortable on the most uneven section of the field of all?
Garcia was the one who raised the pulses; an all-action commando in lime green boots who decides matches almost single-handedly with his pace and power. Emmanul was harder to spot, partly because he rarely kept possession for more than a second.
But it was Pappy, with his two-touch game, who dictated Shiva's angles and lines of attacks. He spotted his passes early, knew instinctively when to release his wingers or when to coax his full backs forward; and rarely left his station in front the Shiva central defenders.
At the opposite end was 16-year-old Presentation playmaker Kareem Riley who is the captain of the national under-17 team and recently returned from a tour of Italy with W Connection.
Riley's style was more modern. Pass and move; demand the ball again. Repeat.
Pappy walked upright and never sprinted more than five yards to beat his marker for the ball. Yet, he mastered central midfield.
Twice, Presentation midfielders got too close. He fitted the first with a sombrero and, later, flicked the ball nonchalantly around Riley before completing his play on each occasion.
They let Pappy get on with his business without too much harassment after that.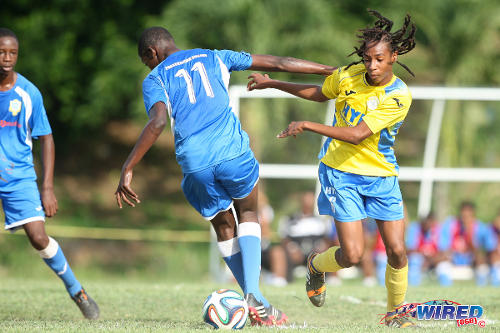 Salaam made some key saves for Seuradge and Garcia as Shiva settled for three points via a solitary goal. Garcia was instrumental once more; Seuradge was decisive.
And Pappy? After the final whistle, he was invited to try out for the Trinidad and Tobago national under-17 team by head coach Shawn Cooper, who is also a Presentation coach.
If Emmanuel's elegant, languid style can adapt to the more brisk, muscular approach of the modern game, Shiva might be about to give the national youth team a new star-in-the-rough.
(Teams)
Shiva Boys HC (4-4-2): 24.Denzil Smith (GK); 7.Simeon De Bourgh, 5.Kadeem Ashford, 17.Kyle Sylvester, 16.Jerry Ramdeo; 14.Isaiah Garcia, 6.Tyrel Emmanuel, 20.Marvin Seuradge (captain), 11.Stefon Bain (80.Ronaldo Edwards 87); 10.Levi Garcia, 4.Rodney Quinn.
Unused substitutes: 1.Adrian McLaren (GK), 13.Judah Garcia, 19.Tyrell Baptiste, 21.Lyndon Bonnett, 22.Nicholson Gordon, 90.Deon Guevara.
Coach: Dexter Francis
Presentation College (San F'do) (4-4-1-1): 1.Ishmael Salaam (GK); 16.Shirwin Noel, 5.Ayandike Francis [Red Card], 3.Kori Cupid, 12.Darnell Hospedales; 7.Quintel John (19.Reinaldo Atwell), 11.Kareem Riley, 10.Kyle Moodie, 13.Jarod Gordon (14.Akiel Bridgeman); 18.Nate Brooks; 9.Levon Bass.
Unused substitutes: 31.Tyrek James (GK), 2.Akili Charles, 6.Anfernee Holder, 8.Terrell Williams, 17.Bradley Lee Foon.
Coach: Dunstan Williams
SSFL Premier Division results
(Sat Sep 27)
St Anthony's 1 (Matthew Woo Ling 80), Naparima College 5 (Stephon Smith 40, Martieon Watson 69, Nicholas Dillon 72, Jabari Mitchell 41, 84) at St Anthony's;
Fatima College 1, St Augustine Secondary 1 at Fatima;
Presentation College (S/F'do) 0, Shiva Boys HC 1 (Marvin Seuradge 30) at Lewis Street, San Fernando;
Chaguanas North 1 (Malik Campbell 9), Arima North 0 at Chaguanas;
East Mucurapo 1, Carapichaima East 0 at Trinity College grounds;
Trinity College East 0, St Benedict's College 0 at Trincity;
St Mary's College 0, San Juan North 2 (Jermell Britto, Brent Sam) at St Mary's
Upcoming fixtures
(Wed Oct 1)
St Mary's College v St Anthony's College, 3.45 pm, St Mary's;
Naparima College v Fatima College, 3.45 pm, Lewis St, San F'do;
San Juan North v Presentation (San F'do), 3.45 pm, San Juan;
St Augustine v Chaguanas North, 3.45 pm, St Augustine;
Shiva Boys HC v East Mucurapo, 3.45 pm, Guaracara Park;
Arima North v Trinity College East, 3.45 pm, Arima;
Carapichaima East v St Benedict's, 3.45 pm, Carapichaima.