"Heat in the place… Go 'Gustine! Heat in the place… Go 'Gustine!"
St Augustine Secondary was in fine voice this evening at the Larry Gomes Stadium in Malabar. But Naparima College had the final word as Trinidad and Tobago national under-20 midfielder Jabari Mitchell curled home a superb free kick to grab a 2-2 draw for the southern travellers.
"North, south, east, west," sang the visitors, "Naparima is the best!"
On paper, it should have been a straightforward three point haul for the SSFL Premier Division's fourth placed Naparima team, which was buoyed by the return of the national youth team trio of Nicholas Dillon, Martieon Watson and Mitchell.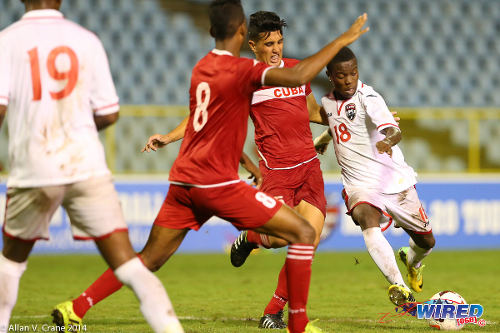 But, in the end, "Naps" was fortunate to get even a solitary point.

The result did not help either team much but was probably deserved on the balance of play.
For St Augustine, it was a fourth successive outing without a win and the third draw of that period. Captain Joshua Marshall must have felt the "Green Machine" was so much closer to accomplishing more than that.
And Naparima? The "boys in blue" were organised and fluent throughout but found themselves outfought at times by a St Augustine team that collectively was better than the sum of its parts.
Twice, Naparima had to come from behind.
Winger Keishawn Marcellin opened the scoring for the Green Machine in the 37th minute with a close ranged finish after the Naparima defence failed to clear a long cross from St Augustine left back Romario Villafana.
The lead lasted just seven minutes before Naparima midfielder levelled with a Michael Basdeo header off a Mitchell corner kick.
And the southern team should have gone ahead in the closing seconds after a clever flicked pass from Mitchell sent Dillon clear. But, somehow, lanky St Augustine goalkeeper Michael Logie kept out the young "Soca Warrior's" low effort.
St Augustine coach Michael Grayson responded by sending on midfielder Jeremiah Taylor in the second half and, for a 20 minute spell, the substitute looked on course to eclipse his more illustrious opponents.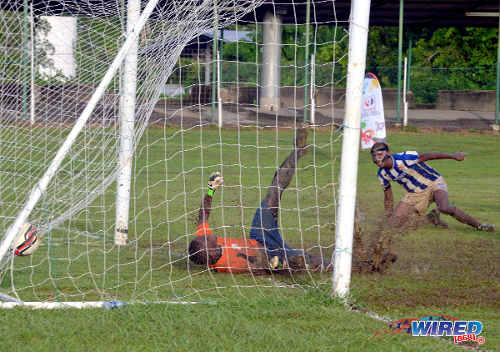 In the 53rd minute, Taylor skipped past Naparima right back Ocean Gayah as if he was no more than a puddle before whipping in a left side cross that teammate Brandon Reyes flicked home with his second touch.
And, in the 68th minute, St Augustine could have gone 3-1 clear as Taylor found space on the opposing flank and crossed low for Tyriq Alexander. Alexander had already picked his corner and was about to presumably apply the finishing touch when an unsighted Marcellin contorted his body to stick his boot out and inadvertently deny his teammate a scoring chance.
Needless to say, Marcellin's intervention did not go down well with his teammates. Although, by the look of things, the St Augustine winger's debating skills is at least as good as his football ability.
Naparima coach Angus Eve sent on Akinola Gregory to partner Dillon upfront as the visitors went from a 4-2-3-1 system to 4-4-2 and pushed St Augustine back deep into its own half.
Gregory released Dillon in the 74th minute and it took an impressive save from Logie to tip the latter's firm effort over bar.
From the resulting corner, Basdeo again headed past the St Augustine custodian only to strike the inside of the post before Alexander somehow hooked the ball past a mass of onrushing Naparima players from on the goal line.
St Augustine, led by the tenacious Marshall, was brave, industrious and determined. But it would not be enough.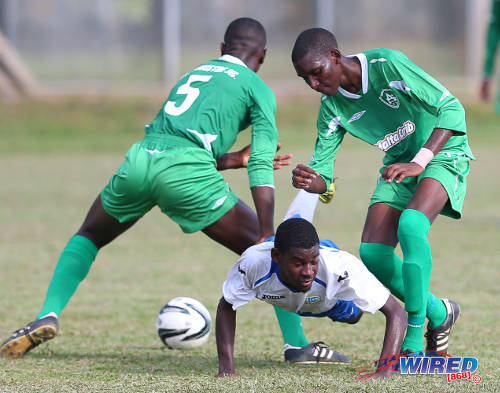 A clumsy foul on Dillon presented Mitchell with another chance to show his set piece ability. And, from 20 yards, he hit a dipping free kick over the defensive wall that left Logie clawing at the air.
The Naparima drummers and St Augustine chanters had to make do with one point each.
(Teams)
St Augustine (4-5-1): 1.Michael Logie (GK); 17.Alexis Blackwell, 4.Ainsworth Grant, 5.Joshua Marshall (captain), 13.Romario Villafana; 7.Keishawn Marcellin, 25.Jelani John, 12.Brandon Reyes, 14.Tyriq Alexander, 9.Anthony Samuel (6.Jeremiah Taylor 46); 26.Kwinsi Williams (18.Dike Wilson 78).
Unused substitutes: 22.Kurt Meloney (GK), 2.Zion Phillips, 15.Nyamekye Martin, 16.Kendall Boneo, 24.Moses Jaikeran.
Coach: Michael Grayson
Naparima College (4-5-1): 1.Darriel Kurjah (GK); 18.Ocean Gayah, 6.Martieon Watson, 4.Amritt Gildharry (captain), 19.Stephon Smith; 12.Jarred Dass, 2.Nicholas Thomas, 11.Shane Sandy (7.Akinola Gregory 68), 34.Jabari Mitchell, 8Michael Basdeo; 20.Nicholas Dillon.
Unused substitutes: 30.Enrique Changiah (GK), 3.Khris Stroud, 10.Justin Sadoo, 15.Jordan Samuel, 17.Mitra Arjoon Jr, 29.Jeremiah Kezar.
Coach: Angus Eve
Referee: Keilon Bacchus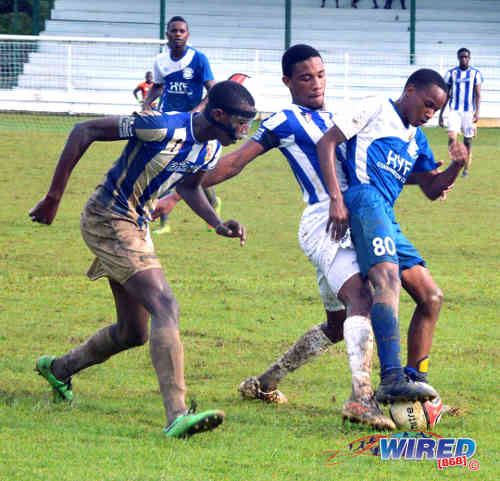 SSFL Premier Division results
(Tue Sep 23)
St Augustine 2 (Keishawn Marcellin 37, Brandon Reyes 53), Naparima College 2 (Michael Basdeo 44, Jabari Mitchell 89) at Malabar;
Arima North 0, Fatima College 1 (Shane Scott) at Arima;
Trinity College East 4 (Adola Perpignac OG 50, Micah Lansiquot OG 60, Sean Bonval 64, 77), East Mucurapo 1 (Travell Edwards 73) at Trincity;
*Red Card: Malique Quow (East Mucurapo)
Shiva Boys HC 3 (Marvin Seuradge 4, Quinn Rodney 53, Levi Garcia 79), St Mary's College 2 (Chinua Bernard 1, Rickel Dixon 57) at Guaracara Park;
Carapichaima East 1 (Dominique Rivas 54), Presentation (San F'do) 0 at Carapichaima;
St Anthony's v San Juan North at St Anthony's; DNP (Waterlogged pitch);
St Benedict's College v Chaguanas North at La Romaine; DNP (Waterlogged pitch);
Upcoming fixtures
(Sat Sep 27)
St Anthony's v Naparima College, 3.45 pm, St Anthony's;
Fatima College v St Augustine, 3.45 pm, Fatima;
St Mary's v San Juan North, 3.45 pm, St Mary's;
Presentation (S/F'do) v Shiva Boys, 3.45 pm, Lewis St, San Fernando;
Chaguanas North v Arima North, 3.45 pm, Chaguanas;
East Mucurapo v Carapichaima East, 3.45 pm, QRC;
Trinity East v St Benedict's, 3.45 pm, Trincity;