A Kadeem Corbin hattrick tonight secured a second Caribbean title for Trinidad and Tobago in just a month as the young "Soca Warriors" defeated Haiti 3-0 in the regional final at the Hasely Crawford Stadium in Port of Spain.
To be fair, the title of "Caribbean champ" sounds hollow when Jamaica is not involved. The just concluded competition was actually a qualifying tournament for the 2014 Under-20 CONCACAF Championship and Jamaica had already qualified as host nation.
Still, it is a welcome sight to see the two island republic walking off with trophies at this rate.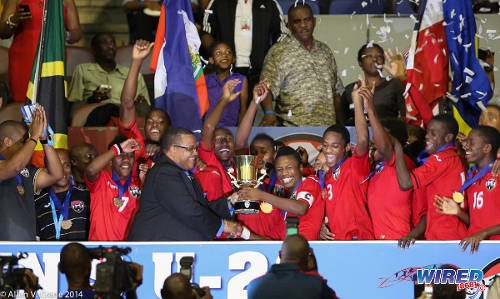 On August 26, Trinidad and Tobago lifted the inaugural senior women's Caribbean title at the same Port of Spain venue. And, despite low-keyed marketing at best, over 4,000 supporters turned out to see the teenaged boys repeat the trick tonight.
They did not leave disappointed either as St Ann's Rangers striker and former St Anthony's College schoolboy Kadeem Corbin announced his presence on the international stage with a hattrick when it mattered most.

Both Trinidad and Tobago and Haiti will represent the Caribbean at CONCACAF level along with Cuba, Aruba and hosts Jamaica. Cuba clinched the third place prize earlier this evening with a 2-1 win over Aruba at the same venue.
The three goals in the final were not shared as evenly though. The young Warriors made sure of that.
Haiti kicked off with a reputation for incisive, attacking play; but the French-speaking islanders were out of their depth tonight.
The Haitians prefer a 3-4-3 system with one midfielder, Alessandro Campoy, operating as a free playmaker behind three orthodox forwards. But Campoy and company were hopelessly outmanned against Trinidad and Tobago's stronger and faster five-man midfield.
The menace of Trinidad and Tobago wingers Levi Garcia and Aikim Andrews meant Haiti's 3-4-3 system quickly became 5-2-3. And the visitors simply could not get a toehold on the game.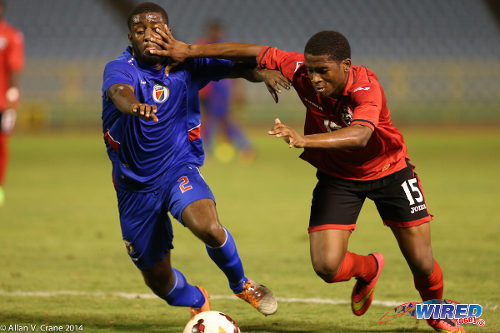 Haiti coach Jerome Velfert pointed to another reason for his team's flat final display.
"Four games in seven days is too much," said Velfert, via a translator.
Haiti's final qualifying game was on Wednesday night while Trinidad and Tobago, who qualified for the final on Sunday night, took a calculated risk of using an experimental XI on Tuesday. It meant that some of the Warriors, like midfielder Neveal Hackshaw and central defender Martieon Watson, had four days rest while the Haitian players had just one.
Velfert moaned too that he was without four players who were either suspended or injured.
He got no mercy from the Warriors, though.
"Haiti's strength is their two central midfielders," Trinidad and Tobago coach Derek King, "so we tried to close them down as soon as (possible) and get behind them.
"When we analysed (Haiti), no one really pressured their back four and squeezed them (in any of their group matches)."
Trinidad and Tobago meant business.
"This was the game of the tournament," said Trinidad and Tobago captain Shannon Gomez. "In all the other games we didn't settle as fast and we conceded some soft goals. We were warned about that…
"If we went behind against Haiti, they are set up to counter…"
The Haitians never got a chance to display their counter-attacking capabilities. After 34 minutes, the Warriors were ahead.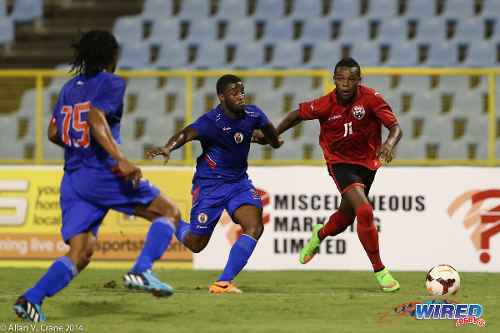 Levi Garcia, the highly touted 16-year-old Shiva Boys HC student, won a half yard of space down the left flank to swing in a low cross and Corbin diverted the ball clinically into the near corner.
It was a rare sight at goal for either team and Garcia did not have the same joy against Haiti that he did in the earlier rounds. But it was enough to send the Warriors into the break ahead.
Velfert tweaked his formation after the interval as Haiti sacrificed a defender for an additional midfielder in a 4-3-3 set-up. The visitors' best passage of play came after that and they even had a stifled penalty appeal when Trinidad and Tobago defender Jesus Perez dragged Desire Jonel to the ground in the 71st minute.
Cuban referee Yadel Martinez was unconvinced, though, and the Warriors made the most of the reprieve.
In the 81st minute, Corbin doubled Trinidad and Tobago's advantage in some style after some more clever wing play. On this occasion, substitute Kishun Seecharan provided the delivery and Corbin dragged the ball past Haiti custodian Steve Sanon before tapping home his second.
Four minutes later, Garcia and Corbin combined to telling effect again as the Rangers attacker converted his hattrick from another raking left side cross.
Garcia had been the talk of the tournament. But Corbin's final showing saw him walk off with the MVP and Most Goals trophies.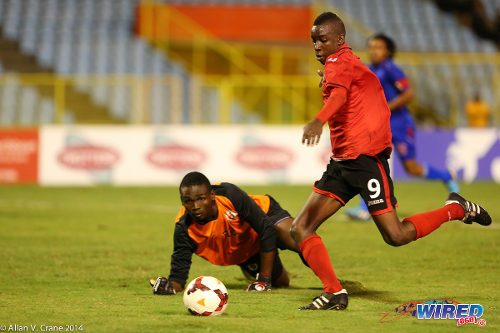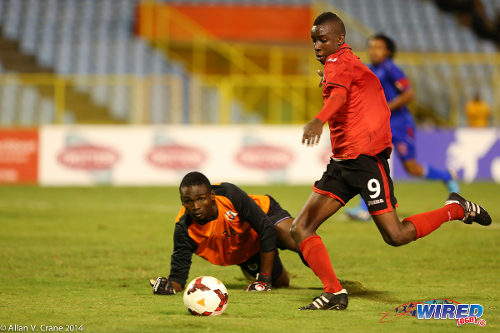 King, who is also a senior team assistant coach, revealed that the 18-year-old Corbin might make his debut with the senior Warriors in next month's Caribbean Cup qualifying rounds.
"Corbin is a special player," said King. "He is really a number 10 but we used him as a number nine. We are looking to bring him up to the senior team."
Tonight, the young men were happy to just soak up their Under-20 triumph in front of an appreciative audience.
The eloquent Gomez, who just quit Form Six at St Augustine Secondary to turn professional with W Connection, thanked everyone from the Alicia's Palace Hotel staff to the cleaners and security at the stadium.
"The rhythm section was really good tonight," said Gomez. "I wanted to dance on the field… Everything was spot on… Once we get that support, I guarantee you that we can qualify for the Under-20 World Cup."
The national under-20 team has just over three months to prepare for the likes of Mexico and the United States in the CONCACAF competition. The giant trophy that Gomez brought to the post-game press conference suggests the team is worth the gamble from corporate and public Trinidad and Tobago.
(Teams)
Trinidad and Tobago (4-2-3-1): 1.Johan Welch (GK); 2.Shannon Gomez (captain), 3.Martieon Watson, 4.Jesus Perez, 5.Maurice Ford; 8.Neveal Hackshaw, 17.Akeem Humphrey; 11.Levi Garcia, 18.Jabari Mitchell (16.Kion Joseph 75), 15.Aikim Andrews (12.Kishun Seecharan 56); 9.Kadeem Corbin (14.Matthew Woo Ling 88).
Unused substitutes: 21.Javon Sample (GK), 7.Akeem Garcia, 10.Andre Fortune, 13.Josiah Trimmingham, 19.Nicholas Dillon.
Coach: Derek King
Haiti (5-2-3): 12.Steve Sanon (GK); 7.Nerlin St Vil (4.Mike Guillaume 55), 2.Stephane Lambese, 15.Jean Jean-Baptiste (captain) (16.Exillien Fritz 84), 18.Paul Narkendel, 6.Demas Fernander; 8.Venel St Fort, 14.Alessandro Campoy; 9.Desire Jonel, 19.Junior Joseph, 10.Woodensky Cherenfant (20.Fredlin Monpremier 80).
Unused substitutes: 1.Guitho Charles (GK), 5.Wilmond Oracius.
Coach: Jerome Velfert
Referee: Yadel Martinez (Cuba)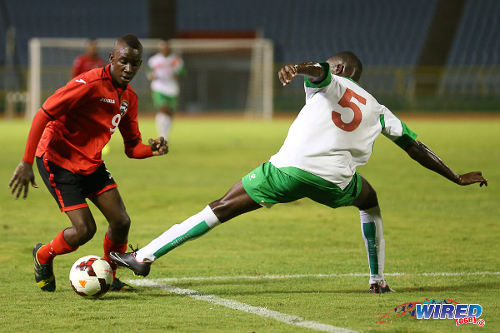 U-20 Caribbean Cup final
Trinidad and Tobago 3 (Kadeem Corbin 34, 81, 85), Haiti 0 at Hasely Crawford Stadium
Third Place Play Off
Cuba 2 (Eddy Saname 53, Frank Lopez 87), Aruba 1 (Ricky Hodge 84) at Hasely Crawford Stadium
Most Goals: Kadeem Corbin (5) (Trinidad and Tobago)
MVP: Kadeem Corbin (Trinidad and Tobago)
Best Goalkeeper: Jean-Marc Antersijn (Aruba)