Trinidad and Tobago will contest its second regional football final in a month on Friday evening when the young "Soca Warriors" line up in the 2014 Under-20 Caribbean Championship finale from 7.30 pm at the Hasely Crawford Stadium in Port of Spain.
Almost certainly, the Warriors' final dance partner will be Haiti, who leads Group B at present, and there is a high possibility of an entertaining, swashbuckling close to the under-20 competition.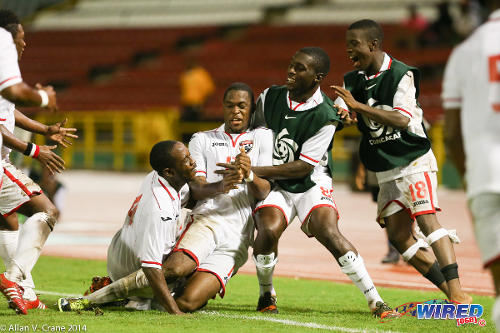 On a cool, damp Tuesday evening, there was little sparkle at the Hasely Crawford, though, as the Warriors eventually clawed their way back to a 1-1 draw against Cuba in the final Group A fixture.
Trinidad and Tobago had already booked one of four automatic CFU qualifying spots for the 2015 Under-20 CONCACAF Championships before kick off—thanks to a surprise 3-2 win for Curaçao over Suriname—while Cuba only needed a point to join the Warriors in the next phase. The CONCACAF tournament will be held in Montego Bay, Jamaica next January and the four top teams there will play at the New Zealand 2015 Under-20 World Cup.
Yesterday, under-20 coach Derek King took the chance to give a few more players some tournament exposure and, in the end, he and Cuba coach William Bennett might have been satisfied with how things turned out.

"We took a look at a couple of guys and the first half was a bit scrappy," said King, in the post-game press conference. "… The second half was much better (and) Cuba didn't get a single shot on goal."
First half? Not so good. Second half? Better.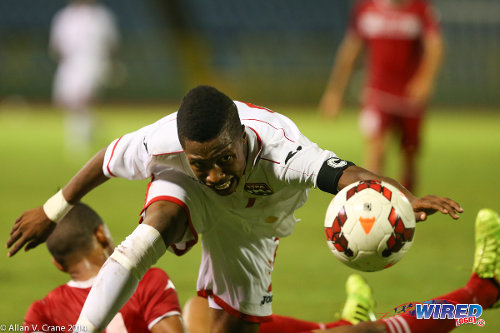 It has been a recurring theme in Trinidad and Tobago's post-game press conferences so far.
Undoubtedly, this is a talented bunch of teenaged players. But, just as certainly, they are playing nowhere near to the peak of their powers.
The Warriors, for all their endeavour and individual ability, often lacked collective play, passing triangles and the composure and know-how to switch points of attack. Not altogether surprising for a team that held its first training session in July and got its first live-in camp a week before the opening CFU match.
Yet, Cuba was clearly petrified at what the Warriors were capable of last night.
At kick off, Bennett employed a five-man defence with a sweeper so deep that he was an arm's length from his own penalty area, even when Trinidad and Tobago goalkeeper Johan Welch was in possession.
The reason for Bennett's paranoia probably wears green boots and is just 16 years old. His name is Levi Garcia and he might be Trinidad and Tobago's most gifted player since former Joe Public star Arnold Dwarika.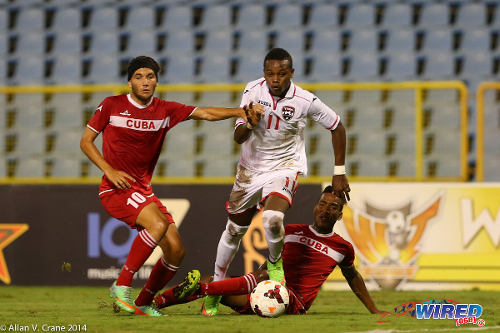 He is predominantly left footed, quick and weaves around defenders the way an impatient motorist dances through traffic on the highway.
Although Garcia is the youngest member of the squad, he has more adult experience than any of his teammates. In early 2013, he made his Pro League debut with T&TEC while he also represented Siparia Spurs in the Super League last year.
Both times, Garcia's spells in the senior game came during the offseason of his school team Shiva Boys HC. King hopes to convince the young man to leave the school game behind.
"As I told the players, if they can play at Pro League level it will be much better," said King, who pointed out that their top CONCACAF opponents will all be attached to professional clubs. "I am hoping to get Levi to play with (his present club) Central FC."
Such is the depth of King's squad that every player he throws on to the field seems capable of seizing a starting pick. Box-to-box midfielder Akeem Humphrey, tricky winger Aikim Andrews and clinical attacking midfielder Jabari Mitchell will be hard to dislodge for Friday's final despite starting the tournament as substitutes.
And, yesterday, defender Josiah Trimmingham made his tournament debut and helped deliver Trinidad and Tobago's late equaliser while 17-year-old striker Nicholas Dillon came closest to a goal from open play in his first international game.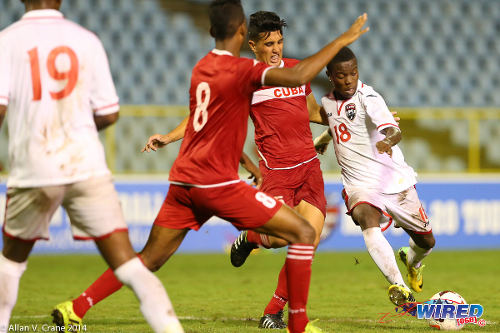 Midfielder Andre Fortune, like Matthew Woo Ling against Curaçao, also made an impression off the bench.
Yet, despite the reasons for enthusiasm, the Warriors struggled to put away an average Cuban team.
Dillon had the first chance of the game in the ninth minute but was blocked by Cuba custodian Elier Pozo while he smacked the rebound off the underside of the bar.
It was a costly miss as, within seconds, Cuba went ahead as attacker Frank Lopez punished a poor headed clearance from Trinidad and Tobago's United States-born goalkeeper Johan Welch, who is a member of the Houston Dynamos youth set-up.
Cuba did not register another shot on goal for the remainder of the contest. Nor did the Cubans seemed interested in extending their advantage.
Instead, the Spanish-speaking tourists restricted themselves to stifling Trinidad and Tobago attacks, which was made easier by the host team's habit of launching lateral attacks into clogged sections of the field rather than probing for weaknesses through rapid, ball movement.
It was more of a collective flaw than an individual one. But King again solved it by improving on Plan A rather than finding a Plan B.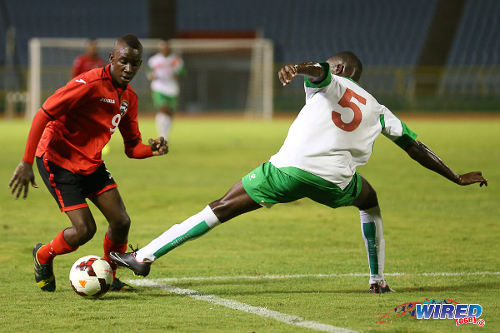 On went the fresh legs of striker Kadeem Corbin, one of the revelations of the tournament, and pacey winger Akeem Garcia—no relation to Levi—as space finally began to open up in the Cuban half of the field. And Trinidad and Tobago's winged dribblers got to work.
Twice, Garcia (L) found Mitchell in a promising position only for the attacker to hit wide while Mitchell drove overbar after a flowing move that involved Humphrey and Corbin.
King replaced Mitchell with Fortune and, three minutes from time, it proved to be a fortunate decision. The substitute lofted a diagonal free kick into the area and, distracted by Trimmingham's attempted stooping header, Cuban defender Daniel Alarco booted the ball past his own goalkeeper.
Trimmingham claimed the goal. More importantly, the Warriors maintained their unbeaten run. And, tomorrow, they can follow the lead of the senior women's team by claiming the Caribbean title—albeit in Jamaica's absence.
"We are the future of Trinidad and Tobago's football," said Trimmingham, "so come out and support us."
Garcia (L) echoed the call to local football fans.
"It really helped us knowing our family was there (last night)," said Garcia (L), "but I would like to see a full stands."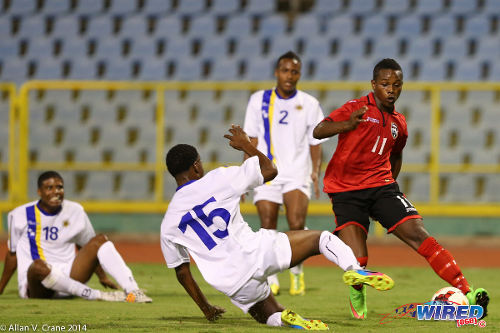 Trinidad and Tobago head coach Stephen Hart, who serves as a technical advisor to the under-20 squad, believes that the current national youth team has the potential to do great things.
Hart was reluctant to single out players but he hinted that Garcia (L) was among the four teenagers who he suggested had the potential to be special players.
"Levi can penetrate and he is showing that he can penetrate on the outside and inside of a player," said Hart, "And I like his ability to pin back defenders. He still has to learn to play in a modern way in terms of what he does off the ball; but, at his age, that is understandable…
"He can be an exciting player for us."
Football fans can judge for themselves on Friday when the Under-20 Caribbean Cup final kicks off from 7.15 pm at the Hasely Crawford Stadium.
(Teams)
Trinidad and Tobago (4-2-3-1): 1.Johan Welch (GK); 2.Shannon Gomez (captain), 13.Josiah Trimmingham, 4.Jesus Perez, 5.Maurice Ford; 16.Kion Joseph, 17.Akeem Humphrey; 15.Aikim Andrews (7.Akeem Garcia 60), 18.Jabari Mitchell (10.Andre Fortune 74), 11.Levi Garcia, 19.Nicholas Dillon (9.Kadeem Corbin 65).
Unused substitutes: 21.Javon Sample (GK), 3.Martieon Watson, 8.Neveal Hackshaw, 12.Kishun Seecharan, 14.Matthew Woo Ling.
Coach: Derek King
Cuba (5-4-1): 1.Elier Pozo (GK), 8.Yendri Torres (2.Roberney Caballero 72), 14.Norgerman Rodriguez, 19.David Urgelles, 15.Daniel Alarco, 6.Gilbert Iglesias; 13.Issan Lartiga (18.Orlando Madrigal 68), 10.Roberto Peraza, 5.Brian Rosales, 11.Frank Lopez (3.Jonathan Moliner 87); 7.Eddy Luis Saname.
Unused substitutes: 12.Delvis Lumpuy (GK) (captain), 4.Sandro Cutino, 9.Jose Felix Perez, 16.George Guibert, 17.Yoan Godines, 20.Osmany Capote.
Coach: William Bennett
Referee: Leo Clarke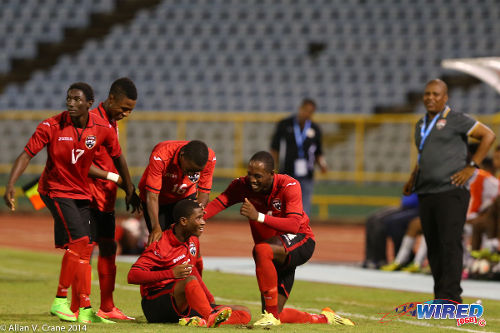 Under-20 Caribbean Cup results
Group A
(Tue Sep 16)
Curacao 3 (Isai Marselia 23, 52, Jersylee Riley 79), Suriname 2 (Orveo Faerber 15, Giovanni Asoman 26) at the Hasely Crawford Stadium,
Trinidad and Tobago 1 (Daniel AlarcoOG 87), Cuba 1 (Frank Lopez 10) at Hasely Crawford Stadium;
Group B
(Mon Sep 15)
Dominican Republic 3 (Aneuys Mateo 33, 45, Ricardo Penalo 78), St Kitts and Nevis 1 (Jamieson McKoy 4) at the Ato Boldon Stadium,
Haiti 2 (Demas Fernandez 14, Campoy Allessandro 20), Aruba 1 (Ricky Hodge 78) at the Ato Boldon Stadium;
Upcoming fixtures
(Wed Sep 17)
Dominican Republic v Aruba, 5 pm, Ato Boldon Stadium,
Haiti v St Kitts and Nevis, 7.30 pm, Ato Boldon Stadium;
Third Place Play Off
(Fri Sep 19)
Cuba v Aruba, 5 pm, Hasely Crawford Stadium;
U-20 Caribbean Championship Final
(Fri Sep 19)
Trinidad and Tobago v Haiti, 7.30 pm, Hasely Crawford Stadium.