After an anaemic opening result against Suriname, the Trinidad and Tobago national under-20 team found Curaçao to be more to its liking as the young "Soca Warriors" romped to a 4-0 win that virtually assured their progress to the CONCACAF stage.
The Warriors have six points from their opening two matches, after Friday's 2-1 win over Suriname, and only need a draw against Cuba on Tuesday night to top the group and play in next Friday's Caribbean Cup final.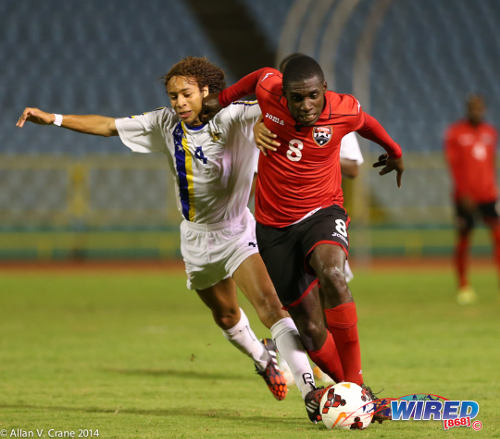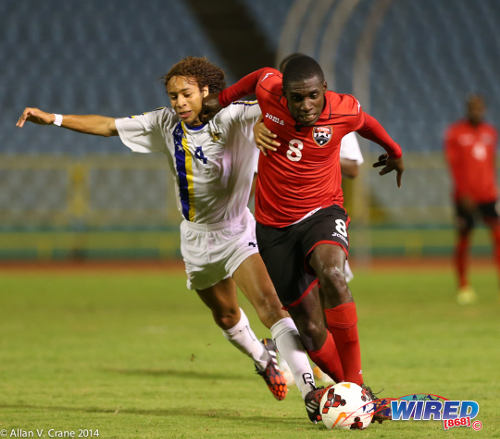 Earlier this evening, the Suriname teenagers stunned Cuba 1-0 thanks to a clever finish by Orveo Faerber; and gave themselves a real chance of advancing to the CONCACAF stage.  The top two nations from each group will progress to next January's Under-20 CONCACAF Championship in Montego Bay, Jamaica.
Should Suriname defeat Curaçao on Tuesday, as is the likely outcome, it would take a lopsided win for Cuba against Trinidad and Tobago to deny the host nation. And Cuba coach Willian Bennett might have had a sinking feeling tonight as he watched the Warriors devour the naïve Curaçaons.
National coach Derek King swapped four of his five midfield players today as Aikim Andrews, Jabari Mitchell, Akeem Humphrey and Levi Garcia replaced Akeem Garcia, Andre Fortune, Kevon Goddard and Kishun Seecharan respectively. Only Goddard, who came down with the dengue fever, was an enforced change.

The sweeping modifications did little to help fluency initially. But the lift in tempo was unmistakeable.
"We moved the ball around well and our discipline was much better," said King, in the post-game press conference. "It was a much better performance."
Curaçao simply could not operate on the same frequency as the young Warriors and, once Mitchell opened the score summary, there was always the likelihood of an embarrassment.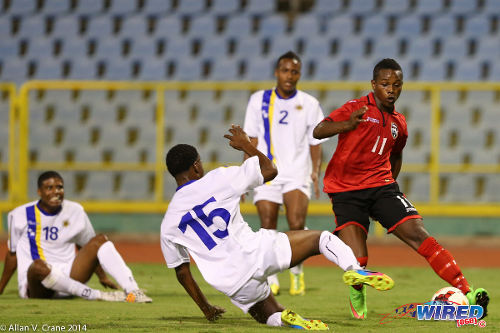 Trinidad and Tobago attacked quickly and incessantly down either flank while the duo of striker Kadeem Corbin and offensive midfielder Jabari Mitchell revelled in the space afforded them between Curaçao's defence and midfield lines.
It was a surprise that the small but appreciative crowd had to wait for as long as 33 minutes to celebrate the first goal.
Corbin, who did not score in Friday's win, seemed determined to open his account tonight and snatched at two opportunities early on when teammates were better placed. In the 33rd minute, he compensated with a squared pass to Mitchell that might have been a tad early.
Like against Suriname, Mitchell finished with conviction and accuracy as he blasted to the right of the splendidly named Curaçao custodian Zeus De La Paz.
There was a rare scare for the host team, three minutes later, as a cross from opposing flanker Lliandro Martis took a deflection and rebounded off the heel of Trinidad and Tobago's upright.
But Corbin doubled the Warriors' advantage from the penalty spot in the 44th minute after a trip on Levi Garcia and the match was effectively over as a contest after that.
"In the last game, my coach said I have to score," said Corbin, "so I went out and executed."
Garcia ought to have teed up Mitchell for Trinidad and Tobago's third item in the 56th minute but went for glory and was denied by De La Paz. But it was a temporary inconvenience as Corbin got his second on the hour mark after overlapping captain Shannon Gomez provoked havoc in the opposing area.
King turned to his substitutes at that point as Kion Joseph and Matthew Woo Ling made their first appearances of the tournament. And Woo Ling engineered the final item with an accurate free kick into the area that Andrews headed home at the near post.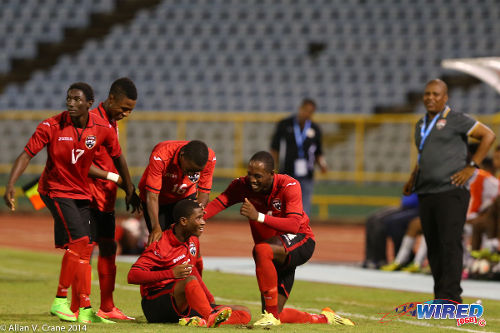 After the match, King congratulated his players on qualifying for the Under-20 CONCACAF Championship—although it is not yet a mathematical certainty—and the squad linked hands to salute the crowd at the final whistle.
But the head coach and his team captain insisted their mission is not done yet.
"As a team we set ourselves a first place goal," said Gomez. "We want to play in the (Caribbean Cup) final to market Trinidad and Tobago's football. We just want to go out there and (win) proper support for the team.
"Our long term goal is to go to CONCACAF and then make the (2015) World Cup in New Zealand."
The squad is still in its infancy and King would hope that they receive the necessary support to build on their start. There was certainly something to get excited about tonight.
"This is the feeder team to the senior team," said King. "(Team preparation) is a collective effort. (National senior team head coach) Stephen Hart and (former national youth team coach) Muhummad Isa have been helping too.
"It is not my team, it is Trinidad and Tobago's team."
Cuba is next from 7.15 pm on Tuesday. And a place in Friday's Caribbean Cup final beckons.
(Teams)
Trinidad and Tobago (4-2-3-1): 1.Johan Welch (GK); 2.Shannon Gomez (captain), 3.Martieon Watson, 4.Jesus Perez, 5.Maurice Ford; 8.Neveal Hackshaw (16.Kion Joseph 78), 17.Akeem Humphrey; 15.Aikim Andrews, 18.Jabari Mitchell (14.Matthew Woo Ling 70), 11.Levi Garcia (12.Kishun Seecharan 72); 9.Kadeem Corbin.
Unused substitutes: 21.Javon Sample (GK), 7.Akeem Garcia, 10.Andre Fortune, 13.Josiah Trimmingham, 19.Nicholas Dillon.
Coach: Derek King
Curaçao (4-2-3-1): 1.Zeus De La Paz (GK); 2.Richelo Fecunda, 15.Andrew Stokkel (3.Jahir Valerius 46), 4.Luivienno Statia, 5.Gerffert Koster; 6.Mischa Boelens, 18.Jean-Pierre Ascension; 7.Lliandro Martis, 10.Michael Maria (captain), 11.Shaquelle Clements; 9.Jersylee Riley (21.Diquan Myers 71).
Unused substitutes: 22.Juricmar Arnhem (GK), 12.Bryan Bakboord, 14.Urlyson Hamen, 16.Gleymian Streden, 17.Shurwendley Vicento, 19.Cedricson Antonio, 20.Isai Marselia.
Coach: Henry Caldera
Referee: Kimbell Ward (St Kitts and Nevis)
Under-20 Caribbean Cup results
Group A
(Sun Sep 14)
Suriname 1 (Orveo Faerber 45), Cuba 0 at the Hasely Crawford Stadium;
Trinidad and Tobago 4 (Jabari Mitchell 33, Kadeem Corbin 44 pen, 60, Aikim Andrews 83), Curaçao 0 at the Hasely Crawford Stadium;
Group B
(Sat Sep 13)
Haiti 2 (Junior Joseph 20, 36), Dominican Republic 1 (Frank Matos 68) at the Ato Boldon Stadium,
Aruba 2, St Kitts and Nevis 1 (Tahir Hanley 78) at the Ato Boldon Stadium;
Upcoming fixtures
Group B
(Mon Sep 15)
Dominican Republic v St Kitts and Nevis, 5 pm, Ato Boldon Stadium,
Aruba v Haiti, 7.15 pm, Ato Boldon Stadium;
Group A
(Tue Sep 16)
Curacao v Suriname, 5 pm, Hasely Crawford Stadium,
Trinidad and Tobago v Cuba, 7.15 pm, Hasely Crawford Stadium.