The Trinidad and Tobago team national football completed its mini-South America tour this afternoon in Sao Paulo, Brazil with a 2-0 defeat against World Cup-bound Iran.
The result follows a 3-0 loss against Argentina on Wednesday in Buenos Aires. Argentina and Iran are both drawn in Group F of the Brazil 2014 World Cup alongside Nigeria and Bosnia.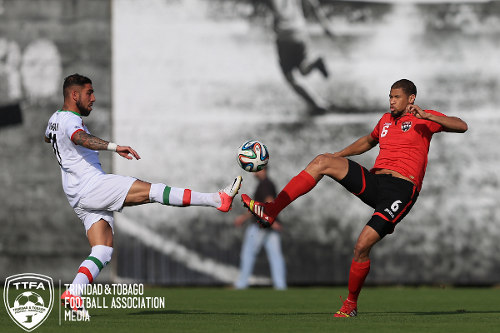 Elsewhere, regional rival, Jamaica, was put to the sword away in France where the "Reggae Boyz" were routed 8-0 by the host team who shook off the absence of star player Franck Ribery, who will miss the World Cup due to a nagging back injury.
It was a more low keyed affair in Sao Paulo as the media was not allowed to cover Trinidad and Tobago's clash with Iran although  live updates were relayed from the TTFA press officer through the Soca Warriors Facebook page. And, as in their friendly international with Argentina, the "Soca Warriors" contrived to concede goals late in the first half and soon after the resumption.
Trinidad and Tobago head coach Stephen Hart credited his players for their effort although he urged them to be more assertive and match the enterprise they showed in the final 20 minutes.

"It was not a bad performance but I thought we allowed (Iran) to take charge at some points of the game," Hart told the TTFA Media. "We could have been stronger and not allowed them to get into certain positions.
"Again we conceded just at a point before the half and that changes the mindset in the dressing room before the team comes back out. That is something we'll work on."
Lester Peltier had a chance to put the Warriors ahead, early in the first half, but shot wide of the target.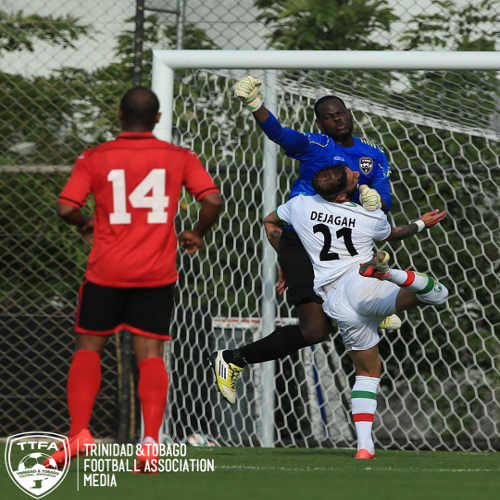 Iran made Trinidad and Tobago pay in the final kick of the first half as 24-year-old midfielder Ehsan Haji Safi drove past Trinidad and Tobago goalkeeper Jan-Michael Williams following a right side corner.
Six minutes into the second half, Iran won a penalty kick after a foul by Trinidad and Tobago right back Justin Hoyte on striker Ashkan Dejagah. But Warriors custodian Jan-Michael Williams denied Javad Nekounam from the spot with a flying stop.
Three minutes later, Iran did double its lead though as Reza Ghoochannejad buried an opportunity on a counter attack.
Hart made six changes in the second half and the Pro League duo of Willis Plaza and Trevin Caesar made an immediate impact with the latter winning two free kicks in dangerous areas. But the Warriors could not end their tour with a goal.
Hart described the trip as a wonderful opportunity.
"We are trying to get to that level and our kind of preparation now is not where Iran or Argentina would be at this point in time," he said. "Overall we had a wonderful opportunity for some of our less experienced players to play at a high level and on a stage where we want to be at on a consistent basis.
"We'll look back at these matches and pick out what will serve us well going forward. We still have some way to go but it's all part of the process to getting where we want to be at."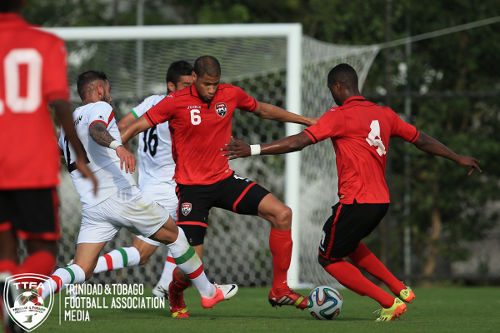 Defence Force utility player Curtis Gonzales and Caledonia AIA veteran playmaker Densill Theobald were the only members of the 22-man squad that did not feature in either game—apart from Point Fortin Civic custodian Marvin Phillip who left Brazil on Friday night after the tragic death of his 10-month-old son, Maitai Phillip.
The 2014 World Cup kicks off on Thursday in Sao Paulo where hosts Brazil face Croatia in a Group A contest while Argentina and Iran open their Group F campaigns on June 15 and 16 respectively.
Trinidad and Tobago's next scheduled round of matches will take place in the 2014 Caribbean Cup semifinal qualifying phase from October 6 to 13.
(Team)
Trinidad and Tobago: 21.Jan-Michael Williams (GK); 2.Justin Hoyte, 6.Radanfah Abu Bakr, 12.Yohance Marshall 4.Sheldon Bateau (17.Gavin Hoyte 72); 8.Khaleem Hyland, 14.Andre Boucaud (5.Kevan George 63); 23.Lester Peltier (16.Marcus Joseph 83), 7.Ataulla Guerra (3.Joevin Jones 63), 10.Kevin Molino (20.Trevin Caesar 80); 9.Kenwyne Jones (captain) (11.Willis Plaza 76).
Unused substitutes: 13.Rundell Winchester, 15.Curtis Gonzales, 18.Densill Theobald, 19.Carlyle Mitchell.
Coach: Stephen Hart
International Friendly
Iran 2 (Ehsan Haji Safi 45, Reza Ghoochannejad 54), Trinidad and Tobago 0 in Sao Paulo