Defence Force's CONCACAF Club Championship dream lasted only 90 minutes.
The defending Trinidad and Tobago Pro League champion club was eliminated from the 2014 Caribbean Club Championship last night without kicking a ball as Guyanese club, Alpha United, edged hosts Harbour View 1-0 in Jamaica to seal first place in Group 3.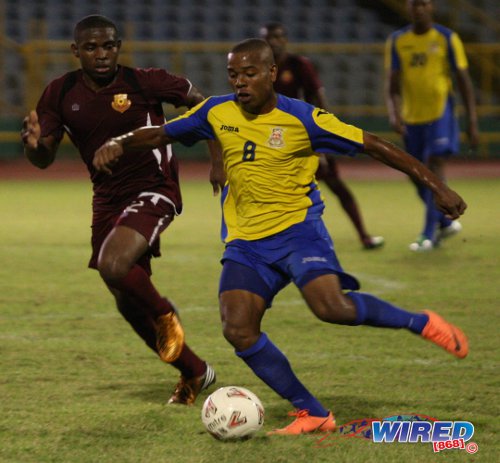 Alpha downed Defence Force 2-0 last Friday in the opening group match with goals from Andrew Murray and former Caledonia AIA and Grenada international striker Kithson "Bully" Bain.
Defence Force will play Harbour View in a meaningless fixture tomorrow night before returning to Trinidad to try and salvage its domestic season. At present, the army/coast guard combination is sixth in the nine-team Pro League standings although the club can rise to second if it wins its four games in hand.
Meanwhile in Haiti, Caledonia AIA kept its hopes of advancing to the final qualifying round alive. But only just.
The "Eastern Stallions" trailed Surinamese outfit, Inter Moengotapoe, 1-0 at the halftime interval but staged a gallant recovery in the second half. Nuru Muhammad brought Caledonia level with a successful header off a Nathan Lewis corner for his second goal of the competition.
And attacking midfielder Tyrone Charles, who also scored in Caledonia's 3-0 win over Haitian team Association Sportive de Mirebalais on Friday, put the Morvant/Laventille-based team ahead from the penalty spot after a foul on Keyon Edwards.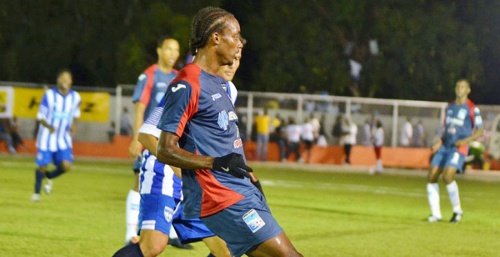 But Caledonia coach Jamaal Shabazz was left lamenting several missed opportunities by Edwards and Lewis as Inter scrambled the ball over the goal line from a corner kick to snatch a late equaliser.
In the second Group 2 match, Jamaica's Waterhouse reeled off its second successive triumph with a 2-1 win over Sportive de Mirebalais on the artificial surface.
It means that Waterhouse only needs a draw to take the sole qualifying berth when it faces Caledonia tomorrow evening in Haiti. Three from the four clubs in the final round will advance to the 2014/15 CONCACAF Champions League.
There have been only three occasions in this millennium that a Pro League team has not advanced to the Champions League. In 2004, San Juan Jabloteh was edged out by Jamaica's Tivoli Gardens in the semifinal round while, a year later, North East Stars forfeited.
And, three years ago, Caledonia was eliminated in Haiti after an extra time loss to Tempete while Alpha United edged out Defence Force on penalties in Guyana.
In 2014, Alpha again proved too much for Defence Force. Caledonia has a final opportunity tomorrow to rewrite its sad history in Haiti.
2014 Caribbean Club Championship results
Group 2
(Fri Mar 21)
Waterhouse 4 (Chedlin Francois 44, Romario Campbell 83, Juvaune Benjamin 84, Damarley Samuels 90), Inter Moengotapoe 0 in Haiti
Caledonia AIA 3 (Keyon Edwards 29, Nuru Muhammad 38, Tyrone Charles 84), Sportive de Mirebalais 0 in Haiti
(Sun Mar 23)
Caledonia AIA 2 (Nuru Muhammad, Tyrone Charles pen), Inter Moengotapoe 2 in Haiti
Waterhouse 2, Sportive de Mirebalais 1 in Haiti
(Tue Mar 25)
Sportive de Mirebalais vs Inter Moengotapoe in Haiti
Caledonia AIA vs Waterhouse in Haiti
Group 3
(Fri Mar 21)
Alpha United 2 (Andrew Murray 20, Kithson Bain 48), Defence Force 0 in Jamaica
(Sun Mar 23)
Alpha United 1, Harbour View 0 in Jamaica
(Tue Mar 25)
Harbour View vs Defence Force in Jamaica