The 30-year-old Kevon Carter got his wings long before his untimely passing yesterday afternoon.
The barrel-chested Trinidad and Tobago and Defence Force flanker never ran; he flew. With an economy of leg movement, Carter propelled himself to scary speeds. And, although a quiet and assuming figure off the ball, he terrorised opponents in the local Pro League and wherever he travelled with the "Soca Warriors."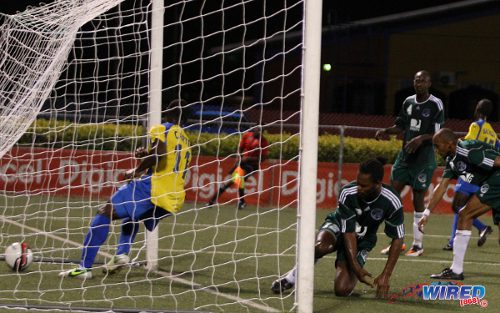 There was a memorable moment in Bucharest on 4 June 2013 when Trinidad and Tobago played away to Romania in a friendly international. The Warriors did not look capable of getting out of their own half for long phases and a long diagonal ball played behind Romania's left back Răzvan Rat seemed to be borne of desperation.
Rat, then an England Premier League player with West Ham and now at Rayo Vallecano in Spain, had a 10-yard lead on Carter and, back turned, trotted into what he assumed to be Carter's running path to protect the ball. His eyes almost popped out of his head when he saw the Trinidad and Tobago winger zip past him before he had barely moved.
In trademark style, Carter's chest was perfectly upright while his thighs rose to perfect 90 degree angles from his torso before dropping away again as he accelerated. Rat, like dozens of Pro League defenders, wore the expression of panic and disbelief; and the resulting cross just missed Carter's teammate for club and country, Devorn Jorsling.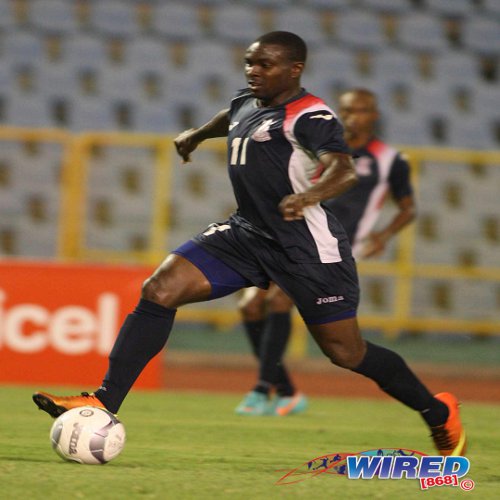 We will all miss Carter.
Here is what those who knew him well on the football field had to say.
Devorn Jorsling, a Defence Force forward who played alongside Kevon Carter at domestic and international level:
"This is something unbelievable to all of us right now. One minute Kevon was right there with us and then after we're hearing he didn't make it… This a massive shock for all of us but also devastating to see one of your brothers go and will not return to be with us."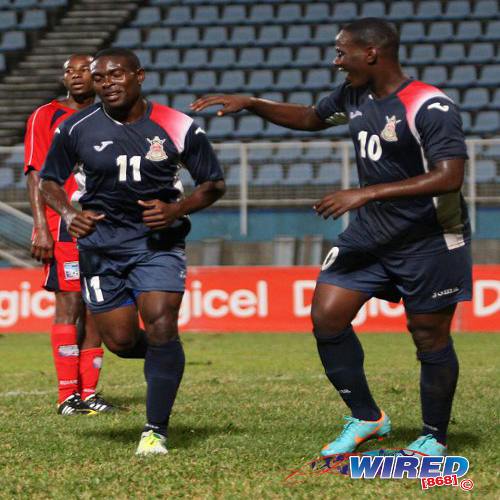 Carlos Edwards, Ipswich utility player, ex-soldier and Carter's former national teammate:
"It's unbelievable to me at this time. (He is) another Defence Force player and teammate who I enjoyed being around and playing with. I cannot begin to imagine what everyone close to him may be going through right now.
"It shows us that life is precious on and off the football field. He got into difficulty doing what he loved most and we have to remember him for what he was."
Kenwyne Jones, Cardiff City forward and Carter's former international teammate and captain:
"Kevon was a discreet and sublime individual. I've had the great pleasure of knowing him for a number of years and I would say I was blessed to do so. My condolences go out to his family. May he rest in peace. God knows best."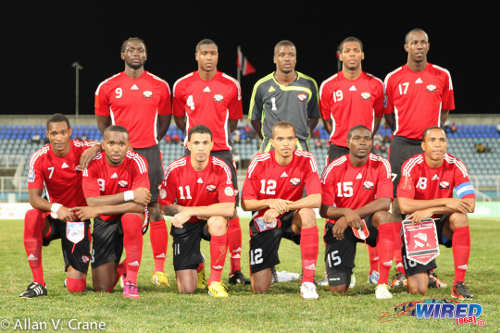 Jamaal Shabazz, Caledonia AIA and former "Soca Warriors" coach who, in tandem with fellow coach Hutson "Barber" Charles, used Carter extensively during the 2012 Caribbean Cup tournament:
"He was a very quiet but authoritative person. He used to accept his responsibilities and he was a real team person… When the team travelled, he would be the first to help the equipment man or to volunteer with the simple things that senior players tend to leave for the juniors.
"He was very positive in spirit and an energetic, enthusiastic person. It was a pleasure to work with him and he was one of my favourite players with his pace and aggression to get behind the defence.
"In Islam, we say to Allah we belong and to Him we must eventually return… We accept that when God decides a matter he says 'Be' and it is."
Stephen Hart, present Trinidad and Tobago head coach who used Carter twice at the 2013 CONCACAF Gold Cup:
"At this point, this is just a serious shock and a tragedy. Right now, I just want to offer condolences to the family. I met Carter when I came into the team for the Gold Cup and he was a complete professional.
"He always did whatever was asked of him and was very approachable and never complained."
David Muhammad, Trinidad and Tobago national football team manager who interacted with Carter often during his administrative duties:
"Kevon Carter was a humble, quiet, pleasant, decent young man who was lethally talented on the football field with his pace and fitness.
"We were all heartbroken when he broke his leg in 2010 but this shock is beyond comprehension. I don't recall ever having a conversation with Kevon when he was not smiling… May his memory inspire us."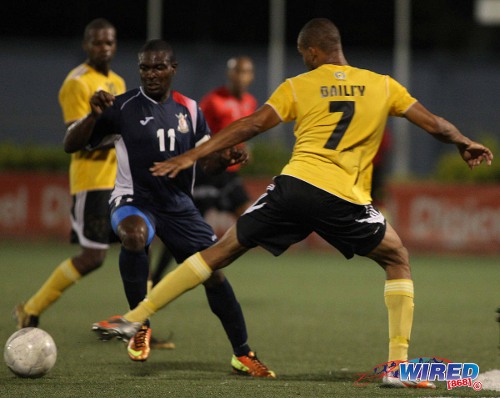 Andre Boucaud, Trinidad and Tobago and Notts County midfielder and Carter's former international teammate:
"I knew him for that short space of time but obviously we had spent a lot of time together for the friendlies and the Gold Cup and so on. He was always a very cool and decent individual. I think his loss a terrible one.
"And for us as footballers, it's frightening to some extent because you're seeing guys just popping up with this kind of medical problem that has proven to be fatal. We've got to be extremely careful about everything we do as athletes now."
David John Williams, W Connection club president
"He got along with everyone. We have lost a good one. Condolences to his immediate family and his extended family, the Defence Force, from the Connection family."
Dexter Skeene, TT Pro League CEO who met Carter several times in the course of his administrative duties:
"This is like a bad dream. I can't believe this has happened. He is like one of our family, we know him personally here at the office of the league.
"We are deeply, deeply saddened. He was such a polite and humble individual every time I interacted with him."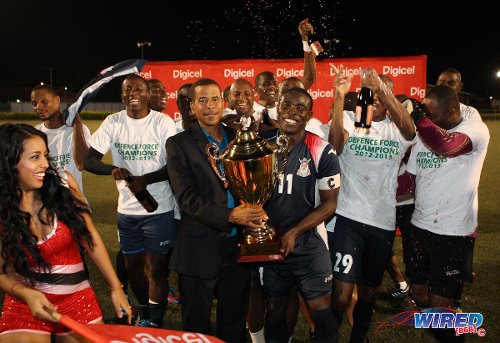 Russell Latapy, Inverness coach and ex-Trinidad and Tobago coach who gave Carter eight international caps:
"I would like to express condolences to his family and friends. I got the news in Scotland just after midday and it was fact a shocker for me.
"He was a player at the time with great potential and lots of pace. He will definitely be missed."
Angus Eve, North East Stars coach and Trinidad and Tobago's most capped player
"He was a very talented young player and a very good person who I'm sure will be missed by friends and family. R. I. P."
Raymond Tim Kee, president of the Trinidad and Tobago Football Association (TTFA) who knew Carter through his administrative duties:
"No words can really describe how we feel about the death of another one of our sons, a young man who was vibrant and was a valuable member of our country's national team.
"I was indeed very shocked when I received the news earlier today and this will be a most difficult period for his family, his teammates, his friends and we must support them in whatever way possible. Losing someone, especially in such circumstances is never something that is easy to handle. His family and everyone else close to him are our thoughts and prayers."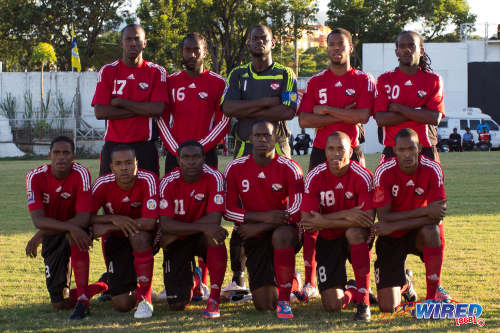 Anil Roberts, the Minister of Sport:
"Kevon was a strong young man who gave 10 years' dedicated service to the national team from under-23 to senior level, playing most recently in the 2013 Concacaf Gold Cup. It is extremely disheartening to hear this news but I hope it serves as a wake-up call to all of us to pay closer attention to our health and wellness.
"When death comes so suddenly, it is always shocking and difficult to understand but I hope Kevon's family and friends will cherish the time he spent with them."
Ross Russell, the Defence Force head coach who tutored Carter for close to a decade:
"We only heard the news after the team was already dismissed so the team has not spoken about it as a group. But some men were bawling when they heard…
"It is one of our family gone."