"My form is now starting to come," said Point Fortin Civic attacker Marcus Joseph. "I'm accustomed to scoring plenty goals… (I feel like) it can score anytime I shoot."
Caledonia AIA led Civic 1-0 at halftime today and seemed to be cruising towards three points and second place in the Pro League standings. But then Joseph removed the safety from his left boot and it was not the same thereafter.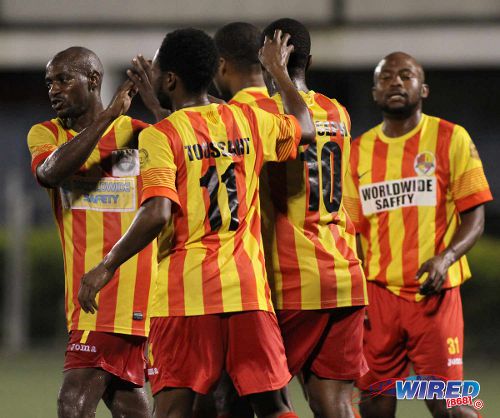 "I believe that winning is an attitude," said Civic coach Reynold Carrington, as he explained the self-belief that now flows through his squad.
It was only half the story, though. Today's contest, which was Civic's third straight home win, was as much about tactics as it was tenacity.
Civic started using a 4-4-2 system with a diamond-shaped midfield that asked the right and left side midfielders to pull wide when the home team was in possession and tuck narrow while defending.

Caledonia countered with a 4-2-3-1 formation that used Akim Armstrong as the offensive midfielder just ahead of the holding pair of captain Stephan David and veteran national playmaker Densill Theobald.
When defending, Civic could not close Caledonia's passing triangles down quickly. And, once in possession, Carrington requested two of his midfield four to play as orthodox wingers.
So, right midfielder Kariym Balthazar, Carrington's stepson, would do shuttle runs trying to close down Caledonia's wall pass specialists, David and Theobald. And, when Civic took possession, would then sprint outside to try and outmanoeuvre the mobile pair of Noel Williams and Aubrey David.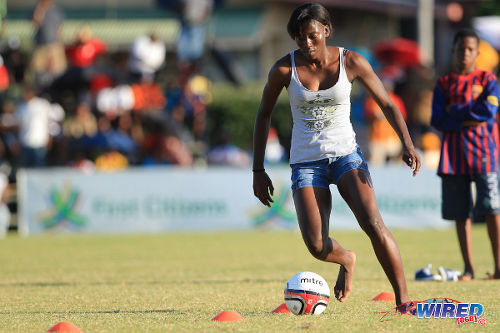 It seemed to be asking for trouble and Williams obliged the hosts with the opening goal in the eighth minute with an imperious header into the corner off a right side Kareem Joseph cross.
It might have been 2-0 in the 24th minute but for a flying Marvin Phillip save, which denied busy Caledonia midfielder Nical Stephens. And then Caledonia really should have scored in the 31st minute as Armstrong released Williams with a simple pass over the top but the utility player stabbed wide.
Steven Joseph hit the upright for Civic, just before the interval, but it was a misplaced cross and Caledonia supporters might not have been overly concerned at the break.
Caledonia was still the most dangerous team at the start of the second half. Stephens created a chance for Keyon Edwards that the striker could not take in the 52nd minute before the young midfielder forced Phillip into a good low save in the 55th minute.
But Carrington had adjusted tactically by then as Civic changed its focus from the flanks to central midfield.
In the 66th minute, David made a heavy touch in central midfield and, in a flash, the ball was stolen from his toes and relayed upfront to Joseph who calmly steered to the left of Caledonia goalkeeper Shemel Louison.
Five minutes later, an errant Theobald pass almost produced a similar result but, on this occasion, Louison was a fraction quicker to the through ball than Joseph.
But Joseph completed the job in the 79th minute when collected a cross on top of the opposing area from his namesake, Joseph (S), and slapped a brilliant effort past Louison at his near post to settle the match while Muhammed stood off.
"Today is a significant victory," said Carrington, "because it cuts Connection's lead to seven points."
It was a bold statement considering that Civic is just four points ahead of third placed North East Stars and the latter team played one game less.
"We want to look at the top not the bottom," said Carrington, with a smile.
Joseph has allowed himself a personal target as well. But it is a case of who not what.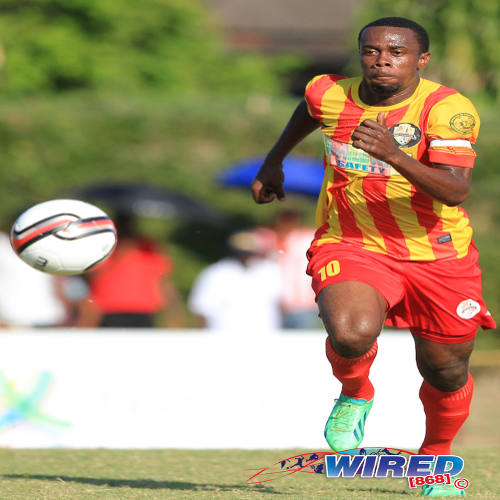 "I want to be on the field against Argentina," said Joseph. "So far, coach (Stephen Hart) has used me mainly on the left but this is my best position (through the centre)."
Thus far, Joseph has played five times for the senior international team. Shabazz gave him two caps while he was a lower league player and Hart used him three times in the midst of his run of eight league games with one goal.
Perhaps the Civic attacker would give a better account of himself now.
Since the 2013 Gold Cup, Hart has used Kevin Molino, Willis Plaza and Ataullah Guerra alongside striker Kenwyne Jones. Joevin Jones has auditioned for the part too with a series of quality performances for DIRECTV W Connection.
Add Joseph's name to the list of applicants; and his CV, which boasts of 10 goals in his last six games, cannot be easily overlooked.
Civic intends on chasing Connection; Joseph wants to share the stage with Lionel Messi.
Point Fortin is clearly living the dream these days.
(Teams)
Point Fortin Civic (4-1-3-2): 1.Marvin Phillip (GK); 8.Steven Joseph, 5.Andre Ettienne (captain), 4.Weslie John, 17.Glen Sutton; 7.Nickcolson Thomas; 8.Kariym Balthazar (29.Kevin Rouse 46), 19.Andrei Pacheco, 18.Akeem Redhead; 10.Marcus Joseph, 11.Andre Toussaint.
Unused substitutes: 22.Akini Adams (GK), 21.Andre Alexis, 23.Kelvin Hernandez, 27.Jarred Bennet, 30.Akiniyel Rouse, 33.Jamille Boatswain.
Coach: Reynold Carrington
Caledonia AIA (4-2-3-1): 1.Shemel Louison (GK); 12.Kareem Joseph, 5.Akeem Thomas, 3.Nuru Muhammad, 2.Aubrey David; 7.Stephen David (captain), 21.Densill Theobald; 19.Nical Stephens (18.Denron Frederick 84), 17.Akim Armstrong (16.Tyrone Charles), 20.Noel Williams (10.Ralph Lundy Jr 87); 9.Keyon Edwards.
Unused substitutes: 34.Kevin Graham (GK), 6.Marcus Ambrose, 8.Keron Bethelmy, 22.Jameel Neptune.
Coach: Jamaal Shabazz
Referee: Gordon Maloney
Pro League results
(Fri Feb 14)
North East Stars 1 (Kennedy Hinkson 27 pen), St Ann's Rangers 0 at Ato Boldon Stadium;
*–Seventh clean sheet
Central FC 4 (Samuel Delice 5, Jason Marcano 45, Willis Plaza 61, 90+), San Juan Jabloteh 1 (Bradley Welsh 56) at Ato Boldon Stadium;
(Sat Feb 15)
Point Fortin Civic 2 (Marcus Joseph 66, 79), Caledonia AIA 1 (Noel Williams 8) at Mahaica Oval
Upcoming fixture
(Tue Feb 18)
Central FC vs Defence Force, 6 pm, Ato Boldon Stadium.
[standings league_id=2 template=extend logo=true]