The Trinidad and Tobago national under-20 women's football team had lost all five previous outings against Mexico at CONCACAF level. This evening, in the Cayman Islands, the Spanish-speaking North American nation extended its run over the two island Caribbean republic to six successive victories.
At the final whistle, Mexico emerged 3-0 victors at the Truman Bodden Sports Complex, George Town in the toughest test for the "Soca Princesses" of this tournament so far. But it will get worse before it gets better.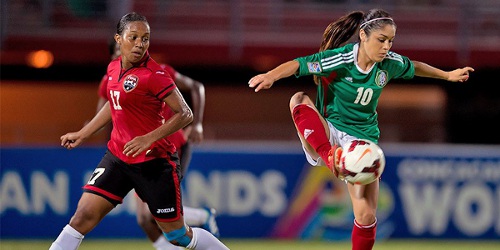 The Group B result means that Trinidad and Tobago must face the formidable United States in Friday's semifinal at the Truman Bodden.
The United States, ranked as FIFA's number one women's nation, has won its last 13 matches at CONCACAF Under-20 level; it is a record that spans six years. In the ongoing tournament, the United States has already scored 19 goals without conceding any.
If the Princesses cannot execute a miraculous upset against the "Yanks", they will still have a final shot at qualifying for the 2014 Canada World Cup in a third-place play off against either Costa Rica or Mexico on Sunday evening.

Costa Rica will be the likely opponent. The Central American nation is ranked fifth in CONCACAF, which is just one place higher than Trinidad and Tobago. The FIFA rankings place Costa Rica at 40th in the world with Trinidad and Tobago at 46th.
This CONCACAF Under-20 competition remains Trinidad and Tobago's best chance ever to qualify for a FIFA women's tournament. However, the Princesses might not have enjoyed this evening's outing as much as their previous contests against the Cayman Islands and Honduras, which they both won.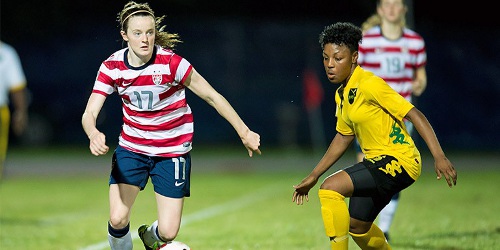 Trinidad and Tobago was not overawed and held its own for stretches of play. But Mexico clearly conjured the better scoring opportunities.
Mexican defender Mariel Gutierrez fired a warning shot, after just four minutes, with a free kick which rapped the top of goalkeeper Tenesha Palmer's bar.
Trinidad and Tobago had not conceded in the competition before this evening but Palmer failed to get behind a long range effort from Mexico striker Palomo Zermeno in the 33rd minute and it squirmed beneath her body and into the far corner for the opening goal.
Palmer atoned, partially, with a diving save to deny a looping Zermeno header in the 41st minute while prolific Mexican attacker Tanya Samarzich headed a promising chance wide, just before the interval. But the Princesses fell further behind, two minutes into the second half, as Mexico defender Paulina Solis sent an unstoppable header in off the far post after Trinidad and Tobago failed to clear a dangerous Fabiola Ibarra corner kick.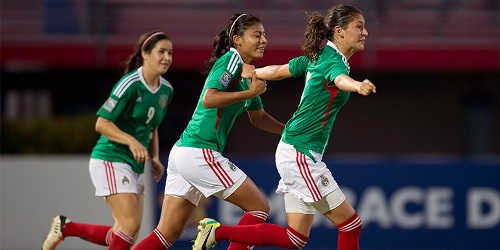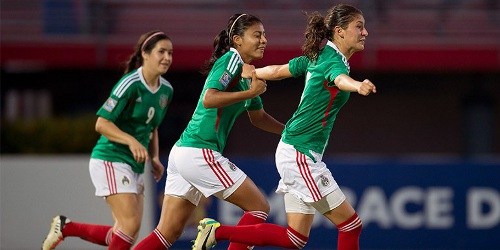 The Princesses gave Mexico a minor scare in the 54th minute as Brianna Ryce drilled the ball into the area and opposing goalkeeper Cecilia Santiago needed two attempts to hold on with T&T captain Anique Walker lurking.
But Mexico put the result beyond doubt from the penalty spot in the 77th minute as Trinidad and Tobago substitute Tkeyah Phillips tripped Ibarra in the box and Solis converted the resulting kick.
The Princesses can be sure of another searching test of their defensive solidity on Friday from the rampant United States before their tournament ends on Sunday with either a CONCACAF final clash or a third place play off against Costa Rica or Mexico.
One win from Trinidad and Tobago's two remaining games will help the Princesses, who participated as host nation in the FIFA 2010 Under-17 World Cup, to qualify for its first women's World Cup.
(Team)
Trinidad and Tobago: 20.Tenesha Palmer (GK) (1.Keri Myers 69); 6.Khadisha Debesette, 8.Daniella Findley, 17.Jonelle Warrick, 18.Liana Hinds; 11.Khadidra Debesette, 4.Brianna Ryce 12.Shanisa Camejo, 9.Patrice Campbell (2.Tkeyah Phillips 69); 19.Anique Walker (captain), 13.Shenelle Henry (15.Donika Murray 46).
Unused substitutes: 3.Emma Abdul, 5.Adeka Spence, 7.Akilah Sparks, 10.Tsaianne Leander, 14.Otisha David, 16.Summer Arjoon.
Coach: Izler Browne
CONCACAF Under-20 Women's Results
Group B
(Tuesday January 14)
Mexico 3 (Paloma Zermeno 33, Paulina Solis 49, 77 pen), Trinidad and Tobago 0 at the Truman Bodden Sports Complex, Cayman Islands;
Honduras 3 (Linda Moncado 48, 81, Johana Lope 90), Cayman Islands 0 at the Truman Bodden Sports Complex, Cayman Islands;
Semifinals
(Friday January 17)
Mexico vs Costa Rica, 5 pm, Truman Bodden Sports Complex, Cayman Islands;
Trinidad and Tobago vs United States, 8 pm, Truman Bodden Sports Complex, Cayman Islands.