The unmistakable scent of marijuana wafted through the night's breeze at the Marvin Lee Stadium in Macoya last night and, inadvertently or not, everyone got a sniff or three.
But, by the final whistle, the Centre of Excellence was high off Gorian Highley as the former youth prodigy scored a second half hattrick to lift Super League club, Malabar FC, to a 4-3 triumph against Pro League opponent, San Juan Jabloteh in the first round of the Toyota Classic competition.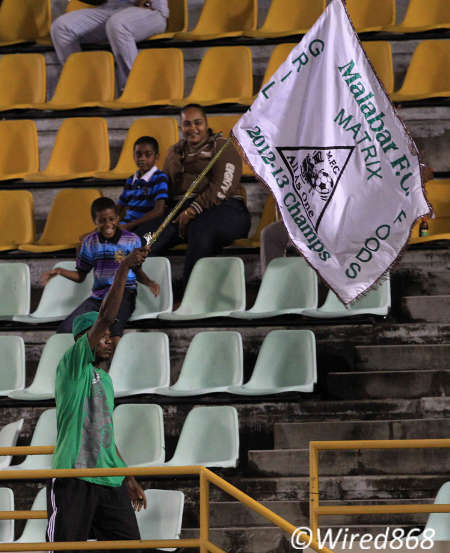 It was the second Super League upset of this tournament so far, after Club Sando's 3-1 triumph over Police FC on Friday night. And Guaya United can make it three wins for the lower league division today if it can make home advantage count against North East Stars from 3.30 pm at the Guayaguayare Secondary Ground.
Super League club Joe Public did not enjoy it so much as the "Eastern Lions" were whipped 3-0 by Central FC in Macoya while the Toyota Classic was an absolute nightmare for the Stokely Vale team, which was mauled 11-0 by Point Fortin Civic at the Mahaica Oval.
Ironically, Point Fortin failed to gain promotion to the Super League earlier this year before opting to skip a level by finding the resources to secure a berth in the Digicel Pro League. And Stokely Vale found out exactly how much the southern club has improved as the Tobagonians trailed 7-0 by halftime while Point Fortin registered double figures with 20 minutes to spare.

Playmaker Marcus Joseph led the rout with a first half hattrick while striker Andre Alexis and winger Matthew Bartholomew both notched doubles.
At Macoya, defender Dwight Pope gave Central an early opening but it was only after the 57th minute ejection of Public substitute Ricardo Bennett, for a clumsy high boot at Central defender Jamal Jack, that the game really opened up.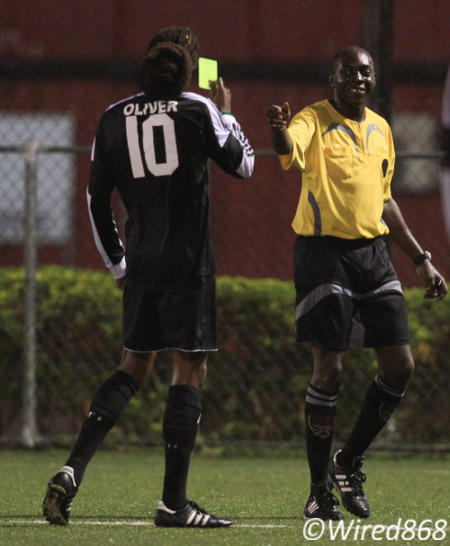 Central's teenaged forwards were both on the score sheet as Dwight Quintero doubled his team's advantage with a deflected strike in the 63rd minute and then threaded a pass through for substitute Rundell Winchester to grab a third for the "Couva Sharks" in the 67th minute.
Jabloteh might have thought it was heading for a similarly straightforward victory as the "San Juan Kings" stormed into a two-goal lead within the first 21 minutes and led 3-1 at the break.
Jabloteh attacker Rennie Britto had a hand in all three goals for his team. He teed up captain Kerry "El Corbeux" Baptiste for a typically predatory close range finish in the ninth minute; it was Baptiste's 11th goal from eight outings this season.
And Britto, a journeyman whose former employers include DIRECTV W Connection, Central and Ma Pau, showed his own finishing ability as he steered the ball into the far corner, after being sent clear in the 21st minute.
Malabar earned a lifeline in the 33rd minute as winger Hayden Tinto's angled effort deflected off Jabloteh right wing back Nyron Jones and past goalkeeper Kevin Dodds.  The item was harshly adjudged to be a Jones own goal and not credited to Tinto.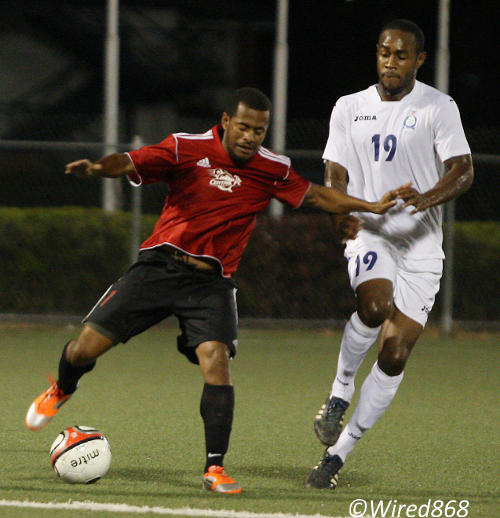 Seconds later, the Super League team should have been level as Tobago-born striker Kevon Woodley, another former Pro League journeyman, steamed into the penalty box but blasted his effort off the underside of the bar.
And, as Malabar bemoaned its bad luck, Jabloteh immediately increased its advantage as left wing back Lekon Elie's low, precise cross was converted by Britto in the 35th minute.
At halftime, Malabar's Rastafarian coach Julius Edwards might have whispered a silent prayer to Haile Selassie. But it was Highley who came to his rescue.
Highley made the score 2-3 in the 51st minute as he fanned over the ball with his left foot before surprising Jones and Dodds with an angled effort from outside the box that arrowed into the far corner.
And, nine minutes later, the former Arima Secondary Comprehensive schoolboy and Connection youth team player pulled Malabar level with a composed, curled effort around Dodds from inside the area, after a Tinto through ball.
Jabloteh could and should have reclaimed the lead.
Midfielder Jelani Felix saw a speculative left foot effort hit the far upright in the 56th minute, Baptiste missed a sitter in the 78th minute as he failed to connect cleanly with another Britto cross while, in the 82nd minute, Britto failed to beat Malabar goalkeeper Zane Coker in a one-on-one situation.
It was Britto's last taste of action as Coker clattered into him and the diminutive attacker had to bodily lifted off the field and replaced by Shane Hospedales.
Highley showed no sympathy.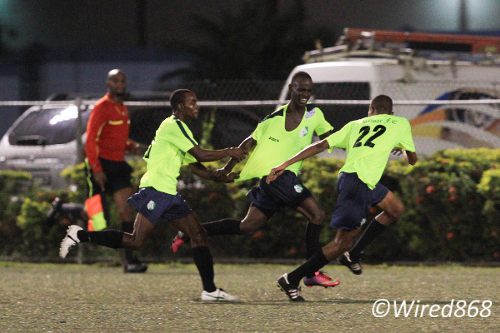 Five minutes from the end of regulation time, the three-man Jabloteh defence failed to properly clear its lines and Highley swung his left boot a third time and the ball whizzed to Dodds' right.
And Jabloteh could find no way out of the Malabar matrix.
(Teams)
Malabar FC (3-1-4-2): 69.Zane Coker (GK); 22.Dinell Lopez, 3.Keston Pierre (captain), 15.Sherwayne Morris; 7.David Power Bernard; 26.Noel George (82.Shandel Samuel 86), 18.Kendall Velox (13.Calvin Shepherd 72), 9.Cyrano Glen, 10.Hayden Tinto; 19.Kevon Woodley, 20.Gorian Highley.
Unused substitutes: 1.Shane Mattis (GK), 6.Julio Noel, 11.Dorian Daniel, 17.Jameel Neptune, 90.Nicholas Armstrong.
Coach: Julius Edwards
Jabloteh (3-5-2): 1.Kevin Dodds (GK); 25.Alfie James, 18.Jevon Morris, 12.Jamal Spencer; 16.Nyron Jones (17.Kerry Daniel 64), 19.Dillon Kirton (14.Shaquille Bertrand 65), 9.Jelani Felix, 20.Kevon Piper, 3.Lekon Elie; 7.Rennie Britto (22.Shane Hospedales 83); 10.Kerry Baptiste (captain).
Unused substitutes: 13.Savion Kirton, 5.Daryl Mark, 6.Dario Holmes, 11.Akel James.
Coach: Keith Jeffrey
Toyota Classic results
Round of 16
(Sat Nov 9)
Central FC 3 (Dwight Pope 5, Dwight Quintero 63, Rundell Winchester 67), Joe Public 0 at Macoya
Malabar 4 (Nyron Jones OG 33, Gorian Highley 52, 61, 85), San Juan Jabloteh 3 (Kerry Baptiste 9, Rennie Britto 21, 35) at Macoya
Point Fortin 11 (Weslie John 24, Marcus Joseph 36, 40, 44, André Toussaint 43, Kelvin Modeste 45, Matthew Bartholomew 50, 57, André Alexis 63, 82, Andrei Pacheco 70), Stokely Vale 0 at Mahaica Oval
(Fri Nov 8)
W Connection 2 (Hashim Arcia 23, Yhon Reyes 51), Real Maracas 0 at Couva
Club Sando 3 (Teba McKnight 38, 58, Nigel Daniel 76), Police 1 (Todd Ryan 24 pen) at Couva
Defence Force 3 (Jemel Sebro 29, Richard Roy 54, 64), 1976 Phoenix 0 at Macoya
Caledonia AIA 3 (Noel Williams 4, Marcus Ambrose 72, Kithson Bain 79), St Ann's Rangers 0 at Macoya