Not for nothing were West Indian teams prior to Kerry Packer's crucial intervention in the late 1970's ritually called "Calypso Cricketers." Sparrow's "Slave" contains a line that perhaps epitomizes the regional attitude to the game.
In that classic tune, the Calypso King of the World as first person narrator describes the harsh conditions: "the English slave master standing dey with he gun… de whip and dem dogs" that make his life on the plantation hell; survival requires that "ah study night and day how to get away." Mere escape, however, would not be good enough.
"Ah got to make," sings the bard, "a brilliant escape."
Those seven words may well have informed Vivian Richards oft-repeated conviction that the batsman is "an entertainer." One needs only rewind to last year's tournament in Sri Lanka to see the degree to which the current T20 World Cup champions, Chris Gayle, Keiron Pollard and Marlon Samuels in particular, are worthy successors to the Master Blaster.
But, thanks perhaps to the combination of the much more hectic contemporary schedule and the much more widespread use of technology in sport, today's entertainer has to choose his gigs much more carefully. And he needs to be managed much more carefully, perhaps shrewdly is the word, than used to be the case.

With a line-up including Gordon Greenidge, Desmond Haynes, Alvin Kallicharan, Clive Lloyd and Jeff Dujon to call some names at random, did it really matter that much where IVA Richards batted? Not to mention that even if the whole team collapsed for 150 or so, with once more a random selection of Andy Roberts, Michael Holding, Colin Croft and/or Malcolm Marshall as nine-ten-Jack, the WI would still have felt they had a fighting chance.
In ESPN's splendid "Legends of Cricket" feature on Richards, Ian Chappell tells us an Aussie paceman said of the Great Man when the Great Man was just a disrespectful (in cricketing terms) little boy, "You can't keep batting like that and getting away with it."
"Well," Chappell comments wryly, "he did keep batting like that. And he got away with it!"
So management is key. And management has to be understood to include not just the pure tactical decisions about who bowls, bats and fields when and where but the process of selection of both the team and the squad as well.
Fast forward to June 2013 in England. Chasing a formidable 294 to defeat England in their second round Group A match, Sri Lanka get an unbeaten run-a-ball 134 from Kumar Sangakkara and reach their target with 17 balls and seven wickets to spare. The left-handed number three's knock contains 12 fours… but not a single six. However, there were three sixes and five fours in the 58 that Nuwan Kulasekara, a quick bowler promoted to come in at 187 for 3, blasted off just 38 balls to see his team home.
I cite the Sri Lanka example not just to reinforce my earlier contention that flexibility has to be an indispensable element in the captain's architectural plan for the batting line-up. I want as well to invite contrast with what happened in the WI's match the next day when Johnson Charles, along with Gayle, Samuels and Pollard, all perished going for big shots, in the case of the last two, inopportune big shots. Most importantly, I want to call attention to the all-important role of the composition of the team, the squad and the touring party.
"What know they of England cricket," a friend called me up last week to ask, "who England weather do not know?"
I thought he was referring to me. He wasn't; he was talking about Ottis Gibson. Having upbraided me for writing that the WI versus South Africa match had been played at the Oval and not in Cardiff, he reminded me that Gibson had spent several years playing and coaching in England. He must have known, my friend pointed out, that in Great Britain in June there was always the possibility of a close encounter of the third kind with Messrs Duckworth and Lewis. Had he and his assistants not allowed for that, he enquired. Did his technical squad not include someone capable of calculating quickly and correctly the DL par score.
"I am sure the AG's 14-year-old nephew would have been willing to take the job," he joked, "if the price was right."
Point taken. So team success demands that the squad include a statistician. And the selected team must not ignore the team's real assets. One did not have to advance far into the competition to see that all eight teams had adopted the same basic strategy for the 50-over game: try to get to the batting powerplay with most of your wickets intact. For ODIs, for at least as long as the West Indies remain the de facto T20 champs, there are good a fortiori reasons to plan properly around this principle.
It seems to me that the West Indies should have opened with Darren Bravo or Devon Smith and either Gayle or Charles. On his day, Bravo the Younger has the potential to devastate an attack but he almost always needs to get his eye in; Bravo or Smith is the obvious man to be instructed to bat through the innings, at least to the 30th over. If he goes early, his usual partner comes at three; if Bravo or Smith falls early, Samuels or Bravo is our man. Samuels for the same reason that he is usually a steady if not exactly a slow starter. In any event, in the ideal situation, the Jamaican goes in no later than four.
Once we have succeeded in keeping wickets intact, the powerplay is to be taken at over number 30 with Gayle and or Charles available to come in at the fall of the first wicket. One doesn't need to spell out the details; the architecture suffices. (See list below article). If Darren Sammy could lead the WI to a well-deserved victory in Sri Lanka, what wonders might Bravo not wreak, given that he understands the T20 needs well and is demonstrably a much better strategist than his predecessor?
But the key to success is flexibility. I think it is what Baden Powell had in mind when he gave the Boy Scouts their motto: "Be prepared." It is certainly what, if you've read "Behind closed doors" in Marshall's Marshall Arts, accounted for the success of Clive Lloyd's world-beating sides of the 70's and 80.
If we don't dampen Bravo's ardour by unconstructive criticism when things go wrong or spoil him by empty-headed adulation—it happened with Brian Lara—he can turn the whole ship around, starting with the ODI craft. But we must also give him the institutional and logistical support he needs.
A cricket match is played, a very wise man once wrote, in the head of the opposing captains. Let us, therefore, keep a critical eye on how Bravo and Sammy manage in the forthcoming tri-nations T20 and ODI series that bowls off in Jamaica on June 28. How they fare, how WI fare against a full-strength India and Sri Lanka should give us a clear idea of what the possibilities and the options are for when our Test assignments begin anew next year.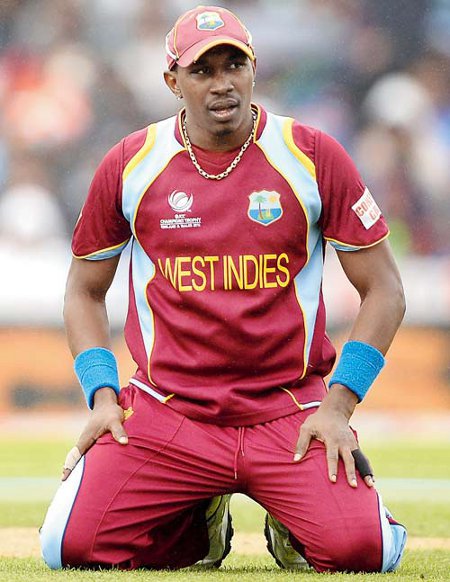 West Indies 16-man ODI architecture
1. Attacking opener—Chris Gayle
2. Steady opener—Devon Smith
3. Steady orthodox batsman—Darren Bravo
4. Marlon Samuels
5. Dwayne Bravo
6. Kieron Pollard
7. Hard-hitting allrounder/batsman—Johnson Charles
8. Wicketkeeper batsman—Denesh Ramdin
9. Wicket-taking seamer—Ravi Rampaul
10. Seamer—Sunil Narine
11. Wicket-taking seamer—Kemar Roach
12. Substitute opener
13. Substitute allrounder
14. Substitute allrounder/ wicketkeeper-batsman
15. Substitute spinner or seamer
16. Substitute quickie