Defending Caribbean Football Union (CFU) club champions Neal & Massy Caledonia AIA and three-time winners DIRECTV W Connection will kick off Group I of the 2013 Caribbean tournament when the two Digicel Pro League clubs face each other from 6 pm today at the Ato Boldon Stadium in Couva.
This evening's winner will be odds on to top the three-team group, which includes the Antigua Barricuda team, and clinch an automatic berth for the 2013 CONCACAF Champions League.
The loser must defeat Barracuda to have a shot at a play-off against the runner-up from Group II in Jamaica, which also starts today.
The Ato Boldon Stadium was due to hold a double header today but Haitian team, Baltimore SC, withdrew on Wednesday evening due to financial constraints. In Group II, Surinamese club SV Inter Moengotapoe declared itself ineligible since, by CONCACAF decree, only professional clubs are allowed to compete this year.
It means, arguably, that T&TEC FC might have been disqualified too although the local club conceded its spot in the Caribbean tournament long ago due to fiscal shortcomings.

The initial CFU group was drawn up earlier this month then redone, in a private draw, just over a week ago with Caledonia and Barracudas moving from Group II to Group I alongside Connection in Trinidad. Jamaican club, Portmore United, the 2005 Caribbean Cup champions, replaced Inter Moengotapoe.
In short, the Caribbean club game is in disarray.
"I am very disappointed in the way (the competition) is being run," Connection owner David John Williams told Wired868. "One minute we are playing a particular team and the next it is being changed. We are hearing about teams pulling out and jumping back in; it is not good for us.
"But we have to go out and play. We can't let ourselves be bothered by it."
CFU general secretary Damien Hughes defended his association's handling of the competition and explained that the financial precariousness of the region's clubs offer unique problems.
"Costs was the major issue for the teams and we got CONCACAF's permission to re-do the draw," said Hughes. "It was redone to allow the two clubs from the respective host countries to play at home and to try to cut the travel expenses for all the teams.
"We have put the home clubs to play on the first match day to avoid the possibility of match fixing."
There is no financial incentive for participating clubs or even a trophy at stake. The successful teams move on the CONCACAF stage where clubs receive US$40,000 for each away game to help offset costs.
Williams said he was disappointed at the absence of prize money. Hughes insisted that the present CFU executive was working on it.
"We have been engaged with partners to look for sponsors," said Hughes. "We are not happy to just accept a hand-out from CONCACAF."
The Caribbean nations tournament, which did not have a title sponsor last year, is expected to be re-adopted by Digicel soon. But, a year after being elected, the present CFU executive has not found a commercial sponsor for the club game yet.
Baltimore, faced with a trip from Haiti to Trinidad and no chance of recouping expenses apart from qualifying, opted to take its chances with a US$9,500 fine instead for pulling out.
The second placed team from each group is expected to meet in a home and away play-off to decide the final CONCACAF qualifying spot. The cost of airfare is likely to be a sore point again and it is not inconceivable that the two teams might agree on one venue for both legs and split the expenditure.
Group II has Jamaican teams Boys Town and Portmore as well as Bayamon FC from Puerto Rico and Haiti's Valencia.
The desire to avoid the costly play-off is likely to raise the stakes this evening when Caledonia and Connection meet.
"Caledonia is the form team at the moment and they have had good results against us this season," said Williams. "We want to get into the Champions League and a win tonight will be a big step in that direction."
Caledonia will be led on the bench tonight by Trinidad and Tobago's joint national head coach Jamaal Shabazz.
Shabazz told Wired868 that he still has not received a contract from the Trinidad and Tobago Football Federation (TTFF), five months after helping the "Soca Warriors" to the 2013 CONCACAF Gold Cup.
"The TTFF and I have a game to game part-time arrangement and this does not deny me the right to help our club," said Shabazz. "I hope my presence will enhance the effort since the staff, the team and I comfortable with my input."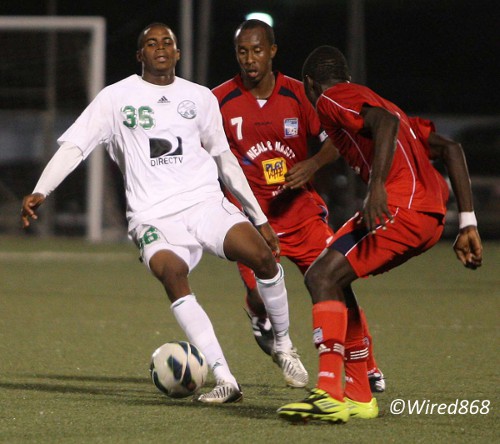 Connection will be spearheaded on the field by classy midfielder Clyde Leon, who has not been selected for the "Soca Warriors" since last November, and 21-year-old rising star and national utility player Joevin Jones who scored twice when the "Savonetta Boys" eliminated Caledonia from the Lucozade Sport Goal Shield last week.
Caledonia will hope for veteran international midfielder Densill Theobald to deliver in central midfield while skilful attacker Keyon Edwards could play a key role upfront too.
"The game today is a chance for us to display consistency as a club emerging as a force in Caribbean football," Shabazz told Wired868. "Also Morvant and Laventille continue to be a target for negative comments and media reports. We have a chance to show a different and a positive side of our community."
Caledonia plays Antigua Barracuda from 5 pm on Sunday in Couva while Connection and the Barracuda meet at the same venue on Tuesday at 6 pm.
(Teams)
DIRECTV W Connection:
Alejandro Figueroa, Aquelius Sylvester, Christian Viveros, Alvin Jones, Leslie Russell, Jelani Grosvenor, Daneil Cyrus, Elijah Joseph, Kurt Frederick; Gerrard Williams, Silvio Spann, Clyde Leon (captain), Jomal Williams, Joevin Jones, Tremain Paul; Andrei Pacheco, Jerrel Britto, Stefano Rijssel, Hashim Arcia, Neil Benjamin.
Coach: Stuart Charles-Fevrier
Neal & Massy Caledonia AIA: Shemel Louison, Glenroy Samuel, Kareem Joseph, Nical Stephens, Nuru Muhammed, Colin Nelson, Aquil Selby, Akeem Thomas, Aubrey David; Akim Armstrong, Vurlon Mills, Stephan David (captain), Densill Theobald, Miguel Romeo, Aaron Lester, Sherron Joseph, Nathan Lewis; Keyon Edwards, Jamal Gay, Odelle Armstrong.
Coach: Jamaal Shabazz