Chuck Blazer, former CONCACAF general secretary and chief financial officer, in Jack Warner's authorised biography "From Zero To Hero", which was written by Trinidad Guardian sport editor Valentino Singh.
"Jack (Warner) is a measure of reality for those who like bullshit."
National Security Minister Jack Warner initially offered a trademark response to the latest and most deafening furore to engulf him in relation to his lack of restraint around other people's money.
"I tell you on Friday when I reply to [Opposition Leader Keith] Rowley make sure you have a front row seat," Warner told CNC3, "because I've been quiet on Rowley for far too long and the time has come now for me to go after Mr Rowley frontally."
Exactly what did PNM leader Keith Rowley have to do with Warner's 21-year stint as CONCACAF president and the Confederation's subsequent investigation headed by former Barbados chief justice and attorney general Sir David Simmons?
Let FIFA, Warner said, worry about FIFA.
It was a desperate and ultimately unsuccessful plea.
Trinidad and Tobago is believed to have a short attention span. Next Friday will be exactly seven days after the damning CONCACAF report.
Warner deduced that, if  he could ride the outrage out for that long, he might survive. He could not.
This evening, Trinidad and Tobago Prime Minister Kamla Persad-Bissessar announced Warner's resignation but gave every indication that he was pushed. And the politician whose personal email address reads 'dsurvivor2011' was finished as a cabinet member.
It was in 2011 that Warner beat a hasty exit from FIFA in the wake of bribery allegations. He thought he could use his government post to survive but it proved to be the start of the end for the former history teacher.
Three years ago, then Integrity Commission chairman Eric St Cyr recommended that Warner choose between his government portfolio and his FIFA position. Had he left football then, the Chaguanas West MP might have avoided the fall-out with Blazer and FIFA president Sepp Blatter  and lasted the term as a cabinet member.
If Warner gave up his government post, he might have continued to benefit from the lax scrutiny afforded to most sporting administrators.
But, like Icarus, Warner was intoxicated with his own success and it was a matter of time before he flew too close to the sun.
It is ironic that after years of using his FIFA credentials to buy and bully Trinidad and Tobago citizens and, quite possibly, commit crimes within this country's boundaries, it is the football body that sent him to his political grave.
Two years after his promised tsunami barely produced a ripple, Blatter had the last word and his new CONCACAF president Jeffrey Webb pulled off a remarkably clean hit.
The FBI, in all likelihood, will be next in line for its pound of flesh.
But what does it say for Trinidad and Tobago that its Government, watchdog bodies and many of its citizens were so willing to bend over at even the promise of a sniff of Warner's ill-gained wealth?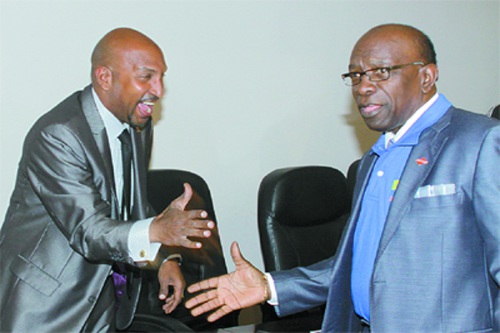 What country is so morally bankrupt as to allow itself to be lectured to on matters of corruption by FIFA?
Warner was no aberration. He was a product of Trinidad and Tobago society; a larger-than-life amalgamation of all our worst qualities.
First Citizens Bank, with present Finance Minister Larry Howai as CEO, approved suspicious mortgages on his behalf. The Trinidad and Tobago Customs allowed ex-FIFA vice president Mohamed Bin Hammam to enter local soil with over a million US dollars cash and then looked the other way when close to two dozen Caribbean officials departed with US$40,000 each in envelopes.
Former President Maxwell Richards, Persad-Bissessar and almost everyone else stayed silent as 23 Chaconia medal recipients and World Cup 2006 players were cheated out of bonus payments promised to them.
Police and Fire officials did nothing as fans cheered on the Strike Squad in a shamelessly, over-packed death trap on 19 November 1989.
According to Warner, these are all FIFA crimes that should be of no interest to the Prime Minister. And all aided and abetted by supposedly distinguished countrymen whom Warner understood better than they knew themselves.
Warner never tried to convince anyone of his innocence. He does not have a record for facing his questioners be they FIFA, CONCACAF or other investigators, Andrew Jennings, James Corbett or this reporter.
Stripped down to its bare nucleus, Warner's argument has repeatedly been the same: Does this really affect you? Would it not be easier to look the other way?
For decades, the answer was 'yes'.
Persad-Bissessar and then United National Congress Deputy Chairman Fuad Khan refused to probe Warner when Haiti accused him of stealing US$690,000 in aid money after its tragic 12 January 2010 earthquake that caused over 300,000 deaths.
Former Commissioner of Police Dwayne Gibbs and Police Service Commission (PSC) Chairman Ramesh Deosaran tried to abort police probes into the Minister's role in the Bin Hammam bribery affair while present acting CoP Stephen Williams has displayed no stomach for this investigation.
Integrity Commission chairman Ken Gordon looks set to leave office with several files on Warner still in the to-do box.
Congress of the People (COP) founder Winston Dookeran, Movement for Social Justice (MSJ) leader David Abdullah, National Joint Action Committee (NJAC) Chief Servant Makandaal Daaga, former attorney general Ramesh Lawrence Maharaj, ex-prime minister Basdeo Panday, Sport Minister Anil Roberts, Downtown Owners Merchants Association (DOMA) head Gregory Aboud and other prominent businessmen and, of course, the constituents of Chaguanas West all played dumb when it suited them.
From Daaga to Roberts to Persad-Bissessar, Warner spotted a trait that runs deep in Trinidad and Tobago. It can be summarised in two words: 'Me first'.
Trinidad and Tobago, despite over 50 years as an independent nation, still appears too politically immature as a people to see the link between corruption and hardship; we seem unable to grasp that millions pocketed and wasted by politicians and their cohorts might have a direct relation to ill-equipped hospitals, unsafe roads, the loss of our gas subsidy,  inadequate basic services like water and, of course, the enduring crime scourge.
Warner knew a population inclined more to self-preservation than communal love would turn a blind eye to its neighbour's suffering once someone felt there was a dollar in it for him. And he preyed on Trinidad and Tobago's selfish streak for decades.
As Blazer sagely noted, Warner exposed Trinidad and Tobago's safeguards for its sportsmen, supporters and taxpayers as bullshit.
He cheated footballers, bullied fans, manipulated auditors and ignored lawmen and the courts. Everyone was at the mercy of his greed.
Be good, sang American rapper Lil Wayne, or be good at it. Warner was very good at it.
'Together we aspire, together we are achieve' became 'when it suits me I will conspire, when it suits me I will deceive' as Trinidad and Tobago hurtled down the international transparency index.
There will be a feeling of relief that Warner has finally left Cabinet. But he does not fall alone. He has never operated in a vacuum.
Warner is a product of Trinidad and Tobago. His departure is not the end of our society's longstanding romance with corruption. But, if the two-island republic looks inward, perhaps his fall from grace might be the start of something more dignified for us all.
Wired868 has provided readers with solid, independent journalism since 2012. If you appreciate our work, please contribute to our efforts.
Support Independent Journalism