Twenty-one-year-old DIRECTV W Connection midfield star Joevin Jones is likely to be the centre of attention in the 2013 Lucozade Sport Goal Shield final  as his semi-final heroics will earn him some undesirable attention when Connection faces North East Stars from 8 pm on Friday 3 May 2013 at the Marvin Lee Stadium, Macoya.
Jones, a gifted utility player who is employed in central midfield for Connection, scored both goals in a 2-1 win that eliminated defending Shield champions Neal & Massy Caledonia AIA in last month's semi-final Macoya and two more in a 4-0 Caribbean Football Union (CFU) rout of the "Eastern Stallions" last week.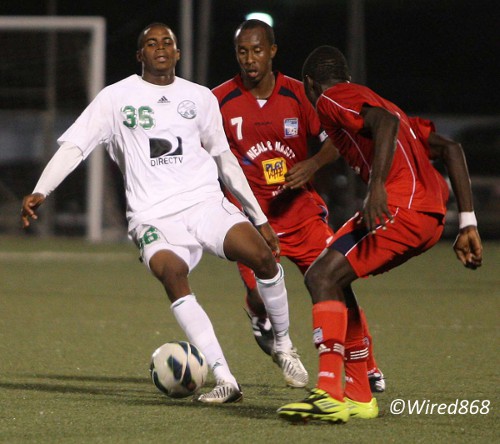 Stars edged Defence Force 5-4 on penalty kicks in the second semi-final after the two teams ended regulation time locked at one goal apiece.
It was Stars' fourth penalty shoot-out this season and the Sangre Grande-based club was successful each time. But then head coach Angus Eve does not believe in leaving things to chance.
"Once we are playing in a cup, we practice penalties from two days before the game and we coach our keepers too," said Eve, who holds Trinidad and Tobago's record for international appearances with 117 caps. "I was a penalty kicker myself.  Nine out of ten times, if a player closes his body and goes straight he is going to go for a particular side. So we do work with the goalkeepers on different looks of different kickers.

"We do our homework and we go to all games and watch how players kick penalties… It is good that the League plays once a week now so we can prepare properly for our opponents in every game and that has been our strength in the last rounds."
Eve has Jones in his line of vision now while he will also tell his squad to target another talented young Connection player. Lanky 22-year-old defender Daneil Cyrus is another mainstay in the present national senior team and looks to have a bright future ahead of him.
But the Stars coach thinks Cyrus can be rattled and intends to get at Connection by unsettling its two best players.
"Connection relies heavily on Joevin to make things happen," Eve told Wired868, "and he is a player we will look closely at. Cyrus is always prone to a mistake at the back as well so we will be looking out for that too."
Jones will take some stopping. The slender midfielder with a cannon for a left foot has probably been the Pro League's best player over the past three months.
In the first five months of the season, Jones had four goals, which includes strikes in the Digicel Charity Shield and the CONCACAF Club Championship. He has scored 12 times in the three months since February. Trinidad and Tobago's domestic football scene has probably not had such a prolific midfielder since ex-World Cup 2006 playmaker Aurtis Whitley was at San Juan Jabloteh.
"I think my form is better now," said Jones. "I'm more focused and I'm taking my chances better. I was really primed up for that game against Caledonia because we haven't won anything yet.
"We went through a rough patch with players leaving the club and so on. So now we want to focus on winning the two cups left and qualifying for the CONCACAF Cup."
Jones is a product of the football factory that is the Carenage village and the son of former "Strike Squad" defender Kelvin Jones and nephew of late defender Richard "Bomber" Theodore, whose career was cut short after falling off a tree while still in his 20s. Theodore was a key member of the 1991 Portugal Under-20 World Cup team, which was the first Trinidad and Tobago squad to participate in a FIFA tournament.
"My uncle Richard Theodore is my motivation," said Jones. "When he fell off the tree, I would go see him after he returned from the hospital and it was so sad to see the state he was in.
"He wanted to reach far in football and he never got the chance to live his dream. I told myself that I would live the dream for him."
Eve played alongside Theodore on the 1991 squad that also included 2006 World Cup players Dwight Yorke and Clayton Ince. Now, a promising coach, he aims to stand in Jones' way.
The Stars team is undefeated after four games against Connection this season and Eve steered his outfit to triumph in three of those meetings.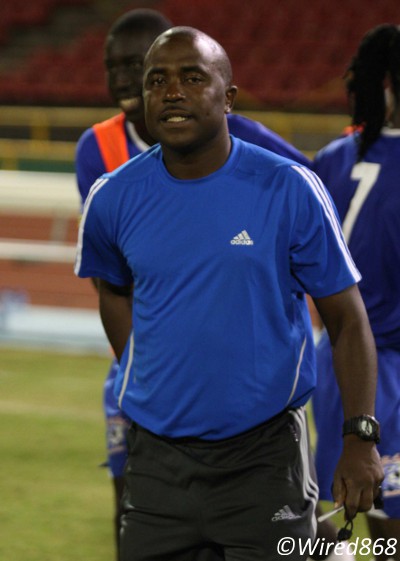 "There are things I can say that I won't say (about why we have done well against Connection)," said Eve. "Stuartie (Charles-Fevrier) is one of the guys I respect most as a coach and I really admire the football Connection tries to play. But sometimes your strength is your weakness."
Stars already lifted the Toyota Classic title this season after another penalty shoot-out win over Defence Force. For Connection, the Pro League's most successful club, the Lucozade Sport Goal Shield represents a maiden final this term.
"It is always good to be in a final and have a chance to win some silverware," said Connection chairman David John Williams. "The players have worked well during this competition and they deserve it."
Williams made special mention of the club's gifted midfielder.
"Jones has been on song as you see from his two strikes in the semi-final," he said, "especially his winner in added-on time, which was a wonderful goal."
Jones is not fazed by the thought of special attention from Stars' midfield hardmen like Jeromie Williams and Keryn Navarro.
"You know a good player if he can handle that on the day and still pop up and make a difference," he said, with a smile.
And what about Connection's four-game stretch without a win and just one goal scored against the Stars?
"It was the same thing with Cale (on Friday)," said Jones. "So everyone came out focused to do something about that. And everybody is going to come out with their 'A' game for Stars."
Eve has a not-so-secret weapon himself that should be ready to detonate at the Goal Shield final. Stars striker Cornell Glen missed the semi-final win over Defence Force with a calf strain but is expected to be fit for the final.
Glen has scored 16 of Stars' 26 League goals this season, which is just over 61 percent of the club's items. And his pace, strength and aggression would provide a real test for Cyrus.
Assistant Connection coach Earl Jean is well aware of Stars' offensive threat.
"We are not taking North East Stars lightly, because they have quality players in their team and especially with their striker Cornell Glen in good form," Jean told the TT Pro League website. "We are capable of beating them. It's just a matter of fighting more than them. Our quality has always been better than a lot of teams.
"It's very important for us to win the next two titles (Lucozade Sport Goal Shield and Digicel Pro Bowl) because, as always, W Connection is a club that tries for success every time. We won the Digicel Charity Shield this season, but that was just a one match situation. We are yet to lift a Cup title this season so we have a lot of focus on the next two cups."
Two talented team teams led by two gifted players. Jones is the island's hottest prospect whereas Glen is the finished article and the finishing article.
The respective sub-plots should lead to an intriguing contest on Friday.