I am not a football reporter. I am not even, I must confess, a particularly consistent football supporter. But if the "Soca Warriors" come to Peru, it is an event worth covering.
Peruvians are notoriously football crazy and, for the first time ever, Lima's meagre population of Trinbagonians were routinely hailed in the street and singled out in taxis over the past two days.
"Jugamos contra ustedes mañana," they told us, which meant "We are playing against you tomorrow."
Bear in mind that in this city, denizens would usually stare blankly when Trinidad and Tobago is mentioned.
It was billed as a friendly game but the newly renovated Estadio Nacional was buzzing. Peru has not qualified for a World Cup finals since 1982 but the country's lust for football fame is undiminished.
Vendors hawked large quantities of red and white flags, T-shirts and silly hats; parents hauled pre-adolescents by the hand; talk radio programmes discussed the coming game all day.
An international match, friendly or not, required full-on support.
My Peruvian husband, well acquainted with the concept of liming and fond of the odd bottle of Single Barrel or Royal Oak, balked at the prospect of coming to the stadium with me.
"What am I going to do in a section with all those Trinis?"
All? What is the capacity of the National Stadium? 50,000.
And how may Trinis do you know in Lima? Six.
But, as I always respond when asked to compare the populations of Trinidad and Tobago and Lima, "is quality, not quantity." And, little though I know of football, it seemed to me that last night showed the quality of both the Soca Warriors and their fans.
Yes, the Warriors turned up with only 17 players, and yes, their recent history seems to have been plagued with slightly chaotic controversy. But from the singing of the national anthems to the last whistle and the post-game press conference, Trinidad and Tobago held its own.
I am, of course, biased. And the final score of 3-0 may put the lie to my national pride.
But it could not have been easy for our players to face a stadium full of euphoric Latinos waving penis-shaped plastic balloons while singing along to "Forged from The Love of Liberty."
I traded some strong Spanish words myself with a family in front of me for their "falta de respeto" of my national anthem. And it was no simple matter either for the few "Trini" supporters to distinguish our red, white and black from the red and white of Peru.
But the Warriors put on a pretty good show on the field and so did their supporters in the stands.
I will admit to getting a crick in the neck during the first half from having to watch all the action take place in front of Trinidad and Tobago's goalposts. But the keeper and defence put up a heroic struggle and kept out all but one goal in the first half.
During the half-time break, the Trinidad and Tobago fan contingent was the big attraction. iPhone photos of us were in hot demand.
"Hey, you guys have any Doubles?" asked one Peruvian engineer, who had visited T&T several times and was obviously trying to impress his girlfriend with his international savoir-faire.
Thankfully, none of the Trinis had brought along a cutlass.
Down swooped a cross between a Pierrot Grenade and a Midnight Robber, draped with an oversized Peruvian flag as a cape and armed with facile patter:
"Yo soy el Caminante Viajero de la Seleccion de Peru; La Hincha Mas Fiel," he informed us, which meant "I am the travelling follower of the Peruvian Team, their most devoted fan."
His bi-coloured mohawk wagged emphatically as he told me: "I have made a promise to my God, my nation and my team that I will be at each and every one of their matches forever."
"Wow," I said. "So you were in Couva last month?"
"No," he said, "that was a friendly."
The second half saw some exciting play from the Warriors, who attacked the Peruvian goal several times. But, alas, it was in vain.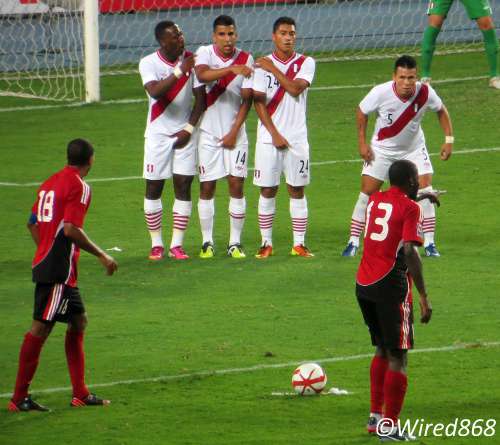 Two further goals were conceded; the second of those invited some controversy, a yellow card and hopeful indignation from the Trinidad and Tobago fans.
However, at the post-match interview, joint head coach Jamaal Shabazz conceded: "We fell asleep. When you fall asleep, you must expect these things to happen."
He seemed to have adopted the defeat as a tutorial.
"We have learned a lot from this game… and we need to play more at this level," said Shabazz. "It is an exercise to get some answers as we get closer to the World Cup… We had some good moments, particularly with the two centre backs… The midfield also tried hard.
"We need to keep playing opponents at this level… We need to learn how to react faster when the ball is dead."
He noted that his players would review the match tapes in order to become more innovative, especially with respect to improving communication.
Communication was an issue off the field as well.
At the post-game press conference, I was hurriedly enlisted as an interpreter while I also negotiated hard to get the Trinidad and Tobago fans—all six of them—inside to meet the team.
The Warriors were heading to their bus when Lima's Trinidad and Tobago population finally caught up with them for photos. It took some convincing before the players believed that, yes, there are genuine Trinis in Peru and they were most obliging thereafter.
The final score could have been better. But remember, it is quality not quantity.