The Trinidad and Tobago national football team battled valiantly but could not keep out their hosts as Peru cruised to a 3-0 friendly international win at the Estadio Nacional in Lima.
Peru still harbours hopes of playing at the 2014 World Cup and defeated Chile 1-0 in Lima on Saturday. Coach Walter Markarian rested several of his star players including captain and Bayern Munich striker Claudio Pizarro but, despite the best efforts of the "Soca Warriors", the gap in quality between the two nations was still too wide.
Joint Trinidad and Tobago head coach Jamaal Shabazz saw positives in the way the Warriors took on the challenge, though, and believes the experience will be beneficial as the team continues its preparations for the July 2013 CONCACAF Gold Cup.
"I think it was a really good exercise for us to get some answers as it gets closer to the Gold Cup in terms of players who are ready and who will have to wait a bit longer," Shabazz told the TTFF Media. "We saw some good moments in the match. We saw some good work with the two centre backs (Cyrus and Mitchell). We saw Cornell Glen hold up the ball well at times and we also saw the midfield, even against a high level opponent away from home, try to put the ball down and play.
"These were some of the positives for us and we can only get this right by playing quality opponents like this from time to time."
The host nation went ahead off a counter attack in the 39th minute as Irven Avila glided past Trinidad and Tobago left back Aubrey David before picking out Yordi Reyna who steered his header past goalkeeper Marvin Phillip.
It was the 19-year-old Reyna's first senior international goal in just his second appearance for Peru.
The Warriors might have felt encouraged by the single goal deficit at the half, though. And, despite Peru's vastly superior possession, the South American team was largely kept at bay by the resolute Trinidad and Tobago backline led by the central defensive pair of Carlyle Mitchell and Daneil Cyrus.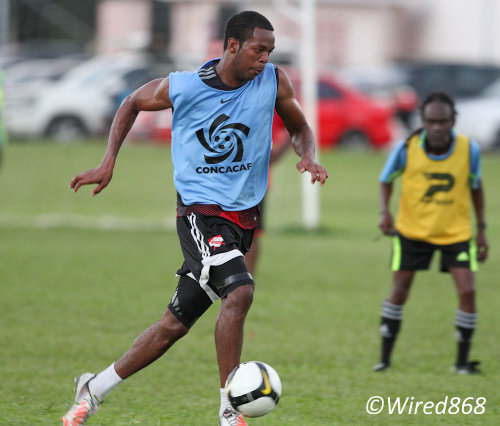 Trinidad and Tobago might have had an unlikely equaliser too as midfielder Chris Birchall got a peep at goal in the 51st minute, after a sliced Peruvian clearance, but clipped the bar with his effort from the edge of the penalty area.
Both teams turned repeatedly to their substitutes' bench after the hour mark and Peru's changes were more impactful, which was not altogether surprising since Schalke winger Jefferson Farfan was among the players summoned.
Farfan played through Paolo Hurtado to double Peru's lead with a thumping finish in the 80th minute and a quick throw down Trinidad and Tobago's right side saw Christofer Gonzales complete the score summary with a clever clipped finish, two minutes later, despite a touch from Phillip.
Joint head coach Hutson "Barber" Charles had mixed feelings at the final whistle.
"The players that we brought here allowed us to see who can go forward and who couldn't make it," he said. "This was the right game for us. We are looking for the right chemistry, the right players for the right positions. And this game brought out a lot in terms of our physical and mental preparation.
"We'll go back the drawing board. I'm disappointed with the result because I thought we gave up three soft goals. But we are going to keep working and we'll get this thing right."
Trinidad and Tobago has now gone 360 minutes without an international goal and is yet to score in this calendar year after a 2-0 loss to Peru in Couva and a goalless draw away to Belize. The Warriors have been troubled too by off the field issues, which almost ended the tour even before it started.
But Shabazz thinks performances like last night's show the potential of the Warriors.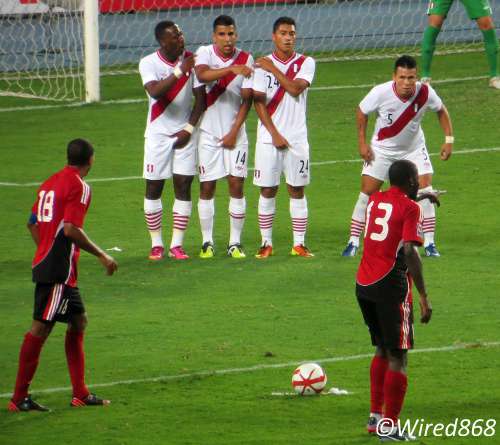 "When you add (to this squad) players like Carlos Edwards, Khaleem Hyland, Sheldon Bateau, Keon Daniel, Ataullah Guerra and Jan Michael Williams just to name a few," said Shabazz, "and even some who may still come in … we will have a squad that is capable of doing Trinidad and Tobago proud.
"Of course we have some areas to improve on. But I think all in all we as a staff and as team was able to benefit from this type of exercise."
The Trinidad and Tobago team will return home on Wednesday night.
(Team)
Trinidad and Tobago (4-5-1): 1.Marvin Phillip; 4.Curtis Gonzales, 6.Daneil Cyrus (5.Kareem Moses 88), 19.Carlyle Mitchell, 2.Aubrey David; 14.Kevon Carter (8.Jason Marcano 74), 7.Chris Birchall, 18.Densill Theobald (captain) (15.Darren Mitchell 83), 16.Keyon Edwards (9.Kenwyne Jones (vice captain) 61), 3.Joevin Jones; 13.Cornell Glen (12.Marcus Joseph 71).
Unused substitutes: 22.Cleon John.
Coach: Hutson Charles and Jamaal Shabazz
Perú: 1.Diego Penny (capt); 17.Luis Advíncula, 2.Néstor Duarte, 18.Jesús Álvarez, 4.Álvaro Ampuero (19.Yoshimar Yotún 46), 5.Alfredo Rojas, 14.Paulo Albarracín, 20.Edwuin Gómez (7.Paolo Hurtado 60th), 16.Luis García (24.Daniel Chávez 46), 11.Irven Ávila (8.Christofer Gonzales 82), 9.Yordy Reyna (10.Jefferson Farfán 73).
Unused Subs: 12.Salomón Libman, Paulo Requena, Diego Chávez, Miguel Araujo, José Morales.
Coach: Sergio Markarián
Referee: Diego Lara (Ecuador)
Friendly International
Peru 3 (Yordy Reyna 36, Paolo Hurtado 80, Christopher Gonzales 82), Trinidad and Tobago 0 at Lima