The Trinidad and Tobago national under-20 football team continued its Turkey 2013 World Cup qualifying campaign yesterday with a 2-0 win over Puerto Rico in round robin action at the Waterhouse Stadium in Kingston, Jamaica.
In the other group match, Haiti edged Curaçao 2-1 at the same venue. The top two teams advance to the final CONCACAF qualifying round next year in Puebla, Mexico along with the winner and runner-up from a second Caribbean group that consists of Jamaica, Cuba, Suriname and Antigua and Barbuda.
The young "Soca Warriors" can confirm their progress tomorrow when they meet Haiti in Kingston. Coach Ross Russell hopes for a better offensive showing though.
"I'm happy for the three points but it was a bit disturbing to see how poor we were in the finishing department," Russell told the TTFF media, "and we will definitely need to work on that.
"I don't think the guys followed some of the instructions but a win is a win and we have to move on from here and try to get it right for the remainder of the tournament."

Presentation College striker Shackiel Henry opened the score summary in the 34th minute after a dashing run from DirecTV W Connection youth player Adan Noel. But Trinidad and Tobago had to wait until second half stoppage time for the insurance item, which came from Central FC winger Shaquille Nesbitt after a cross from 16-year-old substitute Akeem Garcia.
Garcia, one of the star assets of the current national under-17 squad, replaced Noel after the latter teenager suffered a hamstring strain while creating the first goal.
But a string of misses gave the Trinidad and Tobago tourists cause for concern as captain Duane Muckette failed to convert a penalty kick in the 22nd minute while the TTFF media reported that Henry and midfielder Jomal Williams missed several sitters.
"The win was important but I don't think we played as well as we should have," said Muckette. "We missed too many chances to put the game out of their reach and a better team may not allow us to get through like we did today.
"Hopefully we can continue improving as the tournament goes on."
Russell hopes to confirm the squad's spot in the next round with a win over Haiti tomorrow.
"It's quite obvious that this game against Haiti could decide the group," said Russell. "But we would like to win all three games and we've started on the right note with the win today."
(Teams)
T&T: 20.Quesi Weston ; 2.Anthony Charles, 3.Alvin Jones, 7.Neil Benjamin, 5.Damani Richards ; 6.Adan Noel (14. Akeem Garcia 38), 8.Duane Muckette, 10.Jomal Williams, 11.Xavier Rajpaul (19.Marcus Gomez 83), 15.Shaquille Nesbitt ; 17.Shackiel Henry (12.Shaquille Holder 63).
Unused Subs: Kevin Dodds, Shannon Gomez, Keane McIvor, Garvin Samaroo.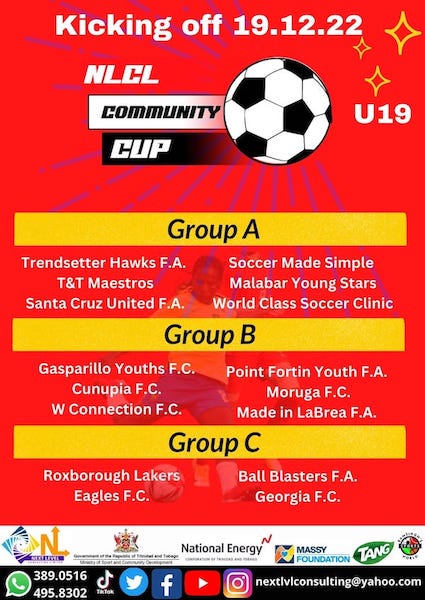 Coach: Ross Russell (T&T).
Referee: Kevin Morrison (Jamaica).
CFU Under-20 Results
(5 November 2012)
Trinidad and Tobago 2 (Shackiel Henry 34, Shaquille Nesbitt 90), Puerto Rico 0 in Kingston
Haiti 2 (Chery Johnley 13, Jean Ismael Voltaire 51), Curaçao 1 (Raychelo Fecunda 10) in Kingston
Editor's Note: The CFU has amended its fixtures for the competition, which means that Trinidad and Tobago now plays Haiti on Wednesday and Curacao on Friday evening respectively.