The Trinidad and Tobago national senior football team put its financial issues aside to virtually book a place in the Caribbean Cup semifinal phase yesterday with a slender 1-0 over host nation, St Kitts and Nevis, at Warner Park, Basseterre.
A solitary Kevon Carter goal after a mazy run from midfielder Clyde Leon settled the match in favour of the "Soca Warriors" although the visitors were on the backfoot for much of the affair.
Only a heavy defeat in the final Group Five fixture on Sunday afternoon against cellar-placed Anguilla can undo the Warriors now.
The best second-placed team from either Group Five or Four advances to the Caribbean Football Union (CFU) semifinal round alongside the two Group winners.
Barbados finished second in Group Four with six points and a goal difference of plus one. Dominican Republic ended top of Group Four.

Trinidad and Tobago,  who started its campaign with a 4-1 win over French Guiana, has six points and a goal difference of plus five with a game to spare.
Either St Kitts and Nevis or French Guiana, who clash on Sunday evening, can still qualify. French Guiana needs a two goal win to leapfrog Barbados on goal difference while any victory for St Kitts and Nevis would also guarantee a similar outcome.
Twelve teams will compete in the semifinal round for six places in the December 2012 CFU finals alongside defending champions, Jamaica, and hosts, Antigua and Barbuda, who both qualified automatically.
Thus far, Cuba, Grenada, Guadeloupe, Haiti, Puerto Rico, Martinique, Suriname and the Dominican Republic are already through to the semifinal round. Trinidad and Tobago is likely to be one of two teams that join them tomorrow.
Guyana, Curacao, St Vincent and the Grenadines and hosts St Lucia make up the final preliminary group, which will be in action on October 21, 23 and 25. Two teams from that group advance automatically to the semifinal stage.
Trinidad and Tobago is the most successful nation in the history of the Caribbean Cup with eight wins from its 15 editions. But its last regional trophy was won eleven years ago in Port of Spain and the Warriors have not qualified for the CONCACAF Gold Cup since 2007.
Coach Hutson Charles' team has had an unsettling start to its 2013 Gold Cup campaign due to a public spat between the Trinidad and Tobago Football Federation (TTFF) and the local government and there was more bad news yesterday.
The Warriors left for St Kitts on 8 October 2012 after an assurance by the Ministry of Sport duo of Minister Anil Roberts and Permanent Secretary Ashwin Creed that necessary funds would be wired to the squad by Friday October 12.
Hours before kick-off against St Kitts, the team might have felt abandoned after the realization that Roberts and Creed again arguably failed to live up to their word.
And, although the Warriors' hotel stay and meals are provided by the CFU without charge, the TTFF could not afford to pay the squad promised match fees of US$250 per game or a modest per diem of just under US$40 per day.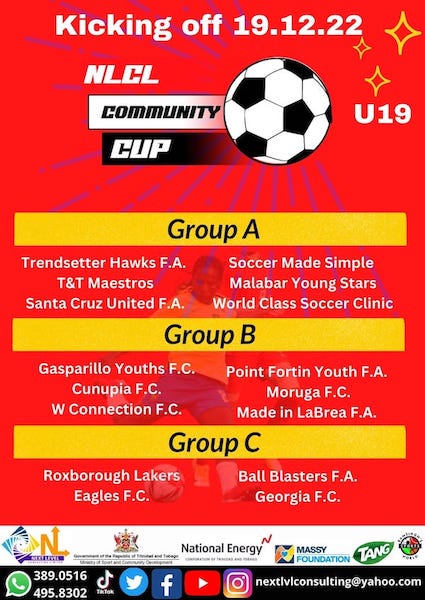 Wired868 understands that the squad pooled money to pay for laundry and purchase medical items as well as additional meals—the team's 4-1 triumph over French Guiana, for instance, whipped up an appetite that demanded satisfaction after the hotel's scheduled dinner time.
On Friday, the Warriors never got into top gear against a Kittian team anchored by an overseas-based trio of midfielder Romaine Sawyers (Shrewsbury Town, England), winger Atiba Harris (Vancouver Whitecaps, Canada) and holding midfielder Gerard Williams (DirecTV W Connection, T&T).
St Kitts and Nevis saw one effort strike the Trinidad and Tobago crossbar while Warriors captain Jan-Michael Williams, also a Connection player, made several valuable saves to secure only the eighth clean sheet of his international career, which spans nine years and comprises of 37 starts.
And a third Connection employee, Clyde Leon, provided the pivotal moment as he dribbled into the opposing penalty area in the 50th minute and worked a wall pass with lanky Neal & Massy Caledonia AIA striker Jamal Gay before drawing out 21-year-old Kittian goalkeeper Julani Archibald.
Speedy Defence Force winger, Carter, nipped in to knock the loose ball into an unprotected net. Incidentally, Carter lost his place in the starting team to Leon but was introduced in the first half to replace the injured Densill Theobald.
Assistant coach Derek King ran the technical area in the absence of Charles who was suspended after receiving a red card for dissent during their opening fixture against French Guiana.
"It was not the most impressive win but the guys deserve full marks for effort and fight," King told the TTFF Media. "We always knew St Kitts would make it difficult but in saying that I thought we played too deep at times and we allowed them to believe they had a chance to get back in the game.
"We had some chances that in games like these you need to put away in order to ease the pressure and finish off teams."
Williams congratulated his teammates for their desire shown in the game and insisted that the narrow win would help their resolve.
"The game turned out difficult but you could see the attitude of the guys in that they wanted to win it and they pushed themselves to the limit," said Williams. "That's a good sign for any team that is rebuilding. These kind of games helps to build character within a team and I was happy about that…
"Now it's about finishing on a high on Sunday and going back home to prepare and continue our run in the competition."
The Warriors should be hungry for a storming finish tomorrow against an Anguillan team that has already conceded six goals from two matches.
Then again, the Warriors might be hungry for another reason entirely.
T&T (4-3-3 system): 1.Jan-Michael Williams (Capt); 17.Daneil Cyrus, 20.Seon Power, 5.Carlyle Mitchell, 12.Robert Primus; 2.Clyde Leon, 18.Densill Theobald (11.Kevon Carter 43 [14.Willis Plaza 84]), 19.Keon Daniel (Curtis Gonzales 82), 7.Hughtun Hector, 15.Jamal Gay, 3.Joevin Jones.
Unused Subs: Marvin Phillip, Richard Roy, Kareem Moses, Devorn Jorsling, Sylvester Teesdale.
——————————————————————————————————————–
Caribbean Cup 2012 Qualifiers
TT 1 (Kevon Carter 50), St Kitts 0 at Warner Park
French Guiana 4 (Gary Pigrée 3, 45, 50, Ludovic Baal 74), Anguilla 1 (Terrence Rodgers 59) at Warner Park
Standings (Tabulated as Played-Won-Drawn-Lost-Goals For-Goals Against-Points)
Trinidad and Tobago 2-2-0-0-5-1-6
St Kitts and Nevis      2-1-0-1-2-1-3
French Guiana            2-1-0-1-5-5-3
Anguilla                        2-0-0-2-1-6-0
 Editor's Note: T&T plays its final Caribbean Cup preliminary round fixture on 14 October 2012 against Anguilla.