Neal & Massy Caledonia AIA made its first significant deposit of the 2012/13 season on Friday night as the "Eastern Stallions" captured the First Citizens Cup at the Hasely Crawford Stadium, Port of Spain after a 2-1 win over Defence Force.
If the outcome was predictable for the Caribbean champions, the game itself fluctuated wildly before Caledonia finally reaped dividends for a fairly steady performance.
It was scrappy at times and nerve racking for Caledonia supporters as the Morvant/Laventille team repeatedly failed to cash in on scoring opportunities. There was a glimmer of hope too for the overrun regiment as Defence Force winger Kevon Carter fluffed two straightforward chances and striker Devorn Jorsling, who played for Caledonia last term, skied a free kick from a promising area.
But the final score was probably fair if one judged from the volume of chances created.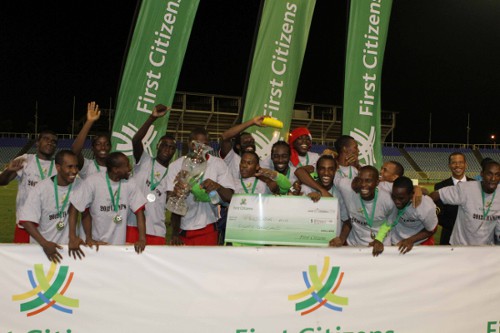 Supporters, many of whom were surely first-timers, must have wondered what to make of it all. One thing it was not, though, was dull.

There were easily 3,000 supporters in the covered stands on Friday night, which is especially promising when one considers that the season is just a month old.
Trinidad Express columnist Fazeer Mohammed noted, in the quarterfinal round, that the Pro League administrative staff did not do enough to make newcomers feel welcomed as information on competing teams was in scarce supply.
The League responded by printing leaflets with the names and numbers of the two playing squads, switching on the electronic scoreboard and attaching the club names to each technical area.
So, the viewing public benefited from constructive criticism by the media and an administration that is mature and secure enough to digest disapproval and react appropriately. How often does one get to say that in Trinidad and Tobago?
A sizeable and informed audience, stirred by a well-oiled rhythm section, led to a relatively festive atmosphere at kick off.
And then, just 19 minutes into the contest, the lights dimmed.
Even Murphy was at the Hasely Crawford, it seemed, and he had brought his "Law" with him.
The unofficial word from the Pro League was that it was a case of low voltage.
Referee Neal Brizan gave both coaches the option of carrying on and they were never likely to refuse to play in front of a real audience for a change. Defence Force coach Ross Russell agreed immediately and Caledonia coach Jamaal Shabazz accepted the challenge.
"I joked that our (former) minor leg men were accustomed to playing in dimmer lights than this," Shabazz told Wired868.com.
Russell might have wondered what he had let himself in for when, within seconds of the resumption, Caledonia stormed into the lead.
Under bright lights, the play had been even with both teams protecting possession patiently in their own half but unable to force their way into the final third.
But the Caledonia troops settled into the gloomier surroundings in a flash as playmaker Densill Theobald released Trayon Bobb down the left flank and his low, raking cross was swept in first time at the far post by lanky striker Jamal Gay.
It should have been 2-0 to Caledonia in the 25th minute as Nathan Lewis, who had just replaced the injured Abdallah Phillips, volleyed over a simple opportunity with his first touch after another Bobb cross.
Then, just as Caledonia supporters were probably stretching their legs and examining the drink menu, Defence Force pulled level through attacker Richard "Shaka" Roy.
The bustling, barrel-chested striker was the Pro League's top scorer last season. But, as Jorsling returned to the army and Russell is clearly married to a lone-striker formation, Roy was shifted to an offensive midfield role this term with Jorsling alone on top.
It has worked brilliantly so far with Jorsling adept at holding up the ball while Roy wreaked havoc with bursting runs from deeper areas.
On Friday night, Caledonia got a taste of the "Ro-Jo" pairing as Jorsling flicked into Roy's path and the attacker, forced left by the Caledonia defence, hammered through the crowd with his supposedly weaker left boot. The score remained locked at one goal apiece at the interval.
"It was a well taken goal," said Shabazz, a former goalkeeper. "They say goalkeepers shouldn't concede at their first post but Roy is a monster. He kicked through a block.
"None of our strikers would have kicked there but he showed what that extra aggression can do in that area of the field and I think he surprised Glenroy (Samuel)… I talked about it at halftime and told my players they have to match that desire."
Just four minutes into the second half, Caledonia reclaimed the lead as Keyon Edwards, who was used as a support striker, drifted wide and played in Bobb who charged into the vacant space in the centre of the opposing defence and neatly clipped over the advancing Kevin Graham.
Shabazz singled out Defence Force stopper Glynn Franklin, who had replaced the suspended Rodell Elcock in the starting team, as the weak link.
"We could see they were struggling to organise themselves when we won the ball," said Shabazz. "Franklyn wasn't comfortable (and) I think it was down to inexperience. He didn't seem to be sure when to mark his man or when to mark space.
"We had players who were able to exploit that."
Russell replaced Franklyn and his son, Ross Russell Junior, with Keston Williams and Sean Narcis in the 54th minute as Defence Force tried to regain momentum. And the army/coast guard combination did get a few sniffs at goal.
Jorsling, who spent most of the night with his back to goal, fired over from a tight angle in the 55th minute while, two minutes later, Roy fell over a Nuru Muhammad challenge in the box but failed to convince Brizan of the validity of his appeal.
Carter then spurned three good chances to equalise.
Jorsling freed Carter in the 63rd minute only for the speedy winger to be shut down by retreating Caledonia skipper Stephan David as he tried to find the right foot to apply the finish. Carter's right foot turned out to be the wrong one as he then fluffed two other presentable chances to beat Caledonia custodian Glenroy Samuel.
Edwards wasted a free header from six yards off a Lewis cross in the 57th minute and, as Ataullah Guerra replaced Gay in the 75th minute, Caledonia went on to create and miss chances at will as the game became wide open.
In the 90th minute, a push from Caledonia right back Kareem "Tiny" Joseph on his former Malick schoolmate, Jorsling, created a late opportunity for Defence Force to change the script.
"Devorn scored seven times for us from that same position last season," said Shabazz.
He could not repeat the trick for Defence Force. And Caledonia, with Bobb adjudged the Man of the Match, went on finish the job.
"After years of drought, we seem to be snapping up trophies at will," said Shabazz. "I was surprised with my own reaction at the end of the game. I was thinking I would have liked to win by more goals…
"Our guys showed they are maturing too as they held shape in the dying minutes."
The Caledonia players enjoyed an increased interest rate on the night of the First Citizens Cup final too. The Pro League would hope that there was enough to coax the fans back in the near future.
——————————————————————————————————-
First Citizen Cup final
Caledonia AIA 2 (Jamal Gay 20, Trayon Bobb 49), Defence Force 1 (Richard Roy 26)
————————————————————————————————————–
Caledonia AIA:
33.Glenroy Samuel; 12.Kareem Joseph, 3.Nuru Muhammad, 4.Colin Nelson, 15.Walter Moore; 7.Stephan David (Captain); 11.Abdallah Phillips (27.Nathan Lewis 25), 21.Densill Theobald, 13.Trayon Bobb; 9.Keyon Edwards (10.Conrod Smith 88); 23.Jamal Gay (25.Ataullah Guerra 71).
Unused Subs: 34.Colin Edwards, 2.Aubrey David, 24.Kemron Purcell, 28.Sheldon Holder.
Coach: Jamaal Shabazz
Defence Force:
1.Kevin Graham; 4.Marvin Jones, 2.Glynn Franklyn (3.Keston Williams 54), 5.Devin Jordan, 14.Cory Rivers (Captain); 8.Curtis Gonzales (6.Michael Edwards 75); 11.Kevon Carter, 15.Jerwyn Balthazar, 9.Richard Roy, 17.Ross Russell Jr (18.Sean Narcis 64); 10.Devorn Jorsling.
Unused Subs: 25.Sheldon Clarke, 12.Josimar Belgrave, 13.Anton Joseph, 16.Kerry Joseph.
Coach: Ross Russell