Trinidad and Tobago national football team captain and goalkeeper Jan-Michael Williams promised to repay fans with success in the 2012 Caribbean Cup tournament as the "Soca Warriors" go through their final preparations for next week's group contest.
The 20-man squad was selected today by interim head coach Hutson "Barber" Charles and will spend tomorrow bonding at the Cascadia Hotel in St Anns before flying to St Kitts on Monday morning.
The Warriors seemed uncertain to make their appointment for much of last week until, on deadline day, the Sport Ministry relented and agreed to fund the squad's travel on Friday morning.
Williams, who also captains defending Digicel Pro League champions DirecTV W Connection, said the squad is grateful to the public for its support and anxious to reciprocate the love.
"The people spoke out when they heard the government wasn't going to fund us and I want to do something for them," Williams told Wired868.com. "They did their part to make sure we got to the Caribbean Cup and we want to show that appreciation…

"To be on a national team and be in a situation like that is kinda strange. But I think that gave the team extra motivation to do even better."
Trinidad and Tobago has not advanced to the CONCACAF Gold Cup in five years. And, although the twin island republic won eight of the first 11 Caribbean Cups, the Warriors have not lifted the regional trophy since 2001.
Williams, 27, is on his fifth Caribbean Cup campaign and only made it to the final once in 2007 when T&T, weakened by the TTFF's blacklist of several 2006 World Cup players, lost 2-1 to Haiti at the Port of Spain's Hasely Crawford Stadium. Present national teammates Densill Theobald and Seon Power were both members of the 2007 squad.
Charles, who lifted a couple Caribbean titles himself as an influential "Strike Squad" member, is taking things one step at a time and is not looking past next week's preliminary qualifying round just yet.
Trinidad and Tobago plays its opening game against French Guiana  on Wednesday at Warner Park and then faces Anguilla on Friday and hosts St Kitts and Nevis on Sunday. The group winner advances to the next phase of the Caribbean Cup in November.
"I am satisfied with the 20 players selected," Charles told the TTFF media. "Of course I would have liked Khaleem (Hyland) and Kevin (Molino) but I have enough faith in the guys with us now that they can get the job done. They've all done very well in training and the mood in the camp, when you observe it, really shows that they are hungry for the challenge and that's a good sign for us."
Hyland, who plays for Racing Genk in Belgium, misses out through injury as does versatile defender Julius James who represents Columbus Crew in the US Major League Soccer (MLS). Molino is on trials in Europe and was excused while striker Darryl Roberts, who recently joined Turkish second flight team Samsunspor, was allowed to remain with his team.
The Warriors are boosted by the return of former national captain and Neal & Massy Caledonia AIA playmaker Theobald, the lone 2006 World Cup player in the team.
Theobald, who helped Caledonia to the First Citizens Cup trophy on Friday night, is likely to play alongside the in-form Connection midfielder Clyde Leon while left back Joevin Jones, also of Connection, and the Defence Force strike partnership of Devorn Jorsling and Richard Roy have also started the 2012/13 domestic season brightly.
The team also benefits from an overseas-based quintet that includes central defenders Robert Primus (Aktobe—Kazhakstan) and Carlyle Mitchell (Vancouver Whitecaps—Canada), experienced midfielder Keon Daniel (Philadephia Union—US) and the Vietnam-based duo of Hughton Hector (Song Lam Nghe) and Willis Plaza (Sai Gon FC).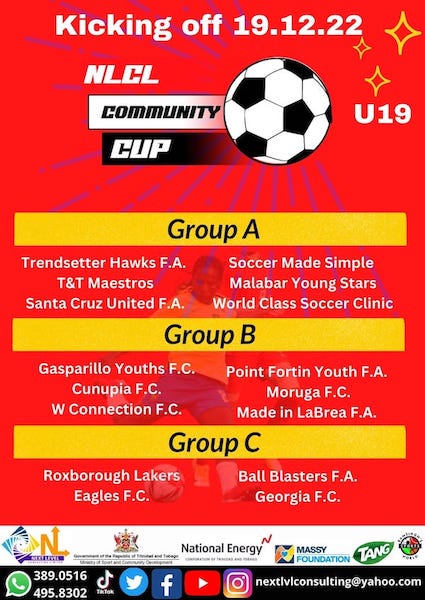 Although Charles has been in charge for 10 months, he has only had three international games this year due to financial problems. The Warriors lost 3-2 to Finland at home in January, won 4-0 away to Antigua and Barbuda in February and then were defeated 2-0 to Canada in Fort Lauderdale.
Charles, a Warrant Officer One with the army, said keeping his team focused was the biggest challenge as the Trinidad and Tobago Football Federation (TTFF) and Sport Ministry publicly wrangled over funding. He praised the attitude of his players throughout the fiasco.
"I think what this has done is maybe motivated them to want to do well even more," said the 47-year-old coach. "Yes they were aware of the situation but I think we dealt with the situation well and reminded everyone of what is ahead and (had) them focusing on one thing.
"We have our business to take care of on the pitch. That's our number one priority."
The squad was supposed to spend the weekend in camp but, eventually, settled for just one day together before leaving for competitive action.
Privately, Williams might have been happy for the extra time today with his fiancée, Candice Worrell, who is still recovering from a violent assault during a robbery outside her Couva workplace in January.
Worrell was in a coma for weeks and didn't speak until just before Mother's Day. She still spends her weekdays at the St James Medical Complex and only weekends at home with Williams and their 18-month-old daughter, Nevaeh.
"She is much better and recovering well," said Williams. "It's just for her to get the strength and mobility to start walking… She really appreciated the response from the public and from her friends and family through all of this."
Frustrated by the initial, lukewarm TTFF response to his personal crisis, Williams, a former Under-17 World Cup player, considered quitting the international set up earlier this month. But he couldn't leave with the thought that he walked away from a challenge.
"If I decide to call it a day without achieving something for my country, I would feel like I gave up," said Williams. "When I saw Keshorn (Walcott) and the other Olympians come back and how happy they made their country, I wanted to do that too.
"I want to know that I helped put a smile on two million faces here… I will do anything within my powers and within the spirit of the game to ensure that we not just get to the Caribbean Cup final but that we get there and win."
The national captain says he sees the same determination when he looks at his teammates.
"Every squad will always have its strengths and weaknesses," said Williams. "But I think the enthusiasm and desire to achieve is extremely high with this bunch of players. You're seeing that these players want to push their football to the next level.
"Right now, I feel as if we're going to war."
Trinidad and Tobago Caribbean Cup squad
Goalkeepers: Marvin Phillips (Central FC), Jan Michael Williams (W Connection);
Defenders: Daneil Cyrus, Joevin Jones (both W Connection), Curtis Gonzales (Defence Force), Carlyle Mitchell (Vancouver Whitecaps—Canada), Robert Primus (FC Aktobe—Kazakhstan), Kareem Moses, Seon Power (both North East Stars);
Midfielders: Hughtun Hector (Song Lam Nghe—Vietnam), Densill Theobald (Caledonia AIA), Clyde Leon (W Connection), Kevon Carter (Defence Force), Kevon Neaves, Sylvester Teasdale (both T&TEC),  Keon Daniel (Philadelphia Union—US);
Forwards: Willis Plaza (Sai Gon FC—Vietnam), Richard Roy, Devorn Jorsling (both Defence Force), Jamal Gay (Caledonia AIA);
Staff: Hutson Charles (Head Coach), Derek King (Assistant Coach), Jefferson George (Goalkeeper Coach), Dave Isaac (Physio/Trainer), Michael Williams (Equipment Manager), Shaun Fuentes (Press Officer), William Wallace (Manager).