When Devorn Jorsling and Kareem "Tiny" Joseph first laid eyes on each other, Facebook was not yet invented and berries were a delicious snack not an omnipresent communication tool.
If they didn't quite complete each other's sentences, the Malick schoolboys and Morvant villagers certainly meshed on the football field. The scrawny Joseph hustled and created while the stocky Jorsling produced the end result.
But, tonight, only one of the pair will celebrate at the final whistle as Jorsling's Defence Force and Joseph's Neal & Massy Caledonia AIA meet from 8 pm in the First Citizens Cup final at the Hasely Crawford Stadium in Port of Spain.
For 90 minutes, give or take extra time, their long standing friendship will certainly be on pause.
"As a footballer, playing in a Cup final is always a dream," Joseph told Wired868.com. "It will be an exciting game and fans can expect to see us play our normal way, which is attacking down the flanks and trying to keep possession through the centre.
"We won this competition last year and we want to keep it."

Joseph might have extra reason for sentiment. The adventurous right back scored twice in the final last year when the "Eastern Stallions" came from behind to edge T&TEC 2-1 in the 2011 First Citizens Cup final.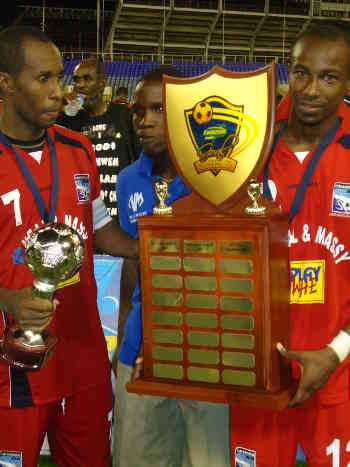 But don't expect Jorsling to do his old friend or his childhood community any favours tonight.
"You can expect a fired-up Jorsling tonight," said Jorsling. "Last week, I don't feel I had a good performance (in our semi-final win) against Rangers. My team looks to me for leadership and I aim to lead from the front."
One is a mobile winger and the other a static centre forward; Jorsling and Joseph's career paths have been as different as their footballing attributes.
At Malick Secondary, Jorsling was the focal point of the team and destined for bigger things. He was still a schoolboy when W Connection invited him to join its ranks and he trained alongside talents like St Lucian icon Earl Jean, Brazilian playmaker Gefferson Goulart and classy Trinidad and Tobago utility player Reynold Carrington.
"Connection played a major part in my career by giving me an education in football," said Jorsling. "At 16 or 17 is the time in your career when you really need to understand football and I thank (coach) Stuart Charles-Fevrier for that."
Playing time was limited though and, by his second season, an impatient Jorsling decided to join his hometown club, Caledonia, on loan.
It was about the same time that his then girlfriend, Kizzy, had his first daughter Desire—Kizzy is now Jorsling's wife and they have a second daughter named Destiny.
At 18, Jorsling decided to quit Caledonia for a steady paycheck at Defence Force but broke his leg in a national under-20 game and spent close to two years on the sidelines instead.
"I couldn't stay (at Caledonia) when (at the time) I wasn't sure that I would be paid when the end of the month," he said. "But then I broke my leg before I could join the army and had to wait until I recovered…
"That period was real difficult for me. I wasn't working and I put on a lot of weight. My mother, Charmaine, had to support me financially plus I had a kid."
Initially an understudy to Ipswich Town striker Jason Scotland, Jorsling raced into prominence after Scotland's departure to the UK in 2003. Not literally, though. Sprinting has never been his strong suit.
"Defence Force plays with one striker who has to post-up and hold the ball," he said. "That suits me, to be honest. With the national team, I have to be more mobile and I try but it isn't my strength.
"I am not blessed with the speed so I just make the most of the gifts that God gave me."
Jorsling's pivot and booming left foot strike is one of the Pro League's most awesome sights while his fierce, curling free kicks and corners are always a threat too.
His international record is nothing to sniff at either.
Jorsling has 16 goals for Trinidad and Tobago from 20 starts and 9 substitute appearances. Only Stern John (70 goals from 114 appearances), Russell Latapy (29 from 79), Arnold Dwarika (28 from 74), Nigel Pierre (20 from 57) and Dwight Yorke (19 from 72) have scored more for the "red, white and black" in the last 20 years.
The 29-year-old Joseph's rise to prominence was more low-keyed and it would provoke a lively debate if you asked whether he was the best footballer in his family or even in his relationship.
Joseph's long-time girlfriend is renowned Trinidad and Tobago national women's footballer Natasha St Louis and the pair has a two-year-old daughter, Kailah Joseph. His 22-year-old brother, Sherron Joseph, is remarkably gifted too but a wayward spirit who is trying to rebuild his career now at Caledonia after catching the eye as a teenager with Ma Pau.
"Sherron played youth football with (Khaleem) Hyland and (Lester) Peltier and has the potential to play in Europe like them too," said Joseph. "It is just that his attitude to the game and training wasn't right. He has been training with Caledonia for the past two months and hopefully he would be signed up soon."
"Tiny" lacks his younger brother's ball handling skills or Jorsling's physique and booming shots. But he has the attitude of a giant.
As a schoolboy, he was one of a handful of wingers rotated around Jorsling with the sole job description of serving the sharpshooter. At Caledonia, he was crowded out upfront and didn't particularly distinguish himself at right midfield either.
But, reassigned to right back, his tactical awareness, composure, spirit and, most of all, flying legs and fitness made him a standout and won the respect of more muscular opponents.
He might be the Pro League's best penalty kicker and his goal tally is regularly in the double figures.
Joseph already has three goals this season—two of which came in the CONCACAF's Champions League. They were all penalties.
Last season, for the first time as adults, Jorsling and Joseph played a full season together and the result for Caledonia was unprecedented success as they captured the Caribbean Club crown for the first time to go with titles in the First Citizens Cup, TTFF FA and Lucozade Sport Goal Shield and a second place Digicel Pro League finish.
Unlike Jorsling, Joseph has never played for any club but Caledonia. And he is anxious for more success with the Stallions.
"I get a lot of respect in my area," said Joseph. "Younger players would come up to me and ask me for tips or to come and have a kick-about with them in the savannah or on the courts. We are really proud about putting Caledonia on the map for a positive reason."
Jorsling echoed his sentiments.
"For me, one of my goals was always to go back to my hometown club and achieve something with them," said Jorsling. "With Caledonia doing so well last year, you hear Morvant/Laventille being associated with something positive and that was really special. It was really nice to catch up with old friends and my former schoolmates too like Kareem, Abdallah Phillips and Conrod Smith."
Jorsling will be a soldier and not a Morvant resident when the First Citizens Cup final kicks off.
Whether Caledonia is fond of the regiment at the best of times is questionable but Defence Force can expect brazen defiance when they face each other in the first Cup final of the 2012/13 domestic season.
Last season, Caledonia defeated Defence Force in the Lucozade Sport Goal Shield and TTFF FA finals before losing heavily in the Digicel Pro Bowl final.
Jorsling and Joseph, normally the best of friends, would each plunge the other's night into despair with a swing of the boot if given half a chance tonight.
(Possible starting teams)
Caledonia:
33.Glenroy Samuel; 12.Kareem Joseph, 3.Nuru Muhammad, 4.Colin Nelson, 15.Walter Moore; 7.Stephan David (Capt); 8.Cornelius Stewart, 19.Densill Theobald, 10.Conrod Smith, 13.Trayon Bobb; 23.Jamal Gay.
Coach Jamaal Shabazz
System: 4-1-4-1
Defence Force:
1.Kevin Graham; 4.Marvin Jones, 5.Devin Jordan, 14.Cory Rivers (Capt), 21.Aklie Edwards; 8.Curtis Gonzales; 11.Kevon Carter, 15.Jerwin Balthazar, 9.Richard Roy, 17.Ross Russell Jr; 10.Devorn Jorsling.
Coach Ross Russell
System: 4-1-4-1