Former Barbados Chief Justice and Attorney General Sir David Simmons QC, who is chairman of Trinidad and Tobago's 1990 Coup Enquiry, will hone in on the past practices of National Security Minister Jack Warner as CONCACAF continues to dig through its closet.
Simmons, who is trying to compel Jamaat al Muslimeen leader Yasin Abu Bakr to appear before the local Enquiry, officially agreed, last Tuesday, to investigate another high profile and controversial Trinidad and Tobago public figure.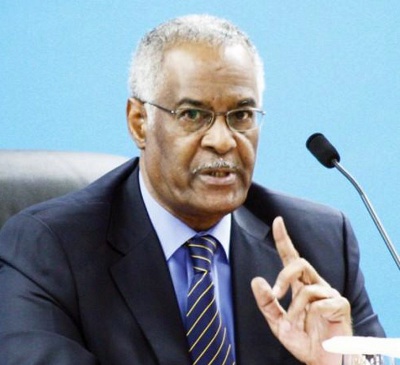 Warner's term as CONCACAF president ended on 20 June 2011 when he quit all football posts after being indicted by FIFA for his role in an international bribery scandal. The Trinidad and Tobago Police Service has not completed its investigation into Warner regarding that affair. Yet, at present, Warner is the line minister for the police and army and is also chairman of the United National Congress (UNC), which is the leading party in the People's Partnership coalition government.
Simmons, who served as Barbados' 12th Chief Justice from 2002 to 2010, will chair CONCACAF's newly created Integrity Committee alongside retired United States District Court Judge Ricardo Urbina and ex-PricewaterhouseCoopers partner and auditor Ernesto Hempe.
CONCACAF president Jeffrey Webb said that the committee will review and report past practices to its Executive Committee so as to "ensure clarity regarding all pending issues within the Confederation."
"We have invited the most qualified and reputable individuals in their fields to assist us in the fulfillment of our vision of integrity, transparency and accountability," said CONCACAF president Jeffrey Webb, on the body's website, "which will help us build a transparent structure and allow our region to grow."
Simmons said he was pleased to be involved in the project after meeting Webb and his fellow committee members.
"This was the first step towards an important process and I am pleased that CONCACAF is approaching such matters in a responsible manner as it sets an ethical standard for its new governance," said Simmons.
The Integrity Committee's work will be parallel to other ongoing investigations into Warner's tenure that was initiated by CONCACAF.
On 7 September 2012, Webb revealed that the US Internal Revenue Services (IRS), accounting firm BDO International and global legal company Sidley Austin LLP were working in tandem to scrutinize Warner's era as CONCACAF president, which ran from 1991 to 2011, and were expected to provide a completed audit by 2013.
"This audit is a massive undertaking that will set our financial house straight and ensure that CONCACAF's operations are executed in a responsible and ethical manner going forward," said Webb.
The investigating parties were asked to pay particular attention to the CONCACAF Centre of Excellence in Macoya—which Wired868 proved was owned by Warner—and the previous approach to tax laws.
The alleged co-mingling of funds through Warner's former football empire might also interest CONCACAF's investigators.
In March 2008, Wired868 managing director Lasana Liburd—then a Trinidad Express employee—revealed that Trinidad and Tobago's 2006 World Cup players received money owed by the Trinidad and Tobago Football Federation (TTFF) through CONCACAF cheques.
The "Soca Warriors" negotiated a bonus payment and match fees with Warner in 2005 and 2006 in his capacity as the TTFF's special advisor. However, the two parties remain locked in High Court action to determine the full bonus figure owed to the players.
The TTFF continues to insist that only Warner knows the whereabouts of its 2006 World Cup income but, so far, the local football body's general secretary Richard Groden, despite a charge for contempt of court, has resisted the High Court's demand to take legal action against Warner.
Trinidad and Tobago Prime Minister Kamla Persad-Bissessar previously told Wired868 that she sees no reason to probe Warner over his football dealings.
Groden was selected on Friday 22 September 2012 on a 15-member CONCACAF Gold Cup organizing committee.