I wasn't there that day; I couldn't get a ticket. Tickets for the F.A. Cup semi-final between Liverpool and Nottingham Forest at Hillsborough Stadium in Sheffield were like gold dust.
But for football supporters in UK, 15th April, 1989 was our 9/11. I was working in a busy shopping centre selling electrical goods. Every TV was tuned, as usual on a Saturday, to the BBC's Grandstand programme, where scores were updated and live reports popped up periodically to keep viewers up to date.
Of course, in the 1980's, the UK was still suffering from football hooliganism and a football stadium was a scary place to be. Inside and out, you had to be aware at all times of the situation as a surge from the crowd could find you pinned against some immovable obstacle or, worse, on the floor under a stampede.
I remember one day when I was leaving a Chelsea game, I was crushed for some five minutes against a huge police officer who himself was wedged against a wall, completely unable to move.
Just around kick-off time at Hillsborough, the BBC went live to the game and you could see some fans on the pitch. I seem to remember hearing the commentator at that time suggesting that there was crowd trouble from the Liverpool end. A fair assumption but quite wrong.
As I watched live on television, it became clear that this was indeed a fight. Not between rival supporters but simply for survival.
Ambulances were on the pitch; frantic fans were trying to pull crushed bodies to safety, carrying the dead and dying on perimeter advertising boards, as there were too few stretchers.
In the shopping centre, everybody had crammed into the store or taken up some vantage point outside to look at the TV sets in the shop window. For an hour, we all stood there, either in shocked silence or in seething outrage at what happened that day.
Back at home that night, I discovered that my mum, a Liverpudlian, had been weeping; these were her people.
We were moved by the personal stories of parents who had lost their children and children who had lost their parents. We were moved as well in a different way by the show of unity that brought all football together.
In the aftermath, we were treated to stories of ordinary football supporters trampled to death, of families literally smashed apart; we heard heart-rending accusations against Liverpool supporters, we lived for years afterwards with the stigma that attached itself to Liverpool supporters.
And we were haunted by the thought that Hillsborough had perhaps also seen the death of England's greatest football team.
The all-conquering Liverpool have never really been the same again. Maybe they just stopped being good. But I think otherwise. A club can develop talent, buy players, employ great coaches. But somehow, along with 96 of its supporters, a part of Liverpool FC died that April day.
Heysel was terrible but Hillsborough changed football in the UK, maybe the world over. At last the authorities everywhere recognised that football fans should not be treated like animals, shepherded into dangerous pens without regard for their safety. Hillsborough was the institutional sea change that saw supporters rebranded from hooligans to customers.
Maybe football reached adulthood that fateful April day. What is certain is that the lessons learned that day have helped to prevent similar disasters across the globe. Nothing like this, one feels, can ever happen again in the UK.
Nowadays, a football match is more akin to a visit to the cinema: nice seats, lots of concessions, no riot police but plenty of (mainly) courteous stewards.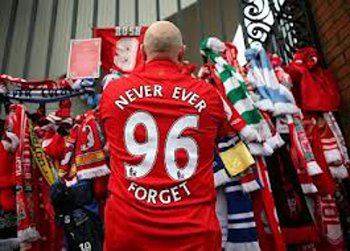 Much of the working class, tribal atmosphere has been lost at UK football matches, which, for me, detracts from the experience. But a mere ten 10 years after Hillsborough, I could do things at a football match that I couldn't do before. I could wear my team's colours without fear, I could take my wife to the game and, most importantly, I could take my young son without needing to worry about his safety.
And I, like a soldier whose platoon was annihilated in battle while he was away on furlough, I have mixed feelings when I recall that I wasn't there that day.
I couldn't get a ticket.