The venue for the 2012 Paranoia Olympics, the Olympic Park which overlooks the London boroughs of Stratford and Hackney, caused much concern for the competitors. The Russians, for instance, who ritually top the medal table, seemed to be particularly worried about the number of CCTV cameras in the area.
The USA delegation, mostly comprising Secret Service, FBI and CIA personnel, are no slouches where paranoia is concerned and could be seen diving under the nearest table every time a plane took off from Heathrow.
In the dining hall, the Indian competitors kept the Pakistanis on edge by threatening to take over their dinner table while the mispronunciation of "orange juice" prompted fear by Libyan athletes that they were being fed kosher food.
North Korean competitors were unhappy with "Chinese whispers" policy adapted by competitors from Beijing while Israelis threatened to boycott the Games until minor British celebrity, Jordan, was listed as Katie Price on the programme.
The relay or "Passing the Buck" was expected to be won by the British pairing of David Cameron and Nick Clegg who exhibited quite spectacular form.  But the dark horses were a little known pair of Trinidad and Tobago Prime Minister Kamla Persad-Bissessar and her former Minister of National Security, Brigadier John Sandy, who hoped to repeat the golden returns of then PM Patrick Manning and his Man Friday, Calder Hart, in 2008.
Sandy's statement: "This will make 1990 look like a tea party" also put him among the qualifiers for the Individual Paranoia sprint but there has been some suggestion that it was wind-assisted. Sandy and sidekick Gary Griffith were also given credit for Persad-Bissessar's qualification for the Paranoid Leader pentathlon with her "Somebody wants to assassinate me" claim.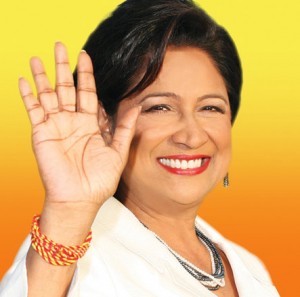 With five-times gold medallist Jack Warner in their squad, T&T threatened to make a huge splash at this year's Games. Since he burst onto the international scene in the early 90's following his 1989 performance in overselling tickets for the highly important November 19  game against the US at the National Stadium,  Warner's star has been in the ascendancy.
His move from CONCACAF to FIFA and now to the top of the T&T government gave him access to previously unimaginable levels of paranoia production resources. Warner seemed a shoo-in for gold in the Paranoia Decathlon yet again with gems like "Lee Sing set me up," "Rowley wants to destroy me" and the ever-green "Liburd is out to get me."
Warner's main competition was expected to come from his fellow countrymen Anand Ramlogan ("Rowley accused me of improper political promises") and CoP leader Prakash Ramadhar ("Anil wants my job").
But I have to leave the rest for next time. I think someone is watching me.
Editor's Note: This column is pure satire and all conversations are faked; no offence is meant at parties named although they probably deserve it