Today, Lael, my 17-month-old daughter, saw her first dead body.
I always thought it would happen after she had learned to ride her tricycle; certainly after she learned to spell. But Fate had other plans.
You might think I live in a rough neighbourhood or maybe that, without considering my young co-passenger, I slowed down on the road to watch the wreckage of a fatal traffic accident. But you would be wrong.
Lael's first sight of a corpse and wailing loved ones came at the supermarket. We were at the cashier's in Xtra Foods Supermarket on O' Meara Road in Arima when a loud wail came from the giant television set that loomed over us on the wall.
Probably a half-dozen sets looked down on us from directly over the shoulders of several cashiers; the volume seemed to be on full blast.
So, we looked up in alarm, just in time to see a body bag unzipped to reveal the blood-splattered face of a young man. And a female voice on the set released an unforgettable scream that seemed to stun the supermarket into silence.
Her mother, Lou-Ann, reacted as quickly as possible to block Lael's view. But our furtive hands could not drown out the woman's lengthy, plaintive, hair-raising wail.
By the time I found the Xtra Foods manager to demand action, the damage had been done.
So whom do I credit with introducing my innocent daughter to the horror of murder?
The owners of Xtra Foods who seem to think that this sort of action really gets customers to loosen their wallets?
The media managers who allow their channel to carry the offensive programme, Crime Watch? What would be the point of raising the issue with TV6's Head of News and Current Affairs Dominic Kallipersad who responded to a previous complaint about the gruesome reality television show with a quip that "viewing the show is a choice, not a requirement?"
Or should I train my guns on Crime Watch host Ian Alleyne, the self-declared "people's police commissioner," who clearly believes in parading rape victims, unzipping body bags and displaying mutilated bodies even when, as was the case of the late West Indies cricketer Runako Morton, no crime was committed.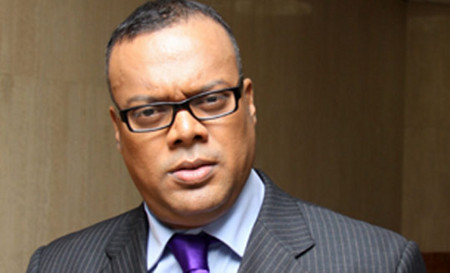 For what it is worth, the Xtra Foods manager apologised. Not that he admitted to being at fault; the culprit was an unnamed employee who he alleged had turned the volume up against his expressed orders.
In Trinidad and Tobago, the buck no longer stops anywhere and everything can be justified. Or explained away.
In response to a public request from local civic watch group Fixin' T&T, the Telecommunications Authority of Trinidad and Tobago (TATT) urged TV6 to show more concern for its viewers and the families of the deceased persons by not carrying images of dead bodies on the show.
TV6 did not bother to respond. And the Trinidad Mirror dismissed the request as "tatta" since there is apparently no legal ground for action against the station.
Perhaps the refusal to recognise ethical rather than legal arguments as valid took solid root when Prime Minister Kamla Persad-Bissessar disregarded the Integrity Commission's advice that Works Minister Jack Warner should choose between his government position and his FIFA portfolio. The PM, who has since accepted silk, declared that if it was legally permissible for Warner to keep both jobs, then it was fine by her.
And look how well that has turned out.
Kallipersad's spontaneous live scolding of Attorney General Anand Ramlogan about his lack of manners, during a live interview on the then ongoing State of Emergency was hailed by thousands, including myself, as a welcome call for decorum from those in power.
The AG had broken no law but he did violate our notion of courtesy and Kallipersad, veteran journalist that he is, let him know it. The media's role, after all, is, at least in part, to hold public figures to widely agreed standards of accountability and responsibility.
Yet, Kallipersad and TV6 do not like it when Fixin' T&T or anyone else demands of them conformity to the same standards. At that point, they seek refuge behind viewership figures in the same way that politicians, caught with their metaphorical trousers down, are quick to point out how many votes they received.
So, TV6 looks the other way as Alleyne indulges himself in an orgy of mutilated bodies, abused women and grieving parents. And at 6 pm, when children are still busying themselves in their living rooms, TV6 lets rip its tsunami of violence under the pretext of informing the public while Alleyne pretends that no crime would be solved unless video cameras zoom in on bloodied corpses.
And what of Lael's premature awakening to the savagery of life in the twin-island republic?
I suppose TV6 and Crime Watch were bound to get her someday.
I can almost hear their cynical response, built on the media's duty to inform and educate. We're just doing our job, Liburd, just doing our job.
Editor's Note: The Trinidad and Tobago Association of Psychologists stated, in a letter to the media, that:
"The violent footage in our news, the violent and graphic nature of the many television movies and popular local shows must be re-examined if we are to help children of this country become mentally healthy adults, with a sense of obligation to others in the community into which they were born."
At the time this article was written, Crime Watch was a TV6 programme.