… U-23s need win against Honduras
The Trinidad and Tobago national under-23 football team can still mathematically qualify for the London 2012 Olympic Games but it would take a miraculous awakening against Honduras on Tuesday night.
In California this evening, the young "Soca Warriors" again failed to match their stated ambitions with action and remain at the bottom of the table after a 1-1 draw with Panama.
Group leaders Mexico whipped Honduras 3-0 to offer faint hope to Trinidad and Tobago of sneaking a spot in the knock out stage. A win for Trinidad and Tobago against Honduras at the Home Depot Centre on Tuesday would surely earn the Warriors a place in the knock out stage.
Coach Angus Eve, who saw his team snatch a tie with a scrappy stoppage time goal from substitute Shahdon Winchester, is predictably looking at the brighter side.
"It was tremendous for us in many ways because we have been working very hard in the past year now," said Eve. "To reach this stage, we want to try our best to reach the semifinals. Getting that goal is the opportunity for us."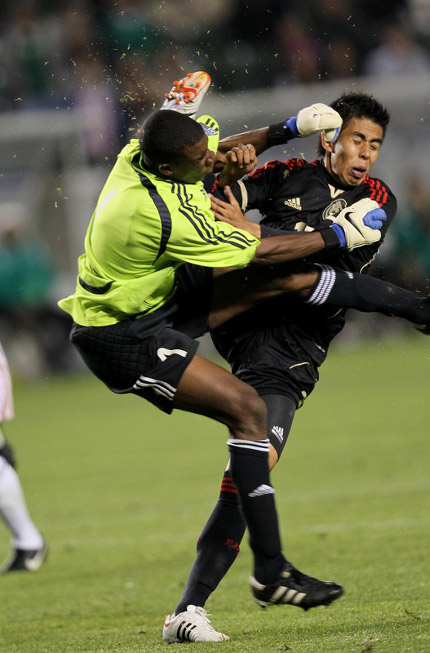 Trinidad and Tobago has won just one of its past five competitive matches in this campaign and a crushing 7-1 defeat to Mexico on Friday did not auger well for the team's hopes of a historical Olympic berth.
Nothing if not resilient, Eve's young men at least clawed their way back into contention on a rainy afternoon in downtown Los Angeles.
There were four changes from the team that faced Mexico with Curtis Gonzales, Joevin Jones, Kareem Moses and Micah Lewis replacing Jeromie Williams, Sean De Silva, Leslie Russell and Jayson Joseph respectively. Eve's line-up was notably more circumspect with Jones, primarily a left back, used higher up the flank in place of De Silva while captain and versatile defender Sheldon Bateau was used alongside Kevan George in central midfield.
Trinidad and Tobago goalkeeper Andre Marchan shook off a slight concussion against Mexico to keep his place between the uprights but he did not cover himself in glory for Panama's opener.
Marchan punched at a deep cross into his penalty area from Rolando Algandona but could not even clear the box and only gifted possession to Panama's Anibal Godoy. Still, Godoy's effort seemed to be heading straight at retreating Trinidadian defender Daneil Cyrus until it deflected off his Panamanian teammate Cecilio Waterman and into an unguarded net.
Waterman had only been on the field for three minutes at that point.
The Panamanians thought they had a second goal after another Marchan error. This time, the young goalie fumbled a cross but in the ensuing melee the match official spotted an infringement on Cyrus before the ball rolled over the goalline.
It was a crucial let off as, in the 93rd minute, substitute Winchester equalised at the death. It is uncertain how much the striker knew about his item though.
Midfielder Kevin Molino drove an effort goalward and Winchester barely had time to blink as Algandona's attempted clearance ricocheted off Winchester's leg and into the net.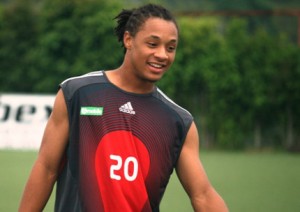 "I listened to the coach's instructions which was to go at the left side defender and try to get into the box as much as possible," said Winchester. "When the chance came I had to take it and I'm just happy that I helped to put the country into a position to move into the semis in Kansas City."
Eve was pleased enough with the item. The head coach suggested that, apart from the soft goal, his players defended better and did not concede possession as cheaply as in their opening loss to Mexico. He hopes to take their strong finish into the final group fixture against Honduras.
"It's a challenge here and even in other instances to get players to believe that they can compete at this level," said Eve, "but we're getting there one step at a time and on Tuesday we have another opportunity to get closer to that…
"Overall, I'm pleased with the fight and a draw that has kept us alive here in California."
The last time the under-23 team was faced with elimination, Eve's young men responded with a thumping 9-1 win over Suriname last year. He would happily settle for a narrower margin against Honduras on Tuesday if it achieves a semi-final spot.
T&T (against Panama): 1.Andre Marchan (GK); 15.Curtis Gonzales (12.Jayson Joseph 78), 17.Mekeil Williams (14.Trevin Caesar 78th), 2.Kareem Moses, 19.Daneil Cyrus; 4.Sheldon Bateau (Capt), 5.Kevan George; 18.Micah Lewis (11.Shahdon Winchester 62nd), 10.Kevin Molino, 3.Joevin Jones; 9.Jamal Gay.
Unused Subs: Sheldon Clarke (GK), Sean De Silva, Jeromie Williams, Cordell Cato, Jomal Williams, Leslie Russell.