FIFA revealed yesterday that it is withholding the pension of its former Vice President and Trinidad and Tobago Works Minister Jack Warner.
Warner resigned from FIFA last June in the wake of bribery allegations that saw fellow Vice President Mohamed Bin Hammam banned for life.
However, the former TTFF special advisor was still due a pension that might have earned him as much as $230,000 (US$36,238) per year until he turns 96-years-old.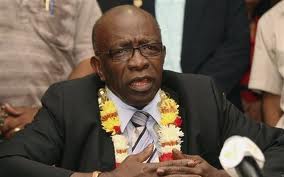 The FIFA Media Office confirmed that this is not being paid.
"We can confirm that at present Jack Warner is not receiving a FIFA pension," the FIFA Media Office told Wired868.com. "Please kindly understand that we are not able to provide you with further details on this matter at this stage."

FIFA also revealed that it is monitoring the chaotic scenes in Trinidad and Tobago's football but is not yet ready to act.
On Wednesday, a court-appointed marshall seized all removable assets from the head office of the Trinidad and Tobago Football Federation (TTFF) on the instructions of 13 members of the 2006 World Cup squad.
The raid followed the TTFF's failure to make a second interim payment of $4.6 million (US$724,000) that was due to the "Soca Warriors" since October 2011. The Warriors already received a payment of $7.2 million (US$1,140,384) earlier last year after a ruling by High Court Judge Devindra Rampersad in February 2011.
The Warriors, the TTFF and its former President Oliver Camps return to court on 14 February 2012.
"At the time of writing, we have not received any official information from Trinidad and Tobago," stated FIFA. "We are currently monitoring the situation through the media and as such please kindly understand that we are not in a position to make any comments at this stage."
However, an insider claimed that Sport Minister's Anil Roberts decision to fund the TTFF's programs is the only thing saving the local football body from collapse and FIFA intervention at the moment.
Last month, ex-TTFF Technical Director Lincoln "Tiger" Phillips urged FIFA to shut down the TTFF and set up a normalisation committee to help clean up the mess created by mismanagement and unethical practices by local football administrators.
However, Trinidad and Tobago under-23 football team coach, Angus Eve, pleaded for his players to be given the chance to play at the 2012 London Olympics.
"I respect everyone's opinion but I would prefer if we could shed some more positive light on this team of players," Eve told the TTFF Media. "(Everald) 'Gally' Cummings has been crying out for equal opportunity and Brent (Sancho) claims he was blacklisted and this prevented them from furthering their careers.
"Well then why should they want these young men to be robbed off a chance of representing the country on the international stage and having a shot of bettering their careers?
"It's not the right way to go by hoping FIFA steps in… Let the boys at least get to play and if things happen after that can mean betterment for Federation, then at least they would have been given an equal or fair opportunity."