"Skinner Park does not have a legal football field for approved senior competitive games, by which I mean games that are above under-15 level," said Trinidad and Tobago Football Referees Association (TTFRA) president Osmond Downer. "There should be no argument—none whatsoever."
On Friday, Udecott Corporate Communications and Marketing manager Roxanne Stapleton-Whyms, issued a press statement that sought to rebut a Wired868 reference to the Skinner Park, which was reopened earlier this year by Udecott chairman Noel Garcia.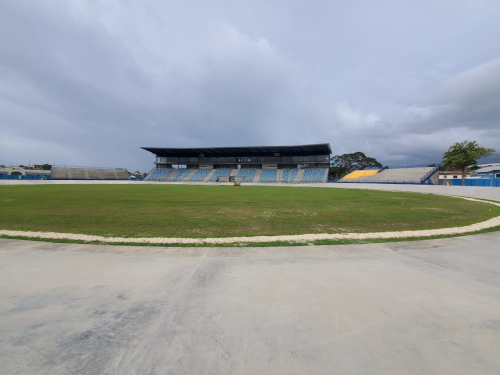 In an article that dealt with the Secondary Schools Football League's search for a suitable venue for the South Zone Intercol final, Wired868 noted that Skinner Park "no longer possesses dimensions for a proper football match—thanks to a Udecott revamp".
Udecott, according to the release, "vehemently refuted" the "flagrant statements carried in an online magazine publication" which it described as "highly unfortunate" and "misleading".
"The field at Skinner Park surpasses the minimum standard for domestic football games, as set by world football governing body – the International Football Association [Board]," Udecott replied.
Downer dismissed Udecott's response as nonsense.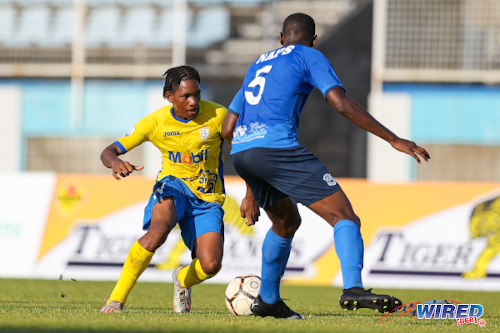 "I don't know what they mean by 'domestic games' unless they mean friendly games of some sort like minor league or fete matches," said Downer. "Domestic football is local football played in the zones and so on, all under the auspices of the TTFA—and that includes the Secondary Schools Football League (SSFL).
"All recognised football must be played in keeping with the FIFA IFAB Laws of the Game and the very beginning of the law book said these laws may be modified for junior games, which is meant to be under-15 games for men and under-16 for women and for senior (veteran) tournaments.
"And this deals with the size of the field, the size of the ball, the size of the goals and the length of the game, which can be changed in keeping with the tournament in those levels. For instance, some veteran games are 60 minutes.
"Otherwise, all competitive games must be played according to the laws of the game!"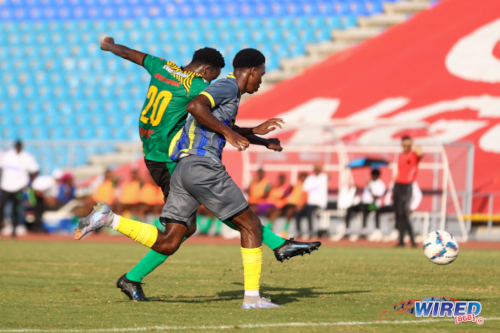 And Udecott, Downer explained, should not have needed to look far to find the laws pertaining to the Skinner Park when they set about working on its football field—which was part of a $131 million revamp, using taxpayers' money.
"Law one deals with the field of play and it is crystal clear," he said. "The law says the length of the field must be between 100 to 130 yards (91.44 to 118.87 metres)—it cannot be less than 100 or more than 130—and the width is between 50 and 100 yards (45.72 to 91.44 metres) wide. Your field must fall within those dimensions."
Skinner Park is 90 by 50 metres (98.42 by 54.68 yards), which means it lacks the length required for use by the SSFL for games above under-15 boys and under-16 girls competition, such as the Intercol matches.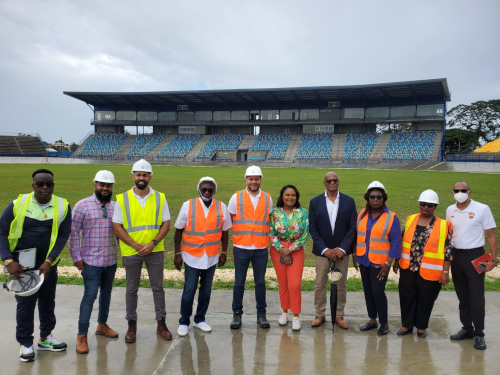 SSFL president Merere Gonzales confirmed that Skinner Park could not be considered for Premier Division, Championship Division or Intercol matches. But he was surprised by Udecott's reaction this week, since its chairman, Garcia, acknowledged the ground's shortcomings at its very opening.
"I find this issue a rather intriguing and strange one [and] I don't why it has become an issue in November 2023," said Gonzales. "When Skinner Park was refurbished, they held an opening and I was invited and attended the function.
"[…] They changed the direction of the field, so the field is a lot smaller than what existed before and the truth is the head of Udecott mentioned at the opening that it cannot be used for domestic football because of the size—only to hear something different some months later.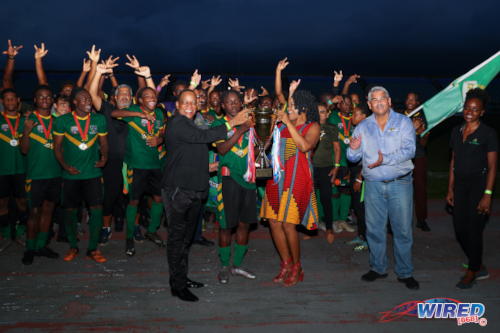 "[…] It is simple, just Google the dimensions of a domestic game and measure the dimensions of Skinner Park and you will see for yourself."
Stapleton-Whyms' press release acknowledged that the direction of the field was changed but claimed that "the 90m x 50m dimensions have always been the dimensions of the Skinner Park field".
"The only change in the field at Skinner Park that came with its refurbishment was the change in its directional orientation, to prevent direct sunlight in the eyes of goalkeepers," stated Udecott. "An improvement which found great favour with stakeholder (sic), the Trinidad and Tobago Football Association, during construction phase stakeholder meetings."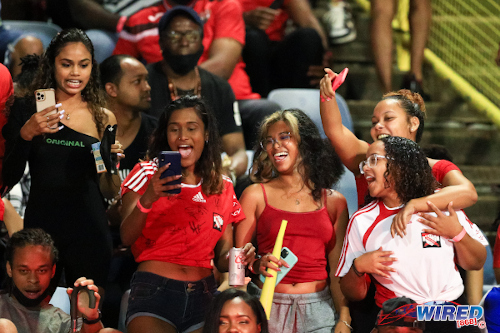 Downer rubbished Udecott's claim that the dimension of the Skinner Park football field is unchanged. He noted that the famous San Fernando venue met Fifa's standards in the past and hosted many international games, including Trinidad and Tobago's first World Cup qualifying campaign in 1965. He also refereed international games at the ground.
He was incredulous that, because someone had a bright idea about shielding the goalkeeper from the sun, Udecott ended up with a field that is unfit for competitive football.
"When I asked, I was told the field direction was changed from east-west to north-south and they did not have sufficient length left [for the field]," said Downer. "Well, if that was the case, then just put it back east-west like it was for all those generations! I heard the change had something to do with the sun being the goalkeeper's eyes.
"Well, let the goalkeeper wear a blasted cap!"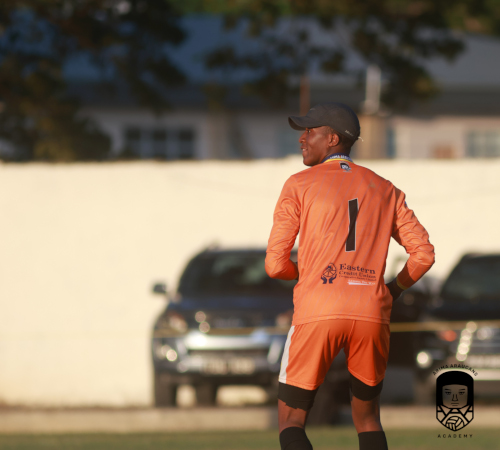 Gonzales pointed out that the SSFL is not the only football competition that keeps its distance from Skinner Park. He noted that neither Tier One nor Tier Two of the Trinidad and Tobago Premier Football League (TTPFL) uses the venue either—for a very obvious reason.
"In relation to Fifa standards, it falls short [for anything but under-16 football]," he said. "And that is why we have no football being played there in the Senior and Premier Divisions… I don't know what is the hullabaloo about this thing and it is rather disingenuous. People need to be open and honest and transparent.
"People are becoming smarter now and you cannot fool them as in years gone by."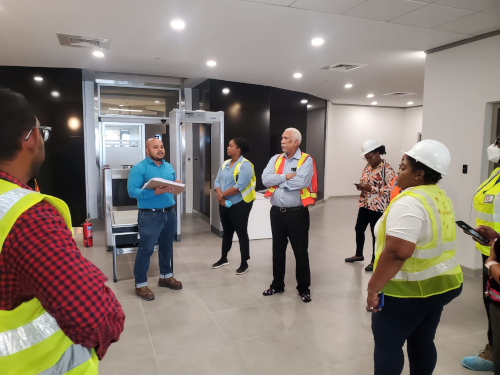 Downer, a former St Augustine Secondary School principal, gave an anecdote to hint at the chaos that could ensue if a SSFL Premier Division or Intercol match was played at Skinner Park.
"Many years ago, St Augustine Secondary played San Juan Senior Comprehensive on their ground and I said 'what kind of short field is this'," he said. "We lost 1-0 and I launched a protest on a point of law… And when the field was measured, the length was under 90 metres. So, they extended it until the goalpost on the southern end was almost in the canal—and that is still the dimensions they use today.
"That game was replayed and St Augustine won."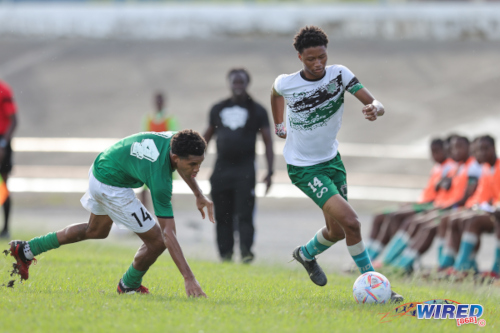 Gonzales credited Udecott for delivering excellent facilities at Skinner Park. But their revamp simply did not extend to a legal football pitch for under-20 or adult football.
"Right now, Skinner Park has one of the best facilities available for sport in Trinidad and Tobago as far as the various VIP rooms, dressing rooms for four teams plus, locker rooms, etc," said Gonzales. "Some of the national stadia don't even have that. It is really first-class when it comes to the structure of the building.
"[…] It is an excellent facility if you want to have under-13 to under-15 games, which fall within its dimensions. For other senior age group competitions, in relation to Fifa standards, it falls short."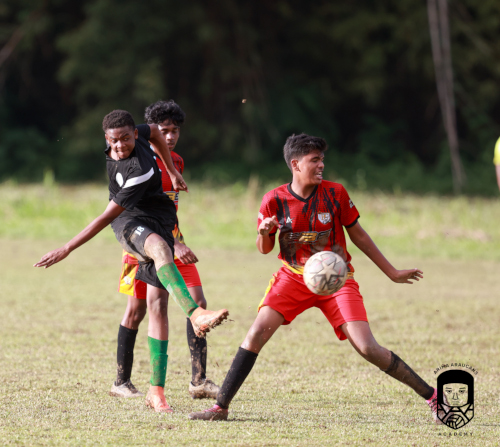 Downer said he was hurt that such a historical football venue is now lost to the sport; and San Fernando schools now have to travel to Point Fortin in search of a proper venue.
"I find it very difficult to understand how the people who were responsible for renovating Skinner Park did not get advice from any experts when they were laying down that field," said Downer. "Anybody just had to open the law book and look at the very first law and they would have gotten ALL the dimensions—everything is in the law book! I find that very difficult to comprehend. How could that have been done?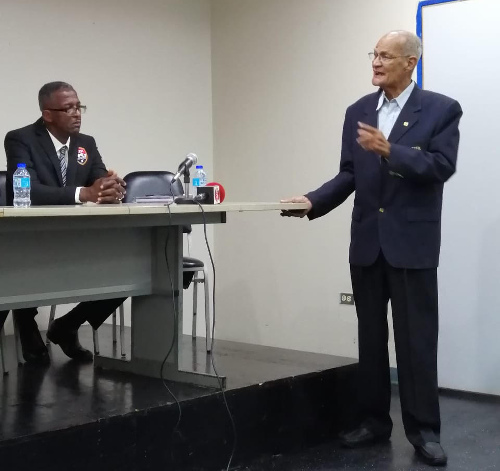 "[…] It is horrible that Skinner Park, a well-known football field for over so many generations, should not be able to have proper football played on it. That is hurtful.
"Why should these boys have to travel to Point Fortin to play [the South Intercol final] and you have Skinner Park right there?!"