Trinidad and Tobago conceded three late goals in Austin, Texas last night as they lost 3-0 to the United States in the first of a two-legged Concacaf Nations League quarterfinal tie.
The two nations meet again at the Hasely Crawford Stadium in Port of Spain on Monday 20 November with USA needing to merely avoid a heavy defeat to advance to the semifinals—and book a place for the 2024 Copa America tournament.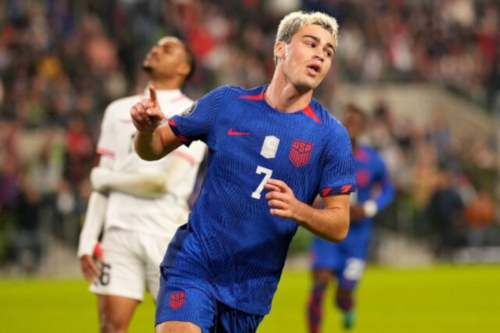 The Soca Warriors can still follow USA to the Copa America, but they will need to defeat another losing quarterfinalist in a playoff to do so. Coach Angus Eve would probably fancy his chances, after another night of remarkable defiance against a higher ranked nation with an additional player to boot.
And, not for the first time, Eve laughed in the face of statistics.
At halftime, the United States had 76% possession with seven shots to zero from Trinidad and Tobago. But the Soca Warriors were already down to 10 players and, crucially, the hosts had not managed a single shot on target.
Eve made two big calls before kickoff last night. First, he chose a five-man defence supported by four midfielders who sought to play narrow against USA's midfield three. (USA used a 4-3-3 shape.)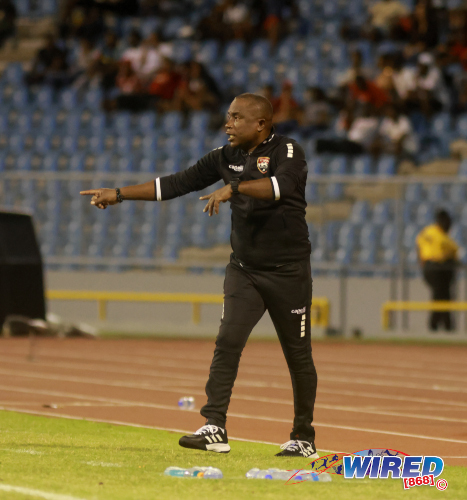 The Warriors coach also decided to use Malcolm Shaw as his lone striker with Trinidad and Tobago's most gifted player, Levi Garcia, seated among the substitutes.
With USA coach Gregg Berhalter allowing his full backs to bomb forward in support of his wide attackers which had the knock-on effect of stretching Trinidad and Tobago's midfield quartet, Eve was never really able to coral the host team's midfield triangle.
And the host team passed the ball for fun.
But there was little to trouble Trinidad and Tobago goalkeeper Denzil Smith outside of an effort from former Barcelona right back Sergino Dest, which was recorded as a skewed cross by the data analysts.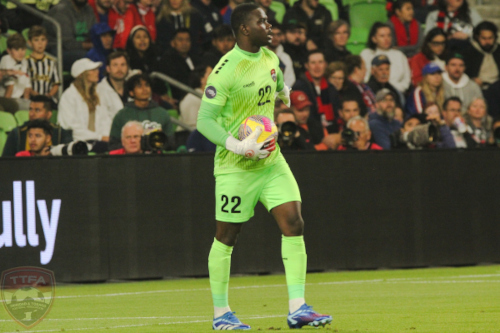 Eve would have been deeply troubled by midfielder Noah Powder's first half dismissal though.
Powder, who campaigns for American lower league team Northern Colorado Hailstorm, was unlucky in one sense to be booked in the 18th minute for stepping on opposing midfielder Weston McKennie's ankle. It was an inadvertent collision.
Yet, it was still dangerous play and very painful for the Juventus midfielder.
Jamaican referee Oshane Nation decided a yellow card was enough punishment.
However, Nation flashed yellow again in the 36th minute after Powder unwisely lunged at McKennie in a non-threatening part of the field. And the Warriors utility player had to leave, with over an hour remaining.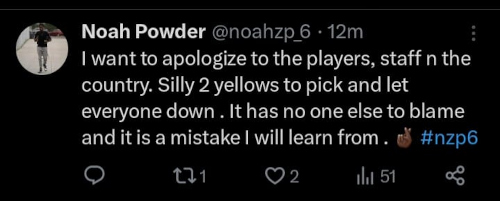 With the scoreline unchanged at the break, Eve adjusted again—as he replaced right side midfielder Ryan Telfer with the more combative Neveal Hackshaw, and braced himself for an American barrage.
USA got a penalty in the 59th minute, after Nation penalized Daniel Phillips for sliding in on McKennie—yes, him again! But, after a VAR review, the Jamaican official decided that the Trinidad and Tobago player got enough of the ball and reversed his call.
By then, the hosts had already managed two shots on target.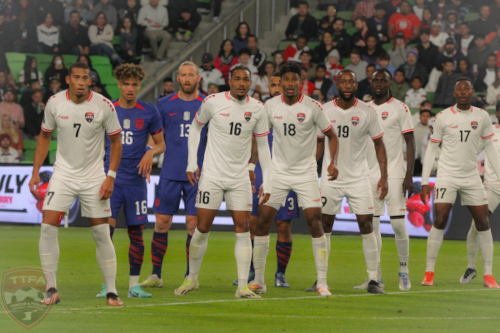 It was still goalless after 66 minutes and both coaches responded. Eve replaced his two remaining midfielders, Andre Rampersad and Phillips, with Jesse Williams and Kristian Lee-Him, while Garcia came in for Shaw.
But it was more a case of getting fresh legs to try and stay close to the US midfield technicians, rather than a genuine attempt to create a platform for Garcia to use his dynamic attacking ability.
Smith fended away a left-footed Dest rocket in the 73rd minute, although it was still a relatively straightforward save.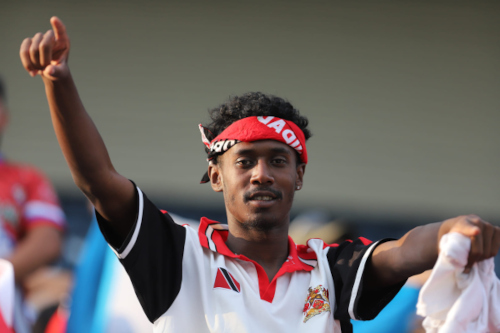 Beyond rapid, vertical ball movement in the vain hope of identifying a dozing Trinidad and Tobago defender, the host team were offering little real threat. And the Warriors defenders were up for it, with left back Andre Raymond looking in fine form.
But, in the 81st minute, the Warriors finally cracked. Left back Antonee Robinson picked out substitute Ricardo Pepi with a cross and the PSV Eindhoven forward responded with a firm flick that Smith got a hand to but could not keep out.
As always, the "Stars and Stripes" attempted to mercilessly push home that advantage.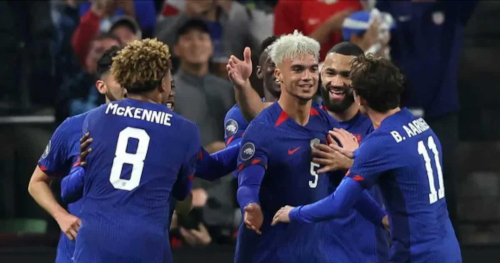 In the 85th minute, Robinson doubled their lead with a powerful shot from just outside the box after running to a headed clearance by Trinidad and Tobago defender Alvin Jones. And, in the 88th minute, Robinson picked out midfield playmaker Giovanni Reyna who worked a one-two pass with forward Folarin Balogun before beating Smith.
After a barren 80 minutes, USA now had three goals in seven minutes—and the tie was done.
For Berhalter, it was mission accomplished, albeit not in the manner that the hosts probably expected—after their 6-0 win over T&T at the July Gold Cup.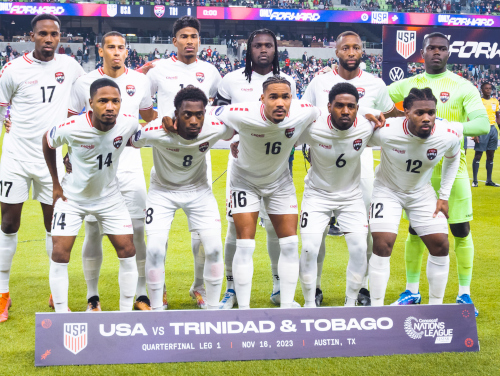 Eve, on the other hand, could console himself with limiting the United States for 80 minutes, despite playing more than half of that time with a player short.
The final stats read: 26 shots for USA with eight on target, compared to one effort by the visitors which did not require a save from captain Matthew Turner. Once again, Eve cheated the odds.
On Monday, Trinidad and Tobago will presumably try to show offensive teeth as well.
(Teams)
Trinidad and Tobago (5-4-1): 22.Denzil Smith (GK); 14.Shannon Gomez, 16.Alvin Jones, 2.Aubrey David (captain), 17.Justin Garcia, 6.Andre Raymond; 7.Ryan Telfer (15.Neveal Hackshaw 46), 12.Daniel Phillips (23.Kristian Lee Him 66), 18.Andre Rampersad (4.Jesse Williams 66), 8.Noah Powder [Red card 36]; 9.Malcolm Shaw (11.Levi Garcia 66).
Unused substitutes: 19.Christopher Biggette (GK), 21.Rushon Sandy (GK), 3.Ross Russell Jr, 5.Michel-Poon Angeron, 9.Nathaniel James, 10.Real Gill, 13.Reon Moore, 20.Kaïlé Auvray.
Coach: Angus Eve
United States (4-3-3): 1.Matthew Turner (GK); 2.Sergino Dest, 3.Cameron Carter-Vickers, 13.Tim Ream (captain), 5.Antonee Robinson; 6.Yunus Musah, 8.Weston McKennie, 7.Giovanni Reyna; 17.Malik Tillman (9.Ricardo Pepi 66), 20.Folarin Balogun, 16.Kevin Paredes (11.Brenden Aaronson 66).
Unused substitutes: 18.Ethan Horvath (GK), 21.Gabriel Slonina (GK), 4.Christopher Richards, 10.Alejandro Zendejas, 12.Miles Robinson, 14.Luca De La Torre, 15.Paxten Aaronson, 19.Joseph Scally, 22.Lenny Maloney, 23.Kris Lund.
Coach: Gregg Berhalter
Referee: Oshane Nation (Jamaica)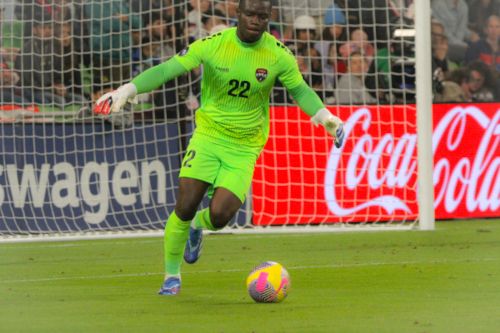 2023 Concacaf Nations League result
(16 November 2023)
USA 3 (Ricardo Pepi 81, Antonee Robinson 85, Giovanni Reyna 88), Trinidad and Tobago 0 at Austin, Texas.