St Benedict's College kicked off the 2023 Secondary Schools Football League (SSFL) season with an eye-raising show of strength at the Hasely Crawford Stadium yesterday, as they beat Fatima College to the NGC SSFL Super Cup.
The final score read 4-3 to the southern school and credit is due to Fatima for a spirited second half comeback. But the fact that the "La Romaine Lions" led 3-0 at halftime, despite playing without captain Josiah Ochoa and nearly a half-dozen starters, told its own story.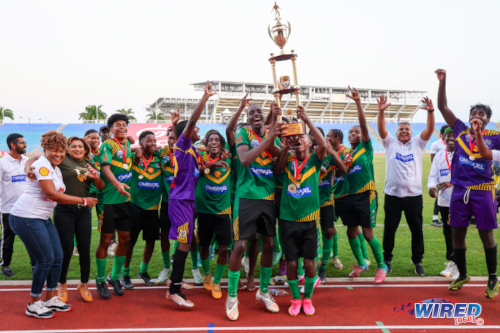 "Today's game is already in the past," St Benedict's team manager Ravi Ramgoolam told Wired868. "We are looking forward to the next game."
It was not exactly comforting news for San Juan North Secondary, who host St Benedict's, the reigning SSFL Premier Division champions, in Bourg Mulatresse from 3.30pm on Wednesday in match day one.
On Saturday afternoon, Fatima started eight players who featured in their 2022 National Intercol final triumph over St Benedict's. Benedict's, in contrast, used only one player from that match.
However, that Benedict's player was Trinidad and Tobago National Under-17 Team flanker Derrel "Zoom Zoom" Garcia. And what a player he is!
Fatima controlled the early part of the proceedings, as they stroked the ball from side to side with captain and central defender Jaden Williams and holding midfielder Logan Maingot looking magisterial.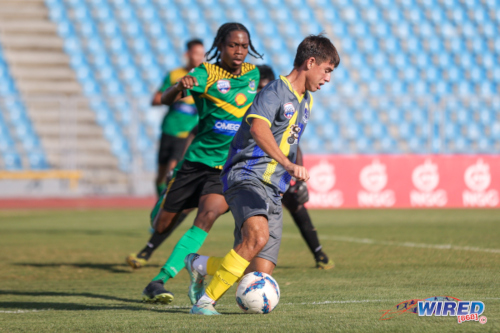 But the first real threat at goal came from the southerners in the seventh minute, as Garcia intercepted a ball meant for opposing flanker Liam Smith and let fly with a dipping drive that just cleared the Fatima bar.
It was a warning that Fatima did not, or could not, heed.
Moments later, Williams tried to lay down the law with a shoulder challenge that flattened Garcia and ought to have merited a lecture—if not a booking—from referee Crystal Sobers.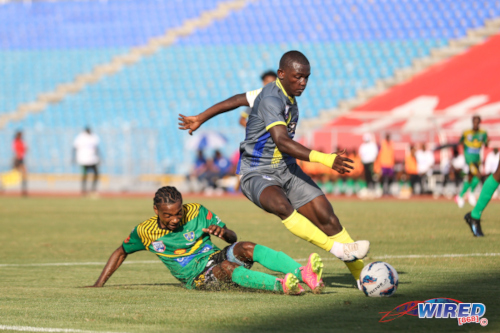 Sobers was less lenient when Benedict's forward Daniel Jones lured Fatima stopper Yohance Atherton into an unwise nibble at his heels in the penalty area. And Garcia sent Fatima goalkeeper Tristan Edwards the wrong way with a superb penalty.
It was against the run of play. But neither Fatima nor the 3,000-odd patrons at the venue had seen anything yet.
Jones, an August transfer from Pleasantville Secondary, was just getting started.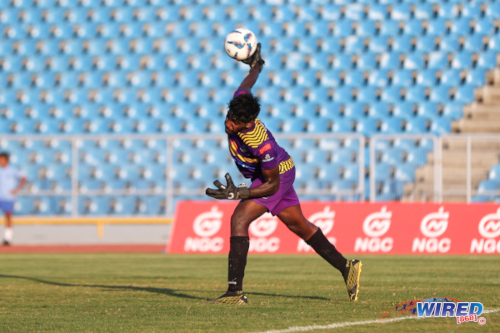 In the 43rd minute, Benedict's flanker Ethan Trotman clipped a ball for Jones to chase. The lanky forward was in front of Fatima's back four and the obvious space for him to attack looked to be between opposing defender Atherton and left back Darius Jordan.
But then came Jones' feathery first touch. It was as though he hypnotised the ball: "don't move!"
Atherton did not expect it—and who could blame him. It was too late now for him to change his body weight, and Jones sashayed around the defender as though the latter's feet were cast in cement.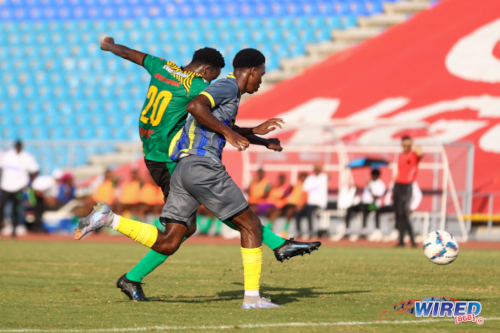 Then, for the grand finale, came a swing of his left boot to send the sphere screaming past Edwards and into the far corner.
The Hasely Crawford Stadium was on its feet!
Jones, son of Strike Squad forward Philbert Jones, is replacing outgoing St Benedict's captain and the SSFL's Most Valuable Player in 2022, Tarik Lee, at centre forward. Let's just say he is off to a great start.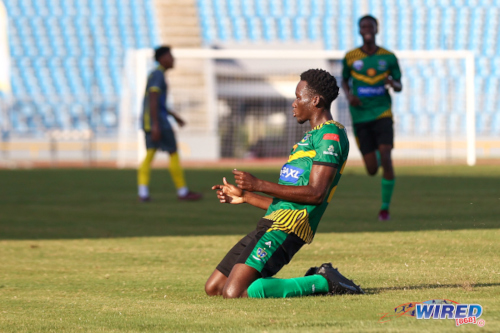 Fatima were probably still reeling when midfielder Kaeden Robertson wriggled free of Maingot and sent an inviting ball for Garcia to chase, in the channel between the opposing defender and left back.
And, quick as a flash, Garcia uncorked another precise left footed effort past Edwards for Benedict's third.
In Edwards, a National Under-20 player, Fatima almost certainly have the best goalkeeper in the schoolboy's game. And yet, thrice in the first half, Garcia and Jones made him look like he was trying to defend a goal frame the size of Movie Towne.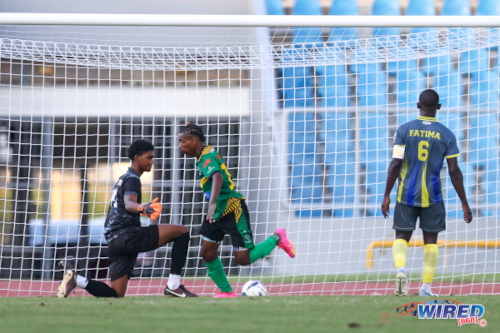 "At halftime, you could see a lot of dropped shoulders and dropped heads because we were down 3-0," said Fatima head coach Hutson "Baba" Charles. "I told them this is not how we operate—this is not the spirit we have. I said to them: you have nothing to lose now, so you don't have to hold back. Just play the football you know how to play."
The response was almost immediate. Two minutes after the restart, flanker Christian Bailey stole the ball from Benedict's left back Linares Leonel and motored into the opposing area before squaring for Michael Chaves to tap home.
And, in the 67th minute, Fatima substitute Josiah Gobin reduced the arrears to a single goal with a predatory finish after more progressive play down St Benedict's left flank.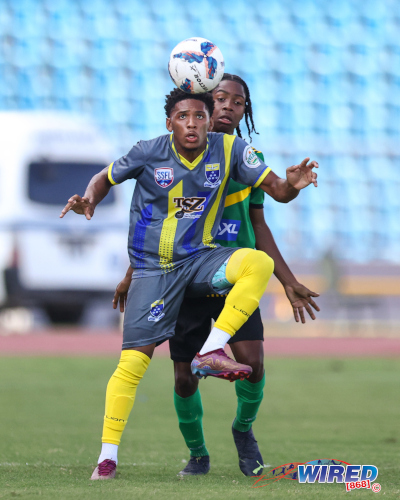 Benedict's coach Randolph Boyce replaced Leonel with Kaylon Cayenne at left back, soon after Fatima's opener. But even though Cayenne fared better than his predecessor, Bailey does not stay pinned back for long—and the Mucurapo Road school were in the ascendancy.
Remember Zoom Zoom though?
Twelve minutes from time, Garcia picked up the ball in the centre forward position and glided past Williams in second gear at best. His finish was equally assured.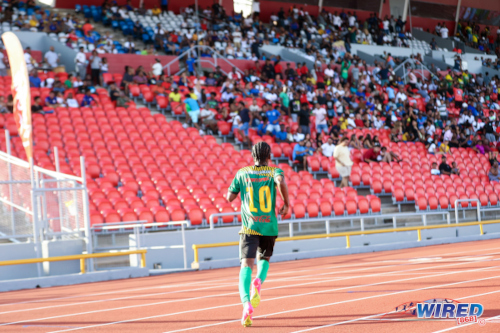 The Super Cup belonged to him, and he wanted to be sure that everyone knew it.
Another Fatima substitute, Luke Correia, again pulled the Intercol champions to within one goal while St Benedict's custodian Samuel Glasgow partly atoned for a shaky outing with a fine reflex save to keep out a Kade Collier header.
Fatima came close. But Benedict's made their statement to the rest of the competition.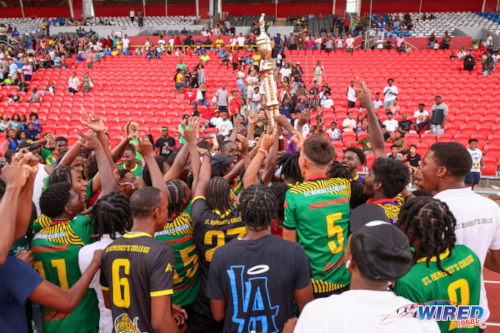 "I thought it was a game of two halves," said Charles. "In the first period, we made a lot of mistakes and Benedict's capitalised on it—notwithstanding Benedict's played a nice game.
"They took the chances they got. If we took our chances, it would have been a different ball game."
Charles, a former Men's National Senior Team head coach and a current Defence Force coach, had his own views on St Benedict's remarkable depth.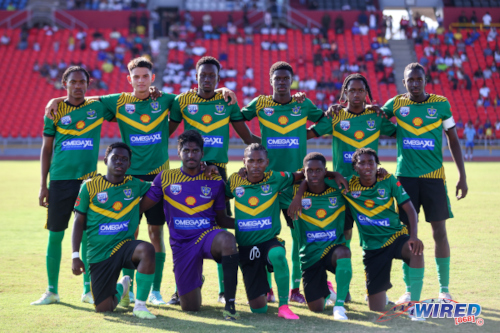 "All the south teams recruit rigorously—they pull the best players from all the Championship teams, whatever their grades," said Charles. "Fatima depends on their lower forms for players graduating to the Premier team. Fatima isn't one of the schools that just go out and select players. If your grades aren't good then waste of time trying to get in here.
"So, Fatima has to develop players… We are an in-house team who take players from our under-16 and under-14 teams, unlike the teams from south who take players from all the Championship teams."
For SSFL president Merere Gonzales—and the neutral football fans in the audience—there was enough excitement and talent on show to whet the palate for the 2023 season ahead.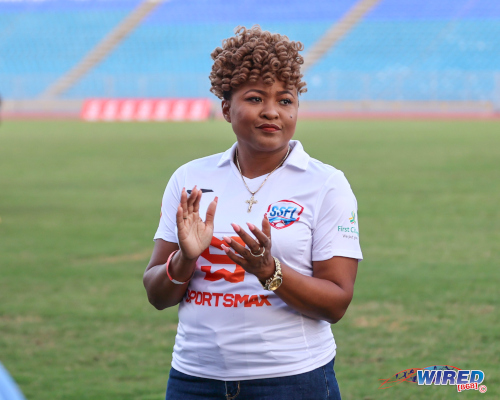 "It was generally quite an enlightening, refreshing, positive, remarkably uplifting and encouraging event," said Gonzales. "[…] The level of football shown by the two teams sets a good example for the level of football we'd expect from the remaining 14 teams in the division."
Charles insisted that Fatima will be ready on Wednesday when they host St Anthony's College on Mucurapo Road.
"I am not panicking—this game showed us what we are supposed to do and what we have to work on," said Charles. "Come Wednesday, we will be ready. I said to the fellahs after the game: this is not the real thing—the real thing is Wednesday.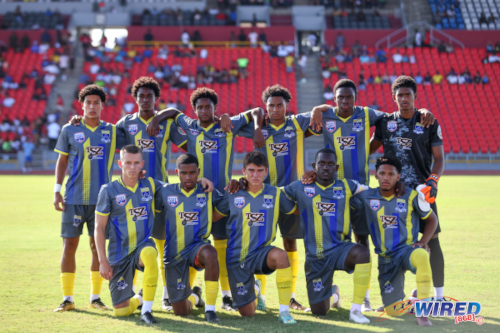 "And now that we know what we have to tweak and so on, we will be ready for Wednesday. There is a lot of expectation on Fatima because of what we did last season. So, we have to rise to the occasion."
For St Benedict's, Boyce could not be reached for comment and Ramgoolam did not have much to say—particularly on the topic of their player pool
"That is the coach's decision," he said, when asked about the absence of quality players like National Under-17 trio: Lyshawn Morris, Malachi Webb and Ochoa. "When game day reaches on Wednesday, you will see."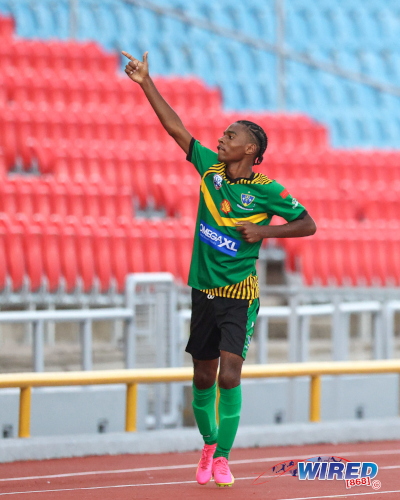 As if Zoom Zoom and young Jones were not enough…
(Teams)
St Benedict's College (4-2-3-1): 1.Samuel Glasgow (GK); 13.Gyasi Pinder, 3.Jahel Lewis (6.Salim Soanes), 2.Khaleel Lawrence (captain), 5.Linares Leonel (7.Kaylon Cayenne); 4.Adam Pierre, 14.Kaeden Robertson; 11.Ethan Trotman (9.Daniel Hope), 10.Derrel Garcia, 8.Camron Burke (15.Nathan George); 20.Daniel Jones (12.Michael Bullock).
Substitutes: 22.Thane Devenish (GK), 16.Raymond Commissiong, 17.Jelani Stoute, 18.Elijah George, 19.Xavion Debisette, 21.D'Angelo Ramsey.
Coach: Randolph Boyce
Fatima College (4-2-3-1): 40.Tristan Edwards (GK); 3.Shaheim O'Brian (28.Josiah Gobin), 4.Yohance Atherton, 6.Jaden Williams (captain), 5.Darius Jordan (19.Micaiah Leach); 18.Logan Maingot (17.Kade Collier), 8.Justin Alcantara (14.Elijah Camacho); 2.Christian Bailey, 10.Aidan De Gannes, 22.Levi Smith; 15.Michael Chaves (31.Luke Correia).
Substitutes: 1.Shameal O'Brian (GK), 24.Liam Gooding.
Coach: Hutson Charles
Referee: Crystal Sobers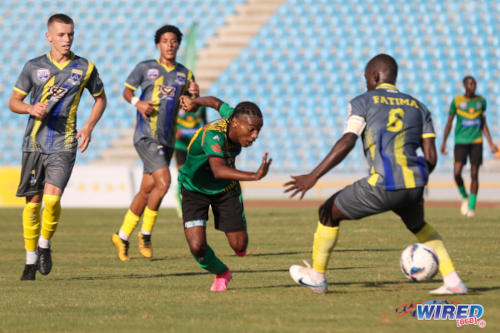 NGC SSFL Super Cup
St Benedict's College 4 (Derrel Garcia 14 pen, 45+2, 78, Daniel Jones 43), Fatima College 3 (Michael Chaves 48, Josiah Gobin 67, Luke Correia 79) at Hasely Crawford Stadium
Man of the Match: Derrel Garcia (St Benedict's College)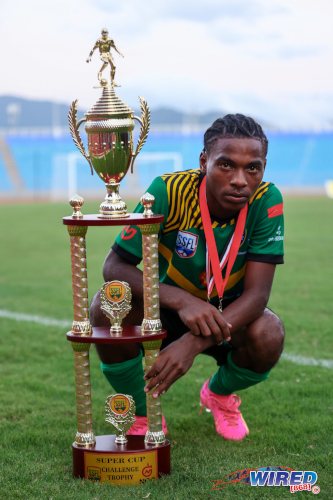 2023 Premier Division fixtures
Round One
(Wednesday 13 September)
Malick Secondary vs QRC, Serpentine Road, 3.30pm;
Pleasantville vs St Mary's College, TBA, 3.30pm;
Fatima College vs St Anthony's College, Fatima Ground, 3.30pm;
Arima North vs Presentation (San F'do), Arima Velodrome, 3.30pm;
San Juan North vs St Benedict's College, Bourg Mulatresse, 3.30pm;
Speyside High vs Bishop's High, Speyside recreation Ground, 3.30pm;
Naparima College vs Chaguanas North, Lewis Street, 3.30pm;
Trinity East vs East Mucurapo, Trincity, 3.30pm.