On a wild day of Republic Cup National Youth Football League (NYFL) knockout action in St Augustine yesterday, a pair of South Zone teams in Point Fortin Youth Academy and Premier Sports Club booked their ticket through to the 2023 semifinals, alongside North champions Pro Series.
On an intriguing day of NYFL quarterfinal play in the Under-17 age group, a few Trinidad and Tobago National Under-17 players sprinkled their stardust around the St Augustine Secondary School compound to inspire their teams to victories.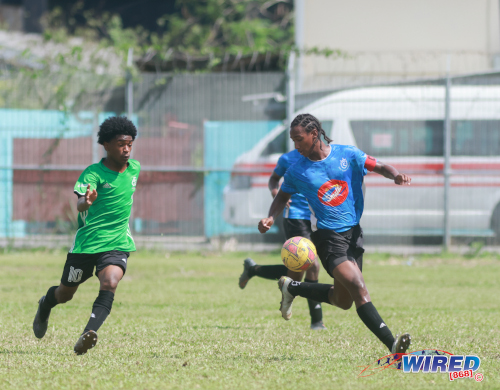 Meanwhile, fans were also able to salivate over an epic scissors kick goal, a flying somersault, and the performance of one St Anthony's College schoolboy that left Secondary Schools Football League (SSFL) scouts with their jaws on the ground as they look ahead to the 2023 season.
The "Westmoorings Tigers" player in question is Form 4 student Tyrell Stapleton, who put in a virtuoso display as he tried to will his Tinto's Sporting Academy (TSA) team to an improbable comeback in an eventual 5-3 loss to southern outfit Premier SC.
Trinidad and Tobago Under-17 attacker Malachi Webb was a handful of his own with a typically-bullish display as he netted a hat-trick in Premier SC's quarterfinal win. However, by the end of 90 minutes, Stapleton was the name on the lips of avid onlookers.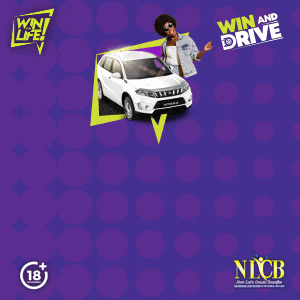 As one fan summed it up: "Stapleton hasn't seen a shot he doesn't like yet!"
Stapleton was shooting on sight in St Augustine yesterday, and it appeared as though he had the goal of Premier SC custodian Emmanuel Thompson on his radar once he crossed the half-line. Stapleton's weapon of choice was a powerful right foot, while his left wasn't solely used for walking either.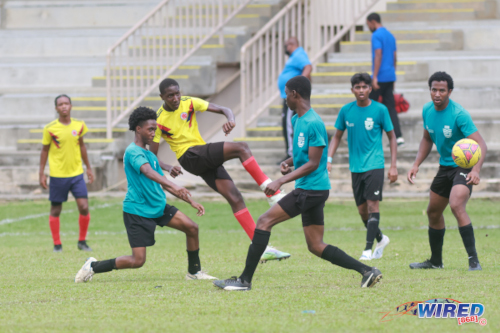 With Premier SC storming to a 3-0 lead by halftime in the first of three Under-17 matchups on the day—thanks to a Webb double and a free kick by Jabari Rodriguez—Stapleton nearly bought the stands down at the Warner Street venue with a beautiful volley from the edge of the area in the 50th minute.
After Thompson saved from TSA substitute Emmanuel Williams and just about kept a corner from sneaking into his near post after a mixup with Raheem Nelson, Stapleton cut Premier SC's lead to 3-2 as he disdainfully dispatched a penalty just before the hour mark.
After starting their journey from San Fernando at 6am and cruising through the first half, Premier SC found themselves in a right tussle with the East Zone champs TSA who were getting it done the Stapleton way!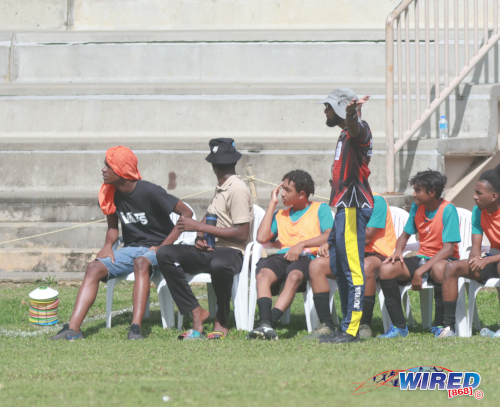 "We got a really tough game against Tinto's Sporting Academy," said Premier SC founder Sharaz Ali, who is in the midst of his first competitive season as coach in the five-year existence of the club. "They are very physical and very aggressive. You can't give them too much room because they have guys who can shoot and score.
"[…] We did take our feet off the pedal a bit going into the second half. We tried to be a little more defensive-minded and see out the game—however, it didn't work out in that way and the boys […] had to go forward and score to put the game to bed."
Luckily, in Webb, Premier SC have an offensive workhorse who doesn't need many invitations to have a crack at goal himself. Webb opened the scoring in the NYFL knockout stages after just six minutes, as he buried a powerful right-footer past TSA goalie Renaldo Lee from outside the area with minimum fuss, or backlift.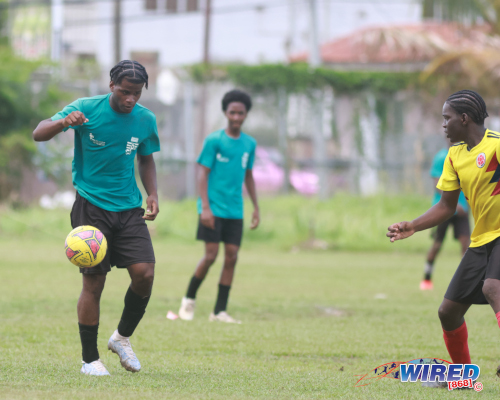 And after Rodriguez's sweetly-placed 18th-minute free kick, Webb made it 3-0 just before the break with another powerful item as he followed up his own effort from an indirect free kick.
On 63 minutes though, Webb would play the sidekick role in Nelson's story, as the Premier SC winger uncorked a quite marvelous scissors kick to beat Lee from close range after Webb brought a fine save out of the TSA custodian.
At that juncture, Premier SC led 4-2. One TSA fan, in particular, couldn't be tamed, as she was rapturous with her instructions and encouragement for the TSA team.
"Allyuh watch number seven (Webb)!" shouted TSA's passionate dreadlocked supporter, whose son, Anthony Phillip, played in central defence for the East Zone champs. "Mark him, mark him!"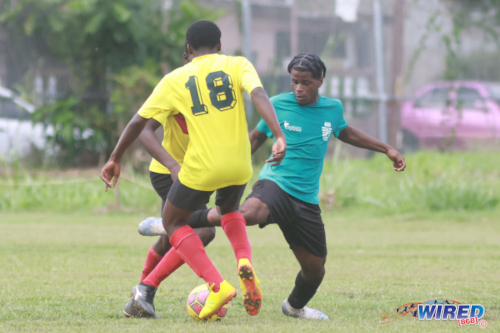 But TSA could not stop the St Benedict's College frontman. Webb made it 5-2 in the 70th minute with a free kick from about 23 yards, which he nonchalantly whipped past the wall.
"I think the type of players I have, they respond well in pressure situations," Ali said, who extended praise to Webb. "We've been trailing on many occasions in this tournament. We have been going down 1-0 and 2-0 and coming back to get results, both in the Under-17 and Under-20 age groups.
"It's a good response from the boys and shows that the mentality is there—even if a team has scored we back ourselves to come back and score again."
Premier SC would be thank the heavens that TSA coach Hayden Tinto didn't have a Stapleton clone readily available.
For his final act, the St Anthony's student ensured that there were some nervy moments at the end for the southerners, as his cross—after his brilliant wide play—lured Premier SC defender Jahel Lewis into turning the ball past his own goalkeeper in the 85th minute. In the end, Stapleton's work was just not enough to compensate for their leaky backline.
Gasparillo Youths had issues of their own at the back in the second knockout game of the Under-17 division, as they suffered a 4-1 defeat to a Point Fortin Youth Academy built around the National Under-17 pair of midfielder Josiah Ochoa and forward Jeremiah Niles.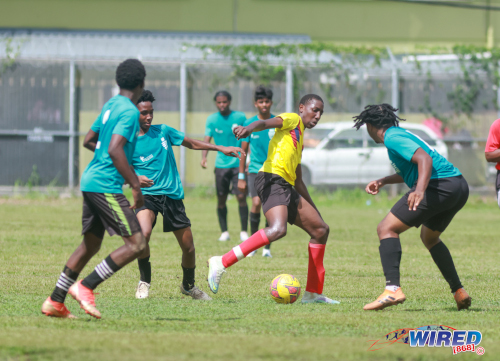 Gasparillo manager Sandra Pompey said her team's preparation was far from ideal since the conclusion of the Central Zone, a few weeks ago, with several players banned from playing by their parents due to the ongoing CXC exams.
Point Fortin coach Kester Richards had no such issues with his starlets, although they were without National Under-17 defender Lyshaun Morris due to his TTPFL commitment to Point Fortin Civic.
"We actually have four national youth players within our team […] who have been together probably since the age of six," said Richards. "When the team comes together, these guys always show their influence on the team and you saw it in the game today. The team basically leans heavily on them."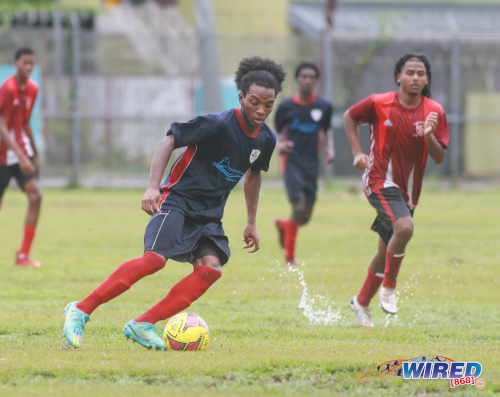 Point Fortin opened up a 2-0 lead inside 19 minutes. Central midfielder Kareem Sealy slapped home a penalty after Niles was upended in the area, following a speedy counter-attack. And Ochoa calmly passed a quickly-worked short free kick past goalkeeper Nastali Charles for the second item.
Point Fortin did give Gasparillo a brief window of opportunity in the contest, as their goalkeeper Judah Samuel had a mad rush of blood in the 31st minute and somehow allowed a tame shot from flanker Deondre Moonesar to sneak in at his first post to halve Point's lead.
But it was a minor blip on an otherwise comfortable afternoon for the Point Fortin squad.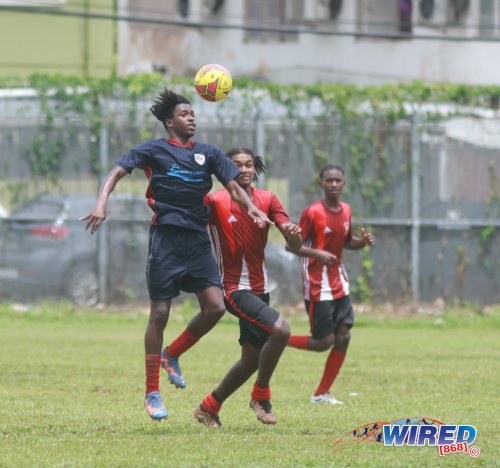 Soon after the break, Ochoa finished with a sweet left-footer from close range to beat Charles after a lovely exchange with Niles outside the area. The silky Benedict's midfielder caressed Niles' through pass with a deft first touch with his right foot, before finishing into the roof of the net with his left.
The busy Niles rounded off the scoring for Point in the 75th minute, as he tapped home from close quarters after some lovely skill down the left flank by the diminutive Kylon Cayenne.
As Richards suggested, there are really no secrets about Point Fortin's approach, as the trio of Niles, Ochoa and Isaiah Jacob—who was a member of National Under-17 coach Shawn Cooper's provisional squad ahead of last year's Concacaf Championships—heavily dictate their play through fluid movement and passing exchanges in the final third.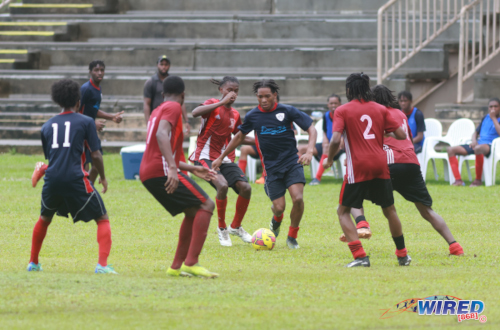 "My honest thought on the game is that we made it a little more difficult than it was supposed to be," Richards said. "All in all, the team played good football and moved around the ball well. We are just looking to get stronger now as we go into the semifinal round."
With Queen's Royal College (QRC) student Tau Lamsee sitting in their midfield and dictating the pace of the game, Pro Series also possess a nifty National Under-17 maestro within their ranks.
Yesterday, the hard-working Lamsee had the final say in the day's proceedings as his long range effort escaped the grasp of Beatnix SC goalkeeper Micaial Samaroo to round off a 3-0 win in second half stoppage time.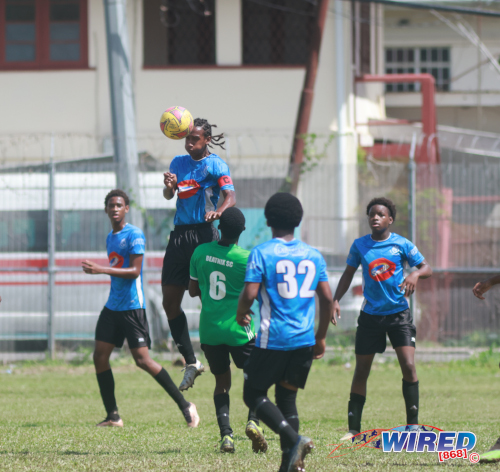 Lamsee took a bow and waved to Samaroo, whose handling was otherwise admirable on the day.
The Point Fortin team had already departed St Augustine venue, with Richards suggesting that he had seen all that he needed.
"We played Premier SC in the South Zone before and came out victorious so we know what they have to offer," said Richards. "[…] All in all, I think if my team does what is expected of them, we'd come away with a win in this tournament."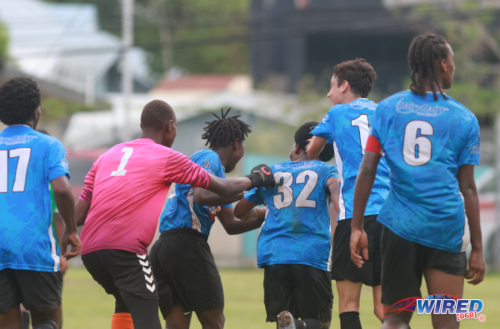 Pro Series should not be taken lightly, although they had to weather a proper early storm from Beatnix yesterday.
Beatnix attacker Daniel Votor was carrying a lingering groin injury, according to his coach Brandon Reyes, but he gave Pro Series as much as they could handle in the first 20 minutes or so—alongside the lively pair of flanker Kanye Eastman and midfielder Giovanni Hospedales.
In the first five minutes, Votor drew a pair of fine saves from Pro Series goalkeeper Shemuel Cassimy, after strong running down the left flank, as Beatnix flew out of the blocks.
Pro Series coach Kerdyn Moe sensed the early danger and didn't hesitate to make a quick change.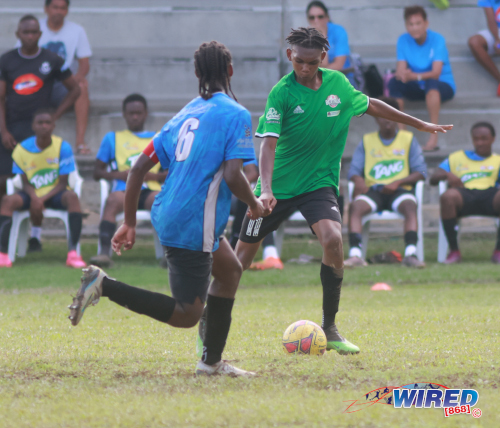 "Beatnix [are] a very technical team and they started the game way better than us to be fair—they had us against the ropes in the first 15 to 20 minutes or so," said Moe, who replaced defender Jaquan Aguillera with tricky attacker Micha'el John after only 25 minutes. "That's something we have to work on and start to do a little better."
With Pro Series operating with a 3-4-3 setup, John went to the right side of the front three, while Levi Smith, who started in the forward line, replaced Aguillera at left wing back.
A few supporters teased Moe about the early substitution, but the coach looked like a genius when John opened the scoring with a near post blast in the 32nd minute—after some shifty skill and lovely link-up play in the attacking third between Lamsee and midfielder Thomas Decle.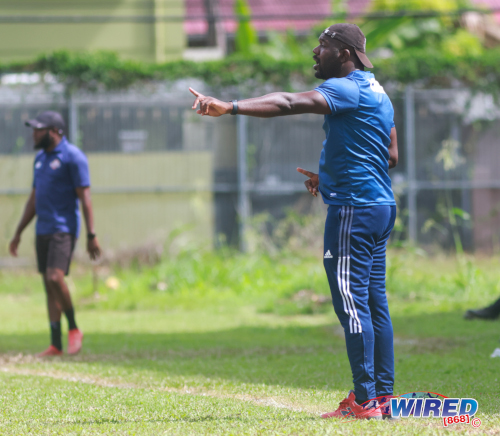 "I think Beatnix came out aggressive and they wanted it more at the beginning of the game," Moe told Wired868. "We planned to see what they were going to throw at us so we sat back in a kinda mid-block to see what they were doing. We were making some fundamental mistakes in the beginning that cost us.
"We made one change and that kinda got us into the game immediately—that little tinkering of the team."
With the Pro Series back three of Hasheem Hill, Josante Duncan and Akil Henry all comfortable in possession, and Lamsee playing well between the lines, the North champs started moving the ball around with poise and wrestled control of the game away from the East Zone runners-up. Crucially, the Pro Series attackers were winning their individual duels as well.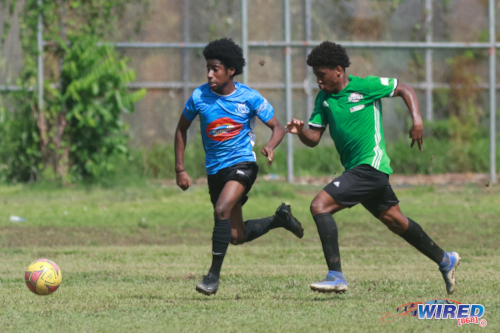 In the 40th minute, the North outfit added another gem of a goal, as flanker Arron Raymond turned his marker inside out before scoring with an audacious shot off the outside of his right boot, after an heavenly backheel touch by Decle.
If professional football doesn't work out for Raymond, gymnastics may not be a bad career path—as the youngster celebrated his stunning finish with a flying somersault, although the slippery St Augustine surface didn't help his landing.
"We are confident that we can go all the way but I'm just trying to keep them humble at the same time and not get carried away," Moe said. "We know it's a developmental league, so that's most important. Yes, we would want to win but at the same time, we're getting the boys to understand that it's really up to them if they're going to go all the way."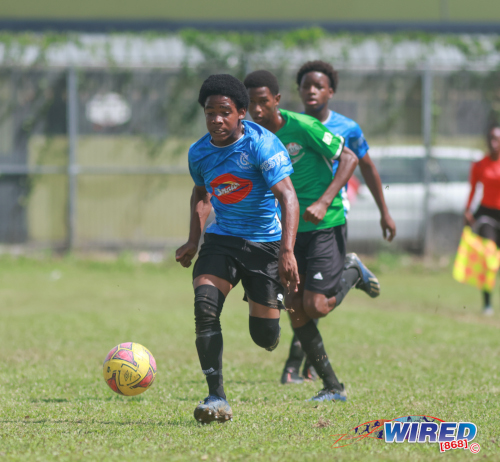 If the semifinal matchup between Pro Series and Point Fortin YA plays to form, then NYFL fans could be in for a real treat.
Moe would hope that Raymond has a few more flipping reasons to somersault next weekend.
(Teams)
Premier Sports Club (4-2-3-1): 57.Emmanuel Thompson (GK); 4.Jahel Lewis, 18.Chaz Forde, 3.Emmanuel Harrington, 2.Elijah George (captain); 17.Joshua Friday, 8.Jeremiah Joseph; 11.Raheem Nelson, 10.Zachary Seecharan, 9.Jabari Rodriguez (16.Jabari Noel 79); 7.Malachi Webb (21.Torres Ramrattansingh 90+2).
Unused substitutes: 13.Kadir Ali-Mark, 14.Jivan Debiram, 15.Kyle Danraj, 23.Amare Ryan, 61.Quincy Thomas.
Coach: Sharaz Ali
Tinto's Sporting Academy (4-2-3-1): 1.Renaldo Lee (GK); 16.Javion Jordan (20.Emmanuel Williams halftime), 22.Anthony Phillip, 19.Jermell McSween, 2.Andel Benjamin; 14.Jamarlie Clarke, 11.Kyle Williams (captain); 9.Shanon Metiever (10.Keisean Spence halftime), 17.Kemarley Pierre, 12.Tyrell Stapleton; 15.Miguel Gonzales (18.Simeon Joseph halftime).
Unused substitutes: 13.Jadon Spence, 27.Zaylon Debisette.
Coach: Hayden Tinto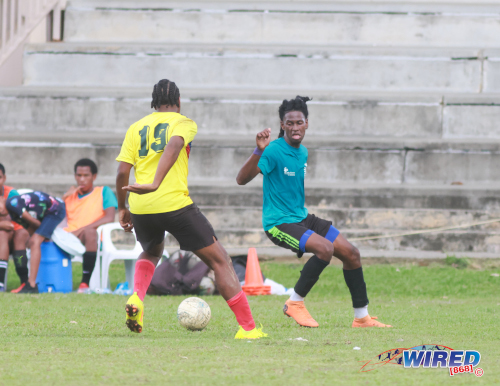 Gasparillo Youths (4-2-3-1): 1.Nastali Charles (GK); 5.Ezra Feverique, 2.Gyasi Pinder (captain), 17.Malerkay Fraser, 13.Sellasie Figaro; 8.Daniel Alexander (9.Kwasi St Lewis 67), 6.Christopher Bhageratie; 11.Tyrese Harding, 14.Jaden Joseph, 7.Deondre Moonesar (4.John Ross 76); 10.Keron Burnett.
Coach: Jasandra Joseph
Point Fortin Youth Academy (4-2-3-1): 00.Judah Samuel (GK); 19.Jevon St Bernard (15.Ricardo Patrice 85), 5.Trishon O'Connor, 4.McKale Thomas (7.Jeremiah Abraham 71), 18.Khalel Lawrence (captain); 6.Joshua Bernard, 17.Kareem Sealy; 10.Kylon Cayenne, 12.Josiah Ochoa, 11.Jeremiah Niles (8.Dylan Williams 86); 9.Isaiah Jacob.
Unused substitutes: 16.Kaliq Ashton.
Coach: Kester Richards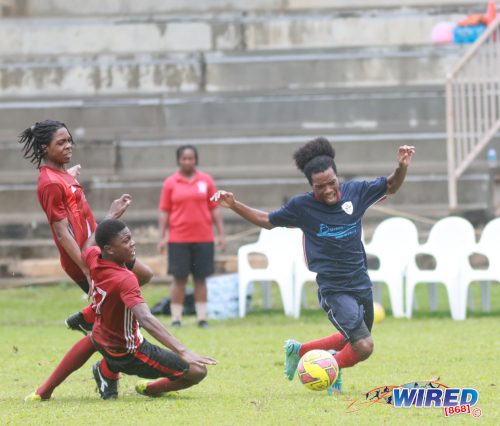 Pro Series (3-4-3): 1.Shemuel Cassimy (GK); 46.Hasheem Hill (55.Shem Charles 87), 51.Josante Duncan, 45.Akil Henry; 22.Amari Dunbar (58.Alejandro Harper 62), 17.Jedaiah King (50.Kerry Baptiste 83), 6.Tau Lamsee (captain), 4.Jaquan Aguillera (9.Micha'el John 25); 25.Levi Smith, 10.Thomas Decle (11.Jahaem Bailey 50), 32.Arron Raymon (5.Musaddiq Mohammed 71).
Unused substitutes: 29.Josiah Fernandes, 41.Sylvon Theophilus, 48.Nieem Taylor, 49.Michael Luke, 99.Aidan Browne.
Coach: Kerdyn Moe
Beatnix SC (4-2-3-1): 1.Micaial Samaroo (GK); 5.Khalid Jones, 13.Mathias Cruickshank, 4.Ezekiel Ramdialsingh, 12.Keon Roach; 6.Tyrese Andrews, 8.Christian Baptiste (23.Kerdel Richards 55); 10.Kanye Eastman (99.Chad Nicholas 87), 11.Giovanni Hospedales (18.Oyinde Jackson 81), 9.Daniel Votor (14.Kanye Glasgow halftime); 7.Deisean Plaza (captain).
Unused substitutes: 22.Josiah Superville (GK), 3.Justin Williams.
Coach: Brandon Reyes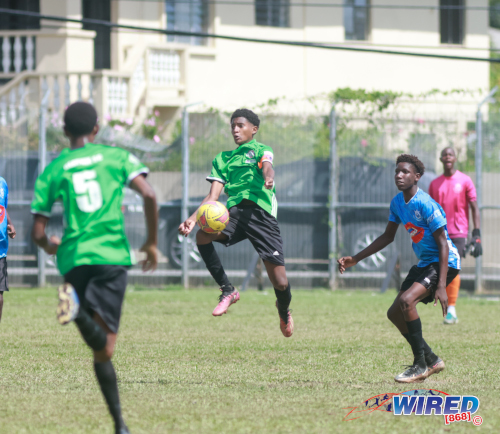 Republic Cup National Youth Football League
Quarterfinal Results
Saturday 27 May
(Under-13)
Crown Trace FC 0, QPCC 5 (Reagan Rowe [4], Matthew Lee Young) at Republic Bank Sports Club
FC Ginga 3 (Jeremai Nanton [2], Jiair Nanton), Union Hall FC 3 (Sherkeel Campbell, Djoshua Cyrus, Jeduthun Emptage) at Republic Bank Sports Club
*—Ginga won 3-0 on kicks from the penalty mark
Cardinals FA 2 (Deron Blackman pen, Jaylon Roberts), Trincity Nationals 0 at Republic Bank Sports Club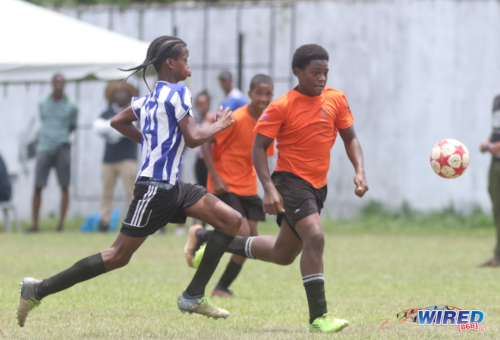 (Under-17)
Premier Sports Club 5 (Malachi Webb 6, 45+1, 70, Jabari Rodriguez 18, Raheem Nelson 63), Tinto's Sporting Academy 3 (Tyrell Stapleton 50, 59 pen, Jahel Lewis own goal 85) at St Augustine;
Gasparillo Youths 1 (Deondre Moonesar 31), Point Fortin YA 4 (Kareem Sealy 9 pen, Josiah Ochoa 19, 49, Jeremiah Niles 75) at St Augustine;
Pro Series 3 (Micha'el John 32, Arron Raymond 40, Tau Lamsee 90+5), Beatnix SC 0 at St Augustine.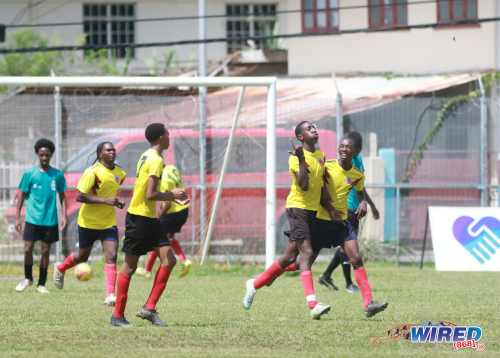 Sunday 28 May
(Under-13)
Cox Coaching School 4, Duranta FC 0 at Republic Bank Sports Club
(Under-15)
(Sunday 28 May)
Cox Coaching School 4, Evolution FC 0 at Republic Bank Sports Club
*—Match postponed at halftime.
(Under-20)
Defence Force 8 (Jeremiah Frank-Williams 5, Larry Noel 26, 60, 80, Kiel Lopez 48, Jaheim Granderson 55, Jaheem Jacob 85, Liam Dayal 85), Ste Madeleine Strikers 2 (Rayshawn Critchlow 5, Joshua Barclay 24) at St Augustine Secondary
Crown Trace FC 0, Malick Blue Lions 0
*—Match paused at half-time due to rain
Editor's Note: The majority of Republic Cup NYFL matches carded for Sunday 28 May were postponed to Tuesday 30 May, due to rainy weather conditions. Wired868 will update when further information becomes available.