With one quarterfinal spot left in the 2023 Republic Cup National Youth Football League (NYFL), QPCC's Under-17 team will hope for a huge favour from the already-eliminated Boyce Sports Coaching School as they look to edge Police FC to the last qualifying spot in the North Under-17 division.
Last night, at the Police Barracks in St James, QPCC, who were on 13 points before kickoff, squared off against Police FC, who were on 12 points—with the winner set for a showdown against Central champions Crown Trace FC in Saturday's quarterfinal.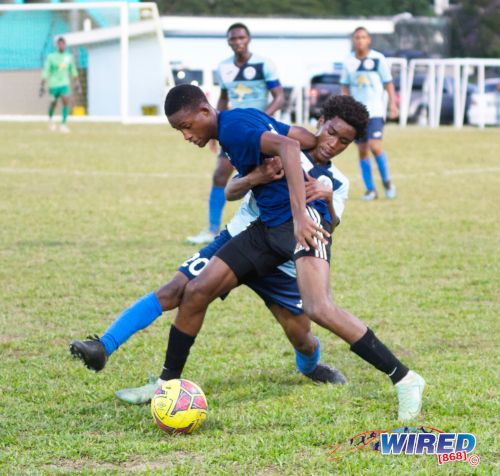 As it turned out, after an intriguing 90 minutes of football, the "Parkites" and their Police counterparts couldn't be separated, with the latter now having the chance to punch their knockout ticket with a win vs Boyce Sports Coaching School in their final group game.
Yesterday's Barracks draw gave the NYFL organizers an instant headache, as there was great uncertainty surrounding the scheduling of the outstanding Police and Boyce fixture.
"We're not sure when [our final group] game will be as yet—the person in the League will get back to me relative to that game," said Police coach Garfield "Dollars" Ambrose, following his team's season-saving 1-1 draw with QPCC. "I'm just waiting on a call from [them] concerning that game."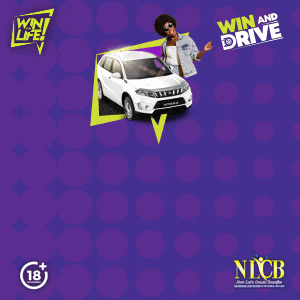 Much to Crown Trace coach Nicholas Griffith's surprise, their Under-17 quarterfinal versus the North runner-up has now been moved to Tuesday 30 May. And the pivotal North Under-17 matchup between Police and Boyce Sports Coaching School was set for Saturday 27 May from 8am at the Diego Martin North Secondary school, according to Gateway Athletics managing director Shem Alexander.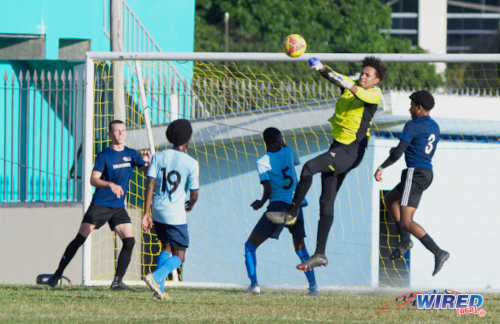 The three other NYFL Under-17 quarterfinals will go ahead as planned this Saturday on the St Augustine Secondary School compound, with Tinto's Sporting Academy taking on Premier Sports Club from 9am, Point Fortin Youth Academy squaring off against Gasparillo Youths from 11.30 am, and Pro Series wrapping up the day's proceedings with a 2pm clash with Beatnix FC.
By midday on Saturday, either QPCC or Police will be able to throw their hat in the quarterfinal ring as well.
As Police look ahead to their Boyce matchup, it's worth noting that North giants Trendsetter Hawks had their own knockout hopes dashed by Boyce Sports Coaching School after a recent goalless stalemate.
Could the Boyce team do QPCC a solid and get a result over the talented Police outfit as well?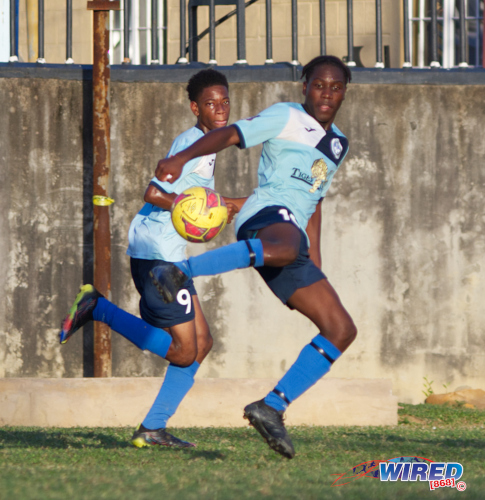 With QPCC boasting a hefty +40 goal differential compared to Police's +12 return, another draw on Saturday will be detrimental to Police's chances of advancing.
After watching his team give up a 76th minute equalizer to lively Police winger Tyrese Manswell last night, QPCC goalkeeper coach Jason Sheppard now lives in hope.
"Boyce have some roots in Trendsetter Hawks so that may have been a kinda emotional game for them," said Sheppard. "In this game vs Police, I don't know what to expect. We were surprised when they held Trendsetter Hawks 0-0. There is hope that something will come out of that game.
"We hope some magic will happen and Police won't be on their game. A draw actually could favour us."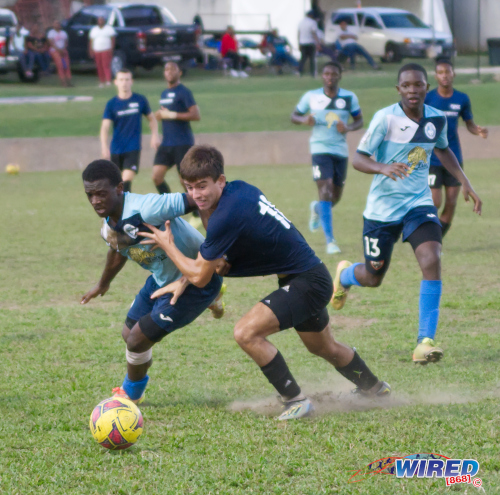 With members of Police's Trinidad and Tobago Premier Football League (TTPFL) team trickling into the Barracks venue ahead of their Wednesday evening training session, the young Lawmen didn't quite start on their A-game either. Instead, it was National Under-17 player Michael Chaves and the QPCC outfit that did much of the early running.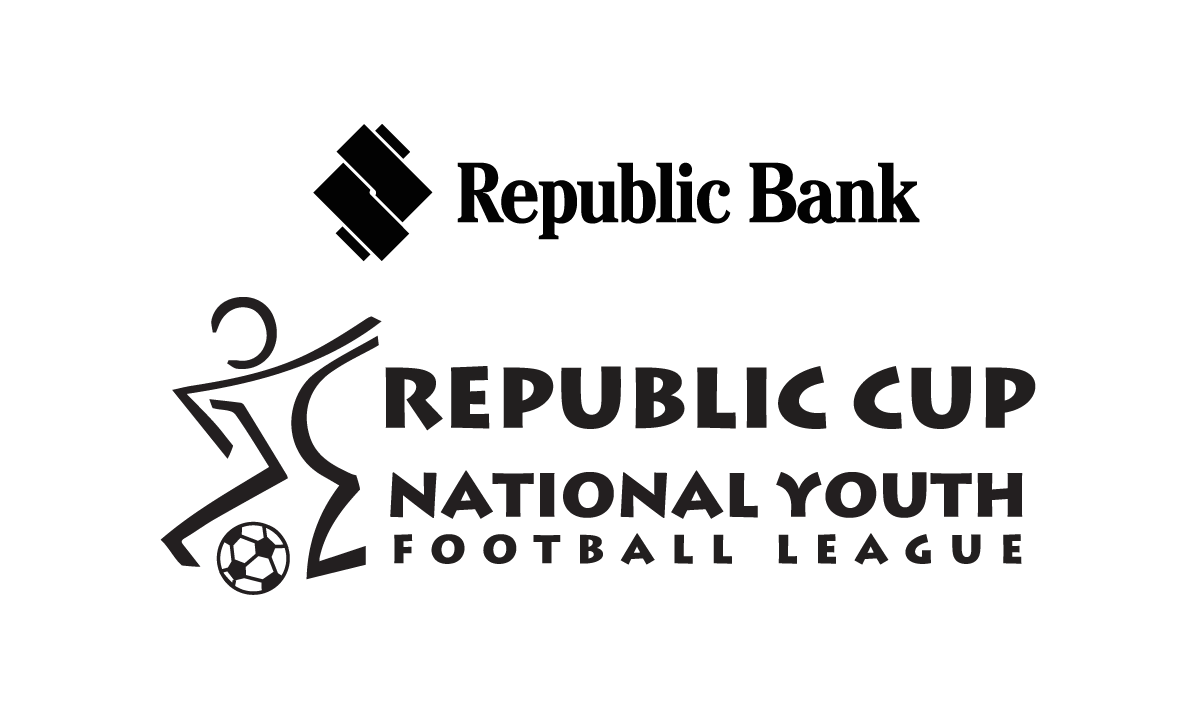 Tenacious, nimble and blessed with a low center of gravity, Chaves led the QPCC line brilliantly and his off-the-ball running was particularly troublesome for Police. Starting the game with a 3-4-2-1 formation, the Parkites made a habit of overloading one side and playing a big diagonal to the other flank, where Chaves and the tricky Micah Nelson could be isolated against their defenders.
Although QPCC started brightly from open play, their two best chances in the opening quarter of the game came via set pieces.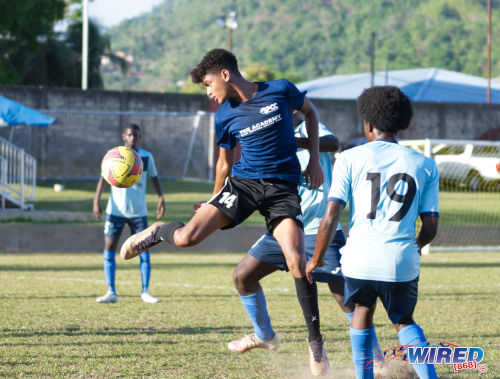 Their feisty midfielder Kade Collier sent a close range volley straight at goalkeeper Mansel Huskerson in the third minute, while Chaves kissed an instinctive dipping volley off the bar and out in the 18th minute, after bringing a deep free kick from defender Yohance Atherton under his spell.
"Ayeee!" shouted one passionate Police supporter. "That man could never be controlling that ball so easy in the box."
Moments after seeing Chaves' effort crash off his bar, a casual Huskerson was lucky not to have conceded the opening item in the 20th minute, as Nelson sprayed a long range effort wide of a gaping goal after a poor kick out by the Police goalkeeper.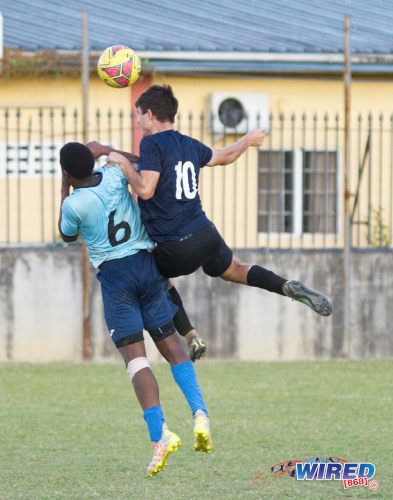 Nelson would soon return for more though, and the winger broke the deadlock in the 27th minute with a sweet right-footed finish from just inside the area after Police conspired to shoot themselves in the foot. As if Police Commissioner Erla Harewood-Christopher did not have enough problems.
Police midfielder Abdul-Jaleel John was guilty of a giveaway in the defensive third, while the otherwise-solid Obadiah "Obi" Eyeadelrosiyhia compounded the error at the back as he inadvertently banged his clearance off of an eager Nelson. And Nelson finished the rebound with aplomb, after wriggling free.
The sprinkling of Police supporters weren't pleased with the sloppy defending, while Dollars wasn't enthusiastic about Police's start either.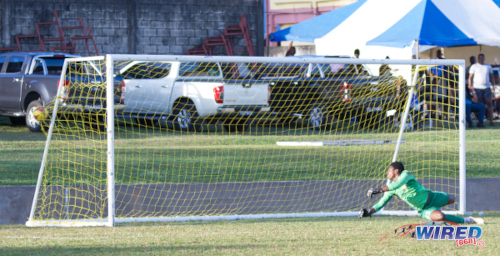 "In the first half, we started off a bit shaky—I feel like the players were nervous and a bit scared," Ambrose told Wired868. "At halftime, the talk was to basically remind them about the importance of the game and to believe in themselves."
Before Ambrose could get to his halftime chat though, Police had a couple more close calls. Chaves banged a powerful effort wide of the mark on the swivel, after getting a lovely diagonal ball from centre back Logan Maingot in the 32nd minute. And just a few minutes later, referee Larry Lalchan waved play on after a hefty collision between Huskerson and QPCC attacker Luke Correia in the area.
"The halftime talk was more motivational, to get them to lift their spirits and lift their heads despite the score," said Ambrose. "You could have seen for yourself that the guys stepped up to the plate and they started believing in themselves and putting down the football and playing the football that we could play, and we train to play."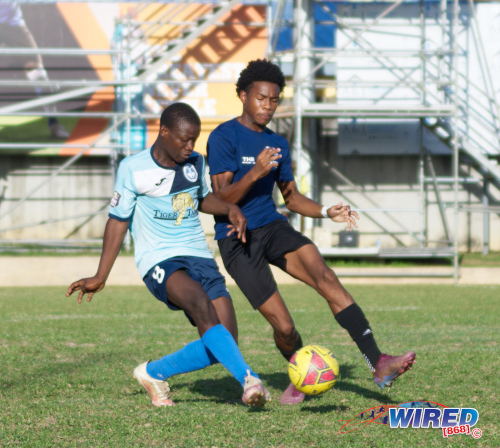 Ambrose's halftime speech really appeared to work wonders, as the hosts were full of positive intent and energy in the second half. After starting the game on the back foot, Police were now hellbent on laying down the law to QPCC.
"Our style is basically simplicity—we play what is on," said Ambrose. "We play positively and we play with confidence. We keep the ball moving with good organization, good positioning and basically that's the philosophy of Police football.
"We move the ball a lot. There are a lot of combination plays, a lot of overloads and we score the chances when we get them."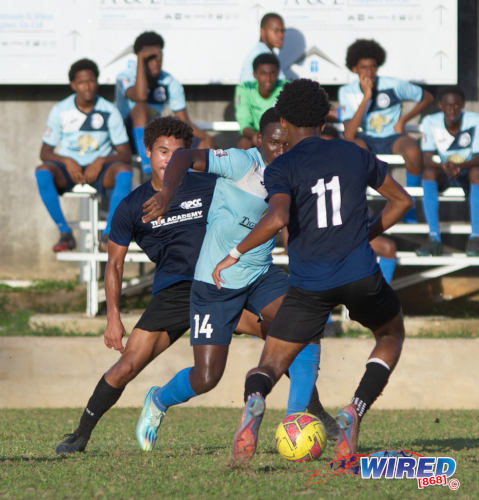 In addition to his uplifting speech, Ambrose made a pair of halftime changes that also had a positive effect on the Police performance. The attacking pair of Manswell and Jemon Gulston were inserted at the expense of John and left winger Jamarli Mootoo, who was ineffective throughout the first half.
Despite his height disadvantage, Gulston held the ball up well and linked the play nicely, while Manswell, who was referred to as 'Mini-Me', terrorized the QPCC defenders before eventually slapping in the game's equalizer.
In the 57th minute, Manswell curled a right-footed effort just wide of substitute goalkeeper Michael Peter Hadad's post after cutting in from the left, while Jeremiah Gabriel followed suit just moments later—after being teed up at the end of a mazy run by Police attacker Stephano Christopher.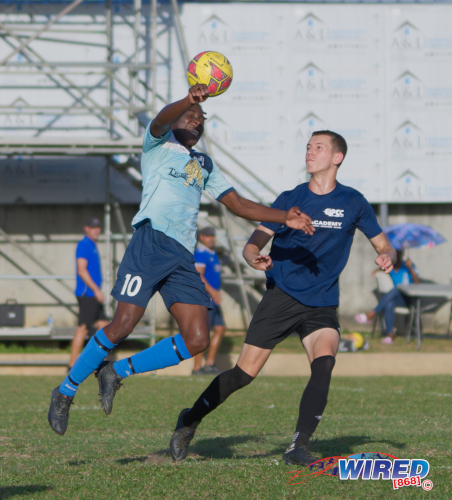 Recognizing the threat posed by Christopher, who operated in a free role in the second half after playing as a centre forward in the first, Sheppard gave quick instructions to QPCC right wing back Josiah Connell.
"The number 10 (Christopher) is their most creative player," Sheppard said. "Don't give him any space. He's right-footed and very tricky."
Connell didn't have much time to execute those orders though, as both he and QPCC left wing back Darius Jordan were subbed off in the 68th minute—with the Parkites reverting to a back four. Atherton, who started on the left side of three central defenders, moved to right back, while David Hospedales subbed in and assumed the vacant left back role.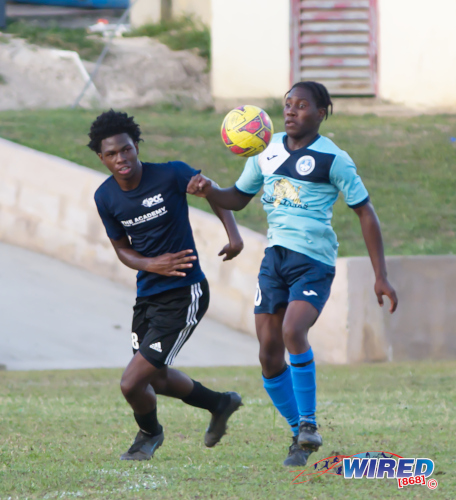 "We try to have different options and not be rigid in terms of a 4-4-2 or 4-5-1. We do practice different formations whether it's amongst ourselves or playing games within the tournament," Sheppard told Wired868. "We try different formations because […] we definitely want them to be exposed to different types of formations and different types of coaching so it wouldn't be new to them when they come."
Without the added width of Connell and Jordan down the flanks, QPCC struggled to build attacks in the second half, instead reverting to long punts for Chaves to chase. Meantime, Nelson became a mere spectator as he was starved of one-on-one opportunities down the left flank.
The Police supporters and players were beginning to ooze confidence on the other end, with Manswell getting some pep talk every time he mashed the left sideline.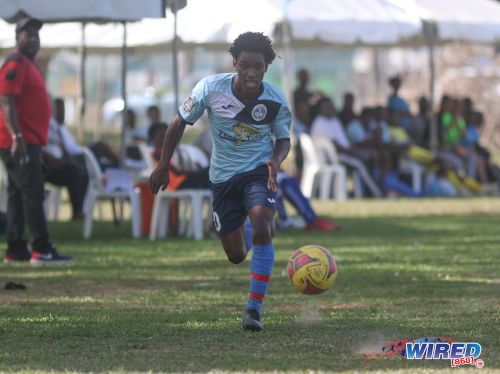 "Aye Mini-Me," said one supporter, who caught Manswell's attention. "Dem is food boy. Go at them!"
Run at them he did!
After another brilliant run by Christopher down the right flank in the 76th minute, Manswell calmly tucked a right-footer under the reach of Hadad, as QPCC failed to clear the danger.
Such was the joy and elation for the Police supporters on the Long Circular Road side of the venue, a handful of spectators—including a gentleman with an infant child—entered the field of play to celebrate Mini-Me's equalizer.
After a promising start, QPCC weren't finishing the game well. And now they had to ensure that they didn't lose the match altogether.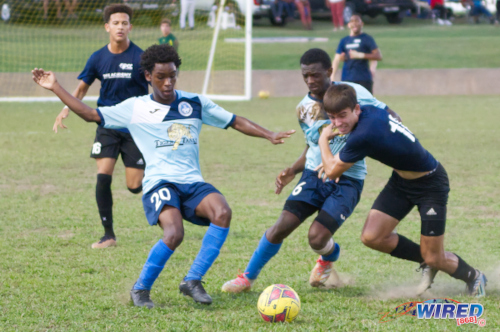 "I think we started off well [and] in the first half, we looked a little better," said Sheppard. "I don't think we played at the level we're accustomed to. We matched them for the most part but I think in the second half they took it to another level, especially when they got that goal.
"We started to panic afterward and played into their hands in terms of the long ball and that kinda scrap. It didn't finish how it was supposed to but so it goes sometimes."
The Police players started to express themselves, with Manswell and Stephan James, Police's match winner and North champions Pro Series, showing off their silky close control.
After one of James' jinking runs down the right, Christopher could have put the game to bed in the 81st minute, but he shot agonizingly wide of Hadad's post.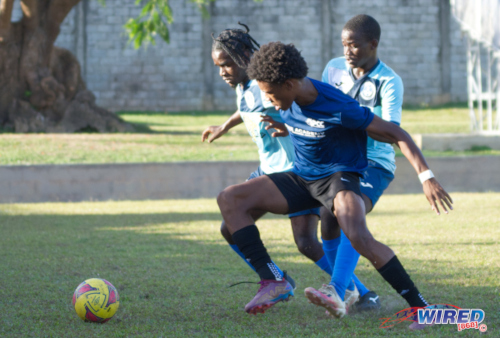 "We threw away some easy chances where the scoreline could have been different in our favour," Ambrose said. "But all in all, a lot of credit to the QPCC team for their discipline and their hard work."
With a slender 1-nil win over Pro Series and a hard-earned draw with QPCC in their last two fixtures, Ambrose believes his Police players are ready to grace the NYFL quarterfinals.
"I believe in them and it's just for them to believe in themselves because they have the talent and they have the discipline," Ambrose said. "It's just for them to come out and exhibit that talent and skill and get the results that we need."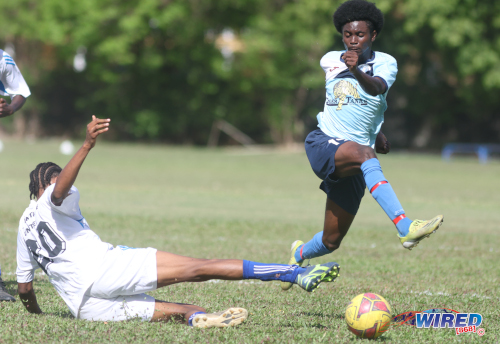 On Saturday morning at Diego Martin North Secondary, look out for Dollars, Mini-Me, Obi and Stephano as they look to spearhead a successful Police operation vs Boyce Sports Coaching School.
For this occasion only, QPCC will be hoping Boyce can defy the law.
(Teams)
QPCC (3-4-2-1): 1.Jaden Ottley (GK) (22.Michael Peter Hadad [GK] halftime); 5.Matthew Barrington, 4.Logan Maingot, 2.Yohance Atherton; 7.Josiah Connell (20.Jaeden Bobb 68), 8.Kade Collier (12.Aadil Abdul Hakeem 81), 6.Steven Griffith, 3.Darius Jordan (14.David Hospedales 68); 9.Luke Correia (15.Jadiel Joseph 61), 11.Micah Nelson; 10.Michael Chaves.
Unused substitutes: 13.Christian Moses, 16.Luke Lee King.
Coach: Christian Uhre
Police FC (4-2-3-1): 25.Mansel Huskerson (GK); 16.Tyrese Bartholomew (4.Deandre Reyes 56), 5.Obadiah Eyeadelrosiyhia, 6.Malachi Woodley (Anest De Silva 70), 13.Kaylon Tuckett; 8.Abdul-Jaleel John (11.Jemon Gulston halftime), 14.Aydon Caruth (captain); 19.Stephan James, 21.Jeremiah Gabriel, 9.Jamarli Mootoo (20.Tyrese Manswell halftime); 10.Stephano Christopher.
Unused substitutes: 1.Micaiah Thomas (GK), 3.Anthony McCollin, 12.Jermaine Edwards, 17.Troy Bruno, 18.Khaleel Campbell, 22.Shabali Thompson, 23.N'Kosi Rudder.
Coach: Garfield Ambrose
Referee: Larry Lalchan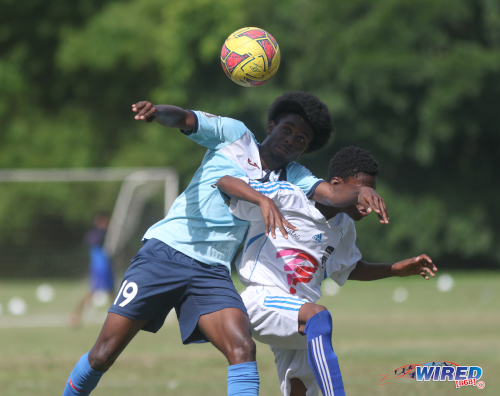 Republic Cup National Youth Football League results
(Wednesday 24 May)
National Under-13 Play Off
FC Duranta 3 (Z Williams 11, 19, J Jones 52), Gasparillo Youths 0
National Under-15 Play Off
Evolution FC 2 (Jadell Henry 31, Kai Thomas-Robertson 40), Arima Araucans 0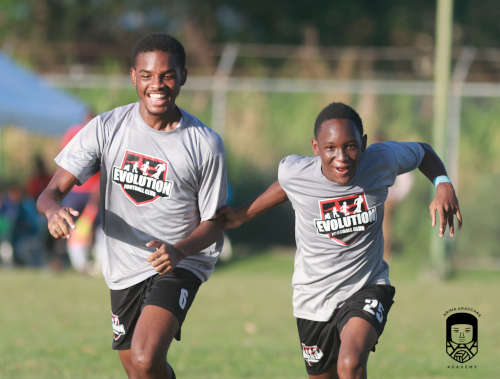 North Under-13
QPCC 3, IATF Academy 0
*—QPCC awarded win by default
North Under-17
QPCC 1 (Micah Nelson 27), Police FC 1 (Tyrese Manswell 76) at St James Police Barracks;
East Under-20
FC Ginga 1 (Jervaughn Drakes 14), Eastern Jaguars 4 (Daniel Rose 1, 54, Jameel Cooper 35, Yohance Nurse 42)