Pass over the control, Army!
Only a betting man could have predicted that Defence Force would be the first team to be chromed in the inaugural Trinidad and Tobago Premier Football league (TTPFL) 1 season. And yesterday, that's exactly the fate suffered by the much-heralded Army/Coast Guard combination, as AC Port of Spain humbled them with a 3-0 whipping at the Larry Gomes Stadium in Malabar.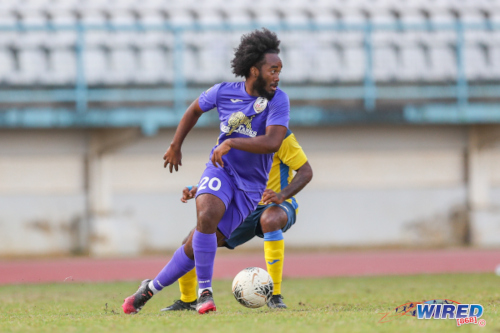 AC POS weathered an early storm by the wasteful Defence Force, before their skipper Duane Muckette gave them the lead with a penalty before the halftime interval.
And, in the second half, centre backs Radanfah Abu Bakr and Maurice Ford set the tone for their resolute showing, while former Trinidad and Tobago National Under-17 teammates Jaydon Prowell and Che Benny killed off the "Teteron Boys" with scrumptious finishes from counter-attacks.
If the potency of coach Walt Noriega's squad was not known before, they certainly announced their arrival on the local football circuit yesterday.

Head coach Lloyd Andrews, assistant Hutson "Baba" Charles and the Defence Force technical staff would be the first to attest to that.
"We are the young boys on the block and Army are the experienced boys but we always battle with them," Noriega told Wired868. "We are aiming for the top place. We want to go to the Caribbean Club Championship, so that's how we assembled this team [with that goal in mind].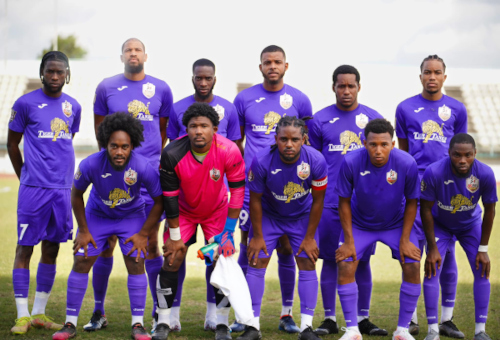 "We believe that with this team we should be able to compete and move forward in the right direction."
It might be premature to declare AC POS as title contenders. However, based on yesterday's evidence, Noriega's unit could prove to be a handful for most teams across the 12-team League.
The midfield pair of Benny and Muckette gracefully glided across the Larry Gomes Stadium turf and gave combative Defence Force midfielder Kevon Goddard a tricky time. And Prowell was a nuisance for most of the game with his strong hold up play and off-the-ball running.
The diminutive Goddard, who represented coach Angus Eve's Soca Warriors as recently as January in a friendly against Saint Martin, was lucky not to be sent for an early shower—as referee Crystal Sobers only produced a yellow card for his lunge at AC POS left back Kareem Eastman in the first half.
But, arguably barring frontman Brent Sam, Defence Force appeared to lack conviction in the attacking areas of the field, while—with Goddard on eggshells due to his early booking—they were passive in midfield, where Benny and Muckette dictated terms with endless body feints and deft ball control.
Sam banged a wicked left-footed free kick off the base of Jadel Poon-Lewis' post from 23 yards in the 14th minute, during Army's early spell of domination. Thirteen minutes later, the lanky Defence Force forward bent another free kick marginally wide from a little further out.
And, in first half stoppage time, Sam saw a goalbound strike hacked away by the ever-present Abu Bakr who took no prisoners on the day.
"Football is a thing like this. When you throw away your chances you're liable to suffer and that happened to us today," said Andrews, whose star flanker Reon Moore is on international duty in Jamaica. "We had all the chances, especially in the first half, and we did not take any. The opponents had three shots on goal and they scored three: one being a penalty.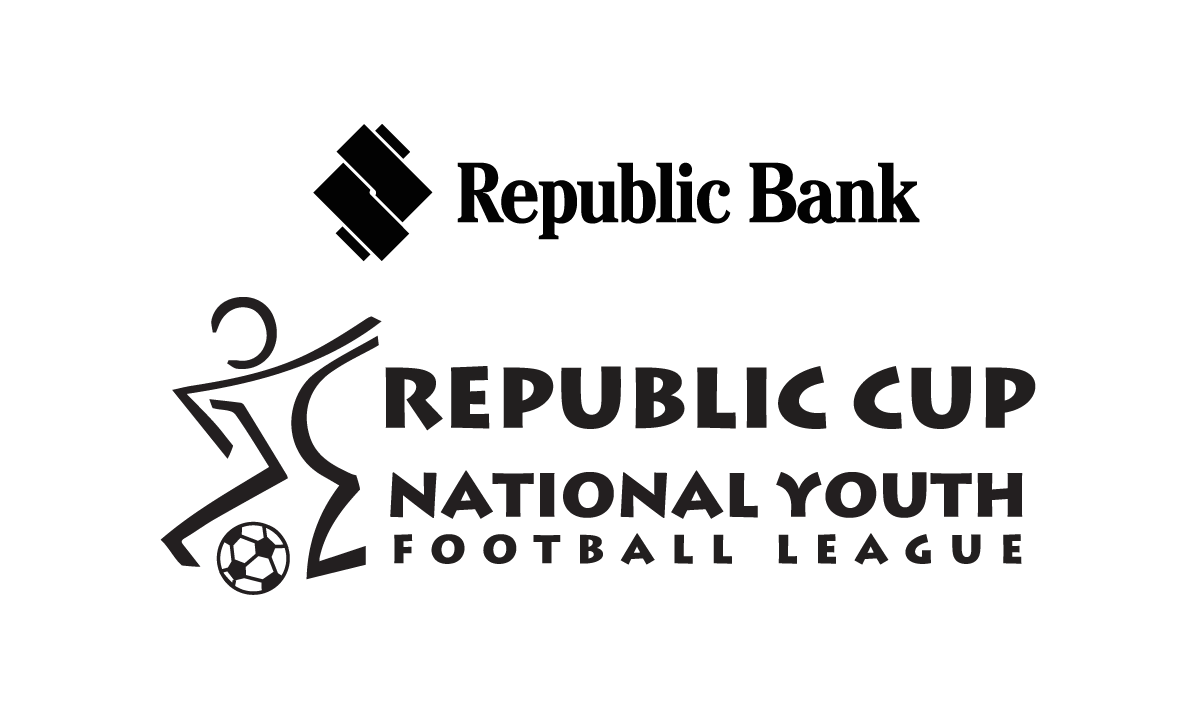 "They scored their three chances and we did not."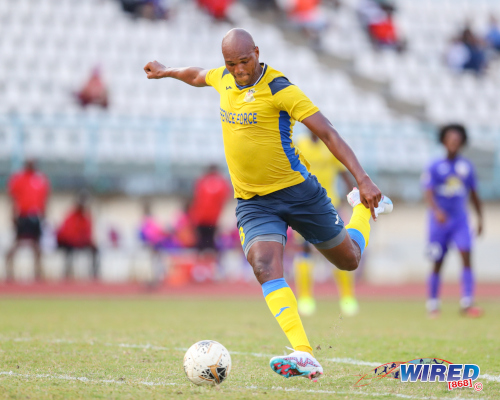 Andrews exaggerated a bit, as Defence Force custodian Isaiah "Blinky" Williams made a pair of smart saves to deny Benny and Sedale "Skem" McLean, late in the second half, to ensure that the scoreline wasn't further inflated.
"I think in the middle of the park we didn't play enough penetrative passes, neither did we play enough crosses into the danger zone," said Andrews. "I think that hurt us today. Men were going forward and then beating backwards and losing momentum.
"When we put crosses into the box, they weren't quality crosses. I think that was a big problem."
The tag-team duo of Abu Bakr and Ford had a hand in that, as they snuffed out most of the danger that came AC POS' way.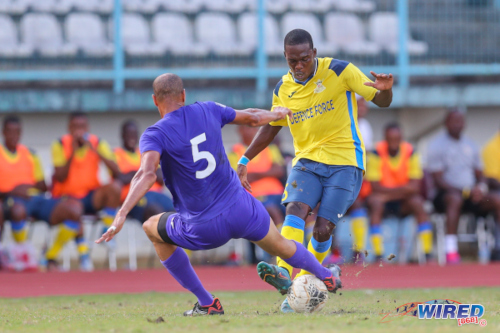 In the 68th minute, the 36-year-old Abu Bakr thwarted opposing winger Josiah Superville with a trademark sliding tackle, as he looked set to burst clear of the defence. Just two minutes later, Superville did get a shot off in anger, but an alert Poon-Lewis kept out his meaty drive.
"Radanfah is one of the more experienced players on the team and we definitely needed him to bring that experience to share with the youngsters and them," said Noriega. "He also helps to bring a bit of calmness at the back. This is where Abu Bakr, Maurice Ford and Ronald Primus come into play. They will bring that kind of stability to the team."
At the other end, Williams lacked the security of a commanding figure in front of him, while his foul on Ford—after he misjudged the flight of a Benny free kick—led to Muckette's successful first half penalty, after some initial confusion about Sobers' decision.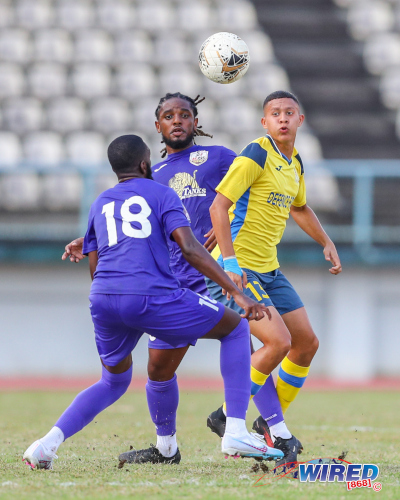 "When AC got into the game, at times we were ball-watching," Andrews said. "Instead of picking up and marking and tracking guys, we were just gazing."
Andrews could not have been pleased with the Army's start to the second half then, as Prowell netted inside 50 seconds with a thumping, angled left-footer after being played through on goal by an intelligent pass from flanker Brian Armstrong.
Prowell's hit had intent and venom, but Williams would be disappointed at being beaten with such ease at his near post.
Williams could not be faulted for AC's third and final goal though.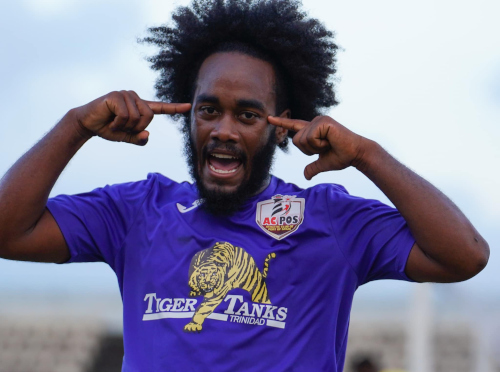 After receiving a through pass from substitute Haile Beckles, Benny nonchalantly—and disdainfully—kissed the ball into the far corner with the outside of his left boot to leave Williams a mere spectator.
Benny celebrated with a pose for the cameras as he reintroduced himself to the local football public.
With Benny's former National Under-17 teammate John-Paul Rochford, Jomoul Francois, Jameel Neptune, Michel Poon-Angeron, Matthew Woo Ling and veteran custodian Marvin Phillip all set to rejoin AC POS after their international break, one suspects Noriega's players may be in everyone's faces this season.
"We have six players who are currently on the national team away in Jamaica, so when these boys come back they will add a bit more quality to the team and aid with the style we want to play," Noriega said. "We have some of the better midfielders locally so it's by rights that we should be able to move the ball and possess the ball on the ground and open up the spaces for the strikers."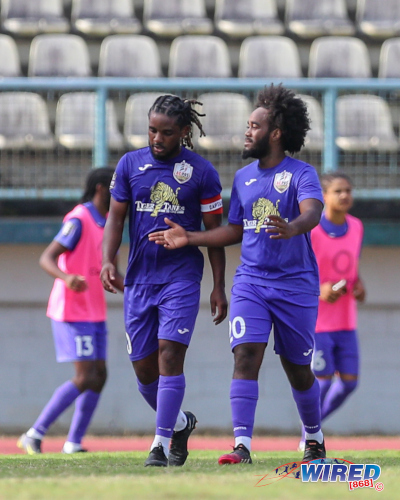 Defence Force also had four players missing due to national duty, but none would have been missed more than Mr Moore himself.
While Moore reduced Jamaican football fans to all but a whisper in Montego Bay, his Army comrades were misfiring in Malabar.
"We can't cry about the absence of those players—we were training with these guys before they left to go away," Andrews said. "Yes, they could make an impact when they come back. But for now, we have to make do with what we have."
Beware TTPFL, AC POS have arrived!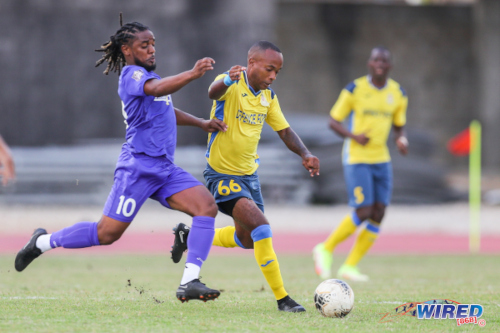 (Teams)
AC Port of Spain (4-2-3-1): 1.Jadel Poon-Lewis (GK); 2.Akido Weeks, 5.Radanfah Abu Bakr, 3.Maurice Ford, 17.Kareem Eastman; 18.Anthony Charles, 10.Duane Muckette (captain) (16.Liam Burns 90+2); 30.Brian Armstrong (23.Moses Jaikeran 66), 20.Che Benny, 7.Sedale McLean (27.Haile Beckles 86); 19.Jaydon Prowell (21.Jean-Heim McFee 86).
Unused substitutes: 13.Aaron Johnson, 31.Justin Dos Santos.
Coach: Walt Noriega
Defence Force (4-3–3): 1.Isaiah Williams (GK); 6.Rodell Elcock (captain), 5.Jerome McIntyre, 23.Jamali Garcia, 37.Cassim Kellar; 66.Kevon Goddard, 13.Rivaldo Coryat (17.Curtis Gonzales 76), 32.Jameel Cooper (9.Jamille Boatswain 76); 15.Shaquile Bertrand (21.Cordell Bailey 60), 8.Brent Sam, 99.Josiah Superville.
Unused substitutes: 31.Christopher Biggette (GK), 2.Josiah Warrick, 11.Dwight Quintero, 20.Jules Lee.
Coach: Lloyd Andrews
Referee: Crystal Sobers
Wired868 Man of the Match: Jaydon Prowell (AC Port of Spain)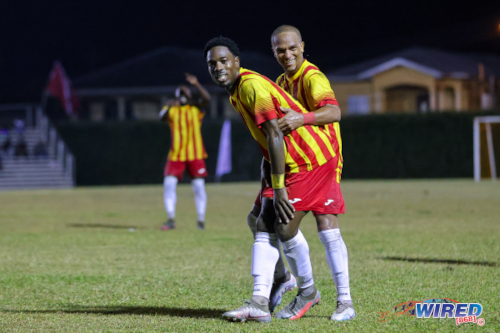 TT Premier Football League results
(Sunday 12 Mar)
Morvant Caledonia Utd 2 (Osafa Simpson 18, Sean Bonval 23), Cunupia FC 0 at Arima Velodrome;
San Juan Jabloteh 0, Prison Service 0 at Arima Velodrome.
(Saturday 11 March)
AC Port of Spain 3 (Duane Muckette 36 pen, Jaydon Prowell 46, Che Benny 90+4), Defence Force o at Larry Gomes Stadium, Malabar;
(Friday 10 March)
W Connection 0, Central FC 2 (Akeem Roach 33, Keron Cummings 50 pen) at Mahaica Sporting Complex,
Point Fortin Civic 1 (Ronell Paul 78), Tiger Tanks Club Sando FC 1 (Josiah Cooper 13) at Mahaica Sporting Complex.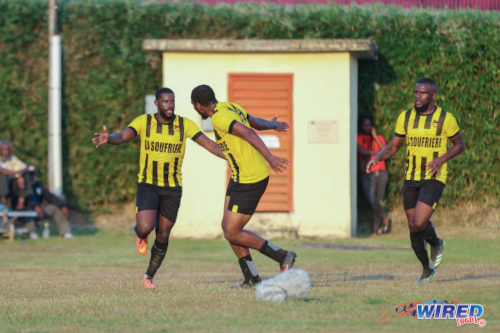 Upcoming fixtures
Match Day 2
(Fri 17 Mar)
Cunupia FC vs San Juan Jabloteh, 5pm, Police Barracks, St James,
Police FC vs W Connection, 7.30pm, Police Barracks, St James,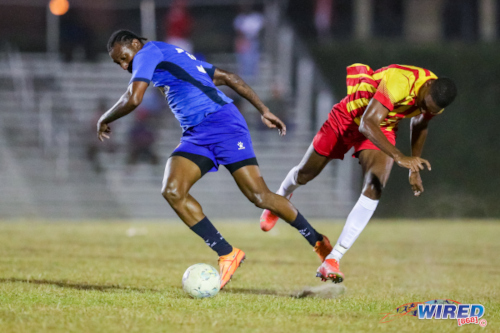 (Sat 18 Mar)
Prison Service vs Point Fortin Civic, 5pm, Arima Velodrome,
Central FC vs Morvant Caledonia Utd, 7.30pm, Arima Velodrome,
(Sun 19 Mar)
Club Sando vs AC Port of Spain, 4pm, Larry Gomes Stadium.