Back to back!
Soccer Made Simple (SMS) have done it again. The Arouca/Trincity-based club copped the Next Level Consulting Ltd (NLCL) Under-19 Community Cup for a second straight season yesterday, as they got by fellow easterners World Class Soccer Clinic (WCSC) by a 2-nil margin at the Larry Gomes Stadium in Malabar to snap up the 2023 title and TT$7,500 winning prize.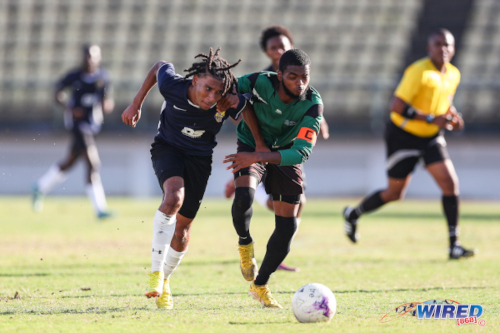 In June 2022, last season's NLCL MVP Terron Miller bagged a brace in the grand final as SMS spanked Cox Football Academy 4-1 at the Ato Boldon Stadium, Couva. Yesterday, Miller teamed up with San Juan North Secondary standout Larry Noel, as the pair tormented World Class all game before notching a goal apiece as SMS closed the 2023 season without a defeat to their name.
Should SMS make it a hat-trick of titles in 2024, head coach Stephen "Bison" Williams joked that the organisers may have to rename the tournament.
"Provided if we go back into the league and win it for a third time, then yeah, we'd have to rename the trophy: SMS Cup," said Williams, who is also team manager for Secondary Schools Football League (SSFL) National Intercol champs Fatima College.

Williams' calm demeanour was the embodiment of SMS on the field of play, as the two-time champs kept the dangerous World Class unit at arm's length for most of the 90 minutes in Malabar. Having beaten their eastern neighbours 4-1 earlier in the season before playing to a goalless draw in a second league meeting, SMS were intent on showing World Class who was boss in yesterday's finale.
Even before kickoff, SMS were already occupying the mind space of World Class—as coach Andre Morales said his team made defensive adjustments to address the threat posed by the attacking duo of Miller and Noel.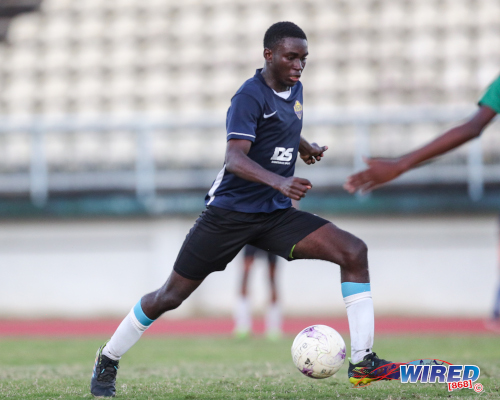 "The plan today was to change about two or three wingers with Noel in mind as we would have gotten that proper sliding across," Morales told Wired868. "Our wingers dropped back to try and deal with Noel because we wanted to double up on them. We knew we had to double-team Noel so having to do that and play attack would have been a task.
"The idea was to try and change that player at least three times for that match."
Though the execution came up short in the end, Morales can't be knocked for trying something. Noel finished as the tournament's top scorer with 12 goals, while Miller had 10. Ignore them at your own peril.
Flanker Cameron Gulston had the first watch before Morales relieved him of his defensive duties after 30 minutes. However, two minutes later, Mr 'Bound to Score' Noel was celebrating the opening goal after a sweet right-footed shot into the corner—and Gulston's replacement, Kyle Dwarika, looked crestfallen.
"[SMS] build from the back and they let their holding midfielder come with the ball and bring it out," Morales said. "The best thing for us to counteract that would have been a high press. The high press expends a lot of energy though and the sun didn't help us at all in that regard.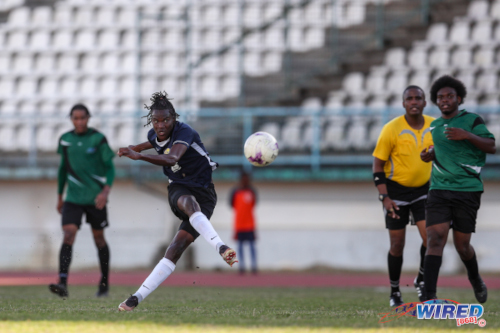 "We couldn't keep it up for too long."
The warning signs had been there. The movement of Miller and Noel posed problems for World Class all game, aided and abetted by Micah Nelson and Philip Tinto who pulled the strings for SMS in central midfield.
SMS' tactical shape was fluid too, as they switched from 4-2-3-1 with Miller on the left flank to a 4-3-1-2 shape that paired Miller with Noel while Nelson was positioned right behind them.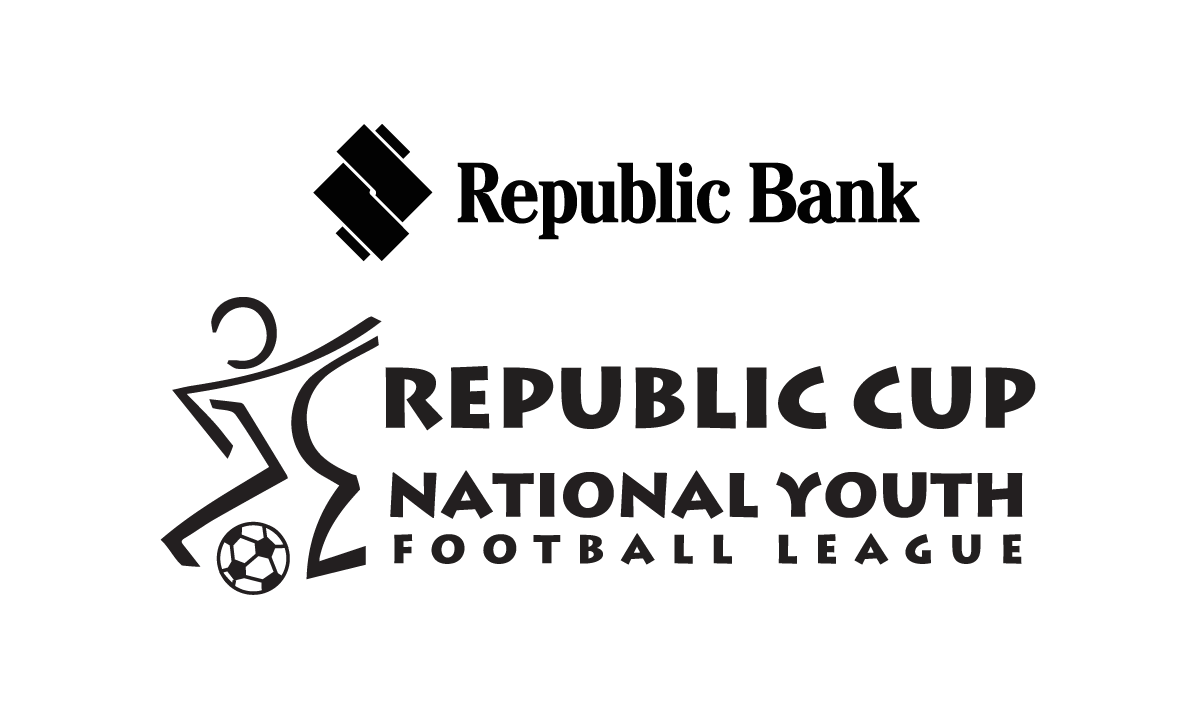 As early as the 13th minute, Nelson breached the WCSC defence with a peach of a cross-field ball from the right side, but Miller's close range shot was well saved by opposing goalkeeper Josiah Morris.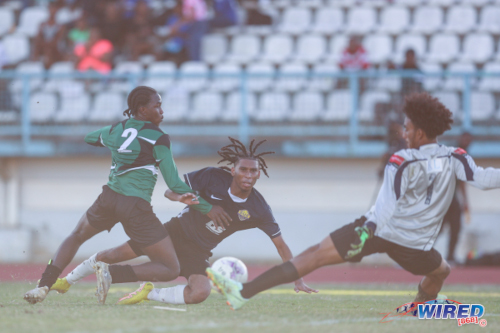 Six minutes later, Nelson produced another defence splitting pass, only for Noel to finish the move with a tame shot on goal.
"We wanted to […] keep the ball on the ground a bit and let them chase the ball," Williams told Wired868. "We wanted to wait on the right opportunities to get in the opponent's half and play and then execute in the attacking third."
In the 32nd minute, SMS moved from defence to attack in a flash, as Noel finished with aplomb off his supposedly weaker right foot—following some industrious flank play by the combination of Nelson and Liam Dayal.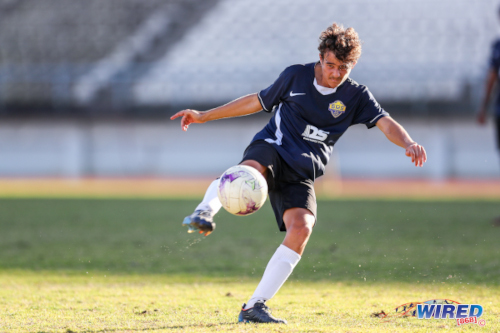 The 17-year-old Noel was a revelation in the SSFL last year, as he bagged a truckload of goals for San Juan North. And yesterday, he reminded World Class why he cannot be afforded an inch of space in the penalty area.
"Both [Miller and Noel are] left-footed but they can also play the number 9, 10, 7 or 11 [positions]," said Williams. "[…] We alternate to suit based on the other team's strategy. Miller is more direct so we would leave him on top, whereas Larry could drop back and create and make room for other players.
"Both of them being so versatile makes it easier for us as coaches."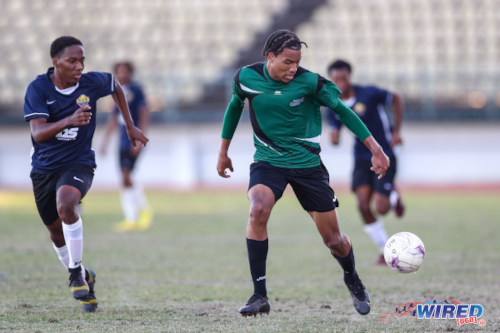 Morales had his own aces up his sleeves in attackers Nkosi Ambrose and Giovanni Hospedales, and he hoped the World Class duo could work their magic off the bench once more—as they did in a stunning 3-2 comeback win against W Connection in the Carnival Sunday semifinal.
Yesterday though, Hospedales was out of sorts while a determined Ambrose could not find a way past SMS custodian Xavion Haynes.
"We wanted to start Hospedales but before the warm-up he complained about getting belly pains and a headache so the physio had to treat him with that," said Morales. "I'm not too sure if it was anxiety or what, but he wasn't feeling good so we couldn't start him."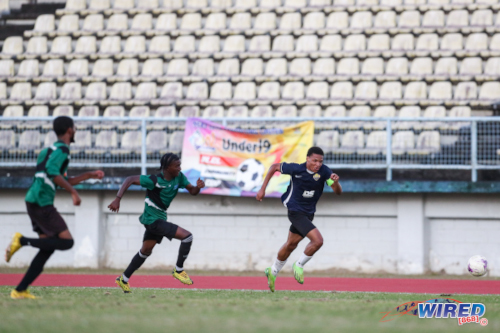 By the 54th minute, Morales made his power play. On went Ambrose and Hospedales to replace lone striker Anthony Samuel and midfielder Quamy Waithe.
Hospedales was kept fairly quiet by SMS right back Alex Piper, who was his teammate at St Augustine Secondary last season.
However, Ambrose made a bigger impact. The busy attacker provoked a terrific save from Haynes with a thumping right-footed free kick from 30 yards in the 72nd minute. And, a few minutes later, Haynes again denied Ambrose from point blank range after the World Class attacker wriggled from Piper in an almighty tussle outside the box.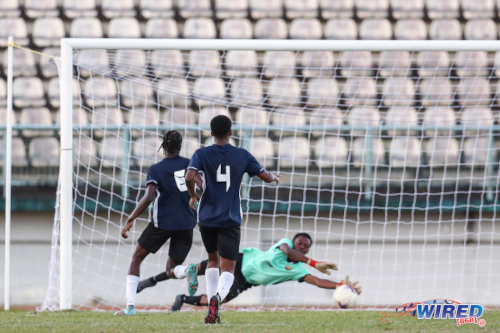 "We got some chances too to stay in the game but we couldn't take them," said Morales, who also saw Haynes deny Dwarika while World Class flanker Theron O'Brien—another St Augustine student—blazed a presentable chance over the bar from the edge of the box.
And, as Ambrose huffed and puffed, Miller and Noel conspired to blow World Class' ambitions down at the other end.
SMS substitute Khaleem Prince released Noel with an exquisite through-ball and, with Morris charging at his feet, the San Juan student unselfishly squared for Miller to hit into an empty net.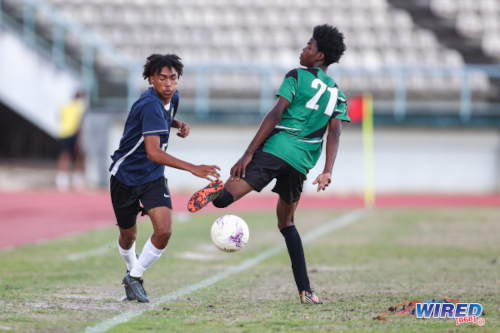 It was easy as Sunday afternoon for SMS, who as their name implies, were making football look very simple indeed.
"Today, it wasn't one of our better performances but I feel as though we always had the team's number," Williams said. "It was just for us to go out there and execute what we were supposed to do. We won 2-nil but we should have probably scored about eight goals based on the number of clear cut-chances we had.
"We thank God for the victory and at least we could lift another title."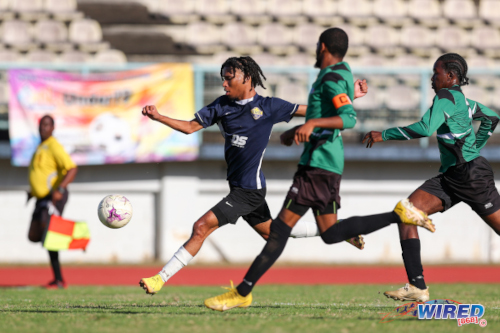 And before they can lobby to have the NLCL youth football tournament renamed, SMS will feature in the Under-20 division of the Republic Bank National Youth League's Under-20 tournament, which should kick off this weekend.
Morales, whose team copped the TT$5,000 runners-up prize, is eyeing the Under-17 division of the National Youth League next.
"I can't complain—we reached straight to the finals," said Morales. "I told them if your name isn't in the final, people rarely remember that you were in the tournament. They went straight down to the final so I couldn't ask for more.
"They did well, dug deep and competed hard in every game."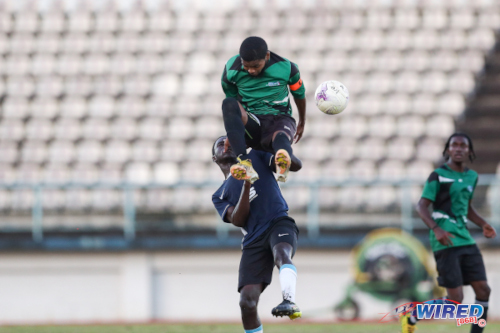 Another NLCL Under-19 Community Cup is in the books then. And, like last year, SMS—who made a clean sweep of the individual prizes, with captain Tyrell Iniss winning the MVP award—have 7,500 reasons to smile.
(Teams)
Soccer Made Simple (4-2-3-1): 1.Xavion Haynes (GK); 16.Alex Piper (3.Akil Henry 81), 4.Jeremy Bobb, 6.Andre Providence, 13.Tyrell Inniss (captain); 5.Kanye Baker (11.Khaleem Prince 70), 8.Philip Tinto; 20.Liam Dayal (18.Israel Joseph 53), 10.Micah Nelson, 7.Terron Miller; 9.Larry Noel.
Unused substitutes: 25.Aidan Raymond (GK), 2.Darius Bruce, 12.Hasheem Hill, 14.Kosi Charles, 15.Nathan George, 19.Arron Raymond.
Coach: Stephen Williams
World Class Soccer Clinic (4-2-3-1): 1.Josiah Morris (GK); 20.Tyrell Stapleton (17.Jonathan Lee Fai 90+1), 8.Keshawn Diaz (captain), 2.Joachim Callendar, 21.Jahronite Pierre (7.Kendell Castle 79); 19.Jearon Ellis (26.Jeremy Christian 58), 16.Quamy Waithe (11.Giovanni Hospedales 54); 13.Theron O'Brien, 36.Akido Crichlow, 15.Cameron Gulston (29.Kyle Dwarika 30); 10.Anthony Samuel (14.Nkosi Ambrose 54).
Unused substitutes: 6.Obadiah Eyeaderosiyhia, 18.Jasie Ramlogan.
Coach: Andre Morales
Referee: Anton Gill
Wired868 Man of the Match: Micah Nelson (SMS)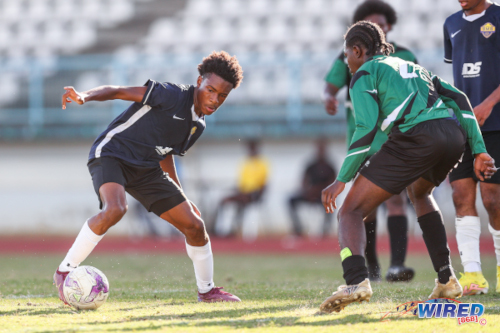 NLCL Under-19 Community Cup Results
(Sunday 26 February)
Final
SMS 2 (Larry Noel 32, Terron Miller 75), World Class Soccer Clinic 0 at Larry Gomes Stadium;
Third Place Playoff
Ball Blasters YA 1 (D'Reem Taylor 32), W Connection FC 1 (Duhrell Young pen 51) at Larry Gomes Stadium;
W Connection won 4-1 on penalty kicks.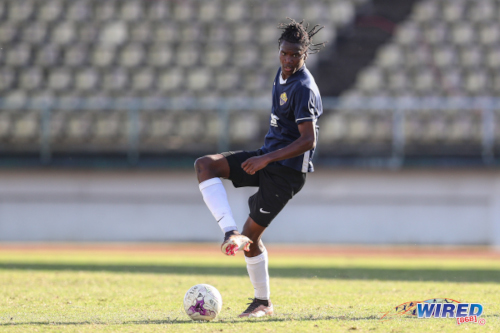 (Tournament Prize Giving)
Tournament MVP: Tyrell Inniss (SMS)
Best goalkeeper: Xavion Haynes (SMS)
Best defender: Tyrell Inniss (SMS)
Best midfielder: Philip Tinto (SMS)
Most goals: Larry Noel (SMS)
Best coach: Stephen Williams (SMS)