The semifinals of the 2022/23 Next Level Consultant Ltd (NLCL) Under-19 Community Cup have been set for Carnival Sunday, with defending champions Soccer Made Simple (SMS) facing off against Tobago's Ball Blasters Youth Academy, and W Connection FC set to meet World Class Soccer Clinic.
Yesterday, Ball Blasters and World Class booked their spots through to the final four in contrasting fashion at the Mannie Ramjohn Stadium in Marabella.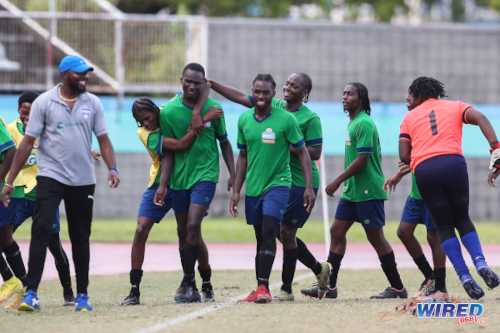 The Tobagonians twice came from behind to eke out a 3-2 win over Gasparillo Youths after a dramatic, late winner, while World Class gave 10-man Made in La Brea a footballing clinic as they strolled to a 4-nil win in the second match of a double-header.
World Class' reward will be a tantalizing matchup with Connection, who themselves got a 4-nil win over Malabar Young Stars on Saturday. The slick-passing and robust World Class cannot be counted out against the "Savonetta Boys" though, as they erupted to score all four of their goals in the second half against a La Brea team which conceded just two goals in ten NLCL matches prior to yesterday.
In the words of La Brea coach Callum Marshall, the stars simply didn't align for his squad yesterday. All that could go wrong, went horribly so.

In the buildup to the quarterfinal round, starting goalkeeper Jobari Codrington was ruled out for La Brea with an injury, while the defensive trio of Jkwon Bailey, Cunnelius Hannaway and Tyriese Neptune were also unavailable for a variety of reasons.
"We had a hard day at the back because our number one goalkeeper got injured and we asked the League to replace him and they refused," Marshall told Wired868. "One of my central defenders had a family emergency so he couldn't really come and another one of the central defenders got injured in the last game.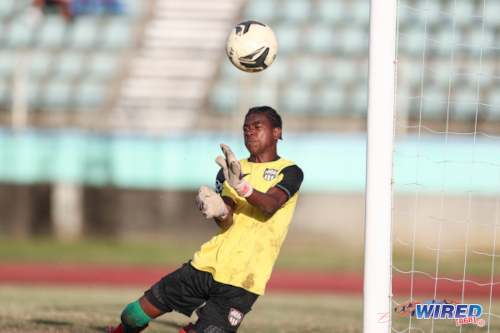 "I started off the game with my hands tied behind my back. But we came to play football so we are not making any excuses. We were outplayed by World Class Soccer Clinic."
Marshall compensated for the absences by using playmaker Akiel Vesprey between the uprights, while Trinidad and Tobago National Under-20 midfielder Luke Phillip deputised as a central defender.
After a goalless first half, La Brea seemed to be adapting well enough, as they kept World Class at arm's length. The eastern team had the lion's share of possession but were limited to a few set pieces by dangerous midfielder Theron O'Brien, which Vesprey was able to handle.
But coach Andy Morales said it was all part of the World Class plan.
"We try to keep calm and move around the ball early in the game—and once we settle down, we move forward and enhance the attacking style of play," said Morales. "When we watched the stats, we saw that only two goals were scored against [La Brea] in ten games. We knew they were more or less a defensive team.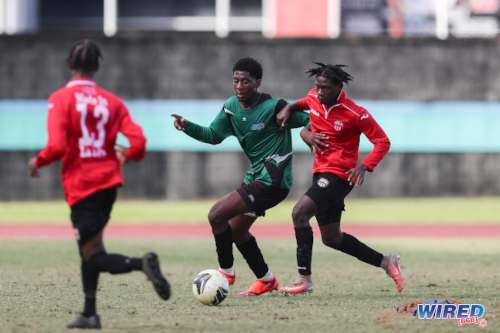 "The plan was to take the little aggression off of them by moving around the ball and slowing down the game before enhancing it with some speed in the attacking third. Our boys executed it really well."
After threatening with his frightening pace and wicked right-footed set pieces for much of the first half, O'Brien blew the game wide open with a pair of goals inside five minutes of the restart. The St Augustine Secondary schoolboy also had a hand in World Class' third goal, which came just before the hour mark.
"To be honest, I thought we controlled the game well in the first half," said Morales. "The only difference with the two halves is that we were actually finishing our chances in the second half. So the instruction given for the second half was to finish, and they did exactly that."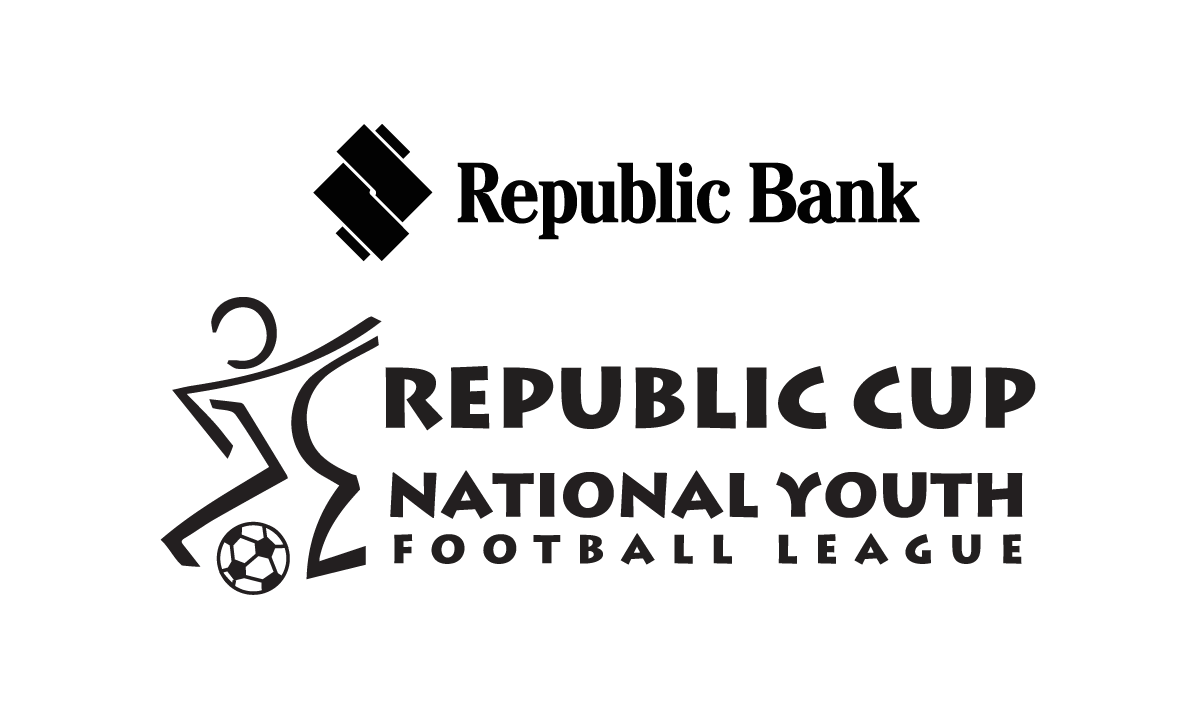 O'Brien took Morales' instructions on board as he opened the scoring from close range in the 48th minute after Vesprey parried a meaty drive by midfielder Akido Crichlow.
At the time, Made in La Brea were temporarily down to 10 players—after an unscheduled bathroom break by central defender Jaheim Phillip.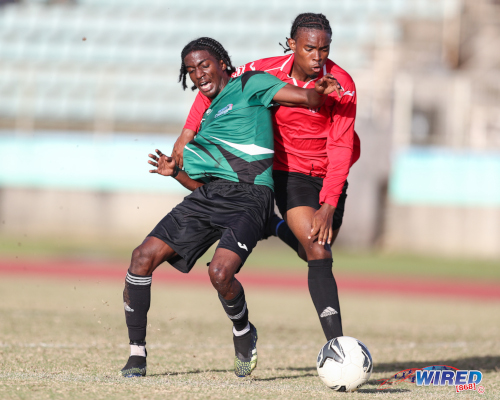 "One of my players decided that he wanted to use the bathroom before the second half started and we started off short," said Marshall. "Just before we came back on, he said that he wanted to use the bathroom. I can't do anything about that."
Two minutes later, La Brea conceded again and were decisively down to 10 players after referee Keon Yorke showed defender J'barie Wells a straight red card for unceremoniously hauling down O'Brien.
The World Class midfielder took the penalty himself, which he calmly placed a penalty past Vesprey's despairing dive.
Giovanni Hospedales got the easterners' third with a bullet header after an O'Brien short corner was crossed with pinpoint accuracy by the bulldozing figure of Jearon Ellis.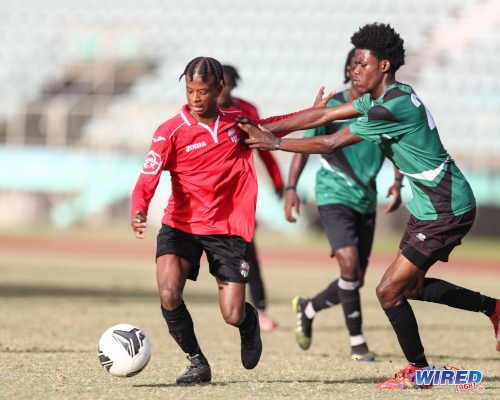 The small crowd gathered under the tents in the uncovered section of the Marabella facility were totally appreciative of World Class' third goal. And the Aranguez Savannah-based youth team were good value for money as well.
"This bunch of players has been around me since they were like 11 and 12 years old," Morales said. "We have some guys here who played in youth tournaments like the Republic Cup from age 10 and 11."
The La Brea posse still managed some laughter before full time, as Vesprey—a member of the National Under-15 pool as a midfielder—left his area to dribble past some opponents. But substitute Nkosi Ambrose had the last word, as he tucked away World Class' fourth goal to cap a lively cameo in which he missed several glaring chances.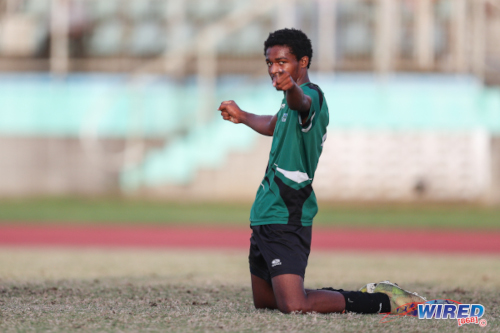 "We know there are quality opponents coming up so we have no choice but to take it one game at a time," Morales said. "We saw the Connection team play and we are very familiar with the SMS side because they are right around our area too."
If World Class' road to the semis was straightforward, Ball Blasters needed an almighty scrap to confirm their Carnival Sunday booking. Twice, the Tobago team needed heroics from attacker Kyle James, along with a special free kick from defender Imanhi Forbes, to outlast Gasparillo in a five-goal thriller.
Gasparillo defender Jaheim Abraham nonchalantly converted a 13th minute penalty after a Forbes handball, only for James to equalise on the stroke of halftime with a rasping right-footed shot—after the opposing defence was caught napping with a quick throw-in.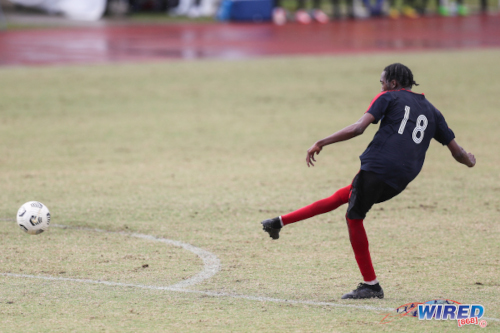 As the game hung in the balance, Abraham and Forbes went toe-to-toe as they tried to show which centre back was deadlier from set pieces.
Just past the hour mark, the languid Abraham sweetly passed a right-footed free kick past Jeavon Christmas and into the far corner from the edge of the area after another Ball Blasters handball.
Not to be upstaged though, Forbes responded with a beauty of a dipping free kick in the 67th minute, which silenced the Gasparillo supporters and left opposing goalkeeper Jerelle Thorne clutching at straws.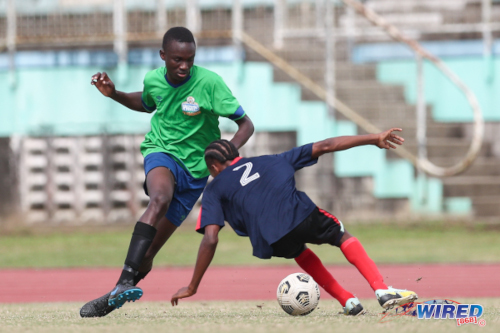 Thorne just about managed to keep out another dipping free kick by Forbes in the 85th minute, to a collective sigh of relief from the Gasparillo supporters. But, three minutes later, there was no stopping James, who converted clinically after a solo effort that began with a sloppy turnover by opposing substitute Tyrell Joefield.
The Ball Blasters, with an especially passionate female supporter, must have been smiling all the way to the Piarco International Airport.
Coach Downie Marcelle and his Ball Blasters would hope they have some ammunition left, when they return to Trinidad on Carnival Sunday to attempt to dethrone NLCL champs, SMS.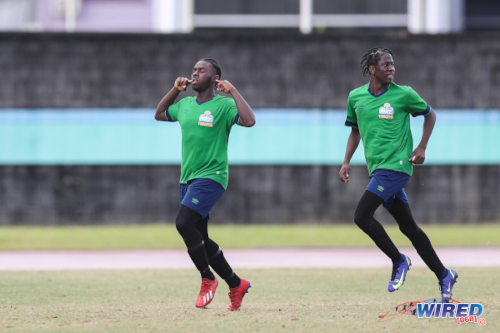 (Teams)
Gasparillo Youths (4-2-3-1): 1.Jerelle Thorne (GK); 2 Jayden Rodriguez, 6.Aaron Oudit, 18.Jaheim Abraham, 66.Gyasi Pinder; 20.Jahlown Lewis (4.Tyrell Joefield 49), 16.Josiah Bain (7.Jaden Joseph 67); 19.Darren Griffith, 9.Malik Young, 3.Jaden Alexander; 80.Ricardo Williams (captain).
Unused substitutes: 8.Mikhail Marryshow, 21.Ezra Fevecque.
Coach: Mark Ranghel
Ball Blasters YA (4-2-3-1): 1.Jeavon Christmas (GK); 20.Lennox Eastman, 16.Imanhi Forbes, 3.Jonathan Marks (captain), 23.Mario Periera; 21.Jaden Richardson, 13.Kerron Arthur; 6.Jamell Bartholomew (17.Deiondre Eastman 72), 18.Malik Wilson, 7.Kyle James; 2.Roderick Marcelle (11.D'Reem Taylor 90).
Unused substitutes: 9.Jalen Quashie, 10.Israel Trim, 14.Yashua Muhammad, 22.Rondell Marcelle, 25.Jaquon Defour.
Coach: Downie Marcelle
Referee: Lee Davis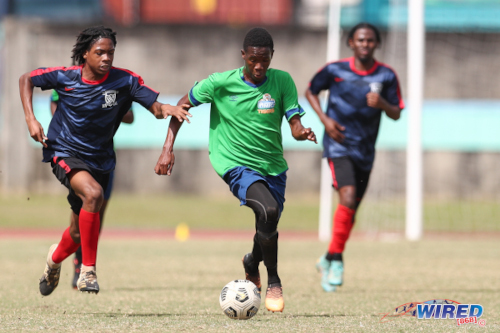 World Class Soccer Clinic (4-3-3): 1.Josiah Morris (GK); 20.Tyrell Stapleton, 8.Keshawn Diaz (captain), 4.Deshawn Browne, 21.Jahronite Pierre; 16.Quamy Waithe (14.Nkosi Ambrose 54), 19.Jearon Ellis (18.Jasie Ramlogan 85), 13.Theron O'Brien; 36.Akido Crichlow (7.Kendell Castle 71), 10.Anthony Samuel (6.Obadiah Eyeaderosiyhia 80), 11.Giovanni Hospedales (26.Jeremy Christian 61).
Unused substitutes: 17.Jonathan Lee Fai, 29.Kyle Dwarika.
Coach: Andy Morales
Made in La Brea (4-3-3): 23.Akiel Vesprey (GK); 15.Devaughn Mauge, 5.Jaheim Phillip, 8.Luke Phillip, 6.J'barie Wells [red card 49]; 14.Isaiah Robertson (20.Tyrique Phillip 34), 16.Simon Modeste (captain), 13.Christon Phillip (9.Khalil Perez 70); 12.Xarion France (22.Trellis Quammie 89), 11.Daniel Jones, 24.Ruben Phillip (21.Tyrese Lewis 57).
Unused substitutes: 18.Cadell Noble, 25.Tyrese Francois.
Coach: Callum Marshall
Referee: Keon Yorke
Man of the Match: Theron O'Brien (World Class Soccer Clinic)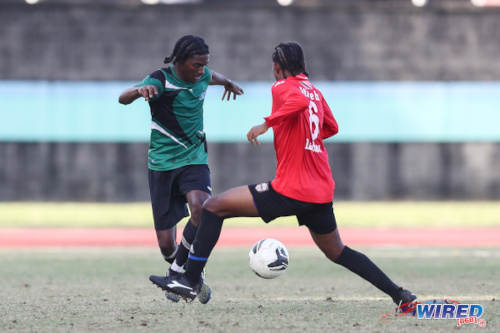 NLCL Quarterfinal Results
(Sunday 5 February)
Gasparillo Youths 2 (Jaheim Abraham 13 pen, 61), Ball Blasters YA 3 (Kyle James 45+3, 88, Imanhi Forbes 67) at Mannie Ramjohn Stadium;
World Class Soccer Clinic 4 (Theron O'Brien 48, 50 pen, Giovanni Hospedales 58, Nkosi Ambrose 82), Made in La Brea 0 at Mannie Ramjohn Stadium.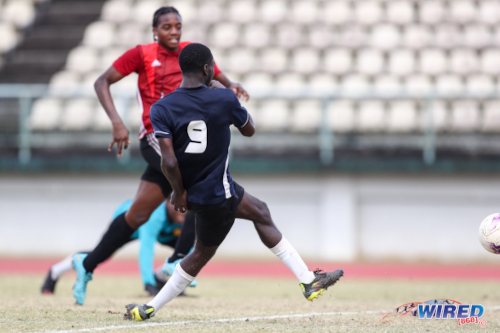 (Saturday 4 February)
Soccer Made Simple 3 (Terron Miller 32, 40, Larry Noel 83), Eagles FC 0 at Larry Gomes Stadium;
W Connection FC 4 (Caleb Boyce 11, Josiah Hypolite 63, Maliki Clement 71, Chaz Forde 90+3), Malabar Young Stars 0 at Larry Gomes Stadium.