The Trinidad and Tobago Men's National Senior Team opened their 2023 calendar yesterday evening with a 2-0 win over Saint Martin in an exhibition match at the Hasely Crawford Stadium in Port of Spain.
Unless you were either of the two goal scorers, Kadeem Corbin and Real Gill, it was a largely forgettable affair though.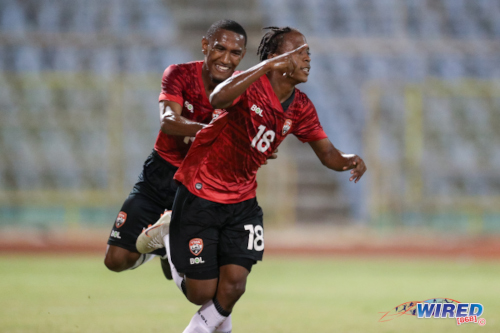 The Soca Warriors were well short of fizz for much of the contest. And at halftime, if you were unfamiliar with both teams, you would have struggled to differentiate which players were one match window away from promotion to the top tier in the Concacaf Nations League and which were at the bottom of their group in the lowest rung of the confederation.
At the final whistle, coach Angus Eve cooed over his team's supposed competent defending and creation of scoring opportunities. However, the awkward fact is that in the first hour of football, Trinidad and Tobago managed only a solitary shot on target.
The game was barely five minutes old when flanker Reon Moore received a perceptive wall pass from midfielder Nathaniel Garcia and accelerated beyond Saint Martin right back Jeremy Dutoya, only for 42-year-old opposing goalkeeper Sabastien Raphose to make a vital block.

It was a chastening evening for Dutoya, who could not live with Moore's pace. But such buccaneering moments were far and few between for the hosts in the first half.
Instead, Saint Martin, led by 40-year-old playmaker Wilfried Dalmat, made themselves far too comfortable in Port of Spain, as they often passed around unconvincing attempts by the Warriors to win possession.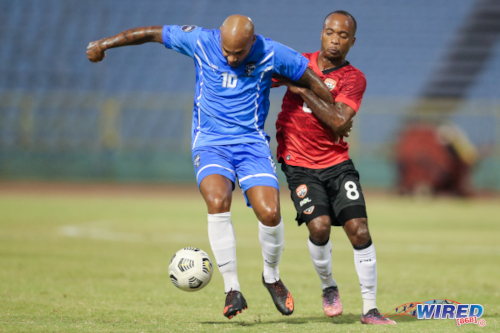 Trinidad and Tobago, incidentally, began the match defending at the halfway line—where they largely seemed to be waiting for their French visitors to gift them the ball.
It was a curious tactical approach when Eve's next opponent is The Bahamas and he is chasing six points from two games in the March match window.
As the game neared the half-hour mark, Trinidad and Tobago's defensive line gradually pushed higher upfield but there was no aggressive press for the ball. And, despite their limitations, the Saint Martin players possess a decent enough first touch and respect for possession.
They were, in short, better organised than St Vincent and the Grenadines and the Bahamas—although they lacked the athleticism and acceleration to really threaten at the other end.
Diminutive flanker Kaile Auvray was arguably the exception, though, as he set about trying to make a nuisance of himself with his darting runs in possession.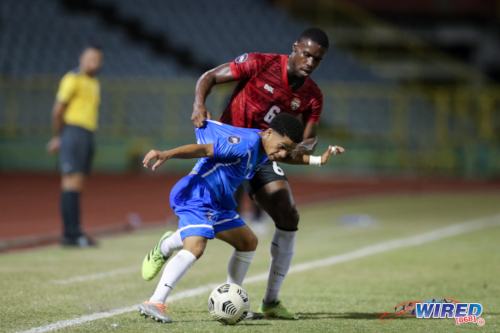 Auvray is the son of Saint Martin coach and former Guadeloupe international Stéphane Auvray. But, more relevant, his mother is Trinidadian and, as Saint Martin are not full Fifa members, he is keen to switch allegiance to the red, white and black.
If yesterday was his audition, Auvray (K) surely did enough for a second look.
Moore had two more opportunities to hurt Saint Martin near the end of the first half but both fizzled out without so much as an attempt on goal. However, 20 minutes after the restart, Trinidad and Tobago finally got the opener.
Beanpole midfielder Randy Gentes thought he was tripped by Neveal Hackshaw and, as the Warriors midfielder chased the loose ball, Dalmat impertinently banged the ball against his shins.
It turned out to be the best pass of the match!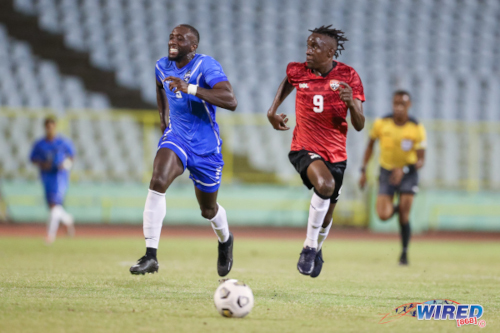 The ball ricocheted off Hackshaw, in the centre circle, and flew neatly in the path of an alert Corbin who danced past one defender before his shot deflected off another, Sebastien Venthou-Dumaine, to beat substitute goalkeeper Jordan Etienne at his far post.
Eight years after he made his debut against Curaçao—under then head coach Stephen Hart—Corbin finally had his first goal for Trinidad and Tobago.
Technically speaking, Corbin's item would not count as an international goal. Eve's eight substitutions were beyond what is permitted in a full international while, in any case, Saint Martin are not proper members of the Fifa family.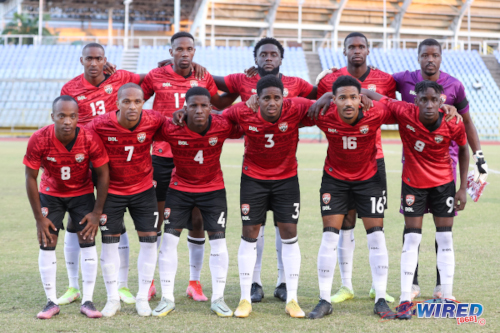 However, it capped a fair outing for the Terminix La Horquetta Rangers attacker, who, at least, was lively and ambitious throughout.
By then, both teams had introduced several substitutes and, with a population of just over 30,000, Saint Martin's standard dropped noticeably.
It is difficult to say whether Trinidad and Tobago's substitutes were an improvement on their starting team, or simply exploited the drop in quality of their guests. Either way, the closing 25 minutes saw the best of the hosts.
In the 82nd minute, Duane Muckette worked a wall pass with fellow substitute John-Paul Rochford to burst through the opposing defence only to be denied by Etienne. The loose ball broke kindly for a third substitute, Real Gill, only for the youngster to hit wide—with an unprotected goal at his mercy.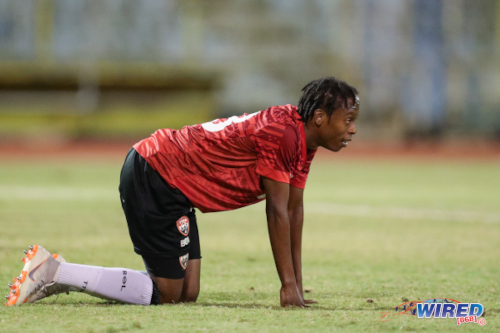 Fortunately, Gill, one of three Rangers players used yesterday, did not have to wait longer for a second chance.
Another substitute, Jabari Mitchell, won a yard of space down the right flank and his pinpoint cross offered another simple opportunity for Gill. And the teenager made the most of his reprieve.
Incidentally, Auvray might have equalised at one point with a thumping drive from distance that clipped the top of the bar before going over.
But it was, as Eve pointed out, fairly comfortable for Trinidad and Tobago in the end.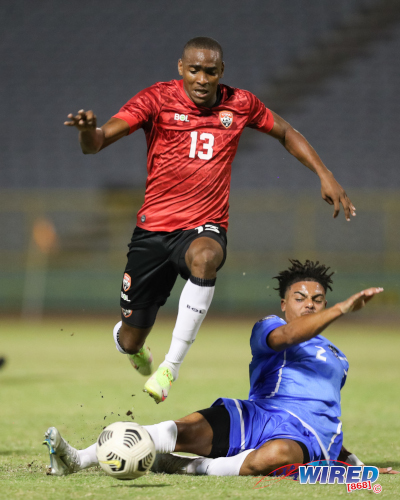 It was anything but entertaining or comprehensive though.
(Teams)
Trinidad and Tobago (4-3-3): 1.Marvin Phillip (GK) (captain); 16.Alvin Jones (2.Isaiah Garcia 67), 6.Leland Archer, 17.Justin Garcia, 4.Jameel Neptune (19.Ross Russell Jr 55); 8.Kevon Goddard (24.Michel Poon-Angeron 75), 15.Neveal Hackshaw (23.Jesse Williams 75), 7.Nathaniel Garcia (10.Duane Muckette 55); 3.Joevin Jones (14.John-Paul Rochford 55), 9.Kadeem Corbin (18.Real Gill 67), 13.Reon Moore (11.Jabari Mitchell 83).
Unused substitutes: 21.Isaiah Williams (GK), 22.Adrian Foncette (GK), 5.Weslie John, 12.Darnell Hospedales, 20.Justin Sadoo, 25.Kaihim Thomas.
Coach: Angus Eve
Saint Martin (4-1-4-1): 16.Sabastien Raphose (GK) (captain) (1.Jordan Etienne (GK) 46); 2.Jeremy Dutoya (12.Alain Cordero 72), 4.Donovan Fils-Aime, 5.Mickael Clio, 3.Stephan Varsovie (18.Stephen La Guerre 72); 8.Randy Gentes (15.Christopher Despeine 75); 7.Darren Pompe (13.Sebastien Venthou-Dumaine 46), 6.Yoann Vardin, 10.Wilfried Dalmat (14.Kearney Chance 72), 11.Kaile Auvray; 9.Danilo Cocks (19.Yannick Bellechasse 46).
Coach: Stéphane Auvray
Referee: Kwinsi Williams
Wired868 has provided readers with solid, independent journalism since 2012. If you appreciate our work, please contribute to our efforts.
Support Independent Journalism