World Class Soccer Clinic custodian Josiah Morris took a step to his left, behind his defensive wall, in anticipation of another curling and dipping free kick by Soccer Made Simple (SMS) captain and left back Tyrell Inniss.
But it was attacker Jaheim Faustin, one of two SMS players standing over the set piece at the Bon Air Recreation Ground, who struck the ball. The free kick was 35 yards out—yet Morris barely had time to mumble "shims" before it was in the back of the net to his right.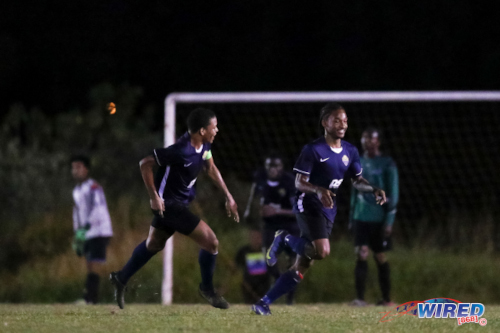 Faustin's cracker proved to be the exclamation mark on a comprehensive win for SMS, as the defending NLCL U-19 Community Cup champions served notice of their intentions for the 2023 season with a 4-1 win over World Class.
At kick-off, World Class, led by coach Andy Morales and manager Dave Weekes, were top of the Group A standings (which comprises solely of teams on the east-west corridor) with two wins from as many outings. SMS were third.
But, after 90 minutes in Bon Air, there was no doubt about which team was second best.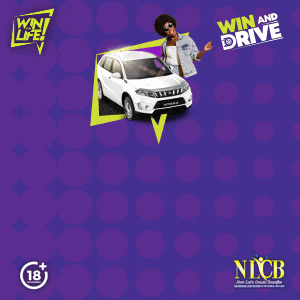 "I think they were much fitter than us," Morales told Wired868, after the final whistle. "I think it was a bit challenging trying to keep the ball—for both teams—because the ground was so uneven. But all and all, I think they ruled the midfield today."
"World Class" is not an easy moniker to live up to, but in flanker Giovanni Hospedales and nippy midfielder Raheem Mohan, the visitors certainly had players worthy of a second look.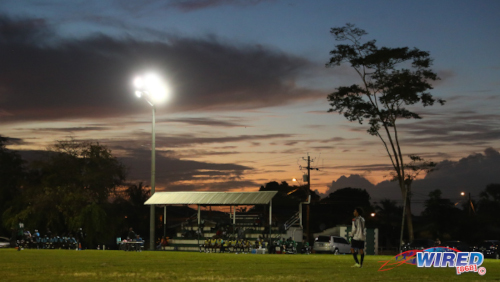 Morales' problem, though, was getting them on the ball in the right areas of the pitch, with an opportunity to use their abilities in a proactive way. SMS, utilizing a stifling high press, did them no favours.
"Most of the times, controlling the football (under pressure) for the kids is very difficult," said SMS coach Lester Young. "And then the ground…"
His crafty smile was self-explanatory.
SMS' front five—and, in particular, flankers Liam Dayal and Jeremiah Frank-Williams and waspish midfielder Israel Joseph—offered little breathing space to World Class, as their opponents tried to build the ball from the back.
And the hosts' superior work ethic and movement essentially told the tale of the game from referee Ateba Phillips' opening whistle.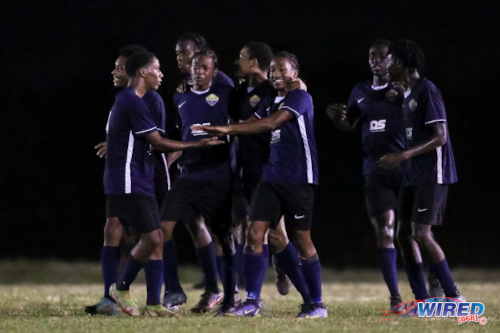 Yet, paradoxically, World Class should have scored first.
In the seventh minute, SMS goalkeeper Xavion Haynes lost sight of a long punt upfield from an opposing free kick in the dim Bon Air lights; and World Class forward Kendall Castle got the ball in the penalty area with a gaping goal at his mercy.
There was still a sharp angle to negotiate, though, and Castle did not get his sums right—as the 16-year-old El Dorado East student screwed his effort across the face of the SMS goal.
"When you miss your opportunities," said Morales.
He didn't need to finish his sentence. Just 54 seconds later, Joseph did it for him.
Frank-Williams ran on to a lofted diagonal pass and took aim with his left boot, only to splice his shot even worse than Castle did. SMS, unlike World Class, possessed the hyperactive Joseph though.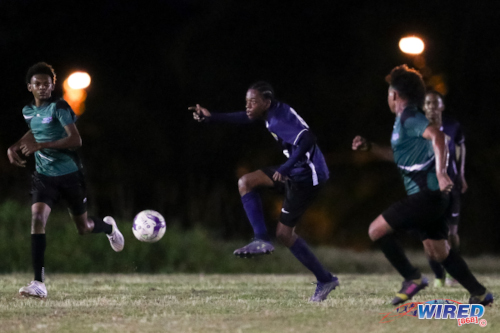 Somehow, like a man who gets the newspaper a day early, Joseph seemed to predict where Frank-Williams' wild shot would end up—and he completed the move with a lunging finish that steered the ball in off the underside of the bar.
World Class goalkeeper Josiah Morris nearly gifted SMS a second item in the 16th minute, as he left his line in a vain effort to gather an Inniss free kick and was lucky to see opposing midfielder, Tinto, head wide.
Morris would not be so fortunate in the 23rd minute, when he misjudged the spin on a loose ball—like a tail-ender swinging at a Sunil Narine delivery—and Joseph pounced again for his and SMS' second item of the night.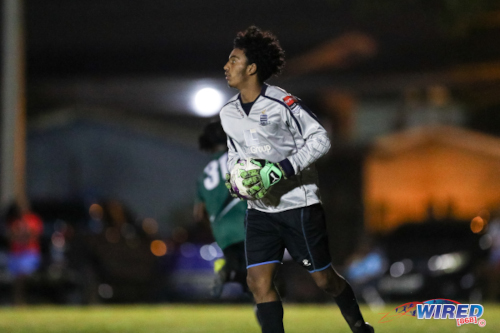 "We had some silly goalkeeping errors," said Morales, with a sigh. "I think we could have done better in that department to be honest."
At the other end, World Soccer managed a peep at goal from 20 yards only for Mohan to crash his shot against the opposing bar.
The game was contested at a decent tempo and the visitors were no slouches, as Hospedales reminded the opposing defence with his clever dancing feet.
And yet, just like that, World Class were three goals down. After a throw from the left flank, Tinto collected the ball in space and beat Morris from 30yards with an impressive right-footed strike that looked to be heading north to Blanchisseuse before veering sharply east towards Arima.
Tinto spread his arms like Maximus the gladiator. Morris looked in need of a white flag.
To their credit, World Soccer got themselves on the score summary in the 35th minute, with a curling left footed free kick from distance by burly holding midfielder Jearon Ellis.
It was the first goal that SMS conceded this season. But, again, the defeated goalkeeper did not cover himself in glory.
Unreliable goalkeeping, barring few exceptions, has surely been a recurring theme in youth football over the past six months.
"My players did well to compete although they got some soft goals," said Morales. "To be honest, I'm a bit proud of the boys and their fight-back, because I have a young squad."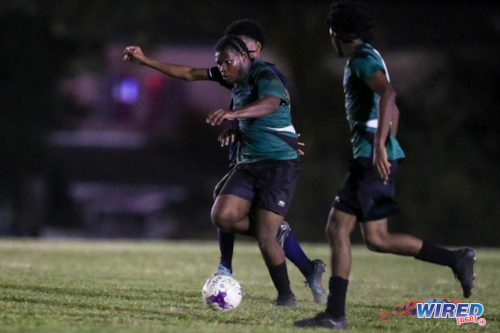 Morales, who coaches at Championship Division outfit Five Rivers Secondary, noted that Castle, Hospedales and Morris are all under-16 players.
"We decided, although it is an under-19 tournament, to try and do some development with the younger ones," he said. "The Tiger Tanks [competition] was under-20, the West Penn [competition] was under-20. There was nothing really for the 16-year-olds.
"So to try and keep them together, we decided to come out with a young squad."
Morales introduced four players at the interval, as full back Jeremy Christian, midfielders Kyle Dwarika and Josiah Gobin and attacker Nkosi Ambrose replaced Jahronite Pierre, Mohan, Tyrell Stapleton and Castle respectively.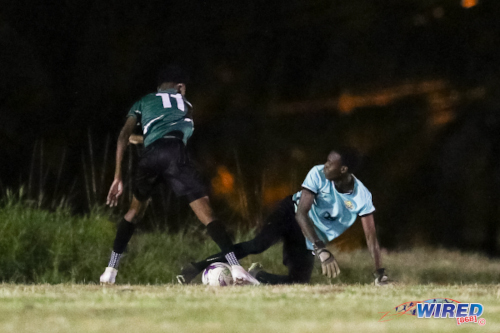 Ambrose fired over within minutes of his introduction, after getting a sighter inside the opposing box. And Haynes needed to be alert to thwart Hospedales, following a mazy run that took the St Augustine Secondary winger past three opposing defenders.
But then Young introduced Terron Miller, the 2022 NLCL top scorer, and Faustin off his bench. It's difficult to top that as a statement.
"We are a little stronger now than [in the 2022 season]," said Young, who started with San Juan North Secondary hitman Larry Noel at centre forward. "[…] We decided to keep (Miller and Faustin) on the bench to bring some energy in the second half."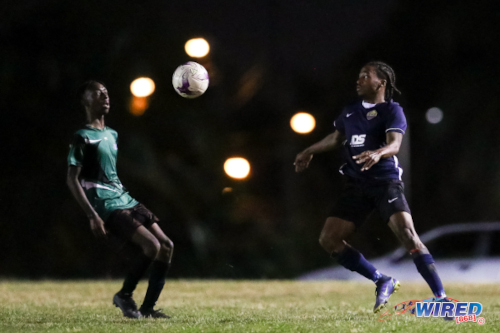 Direct, menacing and ambitious, Miller was an immediate threat to the tiring World Class defence. But it was Faustin—a gifted schemer with all the tools to follow his father Marvin Faustin into the national senior set-up—who made the bigger impact.
In the 68th minute, Morris made a fine save to his left, to keep out a swerving Inniss free kick.
Four minutes later, the young goalkeeper anticipated the chance for an encore—only to be soundly beaten by a cracking Faustin strike.
Only one team at Bon Air last night looked capable of producing such gems.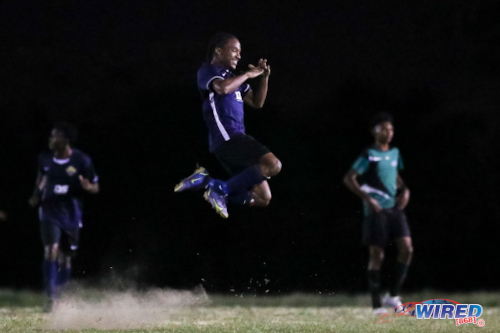 "Our target is to defend the title," said Young. "We know that most teams will be coming for us. Physically, mentally and psychologically, we have to be ready for it."
SMS will get a test of their staying power tomorrow, when, with barely 48 hours recovery time, they return to action against the struggling Trendsetter Hawks from 6pm at the Eddie Hart Savannah in Tacarigua.
World Class Soccer, who slipped from first to third last night, face second placed T&T Maestros tomorrow. Another defeat will see Morales' troops potentially fall out of the top three altogether, with Malabar Young Stars ready to pounce.
Three teams each from Group A and B will advance to the NLCL Community Cup quarterfinal round, along with two outfits from Group C in Tobago.
SMS, on this evidence, will not fear anyone.
(Teams)
Soccer Made Simple (4-1-2-3): 1.Xavion Haynes (GK) (25.Aidan Raymond [GK] 75); 2.Josiah Daniel (16.Alex Piper 84), 6.Andre Providence, 4.Jeremy Bobb, 13.Tyrell Inniss (captain); 8.Philip Tinto; 10.Micah Nelson (3.Akil Henry 84), 18.Israel Joseph (19.Arron Raymond 75); 15.Liam Dayal (17.Jaheim Faustin 56), 9.Larry Noel, 14.Jeremiah Frank-Williams (7.Terron Miller 56).
Unused substitutes: 5.Kosi Charles, 12.Hasheem Hill, 30.Shemuel Cassimy.
Coach: Lester Young
World Class Soccer Clinic (4-1-4-1): 1.Josiah Morris (GK); 31.Theron O'Brien, 8.Keshawn Diaz (captain), 4.Deshawn Browne, 21.Jahronite Pierre (26.Jeremy Christian 46); 19.Jearon Ellis (24.Obadiah Eyeaderosiyhia 76); 20.Tyrell Stapleton (36.Josiah Gobin 46), 7.Raheem Mohan (29.Kyle Dwarika 46), 16.Quamy Waithe (18.Jasie Ramlogan 83), 11.Giovanni Hospedales (10.Cameron Gulston 83); 6.Kendell Castle (14.Nkosi Ambrose 46).
Unused substitutes: 17.Jonathan Lee Fai.
Coach: Andy Morales
Referee: Ateba Phillips
Wired868 Man of the Match: Tyrell Inniss (SMS)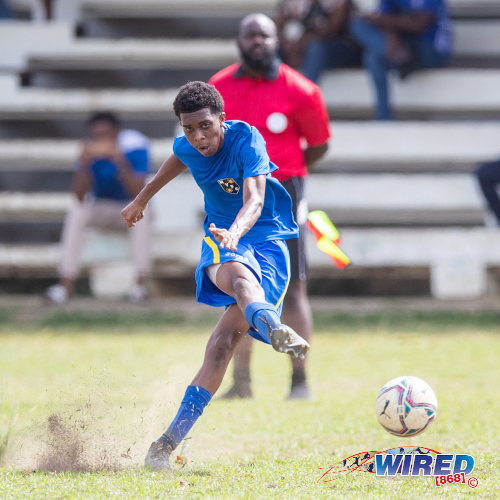 NLCL U-19 Community Cup results
(Tue 3 January)
Soccer Made Simple 4 (Israel Joseph 8, 23, Phillip Tinto 29, Jaheim Faustin 72), World Class Soccer 1 (Jearon Ellis 35) at Bon Air Recreation Ground;
Cunupia FC 0, Gasparillo Youths 3 (Jaden Alexander 8, Ricardo Williams 40, Josiah Cooper 83) at Balmain Recreation Ground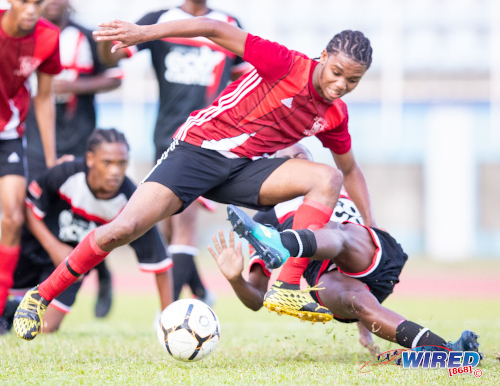 Group A (Played-Won-Drew-Lost-Goals For-Goals Against-Points)
Soccer Made Simple   3-2-1-0-7-1-7
T&T Maestros                3-2-0-1-4-2-6
World Class Soccer    3-2-0-1-7–6-6
Malabar Young Stars 3-1-2-0-1-0-5
Trendsetter Hawks     3-0-1-2-2-5-1
Santa Cruz United      3-0-0-3-0-3-0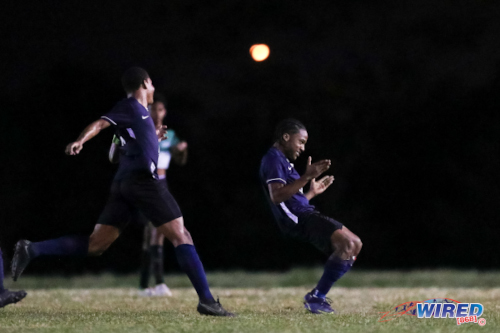 Group B (Played-Won-Drew-Lost-Goals For-Goals Against-Points)
W Connection       3-2-1-0-6-3-7
Made in La Brea   3-1-2-0-3-0-5
Moruga FC               3-1-2-0-3-0-5
Gasparillo Youths 3-1-1-1-6-4-4
Point Fortin YA     3-1-0-2-1-5-3
Cunupia FC              3-0-0-3-0–5-0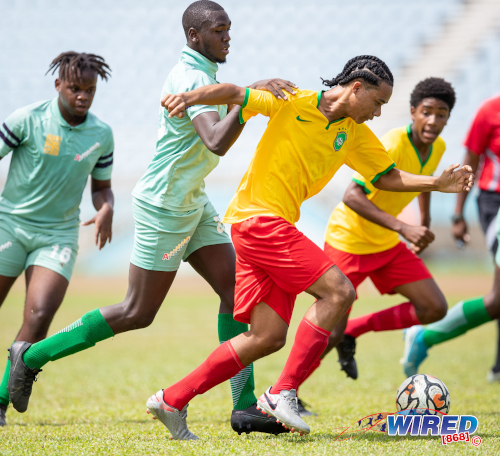 Group C (Played-Won-Drew-Lost-Goals For-Goals Against-Points)
Ball Blasters FA         0-0-0-0-0-0-0
Eagles FC                      0-0-0-0-0-0-0
Georgia FC                   0-0-0-0-0-0-0
Roxborough Lakers 0-0-0-0-0-0-0