It wasn't the smoothest, silkiest or prettiest display of football. But last night at the Hasely Crawford Stadium, coach Angus Eve and his Trinidad and Tobago Senior Men's Football Team got an important 1-0 win over the Bahamas to earn their first points in Concacaf Nations League B play.
If fans were expecting a footballing work of art, there was nothing reminiscent of Pablo Picasso at the HCS last night. What they got was a fighting Soca Warriors team that fought to the end for their coach, whose feisty presence on the sidelines was almost certainly missed on Friday night in Managua—where hosts Nicaragua knocked the lights out, almost literally!
In the build-up to last night's game, Eve stated that he wanted to see a more attacking style of play. More than anything else, though, Eve's passion in his training sessions speeches leading up to the game made him sound like a man who wanted to see the Red, White and Black show greater determination, grit and tenacity.
Flair points could come after—securing three points had to be the primary objective.
"When we go on the park tomorrow," a charged-up Eve said at Sunday's training session, seeking to get buy-in from all the Warriors, "we have to believe in one another, we have to fight for one another. Nobody is going to hand us anything in this thing.
"We have to fight for everything. We may not play the cleanest f***ing game but we have to win this game […] If I have to run and tackle hard, if I have to sell my body, [so be it]. Trust me, this doctor real good. He does put together parts real nice."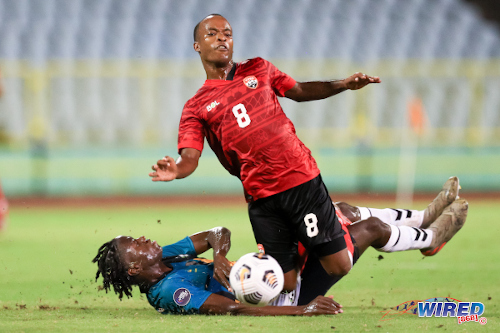 At the end of 90 minutes last night, team doctor Akash Dhanai and physiotherapist Roger Ryan may indeed have some work on their hands before the team heads off to St Vincent and the Grenadines tomorrow. There were a fair number of crunching tackles coming in from the 'Baha Boys'.
Marauding T&T right-back Alvin Jones appeared ready to take Eve's body-on-the-line cry on board near the half-hour mark. He sized up Bahamas winger Marcel Joseph near the technical area before the pair had to be separated by the fourth official and other players. Perhaps Jones had some words of advice on Joseph's hairstyle choice and the latter took exception to it.
Thankfully, a few more robust tackles apart, things did not get spicier on the field between the two Caribbean teams.
With two unattached players in their starting line-up, a Fifa ranking of 201 and players missing due to a combination of injuries, visa issues, school and even work commitments, Bahamas coach Nesly Jean felt his team showed great application and spirit, particularly in the second half. And he believes last night's efforts showed that they can rumble with the likes of T&T at this level.
Of course, the last time the two teams met, a 0-0 scoreline saw the end of T&T's hopes of qualifying for the Qatar 2022 World Cup under then coach Terry Fenwick. Jean couldn't quite inspire the Baha Boys to a similar result last night, a 4th minute Neveal Hackshaw header making that task even more difficult.
Disappointed by what he deemed a 'disjointed' showing against Nicaragua on Friday night, Eve appeared as pleased as punch with the Warriors' offering before a 4,000-strong crowd on home turf this time around.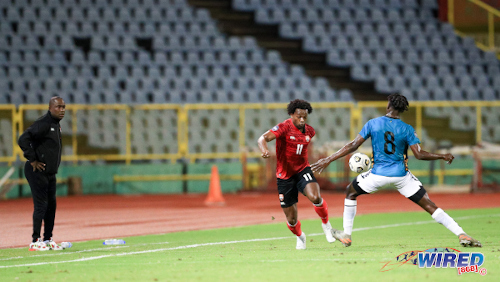 "I thought the exercise was a good one. When a team is playing away from home, this is how they play in international football. The only thing Bahamas tried to do was stop us from scoring. They rarely had any ambition," the coach told the post-game media session.
"We had most of the play without showing it with the goals that we didn't get. But other than that, I thought the cohesion was much better tonight. The play was better, the ball retention was better, the defensive work was better. I don't think Marvin [Phillip] had any shot to save so, all in all, it's a good result because now we are second in the group."
Eve rang in the changes after the Nicaragua game, with Triston Hodge, Marcus Joseph, Justin Sadoo, Mekeil Williams and experienced flanker Joevin Jones all making way.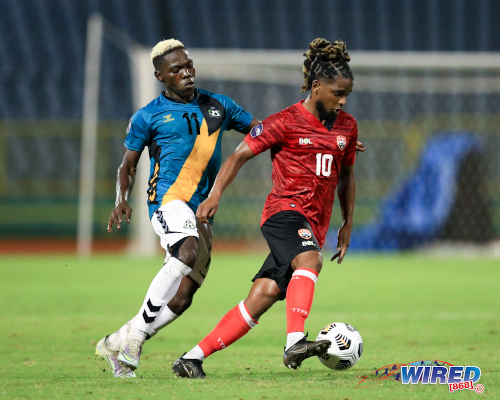 Duane Muckette, who did not make the trip to Nicaragua, was re-inserted into the Warriors squad and directly into the starting line-up. A tidy and purposeful central midfield playmaker, Muckette remains mysteriously without a club for well over a year.
It appears he has found a home in the T&T midfield, though.
"Muckette brings guile, playing in the pockets and bringing other players into the game," Eve said. "He's a natural number 10, one of the few that we have. We have (Kevin) Molino and these other guys who are injured and he's getting into those pockets and trying to create and link up with Levi and the other front players."
Muckette showed flashes of his nifty play and could have had his name in lights in the 12th minute when his close-range header was tipped onto bar after some lovely work down the flank by Levi Garcia. Much like the Garcia brothers, Judah and Levi, Muckette showed his talents in spurts without taking command of the proceedings.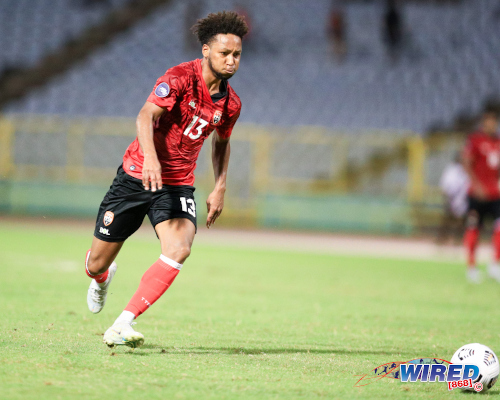 "I think you saw how [Bahamas] set up," Eve said. "They basically had six in the back and three in the midfield. It was really difficult to break them down. They sat very deep and they didn't allow us to get in behind them with our pace."
Still on his supposed hunt for that cultured 'number 9', Eve again started Garcia (L) as his main striker, with the Greece-based attacker permanently swapping out to the right when the burly figure of Nicholas Dillon entered the game near the hour mark.
In the 66th minute, when Dillon went down under a heavy challenge in the area, short-lived booing was directed towards referee Shavin Greene from the covered stands. And in the 84th minute, after some swift link-up play down the left flank between fellow subs Molik Khan and Reon Moore, the former Naparima College frontman was back in the spotlight, thwarted from point-blank range by goalie Julio Jemison.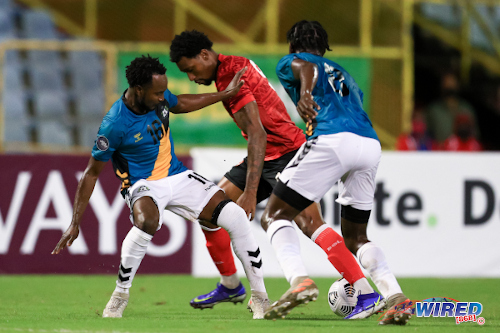 "[Bahamas] forced us to play in front of them most of the time and sometimes, when we did get to the flank, we weren't clinical enough in the final part of the game," Eve conceded.
With the India-based Joseph not getting the nod for this game, perhaps it was a chance grasped for Dillon to show that he should be the rightful number 9.
As the game neared its end, stadium announcer Gregory McBurnie, perhaps lulled to sleep by the on-field action, twice indicated that Barbados were about to make a double substitution. Or maybe he was still reminiscing about T&T's 9-0 whipping of Barbados in the Courts Caribbean Classic back in March. And fantasising.
What is certain is that, judging from their last two outings with the Soca Warriors, despite their lowly Fifa ranking, the Baha Boys are no longer the whipping boys of Concacaf and are, therefore, not to be mistaken for the island which has given the world the Three W's and flying fish.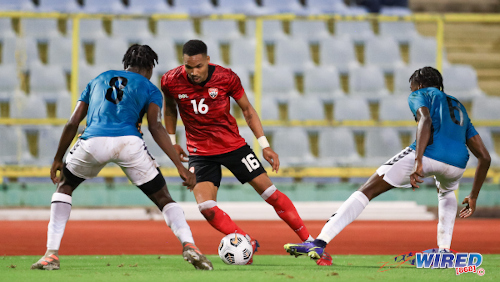 Next up on this Nations League journey for Eve and his T&T team is a pair of meetings against SVG's 'Vincey Heat', who are still chasing their first win after defeat by Bahamas and a draw with Nicaragua.
For Eve, after his troops' busy four-games-in-ten-days schedule, recovery is just as important as tactical nous before the Warriors go in search of a Vincey double which would put them in contention to top the group.
Today, the head coach announced three more changes to his 23-man squad as he summoned Deportivo PF defender Andre Ettienne and recalled InterMiami utility player Joevin Jones and Mohammedan SC forward Marcus Joseph to replace Randanfah Abu Bakr, Michael Kedman and Dillon.
"This tournament is very difficult. Just travelling and playing and travelling and playing. Ten days, four matches, and with travelling!" explained the man who is currently discharging dual functions as coach of the Senior Men's team and the Under-20 Men's team simultaneously. "It's very difficult for the players—it's very taxing. We continue the recovery tomorrow and then we fly out on Wednesday to fight again."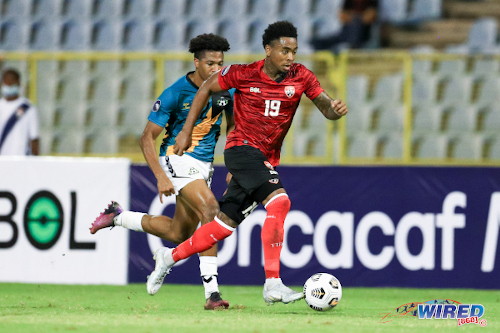 Luckily for Eve, both Hackshaw and Garcia (L) have fond memories of St Vincent, with both players playing key roles in a comeback 3-2 World Cup Qualifying win under then coach Stephen Hart back in 2016. Aged 18 and on his senior international debut at the time, a bright-eyed Garcia (L) stunned the Vincey crowd by coming off the bench to bag a double and secure the narrow win for the Warriors.
One of his assists came from Hackshaw.
Maybe that duo can inspire the boys from the land of steelband and calypso to inflict another defeat on the Vinceys come Friday.
Asked about possible tactical adjustments to counter the SVG threat, Eve said that they had watched their match versus Nicaragua.
"We are going to go on the InStat and we're going to do the stats and stuff like that," he revealed. "This team is in a rebuilding stage still. We have 18-year-old players on the park. We are introducing young [John-Paul] Rochford and these guys who are really coming on.
"The team is evolving. […] We are just trying to freshen up the team and Nations League is part of that progress. We need to be in the Gold Cup and we need to be competing at that level consistently. We are going to do our best and we are second in the group with all to play for."
Rochford debuted for Trinidad and Tobago under former head coach Dennis Lawrence in a 1-0 friendly defeat away to St Vincent and the Grenadines on 11 August 2019. However, five of his six senior caps came under Eve. Khan and midfielder Ajani Fortune are the two teenagers who played under the current coach.
Come Friday 10 June, Eve and his T&T team will be bidding to cool the Vincey Heat and ensure that their opposition remains win-less in Concacaf Nations League B play. But it remains to be seen what kind of threat SVG, currently ranked 175th in the world, will post against Eve's troops.
After all, a plucky Bahamian team, with a 201 Fifa ranking, came away from the Hasely Crawford Stadium with their heads held high, having conceded a single—early!—goal. T&T can certainly expect more passion from Eve and his staff, who will doubtless continue to plead for nothing but three.