Public transportation is a quality-of-life issue.
Sometime in 2015, this statement caught my attention and gave me hope that Trinidad and Tobago was finally beginning to take action to bring our country out of the doldrums of the 20th Century.
Seven years later, transportation continues to be chaotic, dangerous, and energy-draining—both mental and physical energy as well as fossil fuel. We have disregarded the fact that our almost completely unplanned and very disorganised transit systems result in significant social and economic challenges for all citizens, from toddlers to the elderly.
It is noteworthy that in the western peninsula, there is an increased presence of buses on the routes into Diego Martin and Chaguaramas. But without easily accessible information about their expected times of arrival, very few persons will be attracted to hop on a bus.
Meanwhile, the region is beginning to act on transforming its transportation systems and exploring private/public sector arrangements. Audley Shaw, Jamaica's Minister of Transport & Mining, recently indicated that his government is actively contemplating an arrangement to lease railway lines in the Montego Bay area for the transportation of tourists.
If this is successful, it will be an addition to the current arrangement that now obtains with the Jamaica Railway Corporation (JRC) and the bauxite companies that utilise the railway lines to transport bauxite.
Saint Lucia recently invited companies to tender for the formulation of an 'Integrated, Sustainable Road Transport Policy and Strategic Roadmap for Implementation'.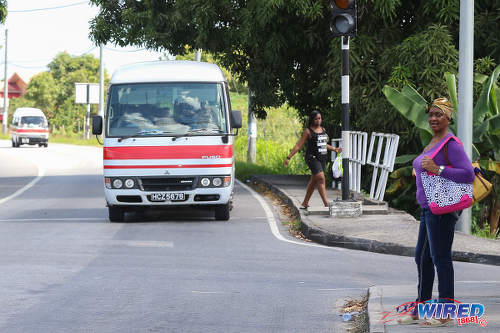 The Barbados-based Caribbean Transit Solutions is working hard to provide real-time and on-demand information on public transport vehicles as well as private fleets of vehicles for citizens as well as tourists.
In Trinidad and Tobago, we are ignoring the bigger problem and focusing on fuel subsidies and the allocation of scarce foreign exchange for the importation of more cars.
The politicians know the problem and, in their manifestos, they have outlined several solutions. But when they occupy the corridors of power, something happens that causes amnesia.
In 2015, we knew that our road network was clogged with over 750,000 motor vehicles, crawling in endless bumper-to-bumper traffic. We knew that thousands of productive man-hours were being wasted every day in non-stop, grinding traffic jams, even at non-peak hours. We knew that there were neither traffic management plans nor mass-transit national transportation.
In 2019, Minister of Finance Colm Imbert commented that "Vehicle sales continue to charge along at an average rate of over 25,000 new registrations per year, with the total number of vehicles now well over the one million mark."
Now, seven years after the revelation about the quality-of-life nature of the public transportation issue, we are still stuck with no clear direction regarding the future prospects for transportation. There is one recurrent recommendation urging that we establish a Transit Authority to regulate all forms of public transportation.
The PNM manifesto of 2015 boasted thus:
It is a matter of record that virtually every institution in this country was created, nurtured and developed by the PNM. Our education system, our manufacturing, industrial and energy sectors, our road network, transportation systems, primary infrastructure, social services, public sector, state enterprise sector, creative industries, health services, public housing, and system of governance, among so many other things, were all given life by the PNM …
I note that 'transportation systems' was included in this proud boast about PNM accomplishments. So I wonder why, with the same party holding the reins of power since 2015, there has been no significant improvement in the system in all of seven years.
The recent protests over the hike in the price of gasoline may just be the tip of the iceberg. It is my considered view that, in order to move forward as a society, we have little or no choice.
We—read Government—have to act now to ensure that the transportation system has no major negative impact on our quality of life.