All Caribbean children (from Jamaica to Guyana) learned about Brer Anansi. Brer Anansi is one of the most significant characters in Caribbean folklore. 
'He is admirably clever as he is greedy, selfish and reckless. In a place where there are no standards and anything goes, Anansi holds a cherished place in our hearts' (Winer, 2009). 
The events of the last two weeks revived Brer Anansi in my mind.
Our Guyanese friend intoned: "Trinidad is falling apart–and that is to put it mildly… no jobs to sustain periods of negative growth, can't see the light of day…for the near future."  
He gave this speech to rice farmers; an Opposition member revealed it in a tweet. It was not intended for international audiences. 
To appreciate the context, one must understand the political significance of rice farmers in the troubled Guyanese history: they are an integral part of the political base of the PPP in that very divided country. Between 1962 and 1999, there were ten major ethno-political disruptions. As a replacement for an ill Dr Cheddi Jagan, our friend emerged in 1999 during the last of those struggles. 
His speech is more than a lesson about Trinidad; it is about Guyana's economic distribution and political representation issues, an endless source of conflict. Once the story broke, it was spun to be about the mismanagement of Trinidad's economy.
'Is the glass half-empty or half-filled?' is one of the enduring philosophical questions because the answer depends on how we think about the situation. 
Our friend suggested that our glass was less than half-filled and may even be irredeemably tending to the empty point. Predictably, this appealed to some among us. 
They had been let down like a masquerader on Ash Wednesday. The heady days of the last two decades have ended, and stringent economic adjustments lay ahead. 'The party cyar done!' So the hunt was on for someone to blame. 
Our wise and experienced friend stepped in with a tale, and many swallowed it hook, line and sinker. 'Is Rowley to blame!'
The business editors of the leading local newspapers focused on proving that the glass was half-filled, while many argued that it was half-empty. The realists acknowledged it to be both. However, an opportunist wants to drink the water if nobody stops him. 
The beauty of Brer Anansi in pursuing Basdeo Panday's 2014 dream of a united Guyana, Suriname and Trinidad (Demerara Waves, March 2014)!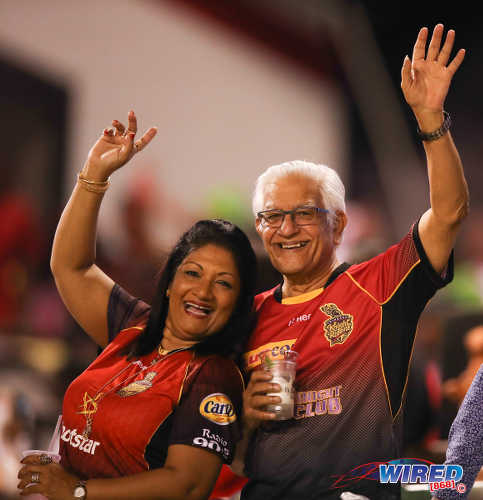 Panday said then to the Guyanese business community: "My advice would be to consider this suggestion that Trinidad and Tobago, Guyana and Suriname may well find it beneficial to integrate their economies more deeply and jointly pursue arrangements with Brazil, Venezuela and other Latin American countries." 
The second lesson advocated was that 'we, Guyanese, are responsible'. Like the now late magician, Dr Abracadabra, they operate on an illusion. 
In a 2018 Facebook post, Anthony Paul, a Trinidadian energy expert who sits with Kevin Ramnarine on Guyana's Local Content legislative committee, explained Trinidad's downfall:
"High levels of incompetence, greed, and the fear of making tough decisions are the primary reasons countries rich in petroleum resources do badly… The current state of the sector is a manifestation of gross incompetence, compounded by greed, now reacting out of fear." 
He clarified: "Incompetence is a 'harsh' word, but it encompasses gaps in multiple dimensions of capability—skills, capacity, experience and behaviour. It shows up in poor decisions along the entire value chain: investor selection, the pace of investment, contracting, implementation oversight, reporting, transparency & accountability. 
"Corruption and fear are outcomes of incompetence. We have to fix our agencies first to fix T&T. We need to hire the best people, reward them well and hold them accountable."
In two years (2008-09), we put more money into the Heritage and Stabilisation Fund (HSF) than we did in five years (2010-2015). Yet in 2011-2016, dividends from state enterprises to the Treasury increased sharply to $19.5 billion. 
We all had a ball then, didn't we? Our excuse now? The Dutch disease!
By March 2022, Paul underlined that Guyana still has not addressed their depletion policy, allowing Exxon Mobil to monetise Guyana's oil reserves recklessly. 
"What is the right pace of depletion for the Stabroek Block so that it benefits the citizenry and there is no value leakage?" he asked. "And more importantly, what is the right order of depletion for the various fields? Also, how can this be done in a way that maximises benefits for future generations?"
Six years ago, the IMF, IDB and the World Bank advised Guyana to put in over 100 safeguards to protect against corruption; this has not been done to date. Brer Anansi is your regular three-card gambler. 
Guyana has lived through one terrible deal after another with its gold, bauxite, and timber, and remained poor. Bookers in sugar, Reynolds and Alcoa in bauxite defined the exploitation of Guyana's natural resources. 
Later, there were OMAI with BOASL and RUSAL in the bauxite sector plus several large scale mining firms in the gold industry. The average Guyanese remained poor. What's different now?
The third lesson is 'we are pro-Caricom' and the promotion of Mia Mottley as a facilitator. There is no proof of the claim of 10,000 new Barbadian jobs, contrary to what was said in Parliament. 
The promise of Barbados training tourism workers in Guyana was an agreed opportunity snatched from The UWI. Barbados' poor treatment of Guyanese in the past was stellar. Why is the plea from the Guyanese NGO to Mia Mottley to rally Caricom to manage the potential Exxon Mobil oil spill risks being ignored? 
Brer Anansi teaches us to be selfish. He who has the gold makes the rule!
Prime Minister Dr Keith Rowley's effort to resolve the 2020 election impasse is unremarked, or worse, he is not a diplomat. Truly? He came in from Ghana on 11 March 2020 and left the following day for Guyana. The result? 
"The next thing we know is that the presence of Caricom, by invitation, became accusations against Caricom and then a legal process."
In answering Ganga Singh in Parliament, he said: "None of us in this government or the PNM is invested in Guyana. We have no horse in Guyana; except that we want the best for the people of Guyana, and we want to see them solve their problems as quickly as possible so that the results of an election can be concluded and that Guyana could continue to maintain its high standing in Caricom."
Are Brer Anansi and his comperes neemakharams, or just plain forgetful? 
Guyana is the land of opportunity! We ignore the stunning Kaieteur News 26 March editorial: 'The Private Sector is […] glad to allow itself to be played by cunning leaders in today's government […] They are at the side of powerful ruling political leaders who can make things happen […] with the snap of a finger. 
'When the influential private sector people are not in the ear of even more influential political powers, they are at their feet. The things that people are doing for money, the gutters into which they readily lower themselves, to get near the oil, through consortia arrangements, through subcontracts, and through a host of downstream business developments!' 
We also ignore the banker, Maurice Arjoon, suffering for 15 years allegedly because he crossed the mighty man (Demerara Waves, January 2018). He has won in court, but the judgment is tied up with endless appeals. 
This entire scenario is the context of the explosive Rowley – Charles encounter.
When Dr Rowley told MP Rodney Charles to go live in Guyana, this life experience must be understood. When Dr Irfaan Ali offers feeble, late attempts to disavow the PPP link to the UNC, remember he is not the power broker. 
The UNC and MP Charles are not traitors, but they are focused on short-term political gain and political expediency.  
Dr Rowley was wrong to disregard the Speaker; he negated the expected restraint and the PNM's October 2021 performance in the Electoral College. He fell into the trap of being the Rottweiler. 
Oh, the resourcefulness of Brer Anansi and his comperes!