One brilliant one-handed catch from former captain Jason Holder. Some 60-odd deliveries with the ball, eight of them from lead pacer Kemar Roach that yielded two wickets. Just about 30 deliveries with the bat, 21 of them yielding 20 runs for skipper Kraigg Brathwaite.
That was all the West Indies needed to duly complete an easy ten-wicket victory over Joe Root's England in the Third Apex Test at the National Stadium in Grenada today. The last two pairs extended the England lead from ten at the start of the day to 27—a target effortlessly reached by the West Indian opening pair of Brathwaite (20 off 21, 3 x 4) and John Campbell (6 off 8, 1 x 4) in just 4.5 overs.
The win gave Brathwaite's men the first lien on the Richards-Botham Trophy—the new symbol of supremacy between the two teams whose rivalry now dates back 94 years.
It was the eighth time since 1968 that the home side has contrived to get the better of the tourists, whose only series triumph in the 55 years since a Garry Sobers declaration handed Colin Cowdrey's men a narrow 1-0 win came when Michael Vaughan led his troops to a 3-0 victory over Brian Lara's side in the 2003/2004 season.
After the win, Brathwaite warned against complacency and said he wants more for his team.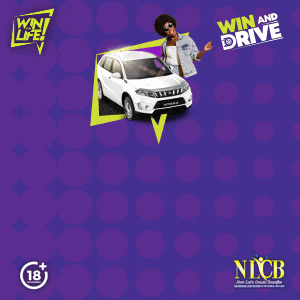 "It's easy to be happy with a series win and relax but I don't think we can relax. The guys have got to stay hungry."
"We learned a lot from this series," he added, "different periods we saw we could do it. Yesterday was really a remarkable day for us, to show the fight, the attitude we had from the get-go, it's key to carry that forward. Just keep building. We've got to continue; we can't take it for granted."
Taking nothing for granted, at the start of the day, Brathwaite opted to give the ball first to Jayden Seales for two overs and then to Alzarri Joseph, his fastest bowler and the one most adept at producing the short-pitched stuff deemed likely to make the breakthrough.
At the other end, he unsurprisingly called up Kyle Mayers, who had undermined the England first innings early and undermined the top order in the second innings with three early wickets.
The first nine overs produced nothing but a false alarm for a catch off Chris Woakes so Brathwaite threw the ball to Roach.
Woakes (19 off 50, 1 x 4) flicked at the 33-year-old pacer's first ball and it flew low to the right of Holder at leg-slip, who extended his right hand and reeled it in.
Jack Leach had successfully bobbed and weaved out of the way of everything Seales and Joseph had sent his way. But in Roach's second over, he reached for a good length ball outside his off-stump and Man-of-the-Match Joshua Da Silva took a good, low catch to end the innings. Not for the first time, it required adjudication by the technology to overturn the negative verdict from the umpire.
Roach finished with decent figures of 9.2-4-10-2 and Mayers—perhaps unlucky not to earn at least a share of the Man-of-the-Match award—had final figures of 17-9-18-5, for impressive match figures of 27-16-31-7. That wickets tally put him fifth on the highest wicket takers in the series list, behind Seales, Roach and England's Leach, with 11 each and Joseph with 10.
One Brathwaite did himself and the region proud. He had scores of 55, 35, 160 and 56* in Antigua and Barbados before contributing 17 and 20* in Grenada to finish as the series top-scorer with 343 runs and earn the Player-of-the-Series award.
But the same can hardly be said of the other Brathwaite, Gregory and his colleague Joel Wilson, who repeatedly had decisions overturned—both in this match and in the series as a whole.
Seen deep in conversation with interim coach Paul Collingwood at game's end, vanquished England skipper Root spoke to an interviewer about 'the frustration of how it's finished because, throughout this series, I think we played some really good cricket'.
He, however, said he remained 'very passionate about trying to take this team forward'.
"We've shown what we're capable of as a group," he continued, "we've grown over the first two games as a batting group, we've shown big strides in that department and yesterday has really let us down. Unfortunately, we're in this position where we've ended up losing out on the series when we've played so much brilliant cricket.
"I feel like the group are very much behind me, we're doing a lot of good things and we just need to turn that into results."
Clearly, as far as England are concerned, today's outcome is not a result.
SUMMARISED THIRD TEST SCORES
Toss: West Indies
England 1st Inns: 204 all out (89.4 overs) (Saqib Mahmood 49, Jack Leach 41*, Alex Lees 31, Chris Woakes 25; Jayden Seales 3/40, Kyle Mayers 2/13, Alzarri Joseph 2/33, Kemar Roach 2/41)
& 2nd Inns: 120 all out (64.2 overs) Alex Lees 31, Jonny Bairstow 22, Chris Woakes 19; Kyle Mayers 17-9-18-5, Kemar Roach 9.2-4-10-2, Jayden Seales 12-2-26-1, Alzarri Joseph 16–3-38-1.)
West Indies 1st Inns: 297 all out (116.3 overs) Joshua da Silva 100*, John Campbell 35, Kyle Mayers 28, Alzarri Joseph 28, Kemar Roach 25; Chris Woakes 3/59, Saqib Mahmood 2/45, Ben Stokes 2/48, Craig Overton 2/81)
& 2nd Inns: 28 without loss (4.5 overs) (Kraigg Brathwaite 20, John Campbell 6*)
Man-of-the-Match: Joshua Da Silva
Result: West Indies win by 10 wkts
Man-of-the-Series: Kraigg Brathwaite
West Indies win three-match series 1-0