Education is an essential foundation of a society. Yet, the pandemic has laid bare the reality of our school system. 
Thanks to the Ministry of Health's media conferences, we have been able to know the death rate and the capacity of our hospitals. But there are no comparable statistics available about our school system. 
We have no measure of the loss our children have suffered. It appears that we must wait until the sore bursts and the pus rushes out. But we do have some hints. 
In a recent media conference, the Education Minister noted that the results of the SEA and CXC examinations in 2021, compared with those of 2020, "have shown decreases in student performance consistent with the learning loss predicted due to the absence of students from the physical classroom during the pandemic."

The Ministry had earlier underlined the importance of early childhood learning. The results of the diagnostic tests in Mathematics and English Language, which all public schools administered in October 2021, identified gaps in student achievement across levels in these fundamental areas. 
In short, the present system is not working. To what degree? We do not know.
Many parents are struggling under the weight of a dysfunctional remote learning system. With the return to work, how will they cope? How much longer can we wait with children already not signing in for the remote-learning and hybrid classes? 
The New York Times (July 2021) reported on the urgency of the tremendous loss; most students will have fallen behind where they would have been if they had stayed in classrooms, with some losing the equivalent of an entire school year's worth of academic gains!
Do we realise what our children have lost? While some fortunate ones have been enjoying the best on offer (reliable, fast internet service, rotating class schedules and parents who have the time and flexibility), most of our children are at sea. 
We have given up our children's world outside of the home, their mental health and their joy of life. How does it feel for a 12-year-old who has passed the SEA exam process but, two years later, has not seen her new classmates? 
School is where you make friends and learn to negotiate life without the direct support of parents. You form friendships for life. These friends are essential to your life chances. 
School is where you figure out who you are. So when we do not have school, how are our children faring? Are we not making our society more unequal and individualistic? Are we prepared to pay for this in the years ahead?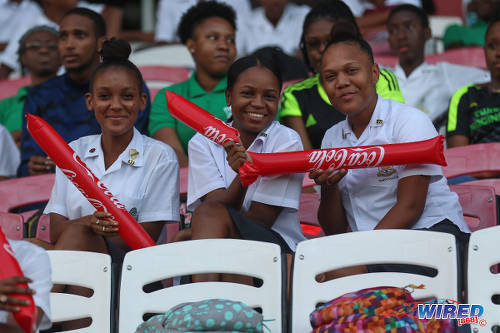 Do our schools only represent a health threat? If so, then shutting them down is easy. But if we regard our schools as an essential service, we will create alternatives. 
The benefit that this pandemic has delivered is the availability of large-scale experiments and data about the possible effects of different strategies. We do not have to learn everything for ourselves. The data is available. 
We do know that children are less at risk than adults from infections associated with the virus. We know that vaccines work and that the community being vaccinated is a crucial driver for what will happen in the schools. 
Our political and health leaders and our trade unionists must realise by now that our children's needs must be balanced with the risks. We must spend money to facilitate the return to classes like we have paid money to support businesses. The infrastructure of our schools can be upgraded once there is political will. 
It is not funny to witness the TTUTA President contort arguments and yet not suggest approaches to ensure that we can save this generation. The situation is urgent and needs an immediate solution. 
But bringing the children back into the school is not a simple case of opening the doors. We have to recognise their trauma of the last two years. Most families know someone who has died or has been infected. 
Our children will be returning with personal and emotional difficulties. Have we figured out how we will assist them? Or will we wait until we witness aggressive behaviour? 
We have to teach the children to read and write, but in this Covid time, we also have to help them handle the stress. Learning becomes difficult if our students cannot manage their fear of the unknown, of some relative becoming ill and dying.
We have to think about their food needs since several parents have lost their jobs or have reduced work hours. The potential for angry outbursts is real. Let us plan for them. 
We can reopen schools safely. We will need to restrict access to the school compounds to control the environment. We have to make sick leave entitlements easier for the entire support staff. 
The Ministry's rotation plan is a wise one that reduces the risk of crowding. Despite all of these measures, we should accept and expect that there will be cases of infection. 
Each school should have a detailed plan to manage an outbreak, but such occurrences are not the end of the world. We have to move past the vaccine hesitation since our national future depends on opening our schools.  
Failure to protect our present generation will lead us to witness more of the current localised crime. Horace Mann, a 19th century education reformer, said it best:
'There may be frugality which is not economy. A community that withholds the means of education from its children withholds the bread of life and starves their souls.'