"[…] 'Shhhh, you don't want her seeing you. Quick, turn your clothes inside out.'
"'Her?' I peeked over the rock, the horrific sight on the other side made me double over. 'That thing's a her?' 
"There're few words to describe what I saw, monstrous is one of them. Her dark skin was ragged and filthy, her amber eyes were like a wildcat's, hungry and slit-pupiled. Her gnarled hands had long black claws instead of fingers…"
Our shortlist for 'The day I met my local hero' is complete, but our judges gave other fictional essays 'honourable mention' and made them eligible for additional prizes in the 11-15 category. Our first comes from St Stephen's College (Princes Town) fourth form student 15-year-old Shantelle Williams:
Everyone idolises someone.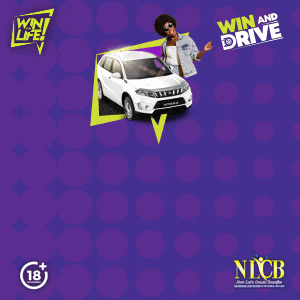 Whether it be for their accomplishments, ideals, or what they stand for.
I too had an idol, a local hero. Gerard Besson, a writer whose stories looked on the supernatural side of things. The harmless folklore stories we got told as children that never made any sense, with names that just sounded ridiculous. My hero showed me the darker side of these folklores, the monsters that hid behind those ridiculous names.
This the story of how I met my idol. 
It was getting late; the sun painting the path with its light purple hue. Needing to be home soon, I cut through the woods near the town. I never went when it was this late, but it was just a quick shortcut.
That's when I saw him.
The woods with its large rocks, trees, and overgrown vegetation provided many places to hide—crouched behind a giant rock was what at first glance appeared to be a watered-down Albert Einstein with wild grey hair, eyes, and moustache. 
He appeared to be in his sixties and wore a green striped tweed jacket and slacks. He was studying something on the other side of the rock pen and notepad in hand, muttering to himself using the light peeping through the trees to see. 
Only when I got closer did I recognise him, "You-you're Gerard Besson!"

"Yes I am." He studied me, "You don't look like a fan."
"Well, I am."
 "Nice to meet you, but you should leave before—get down!" 
He pulled me down behind the rock with him, "What-"
"Shhhh, you don't want her seeing you. Quick, turn your clothes inside out."
"Her?" I peeked over the rock, the horrific sight on the other side made me double over. "That thing's a her?" 
There're few words to describe what I saw, monstrous is one of them. Her dark skin was ragged and filthy, her amber eyes were like a wildcat's, hungry and slit-pupiled. Her gnarled hands had long black claws instead of fingers, her legs, goat-like hooves, her teeth, red-stained fangs as sharp as the large ram's horns protruding her dark messy hair. She wore a tattered dress that clung to her body. 
I didn't know what she was, but it wasn't human.
"What's that?" I whispered.
"She's known as la diablesse," he whispered back.
"That's la diablesse? She's hideous!"
"Not for long… watch." 
As the clearing grew dark, like twisted magic, she changed. Her horns retracted into her hair that grew out into luxurious curls, her skin smoothened out, her face now that of a beautiful woman in her twenties. Her claws shrank into regular fingers, she hid her fangs in a dazzling smile. One of her goat legs morphed into a human one, she hid the other under her now clean flowing white dress with a large hat and veil. 
Compared to her other form, she looked like a goddess.
"La diablesse, a woman who made a deal with the devil, youth in exchange for her beauty and humanity. That's not her true name of course, it's an alias meant to weaken her, names have power, don't take them seriously and you drain them. 
"Her true name is 'The She Beast Who Preys on Men's Desires'. At the sound of her name, she turned in our direction…"
He grabbed my arm. "We just got here understand?" 
He got up yanking me up with him, "Well hello there ma'am! What's such beauty doing alone in the woods?" 
She flashed him a warm smile behind her veil, "Oh hello, I was just taking a walk, care to join… um who's this?" 
"My son, of course!" 
We looked nothing alike.
"I've got seven more at home! They're a handful!"
I could see her eye twitching before she calmed herself. 
"So old, I can't have any fun with you, you'll give me a week, but him 13 I think? I'll get a few decades at least!" 
She moved faster than physically possible, ripping out a chunk of my dark hair and purple streak. Soon, we were running, my heart pounding as she dashed through trees, moving fast but only toying with us, not going in for the kill. 
We soon came to a dead end. 
"It has to be now, have a mirror?" 
All I had was my cellphone.
"It'll have to do." 
He waited, then from above, she pounced. He raised the phone to her.
"Back you hideous witch! Go mate with the devil!" 
The phone flashed blinding her. She leaped back into the shadows and hissed at us before she ran off. 
"And that, is how you banish she beasts, I'll show you sometime."
"Really?"
"Of course, there are many stories I still haven't told." 
He put his arm on my shoulder. 
"Now let me tell you about jumbies…" 
Editor's Note: Wired868 will announce the winners of the inaugural Write Start competition on 13 December 2021. The first place winner will get TT$6,000, a six month mobile plan from bmobile, and two complimentary movie tickets to CinemaONE.
Click HERE for more information on the Wired868 Write Start prize structure and do share your favourite essays!