Former West Indies pacer Curtly Ambrose was in the news last week. Speaking on the Talk Sports Live show in Antigua, he poured scorn on the notion of a possible return of WI cricket to its former glory.
"Yes, we can be competitive and climb up the ICC rankings and be a force to be reckoned with again," declared the 6'7" legend, who began his WI career under IVA Richards in 1988 and ended it under Brian Lara in 2000. "But those glory days, I don't think we will see them again."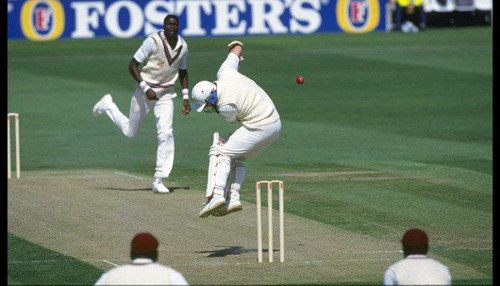 Kieron Pollard's ODI and T20I WI teams currently occupy 8th and 10th spot respectively in the ICC rankings while Kraigg Brathwaite's Test men have risen to 6th. Still far, far, far from glory.
So Ambrose is right; we can improve. But there will be no return to the top of the heap where WI were for two decades under Clive Lloyd and Richards. 
Remember those glory days? Remember when between the first two World Cups they asked a British schoolboy what was black power and his instant response was 'Clive Lloyd'?

Remember when every West Indian who could hold a bat wanted to be Garfield Sobers? Or Lloyd? Or Richards or Gordon Greenidge or Desmond Haynes? Later still, how many Indians wanted to be Lara?
"It's going to be difficult to find another Viv Richards or a Haynes and Greenidge," asserted Ambi, who racked up 405 wickets in his 98 Tests, adding the names of eight more 'quality players' the likes of whom 'it's going to be extremely difficult to find […] again'.
We waited to hear why. In vain. But reasons aren't hard to find.
A good starting point is the November 2019 address given by current Cricket West Indies president Ricky Skerritt. The occasion was the 20th Sir Frank Worrell Lecture at the Cave Hill Campus of The UWI.
"More than 300 million people of all ages play the game," Skerritt revealed, "which boasts a worldwide fan base around one billion strong. […] Cricket has become an industry and […] the cricket world is changing fast."
In those 12 italicised words, I think, lies much of the story. And without dwelling on the dirty dozen, the CWI President added these five: 
"To the Wehby Report on governance reform, which is currently being studied and discussed for possible utilisation by shareholders and stakeholders, (…) there is already some resistance." 
Those who run the sport are being left far, far behind by the players, who have long been making the necessary adjustments to cricket's changing world.
Skerritt sees 'declining and inconsistent team performances in all three formats of the game'. 
In the last 20 years, he reveals, the regional team has used 150 players, 18 different captains, 28 different opening batsmen, 45 fast bowlers, 39 spinners and 15 coaches. and spent a quarter of a billion US dollars in the process.
 "Of the 194 Test matches, […] we have lost 104, and won only 41, or 21%. In the same period, we have won only 32% of the 434 ODIs, and 45% of the 124 T20 Internationals we have played at home and abroad."
And WI were at the time, remember, 8th and 10th in ODIs and T20Is and 8th in Tests.
Lara was still very young in the second half of the 1970s when Kerry Packer's World Series Cricket first showed the West Indies Cricket Board of Control who was boss. Although forced to change its public stance, however, the WICBC left its monarch-of-all-we-survey attitude largely unaltered. 
Remember their high-handed handling of the Haynes affair a decade and a half later in the early 1990s? 
By then, however, the global reality was different. In the Age of the Media, much of the cricketing world was able to watch 'live' as Lara grabbed Sobers' world record for the highest individual Test innings. 
With genuine excellence came 'marketability' and renewed implications for relations between boards and players. But the WICBC's only concession was the cosmetic removal of 'Control' from its name. 
Myopic, it failed completely to see the signs when extra-board pressure made it prematurely promote the Prince of Port-of-Spain to the captaincy. And the new skipper promptly demanded a pay raise for his team. Successfully.
In cricket historian Sir Hilary Beckles' analysis, Courtney Walsh's replacement by Lara marks formal acknowledgement that the Age of Nationalism has been superseded by the Age of the Mercenary. 
And subliminal reinforcement of enhanced player power and unwitting acknowledgement of the Prince's indispensability ensues when he is twice deposed and twice recalled. 
The creaking regional power structure's response is to merely pussyfoot around with the idea of administrative reform. Commission high-profile reports, leave them all to gather dust. 
All of this in full view of tomorrow's players, who are never made to feel—ask Ramnaresh Sarwan and Shivnarine Chanderpaul—that their contributions are genuinely appreciated. 
In 2011, Pollard is offered a West Indies retainer contract. He politely declines. A first.
In 2014, WICB president Dave Cameron bluntly refuses to speak to Dwayne Bravo's players on tour in India except through the WIPA president. They opt to come home in mid-tour, not for a face-to-face but for a face-off. A second first.
Nicholas Pooran, recently discovered as potentially a world-class talent, announces in words that his ambition is not to make any WI team but to make it to the IPL. A third first.
A rapidly changing world. 
In 2019, Pollard's foresight is rewarded with the captaincy of both WI white ball teams. Still, in 2021, CWI chief selector Roger Harper continues to insist that Pooran must prove himself in red ball cricket before earning a Test place.
Seemingly unperturbed, Pooran is quite content to continue to campaign in the IPL.
Ask yourself if Nkrumah Bonner and Kyle Mayers, whom Lloyd's letter to the second string in Bangladesh reputedly galvanised, would decline if the IPL came a-calling tomorrow.
So even if tomorrow's post-Skerritt CWI administrators may labour under the old misapprehensions, today's class players certainly don't. 
They know they have a future. And know success does not necessarily pass through WI Test selection.
Was all of that, I wonder, what Curtly Ambrose was wary about putting into words?