National Football Coaches of Trinidad and Tobago (NFCTT) interim president Jefferson George has denied Fifa-appointed normalisation committee chairman Robert Hadad's apparent claim that any coaches were paid off under his watch.
Hadad's comments were supposedly made in a press conference on 18 March and subsequently published in the Trinidad Newsday on Saturday 20 March. Wired868 was not invited to the press conference.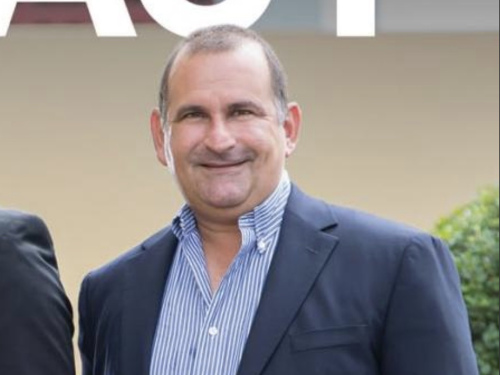 "The current group of coaches have been paid completely, up until August of last year," Hadad told the Newsday. "[…] All of the other coaches, apart from the men's team, have been brought up to date. The admin staff and the technical staff have been brought up to date. 
"It's just the men's team that have to be brought up to date, and that is going to be done in the next couple of months."
Hadad's claim was immediately contradicted by national coaches. George, who served as a goalkeeper coach for the Men's National Under-15 Team, said he contacted Trinidad and Tobago Football Association (TTFA) interim general secretary Amiel Mohammed for an explanation.

George told Wired868 that the TTFA's coaches, outside of the Men's National Senior Team technical staff, were paid just half of the value of their contracts last December and have not received a cent since. Their contracts expired last August.
"We didn't get any additional payments [since last December]," said George. "Based on the Newsday article, it would have been fair to assume that all of the coaches outside of the men's team were paid; but that is not the case. 
"I've contacted Amiel on that and I am waiting on them to correct the public record."
Wired868 asked Hadad and Mohammed to confirm if the coaches were indeed paid, as the TTFA boss supposedly said last week. And, if not, if they could explain the statements attributed to Hadad.
Neither replied up until the time of publication.
Hadad has also come under-fire in the past week for his 'handling' of Men's National Senior Team head coach Terry Fenwick and his own attitude to the media in general and Wired868 in particular.
On 17 March, Fenwick got into an altercation with TTFA press officer Shaun Fuentes before a media briefing at the Ato Boldon Stadium and allegedly head-butted Fuentes.
The TTFA, in a subsequent press statement, claimed 'the matter was blown out of proportion' and 'Fenwick only chose to express his disapproval of a certain member of the media fraternity being present at a scheduled media briefing'. The release did not directly address the alleged assault.
Former Trinidad and Tobago Men's and Women's National Senior Team head coach Jamaal Shabazz, who is the current head coach of the St Lucia National Senior Team, told the Ascension Sports Show that the incident was unbecoming of a national coach.
"The national coach is the coach of coaches in every country, because every coach should aspire to get that job at the top," said Shabazz, who served as a Fifa appointee on the International Football Association Board (IFAB) between 2019 and 2020. "And therefore the standards that should be asked of that person and set by that person must be high—not just in coaching acumen but in how he or she carries themselves.
"[…] From what I have heard from eyewitnesses, because in Islam you must be careful with accusations without witnesses, and from what I heard from three eyewitnesses, I think that matter calls for more [action]."
Former Trinidad and Tobago international player and coach Alvin Corneal said he still finds it difficult to believe what occurred last Wednesday, and believes Fenwick's behaviour should not be tolerated.
"I was very strict about what happened around the football park as a coach, so this hurts me ten times more," said Corneal. "Myself and [late team manager] Sedley Joseph would never accept such indiscipline. I can imagine there must be a certain tension around the team and even Shaun may be ashamed in carrying out his duties in such a scenario. People will say you are taking a set of stupidness from them."
At present, Fenwick remains head of the national technical staff. The Soca Warriors open their Qatar 2022 World Cup qualifying campaign against Guyana in Santo Domingo, Dominican Republic on Thursday.
The Englishman's row with Fuentes happened on the eve of the team's departure to the Dominican Republic. However, Shabazz thinks the proximity of the World Cup qualifier should not have factored into the normalisation committee's decision.
"Well then the coach coulda commit a felony and because we want three points then he can do anything—that is what we are saying there," Shabazz told his interviewer, Joel Villafana. "[…] And we have an assistant coach?! This was a moment for the football association or the normalisation committee […] to send a strong message of what we want for the future of Trinidad and Tobago football. 
"Regardless of what happens, we're not going with that! You see that behaviour?! It is unacceptable!
"[…] We need to set standards and we need to force people to come up to that standard."
Shabazz was an insurrectionist during the 1990 attempted coup. However he has routinely been credited since for using sport for the upliftment of young men and women in 'hot spots', and he was appointed to Prime Minister Dr Keith Rowley's community recovery programme last July.
George, for his part, said the NFCTT opted not to publicly pronounce on the matter since the body accepted the TTFA's press statement.
"We did not issue a statement because of how it was defused publicly," said George. "It was basically explained away by the person who was involved with coach Fenwick. So as a matter of us getting involved as the coaches association, we discussed it [and decided not to]. 
"Our concern is for members of staff being involved in physical altercations, if dealt with in a similar manner. That is something we are concerned about.
"[…] The [William] Wallace administration issued codes of conduct to all those coaches and we have that on paper. But those who adjudicate on these matters must refer to it and hold coaches to that standard."
Shabazz stood on the account offered to him by eyewitnesses—'the truth is the truth,' he said—and he criticised local journalists for their tame coverage of the altercation and the normalisation committee for sending the wrong message.
"The journalists have become like mice and they are calling a spade an agricultural instrument," said Shabazz. "It's that too; but it is a spade! […] That is not acceptable; and anybody who feel they can just do a release and sweep that under the table, they're gone off.
"[…] If they allow that incident to go, they are setting a dangerous precedent. Some of the potential [national] coaches coming up are men living in Laventille, Harlem, Carenage.
"[…] We ent grow up around prim and proper behaviour, so you can expect the worst from us. If we see that coaches allowed to get away with that behaviour, don't come after [and tell us different]. That will be double standards."
Corneal criticised the behaviour of the TTFA persons involved in the incident, which he described as 'morally disturbing'.
"They have weakened the structure of our football," said Corneal. "Trinidad and Tobago has a proud reputation in football, having produced players like Stern John, David Nakhid, Russell Latapy and so on; and now fans have to sit down and accept what has happened there as being reflective of our game?!
"For Shaun to say he took it and went and apologised; he has failed. He is a damn nice fellah, but how can he accept that?"
All three coaches agreed that the normalisation committee and the national football coaches must find a way to work with the media, even if it can be a difficult relationship at times.
George said coaches, like administrators, should appreciate the need for transparency in their duties, just as the media has a duty to report accurately.
"Reporters have their job to do and as someone working in the public interest—which is what coaches are doing—we should be, as coaches, willing and eager to give an explanation to the press," said George, "whose responsibility it is to carry what we do back to the public. 
"That requires maturity, to not have a very personal view on the media's job."
For Corneal, the media should always be welcome around a national team.
"Your job is giving information to the country on the whole," said Corneal. "Our public doesn't have the same interest of the TTFA, or the head coach… This should be something for the media association to deal with. 
"Who gives Fenwick the right to decide who comes to press conferences of a national team?"
Thus far, the Media Association of Trinidad and Tobago (MATT) has not commented on the exchanges, although this reporter is MATT vice-president.
"What missing in [the TTFA press release after the incident] for public confidence is 'we the TTFA would like to advise that we do not support the coach in blacklisting journalists, because we believe in freedom of the press'," said Shabazz. "[…] That press release needs another release that 'we the TTFA do not transcribe to the blacklisting of journalists, no matter what we feel about their work'."
Shabazz suggested too, tongue-in-cheek, that Fenwick did not pick a fair fight.
"When you look at that match-up, that come like [former professional wrestler] Ray Apollon butting 'Twiggy' (diminutive PNM activist Christine Livia)," said Shabazz. "[…] There was a face-off between Kenwyne Jones and Fenwick in a session recently; it amounted to nothing. You ask yourself when it is a little featherweight [like Fuentes], why this incident didn't happen two weeks ago with Kenwyne Jones?
"Whether a monkey [is] brown, blue, white, yellow, red, monkey does know what tree to climb. And that is what happened there."
George, a former national youth team goalkeeper, hopes the furore does not harm the Warriors' chances, as they kick off their Qatar campaign.
"I hope the incident doesn't have any long-term negative impact going into the two World Cup qualifying matches," said George. "I wish the team all the best and hope we can get some good results coming from this."
Trinidad and Tobago are in Group F with Guyana, Puerto Rico, St Kitts and Nevis and Bahamas. Only the winner advances to the next stage, with the other four nations facing immediate elimination.