Terminix La Horquetta Rangers goalkeeper coach and former Trinidad and Tobago stand-out Ross Russell is the new president of the Northern Football Association (NFA), as he was elected unopposed this evening at the zonal body's annual general meeting.
Russell said he always had a desire to assist the zone but never dreamed it would be as president.
"I always wanted to help the zone in any way possible but being president wasn't on my mind," Russell told Wired868. "But my team approached me and I gave it a run, and here I am today. I feel elated. It was a long bumpy road for me—because I like to keep things positive—but it took me to where I wanted to be. 
"It is a honour for me to be president of the north zone."
After a tense campaign, his opponent, Richard Piper, withdrew his candidacy on the eve of the election—after pointing to the results of an extraordinary general meeting on Boxing Day, in which 11 from the zone's 19 clubs pledged their support to Russell's slate.
On paper, the Boxing Day pow-wow was irrelevant as the meeting was not called according to the constitution. However, the voting pattern essentially held today as 10 from the 16 clubs in attendance stood firmly behind Russell.
Piper felt he was undone by outside forces and mentioned Terminix director Richard Ferguson in his resignation letter. 
Ferguson, who was a defeated candidate at the Trinidad and Tobago Football Association's (TTFA) presidential election in 2019, is managing director of the Terminix La Horquetta Rangers football club and a director of the Ascension Tournament, which sponsors the zonal body.
"Given the recent happenings as regards to the constitutionally due election of a board of management for the zone and in particular meetings that I have attended," stated Piper, "where I stood firm and will continue to do so as it relates to Mr Richard Ferguson's involvement in this entire process, I hereby officially write to inform you of my decision to withdraw my candidacy for president…"
Petit Valley Diego Martin United (PVDMU) official Derek Edwards, who ran for the post of second vice-president on Piper's slate, seemed to share the views of his would-be president.
"I knew it would have ended up like that because if you look at the signs, when you get so many clubs to come out on a Boxing Day morning, you know something is up," said Edwards. "Either those teams were promised something, or received something. Based on people's behaviour or the pattern of the voting, they didn't vote for competency. They had a mandate. 
"I smelt it from the time I heard those teams went out on Saturday. I just hope that whatever they were promised they get it."
Five members of Russell's slate won with an identical vote of 10-6, while the other triumphed 11-5. TTFA official and Secondary Schools Football League (SSFL) general secretary Azaad Khan served as presiding officer, at the request of the Fifa-appointed normalisation committee.
There was some question as to whether they would be allowed to stand at all, since six of the nomination forms from Russell's camp—including his own—were not properly filled out. However, Trinidad and Tobago Football Referees Association (TTFRA) vice-president Osmond Downer, who attended the meeting as a constitutional expert on an invitation from the outgoing NFA Board, ruled that the by-laws was silent on the specific error and member clubs would have to decide how to treat with the error.
Russell's first vice-president and man of business, Trendsetter Hawks coach and co-founder Anthony 'Dada' Wickham, moved a motion that the delegates accept corrected nomination forms after the deadline date.
Fourteen clubs agreed to accept the belated alteration while two abstained.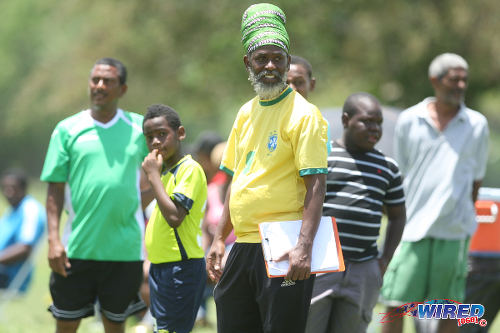 Wickham promised beforehand to move a motion to compel the NFA to accept the results of Saturday's illegal EGM and also said he would not recognise Downer's involvement. But he made no petition today on either point. He did not have to.
It was clear which candidates had the support of the majority of the zone's member clubs and, despite the disappointment, Piper and Edwards congratulated Russell's team.
"I continue to wish nothing but the best for our beloved extended family in football," stated Piper, "especially those who attended yesterday's extraordinary general meeting, [at] which the majority of clubs in the zone spoke.
"Thanks again for your continued support as we all strive to make the TTFA great again."
Edwards was more concise.
"We wish them all the best and we hope the sponsor can deliver," he said.
Russell is anxious to get started and has already earmarked the zone's new general secretary, Akel Baig, who will replace Rayshawn Mars. Baig, a former Hillview College student, is 32 and a former Morvant Caledonia United player, with a degree in agri-business management from the University of the West Indies.
"Akel Baig brings a lot of excitement to the job because he is a youth who loves football," said Russell, who will mix his NFA duties with his own coaching responsibilities at international and Pro League level. "He has already started, I can say, because he is already planing what to do to get the job done."
The new NFA Board will have its first meeting next week and Russell's immediate priority is a zonal youth league. In recent years, the Republic Bank National Youth League has absorbed youth clubs from all the respective zones in a competition that runs from March to July.
Russell wants the north zone to operate independent of the RBNYL competition in 2021. Once the government gives a green light for sport to resume, he will target a March kick off.
"We will place plenty emphasis on the youths at the start," said Russell. "It is a long while since youth football played in the north zone."
It is a significant change of direction for the zone, since outgoing NFA president Anthony Harford ran the RBNYL through his All Sports Promotion event management company. Piper, incidentally, was also employed at All Sports. The company is now defunct.
Russell hopes to lead a smooth transition.
(NFA election results)
President: Ross Russell unopposed;
First vice-president: Anthony Wickham 10 votes, Tristan Charles 6 votes;
Second vice-president: Rodney Stowe 10 votes, Derek Edwards 6 votes;
Assistant secretary admin: Michael Thomas 10 votes, Hellwyn Maxwell 6 votes;
Assistant secretary operations: Nevick Denoon 10 votes, Marvin Small 6 votes;
Ordinary member one: Kareem Paul 10 votes, Mark Benny 6 votes;
Ordinary member two: Dexter Harris 11 votes, Russell Bristol 5 votes.